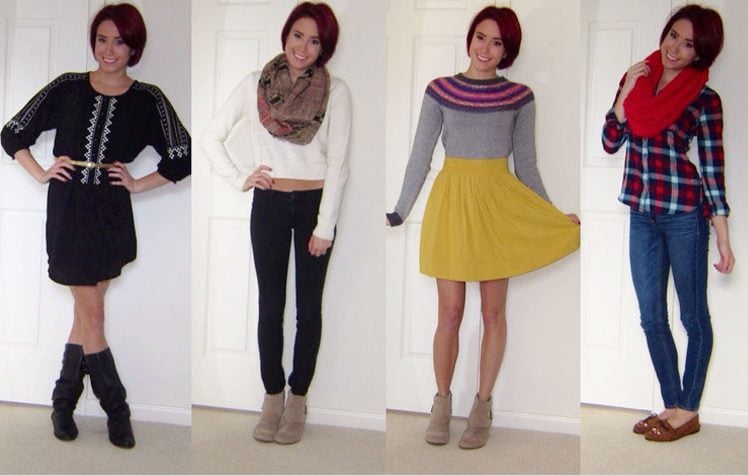 Thanksgiving is one of the most important celebrations in US and Canada. It is a day of get-together of friends, family and relatives; amazing meals with stuffed turkey, pumpkin pie, gravy and green beans and loads of fun! Even though this event is sporadic in India, the NRIs in United States and Canada become a part of this celebration whole heartedly. And with such a huge Indian population residing there, some of the Indians have also started hosting Thanksgiving dinner and lunch apart from being the guest.
This is your first ever Thanksgiving in States and you've an invitation from your husband's boss. And to your confession, you are naive of what you should wear to such festa, as the Western culture is completely new to you. If you're showing up in your Indian traditional attire, your idea is welcome. But if you're thinking of wearing something to adapt to their culture then you should read this post!
When it comes to Thanksgiving outfit, it doesn't mean you've to grab any runway look. Instead, you can simply play with some over sized sweater, sweatshirt, elastic waistbands and Lycra can also work. Do not forcibly put yourself in an LBD or bandage dress if you've never gone for it. You may feel uncomfortable, thereby diverting your attention on your get-up rather than on the party.
In this edition, I offer you 5 different styles, which are not only fashionable but sophisticated as well. Let me assure you, by picking any of these styles you're just going to make your husband feel proud of your classic taste, whilst being the cynosure of all eyes in the party. Read on!
#Style 1
If it's a Thanksgiving Lunch, you can simply show up in your favorite pair of denims (which is always the best bait) and pair it with a knitted sweater in cream color, a pair of animal printed flats, a statement-making leather bag, gorgeous monogram shawl and stone wrap bracelet. This style not only gives you a casual and comfortable look, but also makes you look trendy and chic at the same time. Since you're already donning a beautiful stole, do not wear heavy earrings.
#Style 2
I do understand you may be bit nervous since this is your first ever Thankgiving party and you'll be just surrounded by strangers other than your hubby. Cool down and let this fabulous outfit do the talking in the Thanksgiving Dinner! Our Indian jewelries are awesome. Pair them with your ethnic wear and they just add glitter to your ensemble and if you are pairing them with your western wear then they just make a great fashion fusion. It's quite obvious to see ethnic jewelries in every Indian woman's wardrobe no matter in which part of the globe she is residing.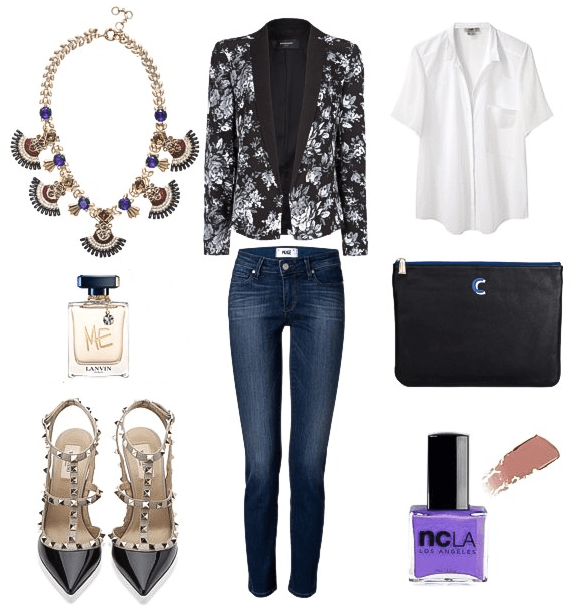 Pair your dark blue jeans with a white shirt with short sleeves (even sleeveless is better) and pair them with a blazer (you can check-out the Mango blazer shown in the image). Rock this outfit with some great accessories i.e. an ethnic necklace, party wear heels and some sparkling nail paint say purple! Replace your bag with an attractive clutch to complement your winning look!
#Style 3
How about going for 60's-inspired classy outfit? Believe me you'll only add elegance to your fashion statement with this outfit. Pick a stylish wrap-on pencil skirt in grey and combine it with a beautiful buttoned-up cardigan. This get-up is incomplete until and unless you pair it with some great accessories such as peep-toe heels, 2-layered pearl necklace with matching pearl earrings and a vintage-inspired straw bag.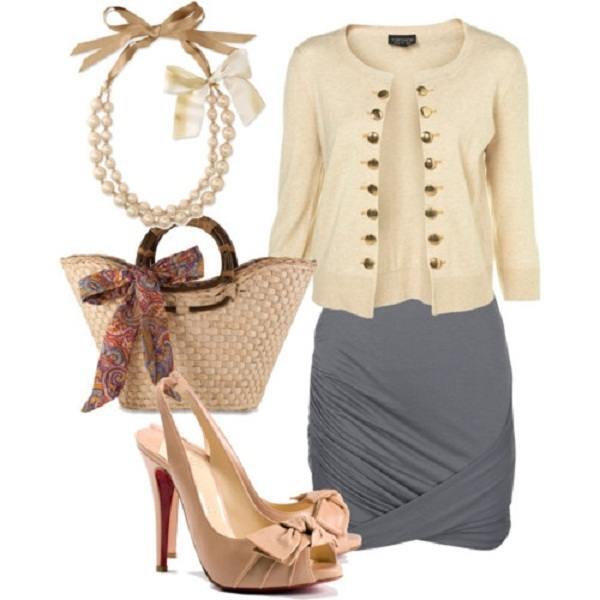 While the skirt and the blouse would flaunt your dainty curves, the heels will add some length to your toned legs, whilst the accessories complementing your overall silhouette. Do not forget to carry your overcoat, which you can just hang it on the doorway before stepping in.
#Style 4
If fashion interests you and you're deeply inspired by the runway looks then you can go for a peppy look for Thanksgiving Lunch. A pair of cropped low-waist skinny jeans can just add flavor to your festive fever. You can pair this jeans with orange lapel shirt with plaid pockets and long sleeves. Don't you get reminded of Cameron Diaz when we're talking about this style? That's because it is one of the most trendiest outfits you can go for. Pair your jeans with flat shoes and a shoulder bag to keep up the fashion take.
#Style 5
If you're OK with dresses then this is the best time to flaunt your favorite dress that you'd bought months back. I have rounded up a look that can suit women with any figure, but mostly pear shaped women. If your weight is towards gravity i.e. on thighs and hips then choose this style to add less volume to your lower half, while focusing mainly on your tummy area.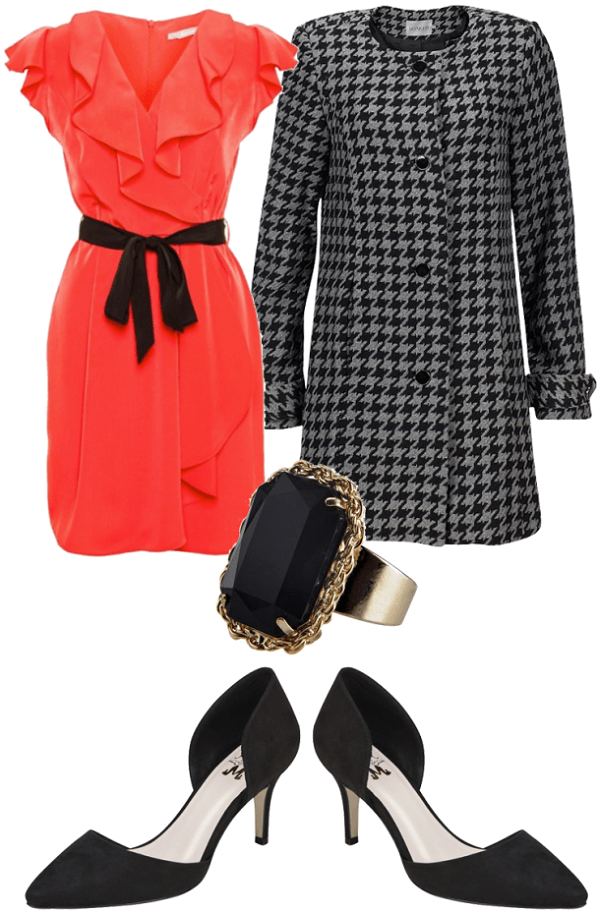 The ruffles of this cute red dress on sleeves and chest help balance your proportions. The belt being the major attraction is a tricky option to go for. You can complement this look with a great pair of pointed heels and a statement cuff or just a over sized ring. Since it's winter do not forget your monogram coat please!
Hope you enjoyed this post! Do let me know which style you're scoring upon and why!
Happy Thanksgiving!!
Images Source: pinterest