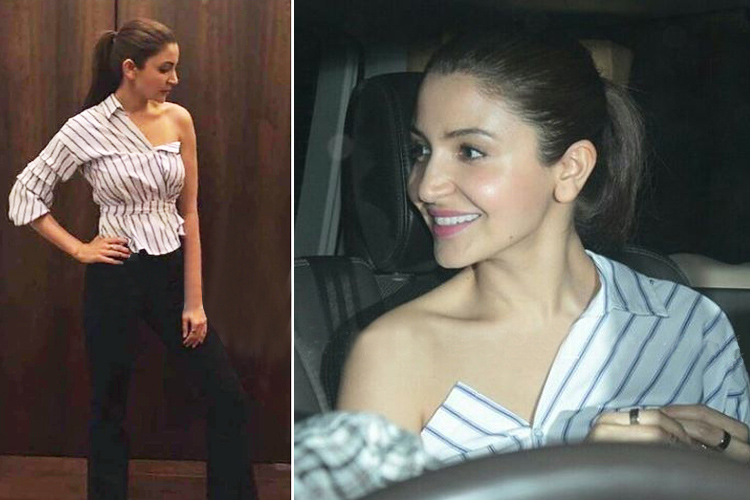 She is all of 29. Started her career with modeling. And then Amchi Mumbai saw her grow up as a successful actress and producer. Her nickname? She has not one but two – Anu and Nushie. Her career is nothing less than outstanding. She has worked under big banners purely on her merit and has delivered hits on her own steam. There is no stopping Anushka Sharma from proving skills onscreen and is the gal to watch out for!
With one day away from the big release, Noor, the upcoming film starring Sonakshi Sinha is taking up quite a bit of space on the social media and is surely the talk of the cinema world.
Right before the big release, the film was screened in Mumbai and the leading lady, Sonakshi, along with her family and close friends thoroughly enjoyed the first fantastic look of the film.
Amongst her close ties was Anushka Sharma dolled up like a trendy chic. Her style has caught our undivided attention and glares and stares from all the on-lookers.
She picked a fit and flare trousers and a one shoulder stripes shirt from SR Store 09. When we say fashion is evolving, we mean it in every true sense and proving our point was Anushka's avatar at Noor screening.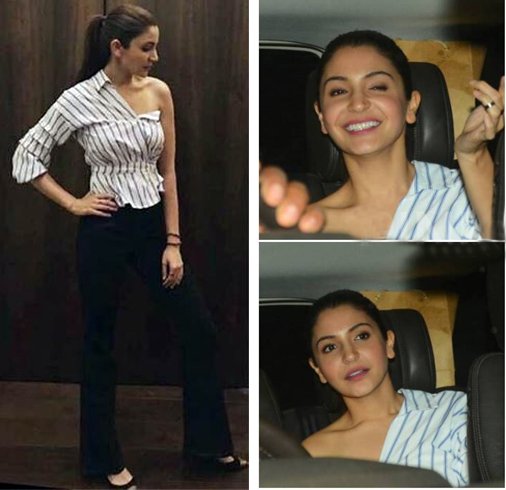 No one other than Anushka Sharma could have carried this tricky outfit. It looks like the diva forgot to pull up the shirt on one shoulder and yet it looks fashionable from every inch.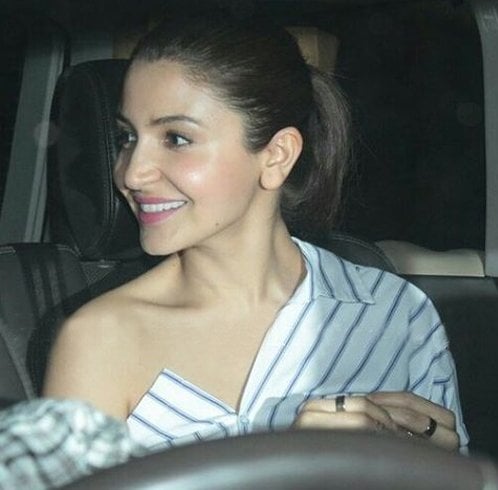 Nikhil Thampi and Mohit Rai, the Styling team, put their creative minds to work and went nada with accessories highlighting the asymmetric neckline on the diva.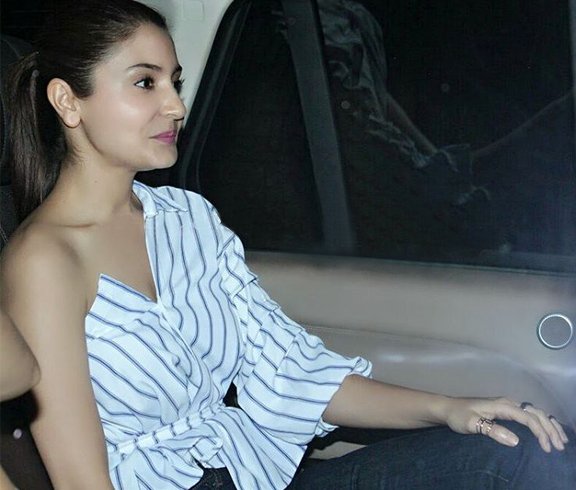 A sleek ponytail, perfectly highlighted features and soft pink lips rounded her style with finesse.
Hope you enjoyed the movie night style of Anushka Sharma!
 April 20, 2017
---
Anushka Sharma Height, Weight, Age, Body Measurements And Bio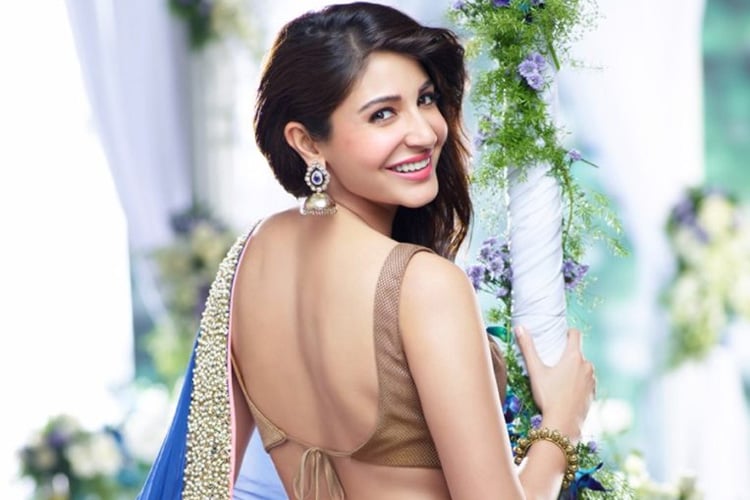 Personal Details
| | |
| --- | --- |
| Name | Anushka Sharma |
| Birthday Date | May 1, 1988 |
| Sun Sign | Taurus |
| Eye Color | Hazel |
| Hair Color | Light to Dark Brown |
| Nationality | Indian |
| Religion | Hindu |
| Education | Army School, Bangalore; and then Mount Carmel College (where Anushka got her degree in arts) |
| Occupation | Model, actress, producer |
| Marital Status | Single |
Family Details
| | |
| --- | --- |
| Father | Col. Ajay Kumar Sharma (an army officer) |
| Mother | Ashima Sharma (devoted housewife) |
| Siblings | One brother Karnesh Sharma (film producer) |
| Spouse | N/A |
| Children | N/A |
Past Relationships
Two men, highly acclaimed in their professional fields, will stand out in this case. Yes, you guessed right – Ranveer Singh (actor) and Virat Kohli (cricketer) have been the love interests for Anushka Sharma.
Hang on! There are more in Anushka's list of BFs.
1. Zoheb Yusuf: Anushka's first love-equation happened during her modeling days. She met Zoheb Yusuf in Bangalore. And then luv-shuv happened which lasted for two years. Some loss, some gain. After the break-up, Anushka became a film star.
2. Ranveer Singh: It was during the shoot of Band Baaja Baaraat that Ranveer and Anushka met. Ranveer, you can say, is Anushka's first BF after her entry in Bollywood. Very surprising for her to say "I never dated Ranveer Singh".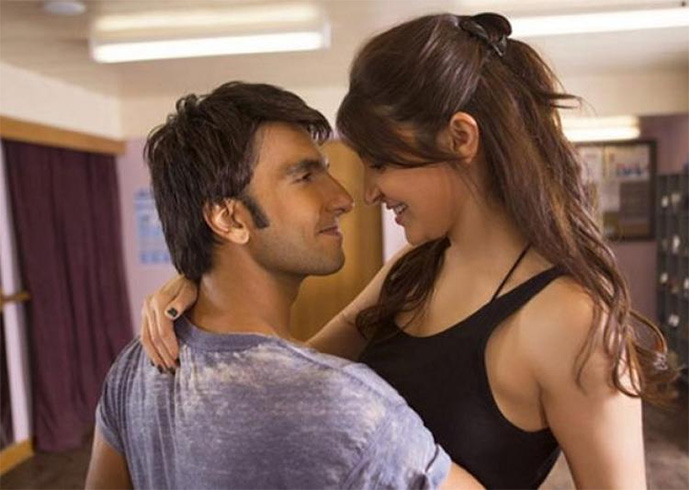 3. Ranbir Kapoor: After their close meeting at a party thrown by Karan Johar, Ranbir Kapoor and Anushka Sharma came to be more than friends.
4. Shahid Kapoor: Rem'ber the film starring Imran Khan in Mere Brother Ki Dulhan? Apparently, Anushka had a lip-lock with Shahid Kapoor at the film's success party hosted by Imran Khan.
5. Suresh Raina: According to rumours, Raina was set to marry Anushka. He had admitted his "fondness" for her.
6. Arjun Kapoor: After she split with Ranveer Singh, Anushka got close to Arjun Kapoor (how many Kapoors has she dated…I am counting). The duo spent a lot of time at the Yash Raj Studios and at Juhu complex.
7. Virat Kohli: At the shooting of a TV commercial way back in 2013, Anushka and the Indian cricketer Virat Kohli met. And then romance happened which lasted for 2 years (this is quite substantial these days, don't you think). And then there were breakup rumours between them. As it so happens, Virat is the last of the men in Anushka's BF/love angle.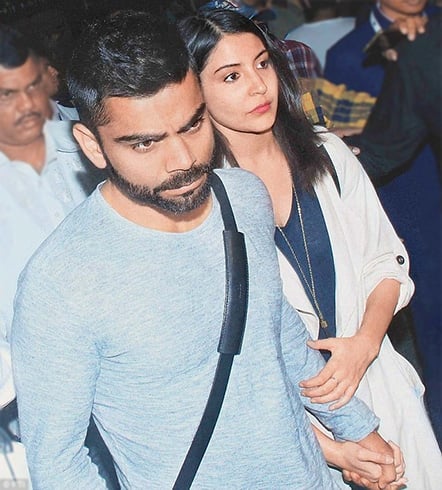 Seven people…Well, we do hope Anushka Sharma and Virat Kohli tie the knot, some day, some year.
Body Status
Meet the tall and lean Anushka Sharma.
| | |
| --- | --- |
| Build | Hourglass |
| Height | 5 ft 9 inches |
| Weight | 54 kg |
| Waist Size | 24 inches |
| Hip Size | 33 inches |
| Shoe Size | 8 (US) |
| Dress Size | 2 |
| Body Measurement | 33-24-33 inch |
Favorite Things and Hobbies
Any hobbies, Anushka Sharma indulges in, other than acting? We find out.
| | |
| --- | --- |
| Color | Black |
| Food | Chicken Butter Masala, Japanese food, 'Khichdi' is her comfort food |
| Place | Goa and Himalayas; London and Paris |
| Sport | N/A |
| Brand | Burberry, Gabbana Light Blue |
| Actor | Shah Rukh Khan, Ranveer Singh, Aamir Khan |
| Actress | Rani Mukherji, Madhuri Dixit Nene, Audrey Hepburn |
| Film | The Shawshank Redemption, Life Is Beautiful, In the Mood for Love, Fish Tank, Jab We Met, Dilwale Dulhania Le Jayenge, Chak De! India, Yuva, Saathiya and Dil Se |
Professional Career
Anushka Sharma has gone places from the time she started in Bollywood. She has had the best of film banners, heroes, and heroines opposite her.
First Debut: Rab Ne Bana Di Jodi opposite Shah Rukh Khan
Brand Endorsements: Many brands in Anushka Sharma's kitty – Nivea moisturiser; Pantene hair care brand; Parachute hair oil; Elle 18; Sofy (feminine hygiene); Reliance Mobile; ACER, the leading laptop and PC player in India; Gitanjali Jewellers; Scooty Pep; Lifestyle's womenswear range etc.
Career Achievements: Such was her performance in the film Band Baaja Baraat that Anushka Sharma won the "Dada Saheb Phalke Academy Award" for it. She also has been the recipient of Best Supporting Actress award for her role in the film Jab Tak Hai Jaan. Her production debut kicked off with the crime thriller NH 10 and her well-appreciated role in the movie PK (opp. Aamir Khan) and Ae Dil Hai Mushkil (which had Aishwarya Rai and Ranbir Kapoor as co-stars).
Remuneration: INR 5-6 crore per film
Net Worth: $8 to 9 million
Anushka Sharma Weight Loss
Anushka is naturally gifted with a lean body. Which explains how effortlessly she fits into "paper thin" gowns and long skirts….she is sexy indeed! But for that, look at the amount of effort or man-hours she puts in to get the figure to die for.
Workout Plan:
Anushka S. relies a lot on Yoga. It ups her body flexibility (according to her) and gives her the chance to avoid the gym.
Despite her hatred for gym, Anushka needs to do the gym four times a week (that's because of her work demands). Weight training, strength training, walking and jogging are her fitness-musts.
Dance she does, at least 30 min a day. This according to Anushka strengthens her cardiovascular muscles
Meditation is an "offbeat" thing Anushka Sharma does, not once, but twice a day. The purpose – to cleanse her mind and clear it of all chaos. Point taken!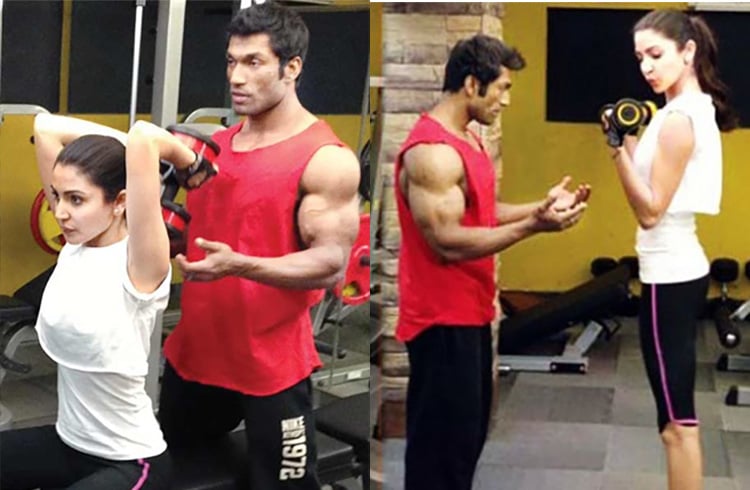 Diet Plan:
Junk food is a strict NO-NO for Anushka.
Her diet is simple and to the point:
Breakfast– Two egg whites, glass of fresh fruit juice.
Midday snack- Comprises of Cheese toast, and some lime or coconut water.
Lunch– Some love for home Anushka has. She carries her lunch from home which is complete in itself with homemade veggies, dal, two chapattis and salad.
Evening snack– Protein bars or seasonal fruits.
Bedtime – Glass of milk.
Facts About Celebrity
The leggy lass that she is, Anushka Sharma got the chance to "walk the ramp" for Indian fashion designer Wendell Rodricks. She has also appeared in a number of ad campaigns.
Anushka was thinking of a career in journalism, and had come to Mumbai to pursue her love for modeling.
Any Filmfare award she won? NO! Its quite strange, actually. Despite her award-winning performances in Band Baaja Baraat and Rab Ne Bana Di Jodi, Anushka Sharma never won a Filmfare award for these two films. Anushka said in an interview "I cried on my way back home because I felt I deserved it. I was naive. Attending an award function was like going for a college award show, the feeling was that Sab ko mila mujhko nahi mila kind. That year, all the newcomers were given a scroll and I didn't get even that. I felt like sh*t. I thought I'd get the Filmfare trophy because I had done my calculations. I met Mr Amitabh Bachchan and he addressed me by my name. I was surprised. He said he'd seen the film and it was a fabulous performance." He said, 'Bahut samay ke baad I've seen such raw talent. And I told him, I've got my award. These were signs from God that everything would be fine. And it is."
Anushka is a shop-aholic to the core. She makes it a point to do some shopping, despite her hectic schedules.
Guess the tender age when Anushkha Sharma did her first ramp walk? Sweet 15!
What's that last thing which dear Anu takes before going off to sleep? A glass of milk!
Moisturizers everywhere!! That is what you will find in Anushka's home. Such is her obsession for moisturizers.
Till her 7th standard in school, Anushka Sharma was a regular in Bharatnatyam classes. I guess this explains her dancing skills!
While watching a movie in the cinema hall, what does Anushka Sharma love the most? Munching POP-corn!
Anushka Sharma has a strange fixation for "flat heels". Any guesses? She doesn't feel very comfortable in high heels.
Anushka Sharma is a big FOODIE…but surprisingly she hates burgers, pizzas and all greasy and oily food items.
As for liquids, Anushka Sharma is a beer-drinker. That's one step ahead of plain water, don't you think?
Every girl likes to have flashy colours in her wardrobe and sense of dressing. Anushka Sharma does not like bright colours at all. I think 'soberness' in colors describes her best.
Now that you know the juicy and entertaining side of Anushka Sharma, do tell us what makes her highly desirable? Which film of hers is a "master" in every way? Waiting for your replies and comments!
Author By: Deepika Dewan
May 29, 2017
---
Basket of Fancy Styles was Anushka Sharma During Phillauri Promotions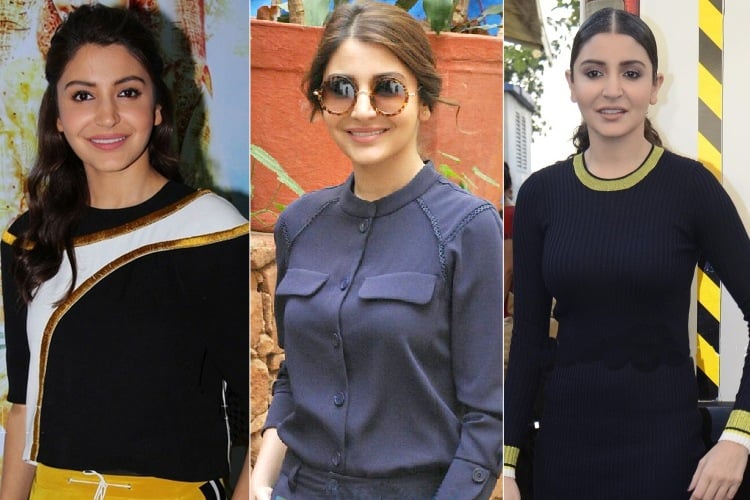 Anushka Sharma is out and about, taking ample amount of her time in promoting her upcoming film Phillauri. And as we stumbled upon fancy styles, we couldn't keep our eyes off the diva and her pretty looks. Here is a sneak peek into her latest round of promotional styles-
Monochrome
Smart and sassy was Anushka at one of the promotional events in an Emporio Armani outfit. Looks like the outfit was tailored to fit the diva alone and perfectly. With tan colored Louboutin heels, leopard print round rimmed shades, soft ponytail, and bad bossy attitude, she carpeted an A-class look.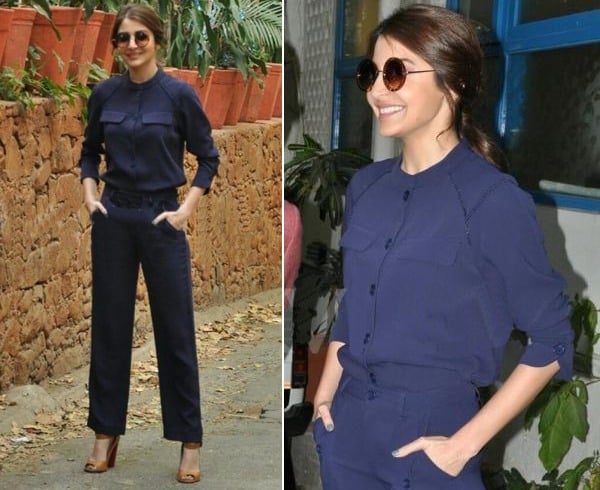 Color Blocking
For one of the promotional event, she stepped out looking fashionable in a silk blouse and high waist breezy pants from Bodice. She chose sweet dangling earrings and studded juttis to go along with her avatar. Pinning her hair into a neat bun, keeping her makeup balanced, she looked charming and adorable.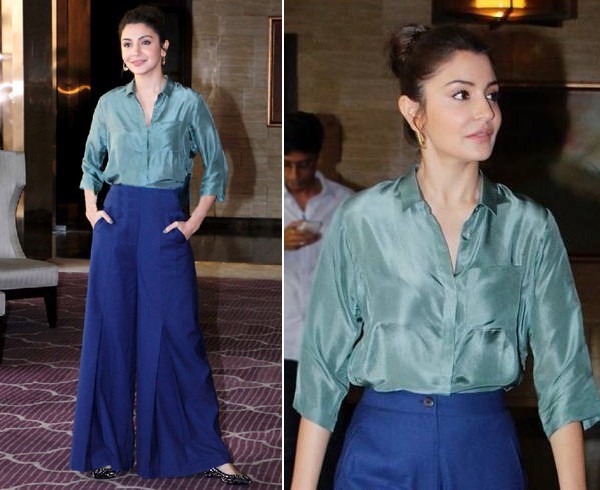 Pearly White
Ethnic style with a modern twist was one simply amazing avatar of Anushka that we are glad to have captured. The pearly white House of Kotwara outfit, coupled with Aquamarine jewelry and mirror work Fizzy Goblet juttis was totally endearing on the actress. Soft hairdo and a bindi closed her look.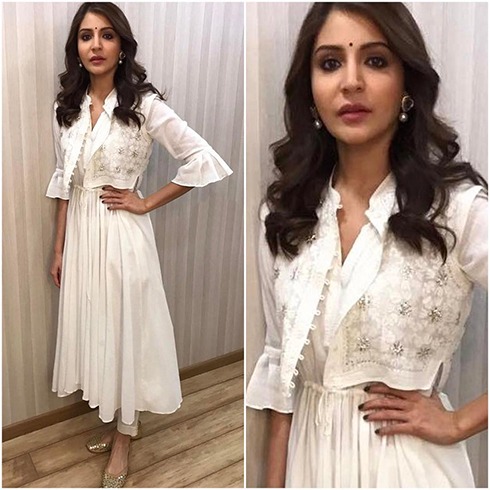 Dressy Black
Flaunting her curves and well-toned bodyline in a Scotch & Soda dress, Anushka rolled out a sensuous avatar. The sweater style dress with subtle green touches were fantastic features of the outfit. We were expecting the diva to go easy with her hairdo, but she opted for a greasy sleek ponytail. It would have been a disaster on any other diva but Anushka had the art of carrying it with an amazing grace.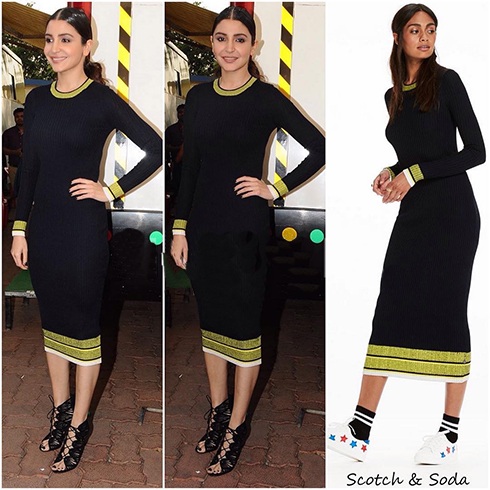 Funky Style
The color duo that we often like but think twice before we try was showcased by Anushka perfectly well. The yellow culottes along with the black and golden shimmer top from Vizyon gave the diva a funky vibe. White sneakers, partly pinned hair looked cool on her.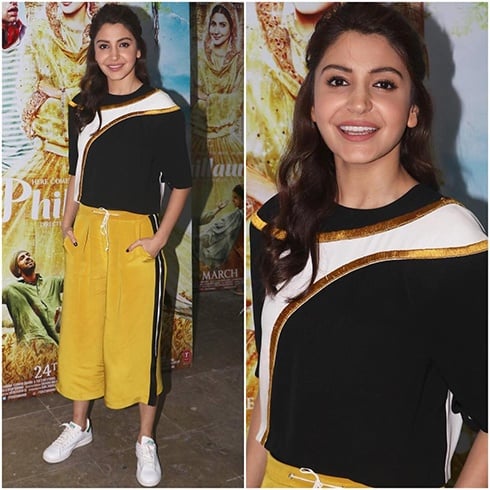 Allia Al Rufai, the stylist made lasting impressions in the fashion world by dressing up Anushka smart, classy and chic.
Hope you loved her styles!
March 21, 2017
---
Anushka Sharma Pulls Out Easy Styles During Phillauri Promotions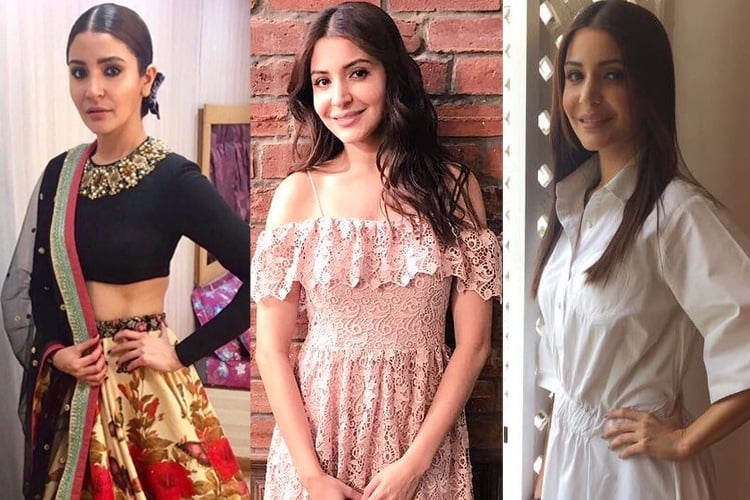 Undoubtedly, the year 2016 has brought Anushka Sharma tremendous success and glory. Moving forward with the same hope and enthusiasm was the diva promoting her upcoming flick Phillauri.
Though we are excited to figure out if this film works in her favor, we were smitten and totally occupied by her careless, easy and super cool styles. Anushka and her stylist Allia Al Rufai chose to go mostly with solid colored fashion and we found it smart and catchy.
In Roberto Cavalli
And black it is again! Looks like Anushka loves her blacks a bit more than we thought. She rolled out an all-black look in a Roberto Cavalli silk top and skin fit tights. Simple sandals, nude makeup, and soft swirl hairdo rounded her style game.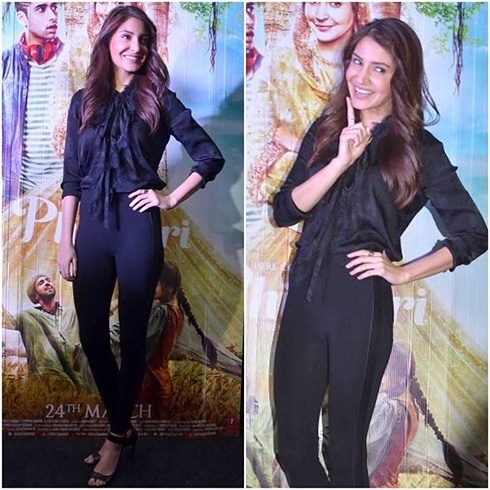 In H&M
Pretty as a daisy in a dusty pink lace H&M cold-shoulder dress, she set out to promote her film. Blush colored heels accompanied her style. With dewy touch-up and fuzz-free hair, she leveled her beauty and style perfectly.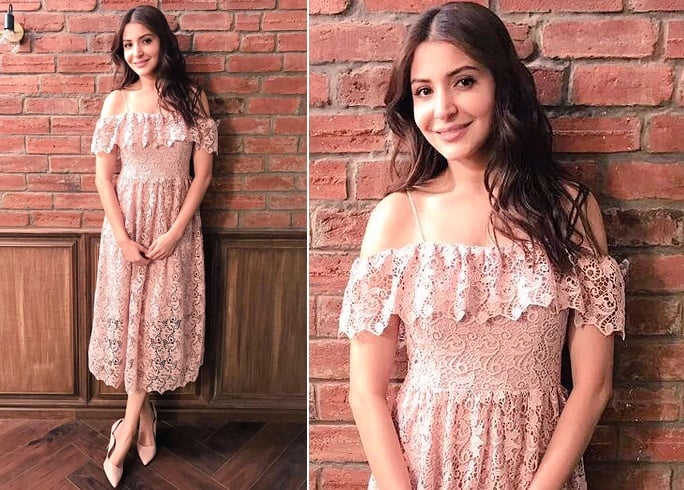 In Love Birds Designs
Anushka sported a crisp shirt-style dress from Love Birds Designs for one of the promotional events. The easy-breezy sleeves and the asymmetric hemline were the highlight features of this absolutely bland style. With Jimmy Choo tan sandals, straight hair and no makeup look, she closed her sensual style.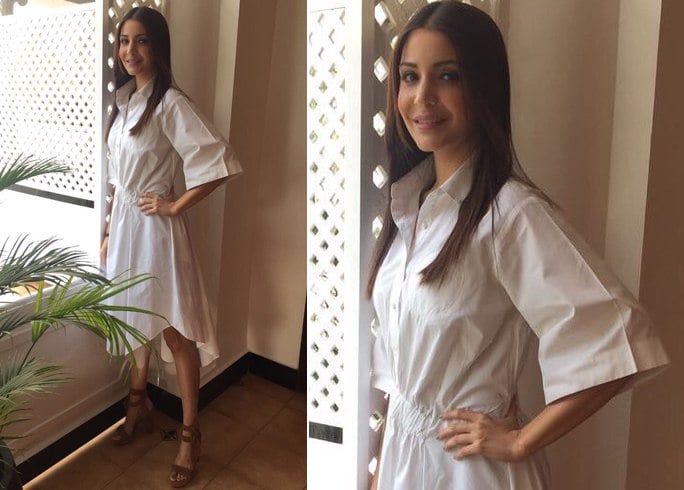 In Sabyasachi
The diva graced the Voice India show to promote her film and rocked a classic look in Sabyasachi outfit. The embellished neckline sufficed for the jewelry pretty decently. Sleek bun style, dark kohl eyes and subtle bronzed touch-up rounded her beauty concept.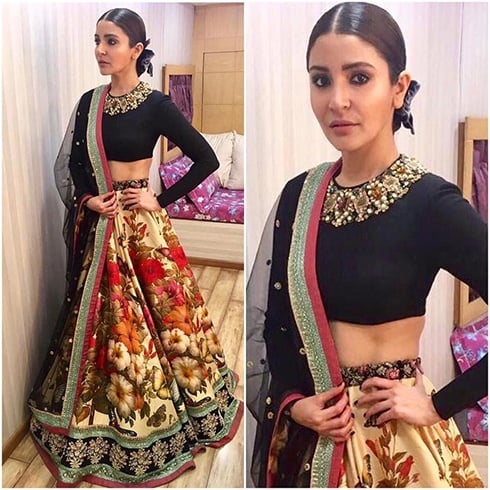 We are totally amazed by the grace of the diva and the ease with which she nails a purely minimalist look! What do you think?
March 14, 2017
---
Anushka Sharma Stepped Onto The Route Of Movie Promotions Looking Smart And Chic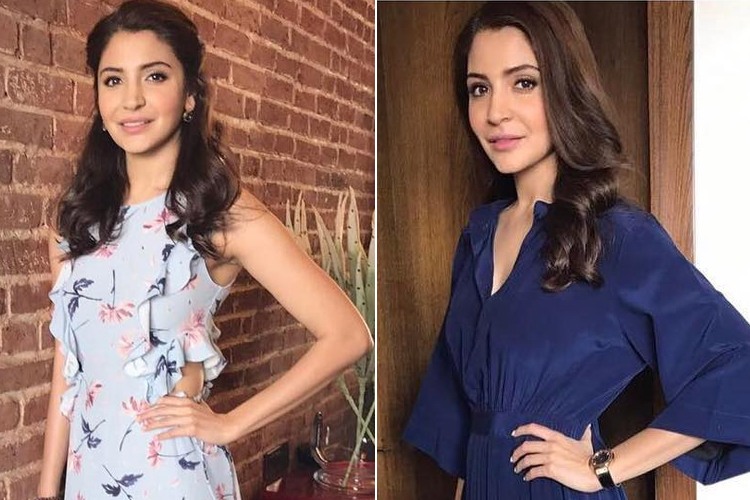 Like every other B-town lady, Anushka Sharma also stepped out to promote her upcoming romantic flick, Phillauri, and as usual, she was a welcoming sight. Though she depicted a typical Punjabi girl in the film donning the salwar suits along with the dupatta, her promotional avatars were chic, trendy and easy going.
In Zara
Looks like Anushka chose to welcome the spring with her pretty dress. The floral print, pleasant colored dress from Zara with subtle peek-a-boos looked charming on her well-maintained figure. The beaded Maison Valentino shoes and understated earrings rounded her ensemble. With her half-pinned hairstyle, Nude makeup and matte finished lips, she was a breath of fresh air.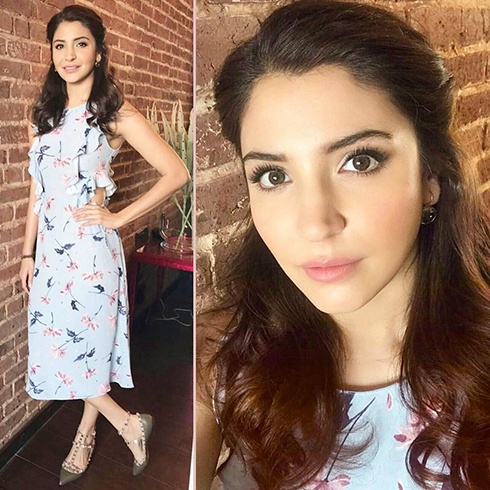 In Lovebirds
Royal color, trendy design, and classy attitude defined Anushka's style at one of the promotional events. The anti-fit sleeves, the asymmetrical hemline, the fit and flare pattern were artistically blended in this dress from Lovebirds. Soft hair with slight swirls towards the ends and no-makeup look gave the style a sophisticated vibe. The killer feature of the look were the Givenchy heels in pastel contrast shades.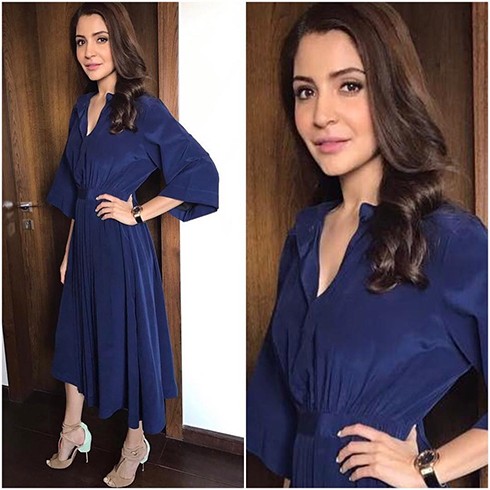 Her loyal stylist, Allia Al Rufai, who knows the divas choice and knows pretty well what complements her, composed these smooth and stunning styles and we can't find even a teeny-tiny fault. Well done!!
With the movie scheduled to release March 24th, we are hoping to see many more eye-catchy styles of the diva. Stay tuned!!
March 5, 2017
---
Anushka Sharma Styles And Smiles Are Endearing. Check It Out!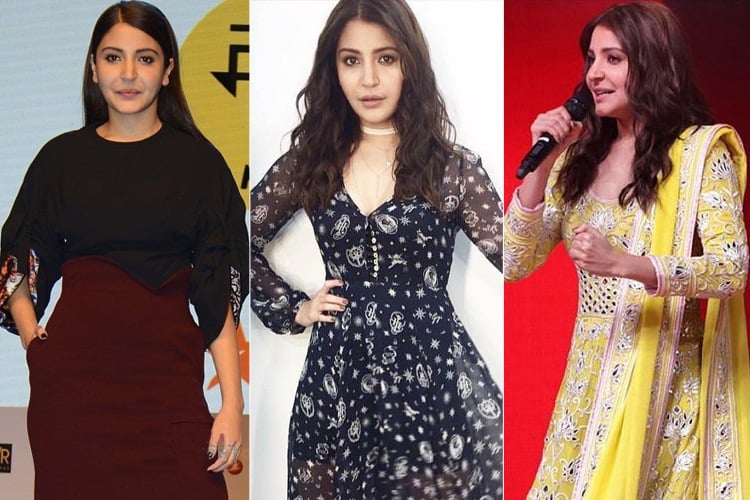 After a fleeting controversy that held back the release of Ae Dil Hai Mushkil, their comeback with the movie promotions is quite remarkable.
Stepping up for the team during the promotions in simply stunning fashionable avatars is our hot favorite, Anushka Sharma. Printed, solid to ethnic styles, she featured happy looks in each and every one of them. Let's decode the style here:
In Michael Kors
Rich and yet trendy was Anushka in a printed shoulder-cut-out outfit from Michael Kors. She teamed it up with beaded stilettos of Louboutin, loose waves hairdo and glowing look.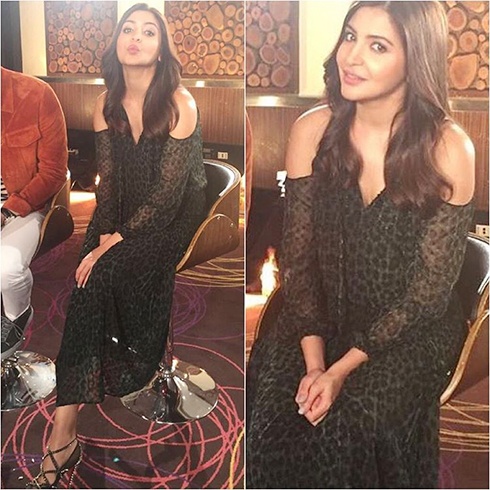 In Tommy Hilfiger x Gigi Hadid
It's a printed show with Anushka, and that too a really hot one! In the faintly sheer Tommy Hilfiger x Gigi Hadid's printed number, she looked steamy. With the beach waves by Marianna Mukuchyan, slight bronzed look by Puneet B Saini, and Jimmy Choo sandals, she rounded her look.
In Dior
It's color-blocking in Dior for the promotions at MAMI Mumbai Film Festival with Anushka Sharma. The lady rocked the classic colors with great attitude, don't you think? The deep set colors gave her look a rich feel. Side-parted straight hair, natural tone of makeup and boot style footwear closed her look.
In Abu Jani Sandeep Khosla
Like a girl next door, the pretty actress dressed up in a summery yellow number of Abu Jani Sandeep Khosla. She played the ethnic theme of the outfit grandiosely. With the thread work, mirrors detailing of the outfit in large, Anushka skipped the jewelry part of the look. Smart move, isn't it? With beachy waves and contagious smile, she charmed us all.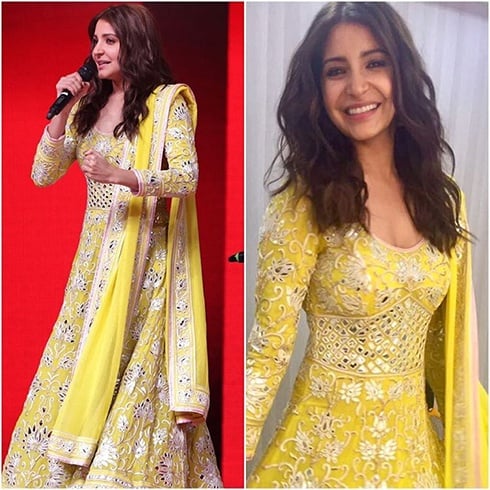 Liked them all? We definitely did! Her smile, her charm is definitely driving us towards the movie, what about you? Booked your tickets?
Words Fail To Describe The Beauty Of Anushka Sharma During #aedilhaimushkil Promotions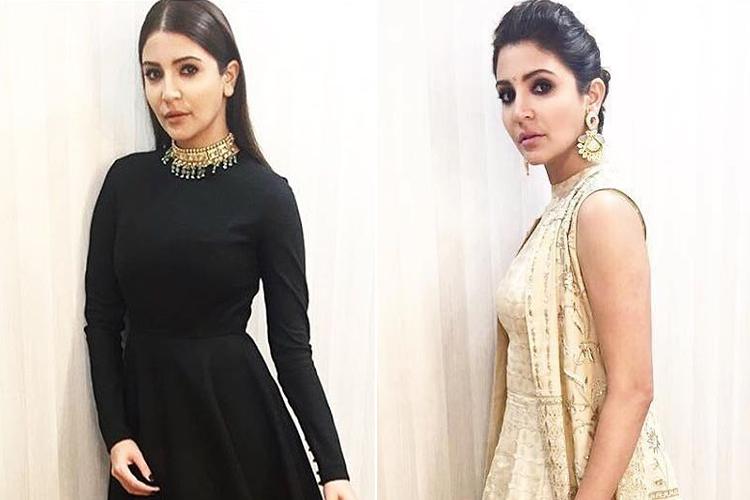 'Ae Dil Hai Mushkil' says our heart to our mind, to fend off the heartwarming looks of Anushka Sharma. Though there is hell lot of controversy lurking behind the movie, the diva showed slight fret or concern while at the promotions of the movie.
Cherishing delectable pieces of Sabyasachi Mukherjee and Anita Dongre, she wailed away her evening looking drop-dead gorgeous.
In Sabyasachi
The Sabyasachi outfit that Anushka showcased, redefined glory, and grace and glamour. Though we are still contemplating on the hue of the dress, we can't stop admiring the delicacy of it. The gold thread intricate work, the full-sleeves, the high neck proved that Sabyasachi can spill royalty in absolutely any tone of outfit. Kishandas Jewelry, mid-parted straight hair brushed by Daniel Bauer and intact makeup polished by Puneet B Saini, rounded her style.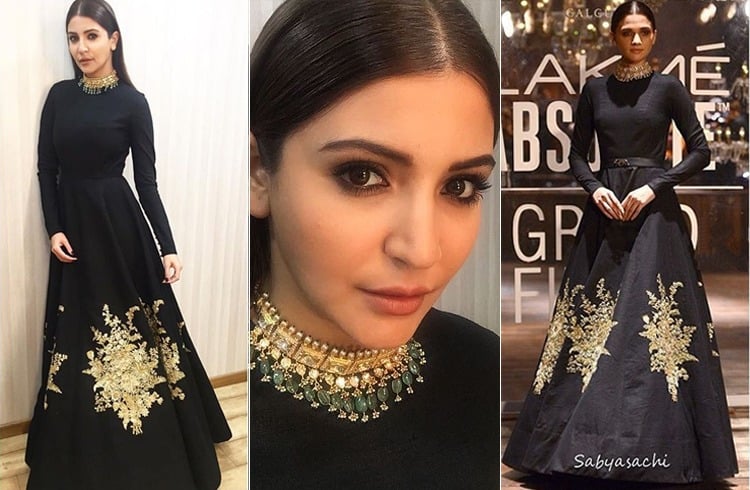 In Anita Dongre
Masha Allah, is the first word that crossed our mind when we set eyes on Anushka in this heavenly Anita Dongre outfit. Embracing the subtle golden tinge of the outfit with a ring from Kishandas jewelry and sized earrings from Curio Cottage, she set the promotions on fire. The puff bun style, smoky eyes and natural makeup with a sparkling bindi, she looked queenly.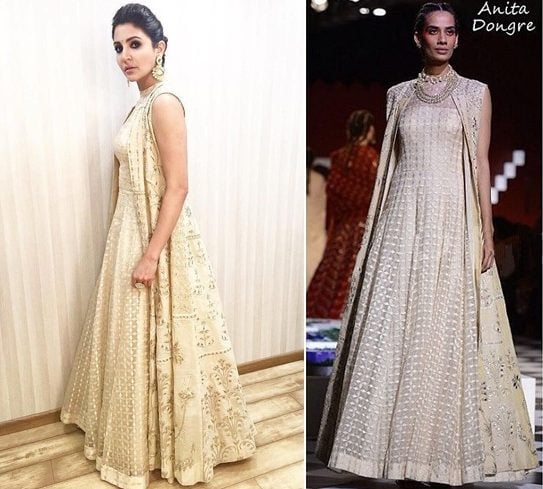 One look at the diva and we can say that Anushka Sharma makes the perfect muse for boosting the brilliant work of the designers. Any doubts?
Anushka Sharma In Sabyasachi For Elle, October'16 Looks Like A Royal Package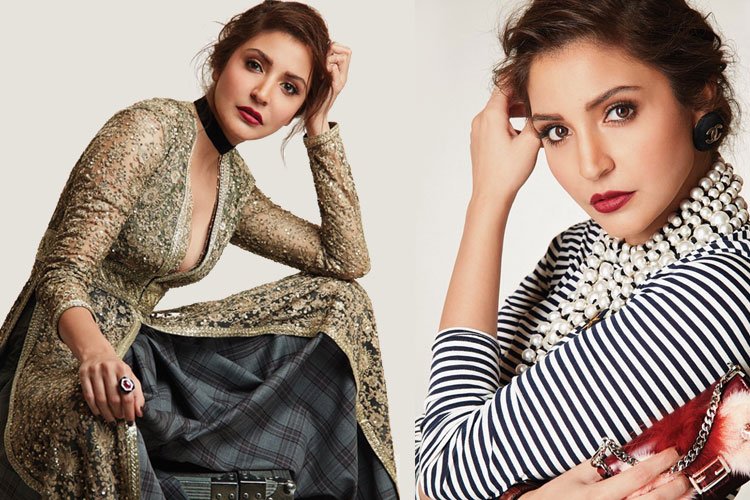 From his basket of scintillating creations, Sabyasachi Mukherjee pulled out a series of royal outfits for Anushka Sharma to glorify the cover of Elle, October 2016.
Apart from catering to the apparel choices, the maestro of designing indulged himself in styling the actress and pinning on her, the best of the best creations.
As we have disclosed in our Bollywood magazine covers article, the cover click of Anushka Sharma is brand loaded. She clubbed in ethnic and contemporary styles in a delicate way that left us spell bound.
On the cover, she perched on a bench in a Stella McCartney top, Sabyasachi jacket, Temperley London trousers and Dhruv Kapoor faux fur. The accessories range from classy to trendy looping in Viange, Kishandas jewelry, Gucci, Gem Palace and Hermes brands. The rosy red lip, the messy up do and blush rounded her look majestically.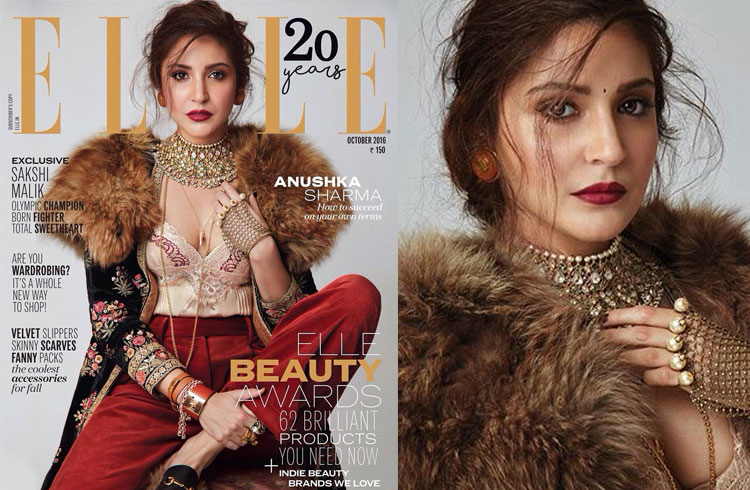 Here is a quick sneak peek of her hair-raising photo-shoot:
Sharp And Pricey
Anushka definitely held the reins to our heart in this look. A pure cocktail mix of ethnic and contemporary styles from Sabyasachi played part in this look. A classy watch, trendy layered beaded necklace, and hep Chanel earrings closed her look chic.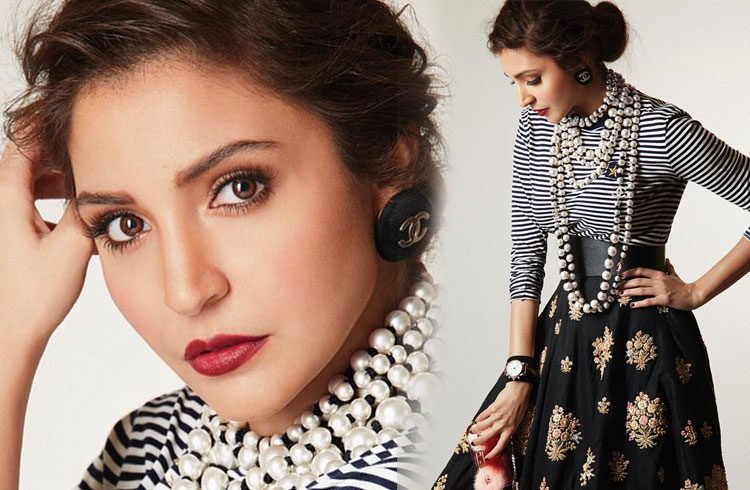 Elegant and Sensuous
The intricate authentic Sabyasachi cape over a checkered bottom was the choice of the designer and Anushka carried it flawlessly. With a choker band and cocktail ring, she created a mind-dazzling aura with her looks.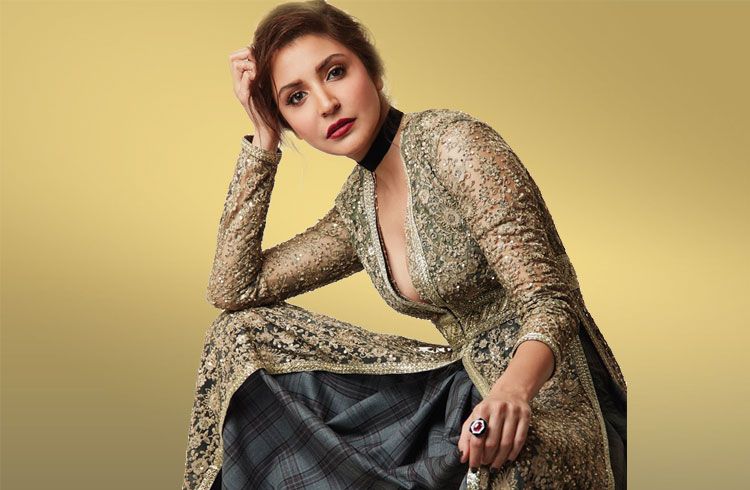 Black Magic
In a velvety embroidered Sabyasachi outfit, she looked heaven on earth. With the rustic jewelry pieces, bronzed eyes and red pout, she worked her magic on us.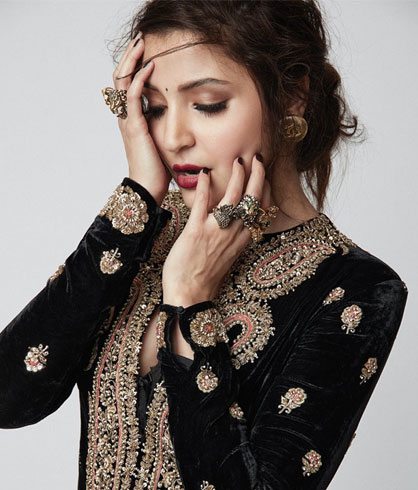 Royal Lady Like
Doesn't she look like a royal Queen who means business? Yes!! The porcupine looking fur hat, the golden clutch and the posture portrays strong, bold and commanding look.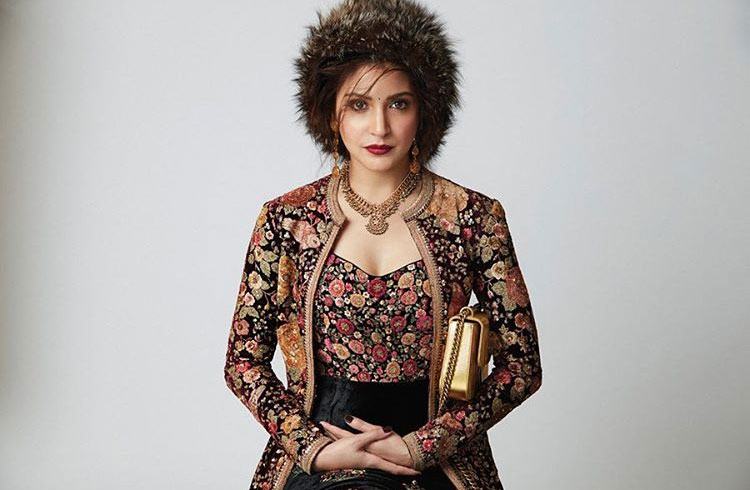 Makeup Credits: Franco Vallelonga
Hairstyle Credits: Puneet B Saini
Liked her styles? We found it inspiring enough to loosen the strings of our purse. What about you?
Images Source: instagram
Recommended Articles:
Anushka Shetty Latest Updates
Alia Bhatt Latest Updates
Aishwarya Rai Latest Updates
Deepika Padukone Latest Updates