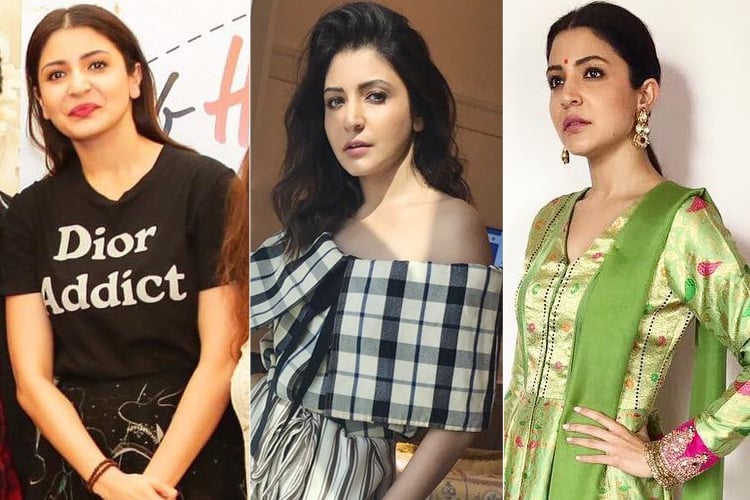 She is all of 29. Started her career with modeling. And then Amchi Mumbai saw her grow up as a successful actress and producer. Her nickname? She has not one but two – Anu and Nushie. Her career is nothing less than outstanding. She has worked under big banners purely on her merit and has delivered hits on her own steam. There is no stopping Anushka Sharma from proving skills onscreen and is the gal to watch out for!

Anushka Sharma Height | Anushka Sharma Age | Anushka Sharma Boyfriend | Anushka Sharma Family | Anushka Sharma Career
On one end the 'Radha' song from 'Jab Harry Met Sejal' got our feet tapping and the other the 'hawayein' song sent romantic shivers down our spine. And hence we can't wait to feast the lovely duo, Shah Rukh Khan, and Anushka Sharma on the big screen.
While you are awaiting the big release just like us, step into Anushka Sharma's promotional fashion closet for some fun and inspiration-
In Manish Malhotra
After a series of black styles, it was delightful to spot the lovely lady in a refreshing green hue. In a Manish Malhotra ethnic outfit, she stepped out looking as beautiful as nature. The gentle pinch of vibrant pink was very welcoming on the outfit. Sangeeta Kumar Hegde, the hairstylist tied up her tresses into a leek ponytail and Vardhan Nayak, the makeup artist kept her makeup minimal and glowing.
In H&M
Culottes style has always been fascinating yet tricky. During the promotions, Anushka showed how chic and easy it is to carry this fashion. She dressed boss like in an H&M high necked top over leather culottes from 431-88 by Shweta Kapur. Giving the formal style a street chic vibe were the Louboutin heels.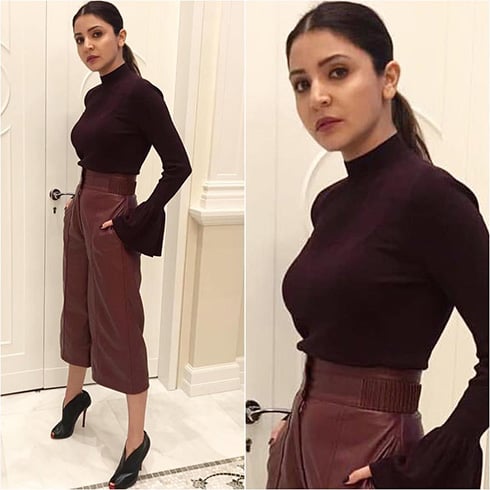 In Dior
Black and Anushka Sharma are inseparable and if you have followed her styles keenly, you would agree with us. She was spotted clad head to toe in Dior couture during one of the events. Love the sheer skirt!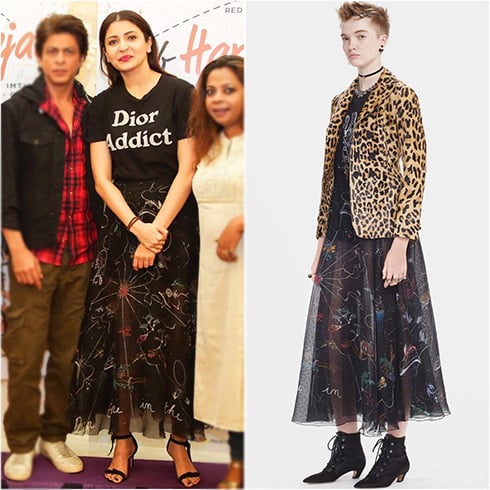 In Rosie Assoulin
We usually tend to keep one piece of the outfit in the solid shade when the other half is loaded with prints. But Anushka surprised us with her assortment of checks and stripes in one style with Rosie Assoulin outfit. And much more to our amazement, she added pastel pink pumps from Sophia Webster. That's one minimalist avatar that spoke ample about the trends.
Loved what you saw? We did too!
Author: Sai Bhargavi Chintaluri
August 2nd, 2017
---
Anushka Sharma Height, Weight, Age, Body Measurements And Bio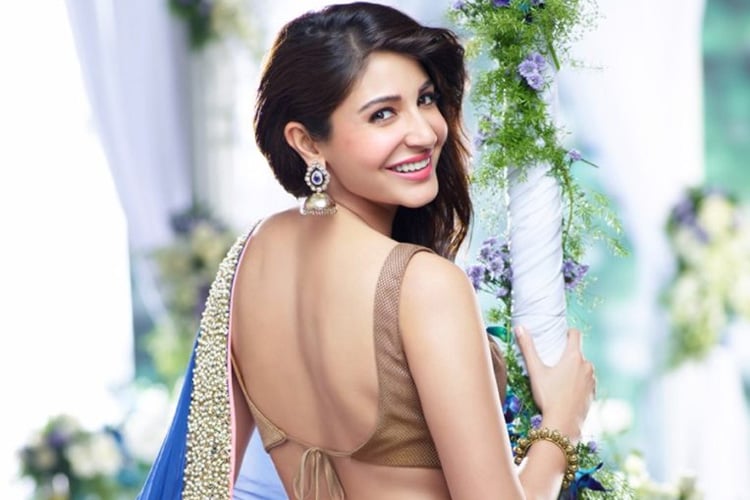 Personal Details
Name
Anushka Sharma
Birthday Date
May 1, 1988

(29 years)

Sun Sign
Taurus
Eye Color
Hazel
Hair Color
Light to Dark Brown
Nationality
Indian
Religion
Hindu
Education
Army School, Bangalore; and then Mount Carmel College (where Anushka got her degree in arts)
Occupation
Model, actress, producer
Marital Status
Single
Family Details
| | |
| --- | --- |
| Father | Col. Ajay Kumar Sharma (an army officer) |
| Mother | Ashima Sharma (devoted housewife) |
| Siblings | One brother Karnesh Sharma (film producer) |
| Spouse | N/A |
| Children | N/A |
Past Relationships
Two men, highly acclaimed in their professional fields, will stand out in this case. Yes, you guessed right – Ranveer Singh (actor) and Virat Kohli (cricketer) have been the love interests for Anushka Sharma.
Hang on! There are more in Anushka's list of BFs.
1. Zoheb Yusuf: Anushka's first love-equation happened during her modeling days. She met Zoheb Yusuf in Bangalore. And then luv-shuv happened which lasted for two years. Some loss, some gain. After the break-up, Anushka became a film star.
2. Ranveer Singh: It was during the shoot of Band Baaja Baaraat that Ranveer and Anushka met. Ranveer, you can say, is Anushka's first BF after her entry in Bollywood. Very surprising for her to say "I never dated Ranveer Singh".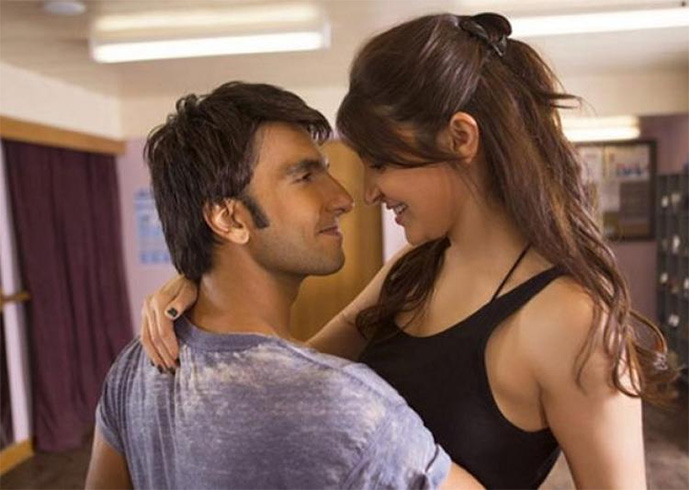 3. Ranbir Kapoor: After their close meeting at a party thrown by Karan Johar, Ranbir Kapoor and Anushka Sharma came to be more than friends.
4. Shahid Kapoor: Rem'ber the film starring Imran Khan in Mere Brother Ki Dulhan? Apparently, Anushka had a lip-lock with Shahid Kapoor at the film's success party hosted by Imran Khan.
5. Suresh Raina: According to rumours, Raina was set to marry Anushka. He had admitted his "fondness" for her.
6. Arjun Kapoor: After she split with Ranveer Singh, Anushka got close to Arjun Kapoor (how many Kapoors has she dated…I am counting). The duo spent a lot of time at the Yash Raj Studios and at Juhu complex.
7. Virat Kohli: At the shooting of a TV commercial way back in 2013, Anushka and the Indian cricketer Virat Kohli met. And then romance happened which lasted for 2 years (this is quite substantial these days, don't you think). And then there were breakup rumours between them. As it so happens, Virat is the last of the men in Anushka's BF/love angle.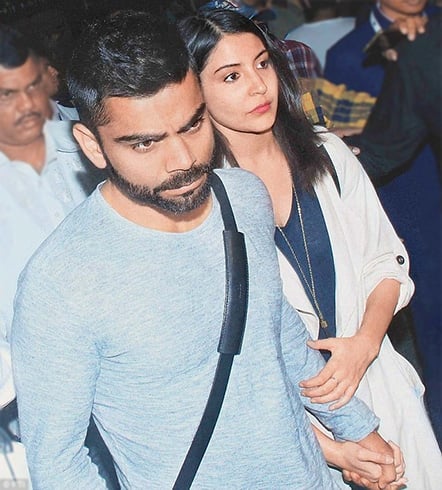 Seven people…Well, we do hope Anushka Sharma and Virat Kohli tie the knot, some day, some year.
Body Status
Meet the tall and lean Anushka Sharma.
| | |
| --- | --- |
| Build | Hourglass |
| Height | 5 ft 9 inches |
| Weight | 54 kg |
| Waist Size | 24 inches |
| Hip Size | 33 inches |
| Shoe Size | 8 (US) |
| Dress Size | 2 |
| Body Measurement | 33-24-33 inch |
Anushka sharma
One of the most promising actresses of Bollywood, this woman has got it all in her – Beauty, Talent, Grace. Anushka is a natural beauty and her without-makeup pictures prove the same. With an ever-green face where she flashes a wide smile, Anushka is seen makeup-free at most airport looks and casual day outs and that's just how we love her.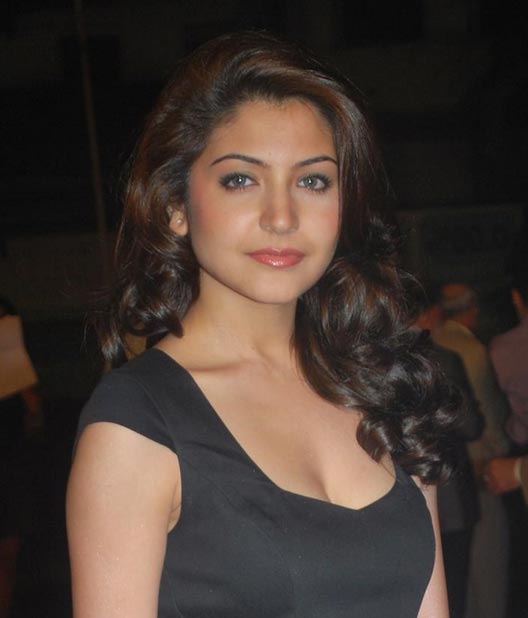 Favorite Things and Hobbies
Any hobbies, Anushka Sharma indulges in, other than acting? We find out.
| | |
| --- | --- |
| Color | Black |
| Food | Chicken Butter Masala, Japanese food, 'Khichdi' is her comfort food |
| Place | Goa and Himalayas; London and Paris |
| Sport | N/A |
| Brand | Burberry, Gabbana Light Blue |
| Actor | Shah Rukh Khan, Ranveer Singh, Aamir Khan |
| Actress | Rani Mukherji, Madhuri Dixit Nene, Audrey Hepburn |
| Film | The Shawshank Redemption, Life Is Beautiful, In the Mood for Love, Fish Tank, Jab We Met, Dilwale Dulhania Le Jayenge, Chak De! India, Yuva, Saathiya and Dil Se |
Professional Career
Anushka Sharma has gone places from the time she started in Bollywood. She has had the best of film banners, heroes, and heroines opposite her.
First Debut: Rab Ne Bana Di Jodi opposite Shah Rukh Khan
Brand Endorsements: Many brands in Anushka Sharma's kitty – Nivea moisturiser; Pantene hair care brand; Parachute hair oil; Elle 18; Sofy (feminine hygiene); Reliance Mobile; ACER, the leading laptop and PC player in India; Gitanjali Jewellers; Scooty Pep; Lifestyle's womenswear range etc.
Career Achievements: Such was her performance in the film Band Baaja Baraat that Anushka Sharma won the "Dada Saheb Phalke Academy Award" for it. She also has been the recipient of Best Supporting Actress award for her role in the film Jab Tak Hai Jaan. Her production debut kicked off with the crime thriller NH 10 and her well-appreciated role in the movie PK (opp. Aamir Khan) and Ae Dil Hai Mushkil (which had Aishwarya Rai and Ranbir Kapoor as co-stars).
Remuneration: INR 5-6 crore per film
Net Worth: $8 to 9 million
Anushka Sharma Weight Loss
Anushka is naturally gifted with a lean body. Which explains how effortlessly she fits into "paper thin" gowns and long skirts….she is sexy indeed! But for that, look at the amount of effort or man-hours she puts in to get the figure to die for.
Workout Plan:
Anushka S. relies a lot on Yoga. It ups her body flexibility (according to her) and gives her the chance to avoid the gym.
Despite her hatred for gym, Anushka needs to do the gym four times a week (that's because of her work demands). Weight training, strength training, walking and jogging are her fitness-musts.
Dance she does, at least 30 min a day. This according to Anushka strengthens her cardiovascular muscles
Meditation is an "offbeat" thing Anushka Sharma does, not once, but twice a day. The purpose – to cleanse her mind and clear it of all chaos. Point taken!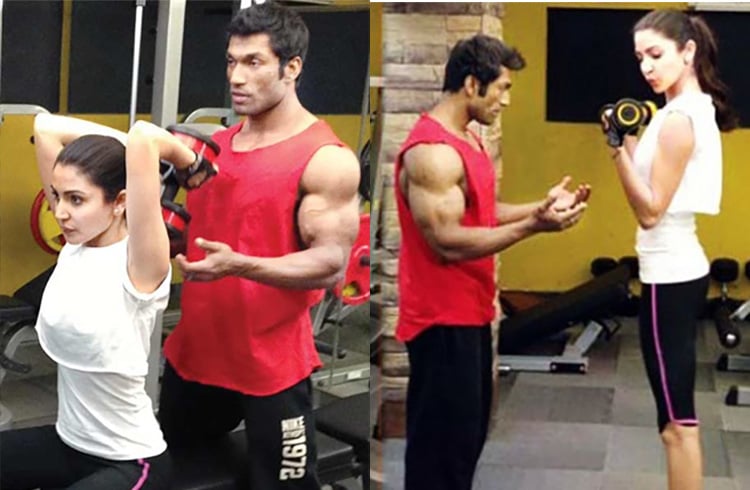 Diet Plan:
Junk food is a strict NO-NO for Anushka.
Her diet is simple and to the point:
Breakfast– Two egg whites, glass of fresh fruit juice.
Midday snack- Comprises of Cheese toast, and some lime or coconut water.
Lunch– Some love for home Anushka has. She carries her lunch from home which is complete in itself with homemade veggies, dal, two chapattis and salad.
Evening snack– Protein bars or seasonal fruits.
Bedtime – Glass of milk.
Social Media Profiles
Facts About Anuskha Sharma
The leggy lass that she is, Anushka Sharma got the chance to "walk the ramp" for Indian fashion designer Wendell Rodricks. She has also appeared in a number of ad campaigns.
Anushka was thinking of a career in journalism, and had come to Mumbai to pursue her love for modeling.
Any Filmfare award she won? NO! Its quite strange, actually. Despite her award-winning performances in Band Baaja Baraat and Rab Ne Bana Di Jodi, Anushka Sharma never won a Filmfare award for these two films. Anushka said in an interview "I cried on my way back home because I felt I deserved it. I was naive. Attending an award function was like going for a college award show, the feeling was that Sab ko mila mujhko nahi mila kind. That year, all the newcomers were given a scroll and I didn't get even that. I felt like sh*t. I thought I'd get the Filmfare trophy because I had done my calculations. I met Mr Amitabh Bachchan and he addressed me by my name. I was surprised. He said he'd seen the film and it was a fabulous performance." He said, 'Bahut samay ke baad I've seen such raw talent. And I told him, I've got my award. These were signs from God that everything would be fine. And it is."
Anushka is a shop-aholic to the core. She makes it a point to do some shopping, despite her hectic schedules.
Guess the tender age when Anushkha Sharma did her first ramp walk? Sweet 15!
What's that last thing which dear Anu takes before going off to sleep? A glass of milk!
Moisturizers everywhere!! That is what you will find in Anushka's home. Such is her obsession for moisturizers.
Till her 7th standard in school, Anushka Sharma was a regular in Bharatnatyam classes. I guess this explains her dancing skills!
While watching a movie in the cinema hall, what does Anushka Sharma love the most? Munching POP-corn!
Anushka Sharma has a strange fixation for "flat heels". Any guesses? She doesn't feel very comfortable in high heels.
Anushka Sharma is a big FOODIE…but surprisingly she hates burgers, pizzas and all greasy and oily food items.
As for liquids, Anushka Sharma is a beer-drinker. That's one step ahead of plain water, don't you think?
Every girl likes to have flashy colours in her wardrobe and sense of dressing. Anushka Sharma does not like bright colours at all. I think 'soberness' in colors describes her best.
Now that you know the juicy and entertaining side of Anushka Sharma, do tell us what makes her highly desirable? Which film of hers is a "master" in every way? Waiting for your replies and comments!
Author By: Deepika Dewan
May 29, 2017
---
Check Out Anushka Sharma's Worth-Trying Styles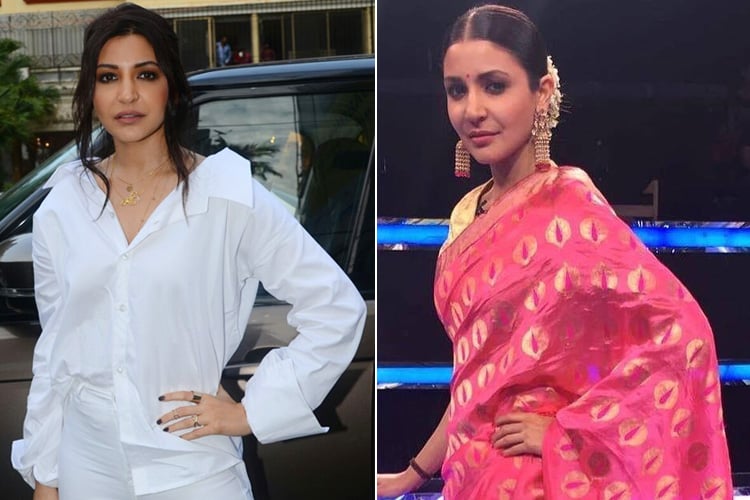 Nowadays, even before we crawl out of our bed, we reach out for our phone and start browsing the Instagram, isn't it true?
In our mind, we can see you nodding your head right away and smirking! And we are no newbies to this and look what we have stumbled upon this morning-
Anushka Sharma has bowled us all over again with her versatile styles while promoting her upcoming cinema, Jab Harry Met Sejal. Sneak in here for some insight-
In Denims
As much as she is dedicated to her work, this lady is equally fun and doesn't hold back her smile that sets spikes up everyone's heartbeat. She chilled out during one of the promotional events in denim style throwing cool yet trendy vibes. Over Pull & Bear distressed denim, she wore an asymmetric Deme by Gabriela shirt in white. The white over white outfit would have failed if the shirt didn't catch our attention. Falling till the ankle like a cape on the back side, it looked fashionable and hippy. With messy hairdo given by Franco Vallelonga and natural makeup by Vardan Nayak, she dug a sword right into our heart.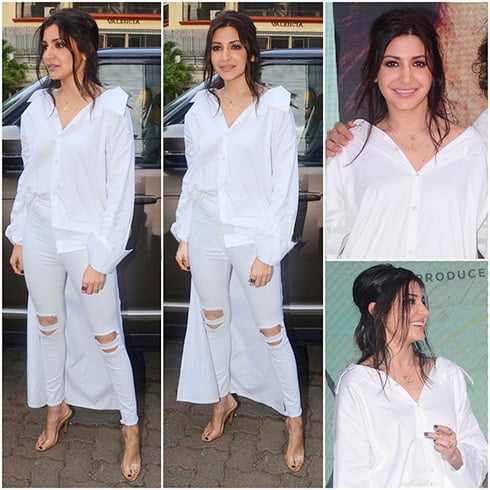 In Sari
While the former was a modish look of Anushka, the latter was a 100-degree flip-over in style. She did an ethnic style in Raw Mango and proved her versatility even in the fashion terrain. She added a traditional pair of earrings from Purab Paschim by Ankit Khullar. With gajra, bindi and sleek bun hairdo, she rolled out classic ethnic vibes. The diva didn't need any blush as the reflection of the sari brought shine to her face. Wise choice of color, don't you agree?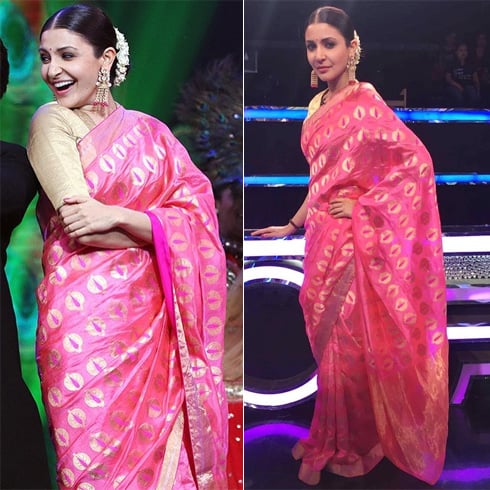 The stylist, Allia Al Rufai definitely deserves a pat on the back for such a terrific job of styling Anushka Sharma. Great job Allia!
Author: Sai Bhargavi Chintaluri
July 28th, 2017
---
Smooth Fashion Transitions Of Anushka Sharma Inspire Us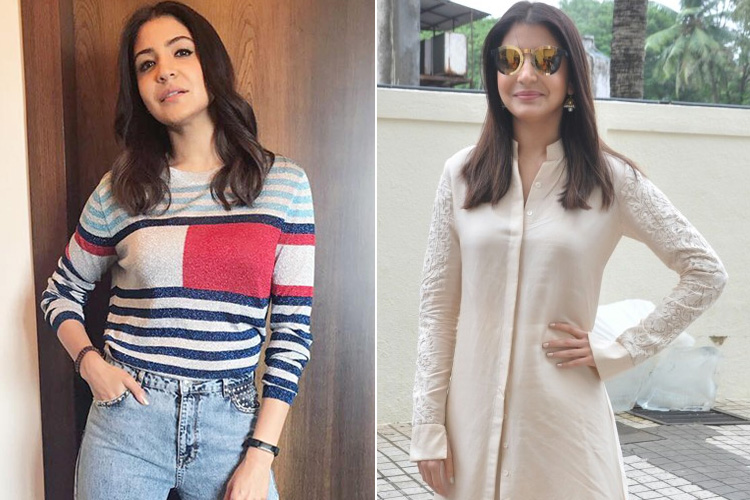 When two splendid actors come together on one screen, it a feast to the world of entertainment and proving our point right was Shah Rukh Khan and Anushka Sharma on Imtiaz's Alis's next 'Jab Harry Met Sejal'.
Very much intrigued by this hit duo on-screen chemistry and their unbelievable expression of emotions, we picked up all the bread crumbs leading to the promotional events and trailer launch.
As interesting as we expected the trail to be, equally fashionable and stylish was the journey. Here are the B-town lady's style compilations that left us longing for more of her looks-
Denim Story
Anushka stepped out to promote her upcoming film in a nautical tee from Tommy x Gigi and Pull & Bear denim. Though the look was very casual and simple, Anushka rocked it with brown colored Aquazurra sandals. Soft wavy hair, natural makeup rounded her look with ease.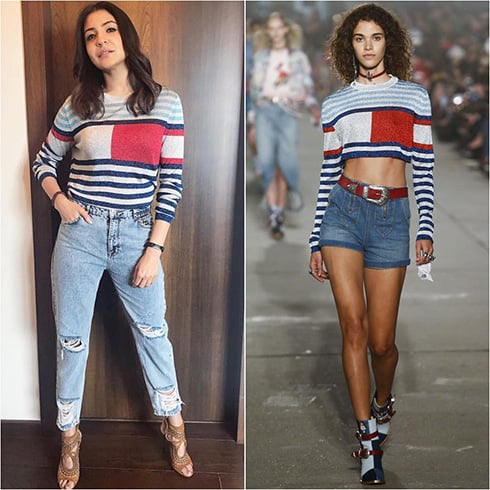 Cream Story
White and cream are colors that promote richness and elegance and Anushka Sharma knew that very well. She graced the trailer launch of her upcoming film, 'Jab Harry Met Sejal' looking elite and royal in a cream Manish Malhotra long kurta and white straight fit pants. Simple jewelry, Coral Haze juttis complemented her outfit flawlessly. Sangeeta Kumar Hegde, the hairstylist ensured the elite game was intact and hence kept the diva's hair fuzz-free, soft and straight. Puneet B Saini, the makeup artist painted her natural in neutral tones for the look.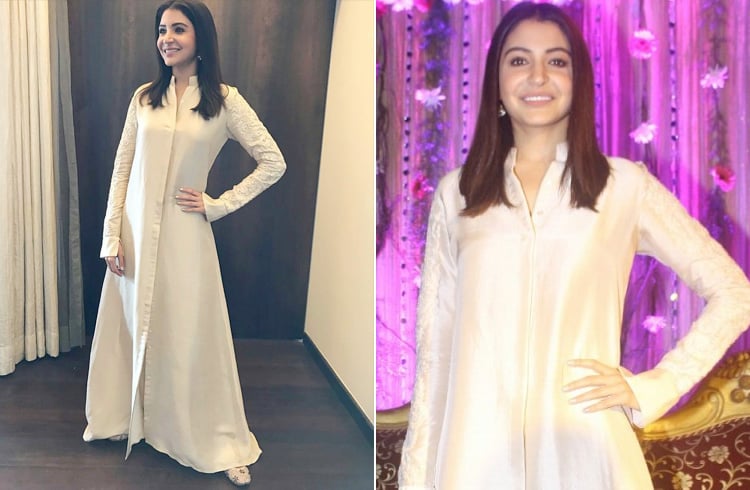 From Denim to Kurta, Allia Al Rufai made sure Anushka's transition was smooth. Kudos to her!
Author: Sai Bhargavi Chintaluri
July 24th, 2017
---
Anushka Sharma Shows The Right Way Of Going From Work To Party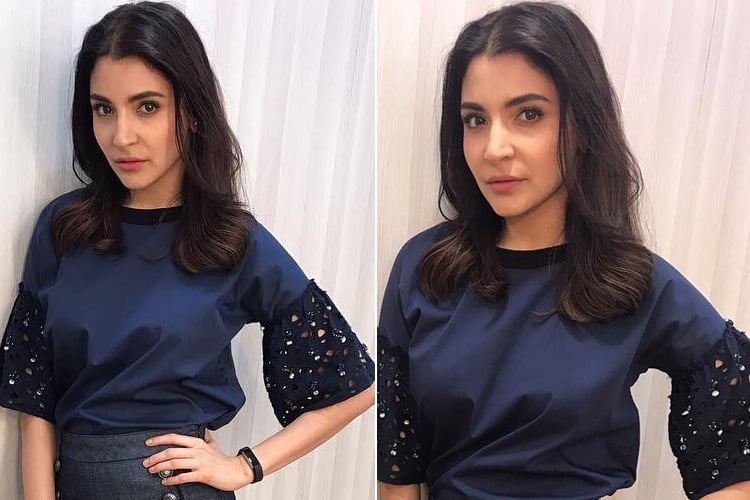 Anushka Sharma was spotted doing a smart work wear style while promoting her upcoming film 'Jab Harry Met Sejal'. A Shift top and well-smoothed Tommy X Gigi jeans defined her style well. Along went Maison Valentino classy shoes to complete the style.
Interesting was the semi-embellished sleeves and the buttons rolled out onto the side of the denim. Don't you agree?
Author: Sai Bhargavi Chintaluri
July 12th, 2017
---
YRF Launch Event Saw The Best of Anushka's Black And White Style
Anushka Sharma and Ranbir Kapoor took up the responsibility of launching the fresh faces of Yash Raj Films banner. At the launch event, the diva was spotted doing a splendid black & white style. In a Tanieya Khanuja black outfit with floral prints, Anushka looked smart and chic.
Alexandre Birman white ankle strap heels complemented her style effortlessly. Soft hair, natural makeup, and wide energetic smile rounded her black & white theme.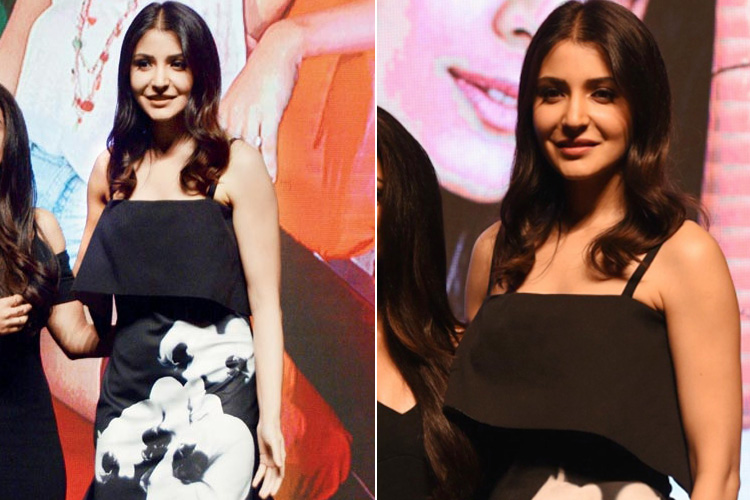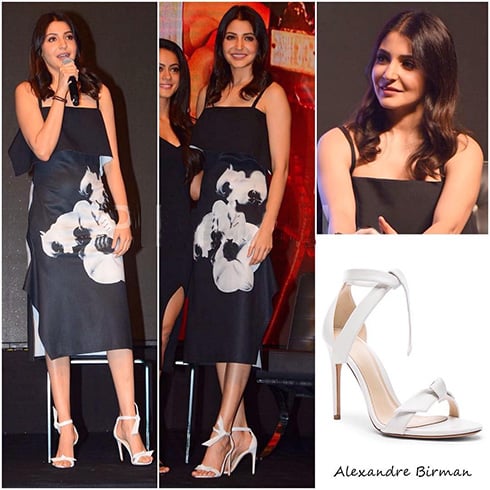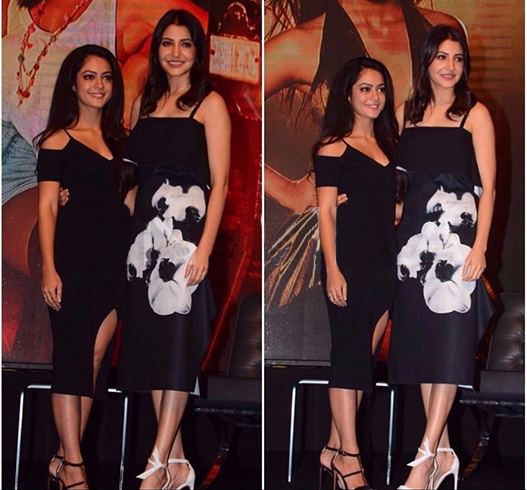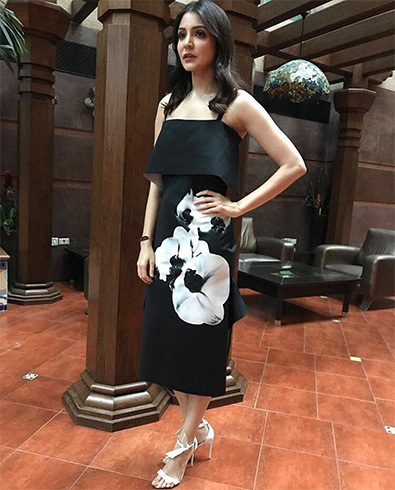 Author: Sai Bhargavi Chintaluri
July 4th, 2017
---
Anushka Sharma's Black Out Style Is Surely Not Too Hard To Play
Anushka Sharma was spotted alongside her co-actor, Shah Rukh Khan at the launch of the new song 'Beech Beech Mein' from her upcoming film, 'When Harry Met Sejal'. The duo did an all black style and Anushka aced it. In a custom made black tee over H&M jeans and Louboutin booties, she looked stunning.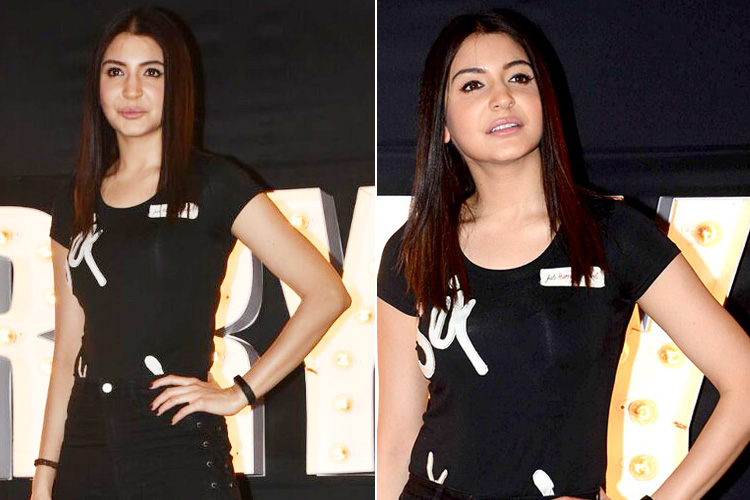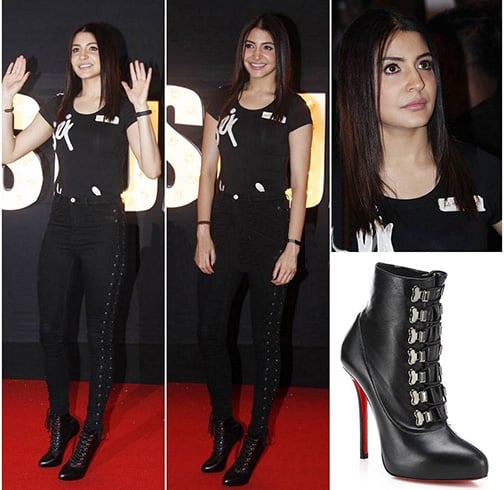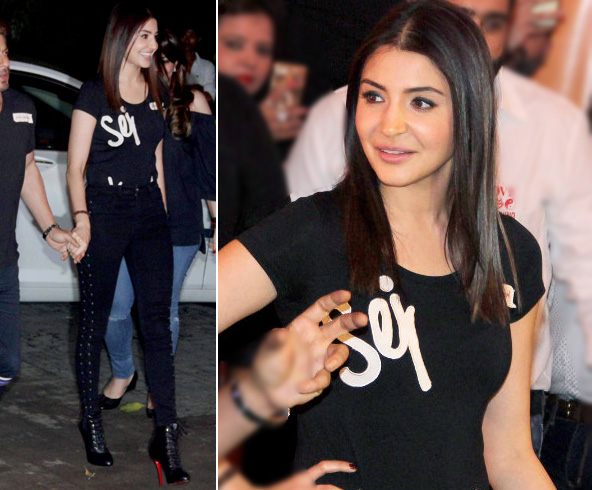 Author: Sai Bhargavi Chintaluri
July 1st, 2017
---
Images Source: instagram
Recommended Articles:
Anushka Shetty Latest Updates
Alia Bhatt Latest Updates
Aishwarya Rai Latest Updates
Deepika Padukone Latest Updates