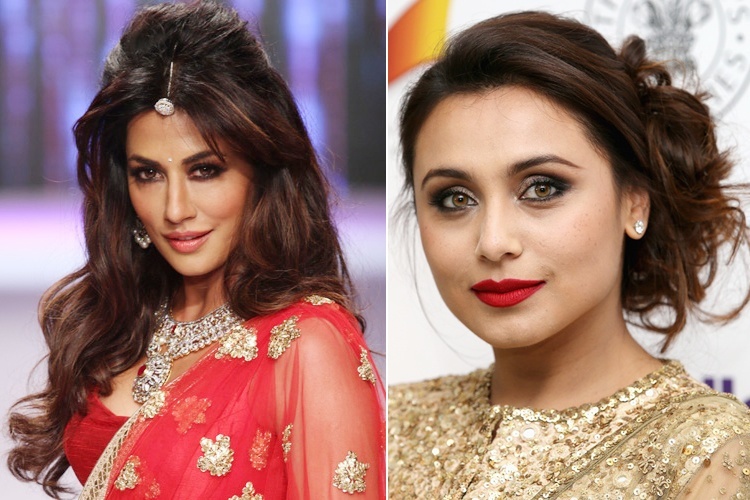 There is a bride and there is a Bollywood bride. Both of them have the same desires and longings of looking chic and haute, whether it is choosing designer apparels and accessories or hairstyles.
[Also Read: Wedding Hairstyles for Long Hair]
Talking of beautiful brides, bridal tresses have undergone a paradigm shift. One can never get over the famous 'Sadhna' cut, but the modern Bollywood bride is all out for something different and dramatic than was seen or worn in the past.
Yes, one can't replicate Mohawk hairstyle on a Bollywood bride, but then there is an equally hot range of hairstyles to make the bride look awesome and stunning.
Okay the options in Bollywood bridal hairstyles are plenty, not wafer thin. There are twisted buns, tousled waves, movie star curls, even embellished hair ties. All that needs to be done in selecting the bridal hairstyle is narrow down on the options between minimal, unconventional or timeless. We present a couple of trending options in Bollywood bridal hairstyles that will serve as a reference point for you when you are getting married.
Hairstyle 1: Bun With Flower For Traditional Indian Bride
Catch Kareena Kapoor in this nude make-up look wearing the traditional bun decked up with flowers. It's simple and neat, and in no way it is heavy. When adopted, this hairstyle will win you admiration from all quarters (in-laws inclusive).
Hairstyle 2: Middle Parting Bun
The lovely Esha Deol looked resplendent in her middle-parted bun on the day of her wedding. The maang-tikka highlighted her tresses all the more, as much as the little curls left loose. Surely looked elegant!
[Also Read: 60's bollywood actresses]
Hairstyle 3: Side Swept
Our Sonam Kapoor (you know the one who is regular at Cannes giving tough competition to Ash Rai) loves to explore things (did you read boyfriends, eh?)
Anyhow Sonam looks so lovable in her long, shiny and flouncy tresses kept on the side, they are very much under camera's attention as much as her cat-styled eyeliner.
Hairstyle 4: Pompadour With Fringe And Curly Hair
Who can miss the smokey eyes and blush on? Or for that matter the heavy pompadour with curled and fringed hair that makes it a hairstyle apt for a bridal ceremony?
Surely, it is hairstyles like these that you will find in films and desi saas-bahu serials. All you need are long hair for these, not short and cropped ones, otherwise how will you make your hair the subject of envy.
[Also Read: Bridal Hairstyles for Short Hair]
Hairstyle 5: Classic Updo's
This particular hairstyle fits the Indian wedding pretty well. All you need to do is twist up the updo and add streaks of fun which can be in the form of low sleek buns, flyaways, braided knots or pouf-ed up (mind you, the pouf-ed up option is the bride's signature pick she barely lets go of)
Hairstyle 6: The Loose Trick!
For brides who prefer minimalism, this is the hairstyle that's gaining popularity. After all, it's all about creating a fine balance with hair.
Easier to create and much easier to win attention, all it needs is sleek looking straight hair, though a middle parting will help you create the right impact.
Hairstyle 7: Embellishments
Yes yes, accessories and embellishments have enough meat in them to make a boring hairstyle look extraordinary.
[Also Read: Jennifer Lopez Hairstyles]
To get this Bollywood hairstyle, just adapt your love for jewellery to your hair locks by getting gems. There are many options to put glamour into your hair – headpieces with pearls, diamonds to semi-precious coloured stones. If you wish to go for a retro option, then no harm in adding some of your most loved fresh blooms. Sounds exciting and workable!
Hairstyle 8: Over-The-Top Blowout
Hungry for more and adventurous hairstyles? Nothing can fade away the drama of over-the-top blowout which will be apt for bombshells. Big and exaggerated curls are very much in fashion and look superb when they fall over that lovely bedecked bridal blouse.
[Also Read: South Indian Brides, Bridal Hairstyles & More]
Hope you are suitably inspired by these B-town beauties when it comes to styling your hair.
So, tell us which of the hairstyles sported by them happen to be your favourite and why. We do hope you will be trying them out on yourself.