Priyanka Chopra was spotted having a casual lunch with her friends in New York and the streets of NY couldn't have gotten any more beautiful.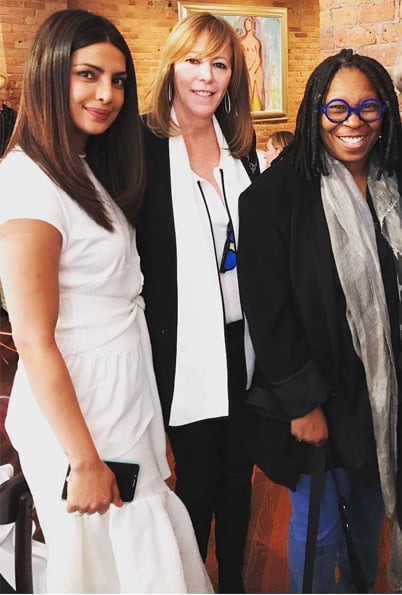 She was spotted in a cool summery white outfit from 3.1 Phillip Lim. The high neckline, the wrap-around style, the knot on the side, and the asymmetric hemline were trendy features of the outfit that beautified her look.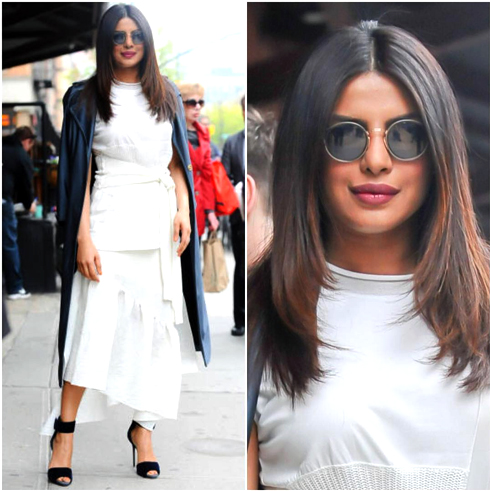 A strike of black with Burberry jacket and Giuseppe Zanotti sandals turned it into a killer style. Mid parted straight soft hair and soft plum shade lips gave a neat and flawless touch to her trendy look.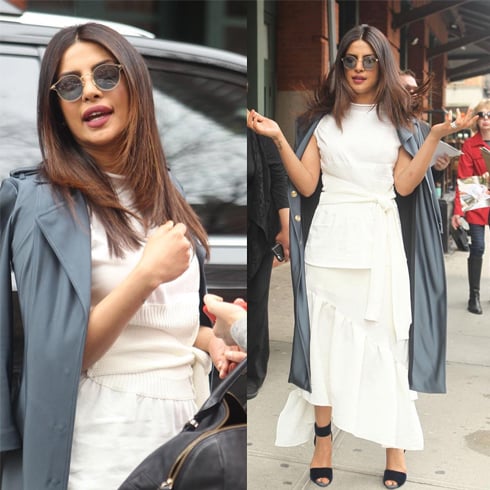 This style of PeeCee was impressive enough to make its way into her New York style file. Cristina Ehrlich, the stylist did an easy yet flattering job, don't you agree?
While the former look was pleasant and adorable, the latter was chic and street style. She was spotted out and about in New York city in a pair of distressed boyfriend jeans, a high collared black top and a blazer from Ralph Lauren. Pinning back her hair into a casual bun and with flawless makeup, she looked classy with a subtle street style vibe.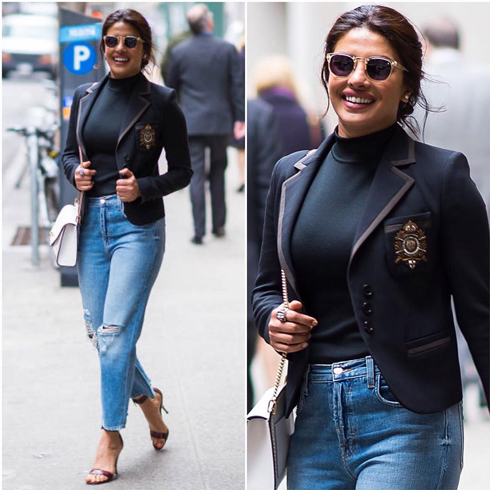 Which look of PeeCee caught your eyeballs? Share with us your comments in the section below!
April 21, 2017
Author: Sai Bhargavi Chintaluri
---
Priyanka Chopra Looks Exotic At Harper's 150 Celebrations
Not just in the world of acting but also in the world of fashion, Priyanka Chopra has earned fame and definitely held her standards sky high.
The diva's work commitment in New York seems to be coming to an end and looks like the lovely lady is making the most of her time with her friends. She recently graced the Harper's 150-anniversary celebrations in the heart of New York City looking breathtakingly gorgeous.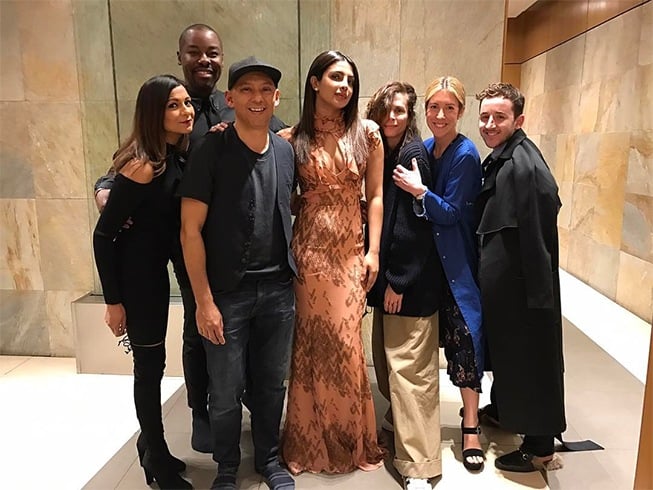 She chose a J.Mendel bodycon printed gown for the grand event. While the color of the outfit complemented her skin tone and the outfit smoothed on her curves without a crease, her plunging neckline was enticing.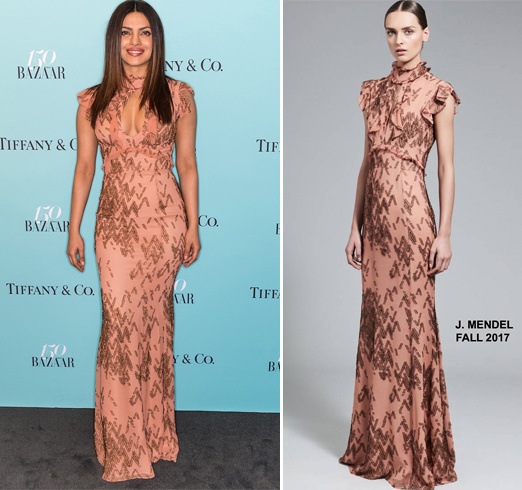 Nirav Modi diamonds were her companions for the outfit. Mid parted straight hair, bronzed makeup, luscious lashes and soft coral glossy lips upped the beauty a notch higher and melted our hearts.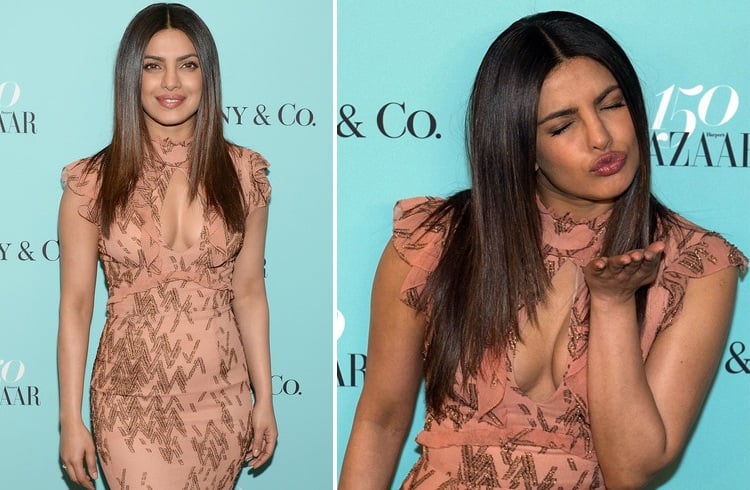 We appreciate the magic that Cristina Ehrlich, the stylist who stayed loyal to PeeCee all through her Hollywood appearances, cast on her!
Author: Sai Bhargavi Chintaluri
April 20, 2017
---
Priyanka Chopra Created Ripples At Baywatch Promotions With Her LBD Style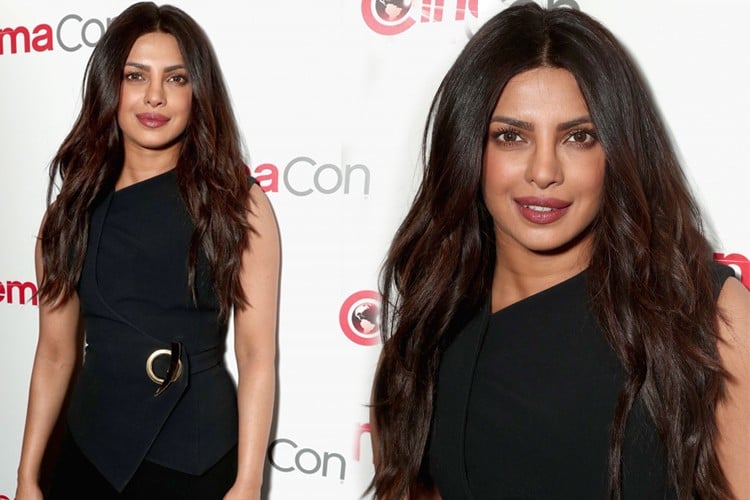 No wonder Priyanka Chopra wasn't spotted at the all-consuming award ceremonies happening around in town, as she was spending her valuable time in promoting her upcoming International flick 'Baywatch'.
CinemaCon, the official Convention of the National Association of Theatre Owners (NATO) rolled out their sixth successful show at Caesars Palace, Las Vegas last night and our Bollywood star graced the event to promote her film among the grand audience.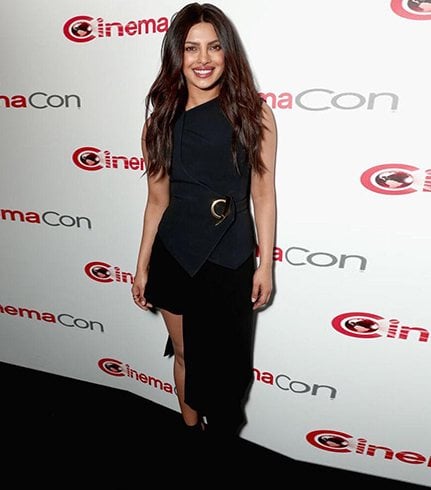 Though we genuinely missed PeeCee knocking off spectacular styles at our local B-town award shows, we found her promotional style equally sensational.
The diva nailed an all-black style in Balmain label. While the top had a wrap-around feel with a blazer style finish, the high-low asymmetric skirt created ripples in the fashion world. She had her hair brushed the usual style, with a mid-partition and rolling messy waves towards the ends.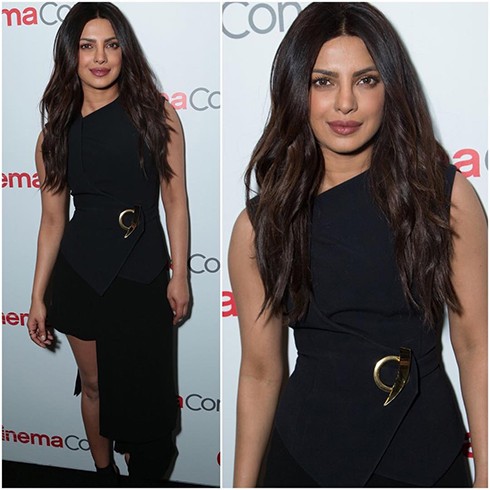 We have seen numerous Christian Louboutin creations but this peep-heel style boots seemed an absolutely fascinating pick to go along with PeeCee's style. Well-balanced light makeup rounded her style flawlessly.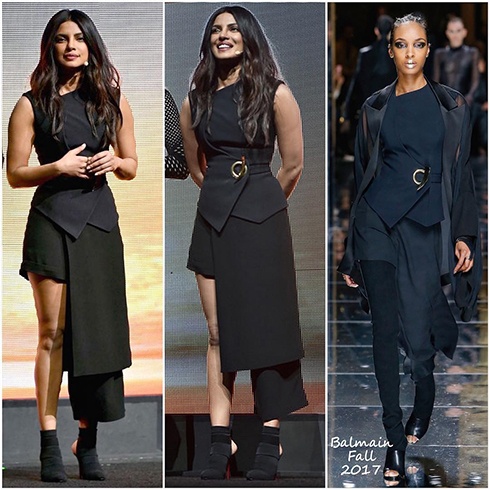 Cristina Ehrlich, the stylist deserves an applause for making our diva rock on the global platform even in the fashion terrain.
Keep going PeeCee!! We love you!
Author: Sai Bhargavi Chintaluri
March 31, 2017
---
Priyanka's Rocking Her Fashion Statements
Priyanka Chopra, she's in the news every day killing it with success and fame all along. Recently creating waves for her marvelous fashion statement and the Best Actress award at People's Choice Awards, she's back again with yet another fashion statement. Keeping it simple with haute couture is Priyanka's style and we are inspired how she never goes wrong.
Post the award at People's Choice Awards, we spotted her on the Jimmy Kimmel show donning a Versace mini dress, oh boy, we were taken aback. The purple and black number was slightly lined with a white lace giving an appealing finishing touch to the dress. Looking gorgeous with her trademark middle parted hair creating waves over her shoulders as well as our hearts. She teamed the outfit with black pumps and kept her accessorizing to the minimum.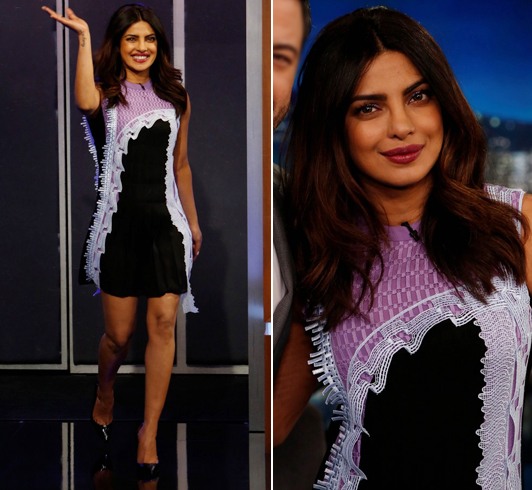 Do you like her style? Let us know in the comments below.
Author: Bhavya Rebala
January 27, 2017
---
Priyanka Chopra Makes Fashion Look So Easy And Simple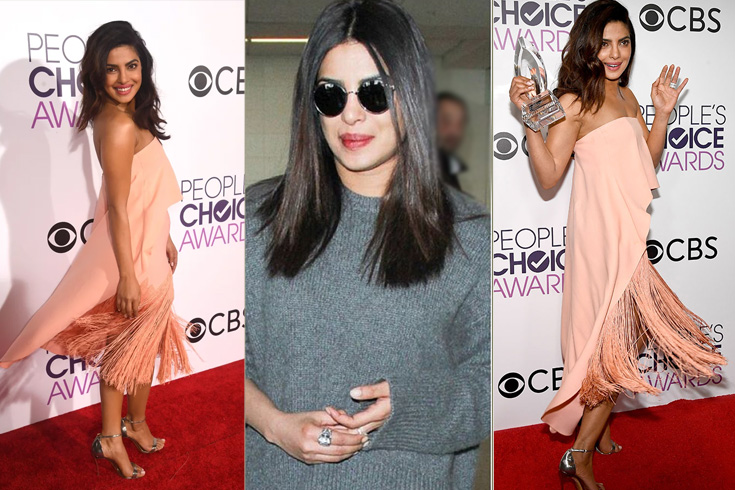 Before we said goodbye to 2016 completely, Priyanka was back in India and continued being the stunner that she is. Now as we unfold a new year, it is a no-brainer that PeeCee never ages, she manages to look ever young and beautiful all along, that we might forget she's an actress of the 90's, still acing it till date. Each of her looks have caught us off guard in the most unexpected way possible. So, let's take a tour on her recent fashion moment that we loved.
Winning the People's Choice Best Actress Award, she embraced the red carpet in a mind-blowing outfit and we think she deserved The Most Fashionable Star Award from our side too. In this Sally LaPointe strapless light peach colour outfit, she captivated us. Accessorized in Nirav Modi Jewels, we think stylist Cristina Ehrlich did a fabulous job. Her makeup was kept to the mark with a red lip rounding off her look, well, only if looks could kill!
Her airport fashion was warm and simple putting all the too stylish airport looks to shame. A perfect look for the chilly weather, she was seen in a woolen sweater cum top teamed with regular distressed jeans. The mustard cape kept the look so stylish, rounding it off with boots. Ah, we feel the warmth and comfort within.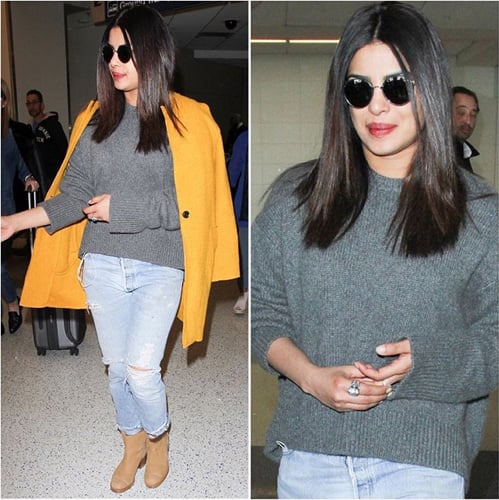 PeeCee makes fashion seem so easy, isn't it?
Author: Bhavya Rebala
January 23, 2017
---
Priyanka's Haute Couture Dress Designer Is Our Muse Now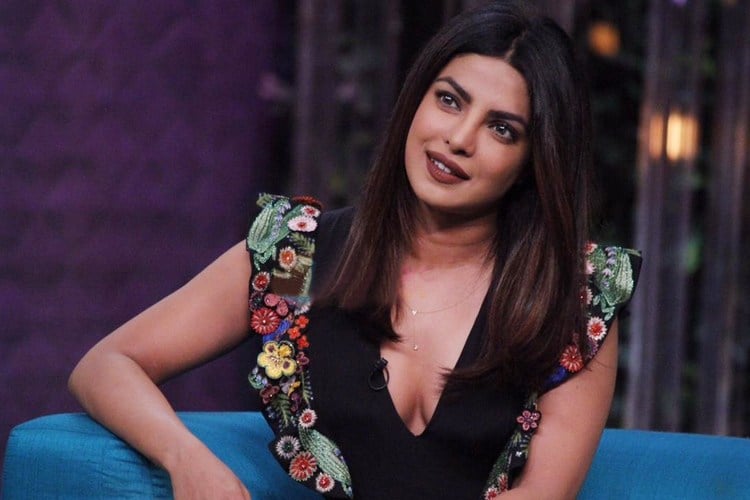 Haute Couture is every girl's dream, and this art of high exclusive custom fitting dresses has taken over Indian celebrities too. Recently, we spotted Priyanka Chopra on the sets of Koffee with Karan in a high fashion style outfit and we are excited to share the details of the outfit with you. We can only say that Priyanka's choice of style is singular, and this star experiments with a range of vibes, pulling off certainly everything in the most polished manner.
Priyanka Chopra was donned in this gorgeous fitting outfit from Fendi is breathtaking keeping the theme simple. We love how the outfit is simple throughout, with just a bit of floral work at the sleeves portion. Teaming this outfit with Nirav Modi Jewels and a dark lip, she has rocked the outfit.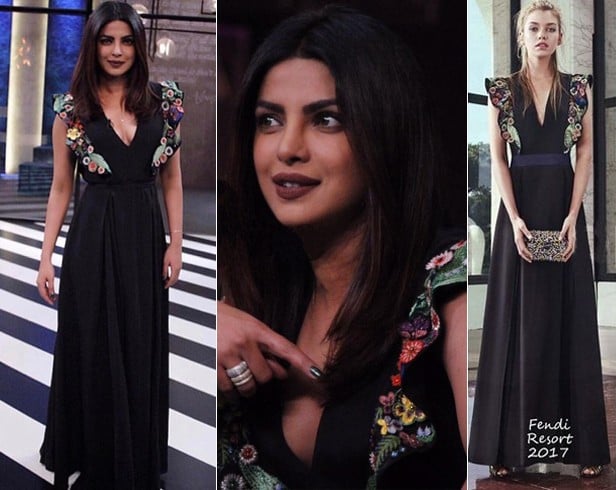 Tell us what you thought about her look. Did you find it perfect or feel it could've been styled better? Drop down your comments.
Author: Bhavya Rebala
January 20, 2017
---
Let's Upgrade To Priyanka Chopra's Airport Wardrobe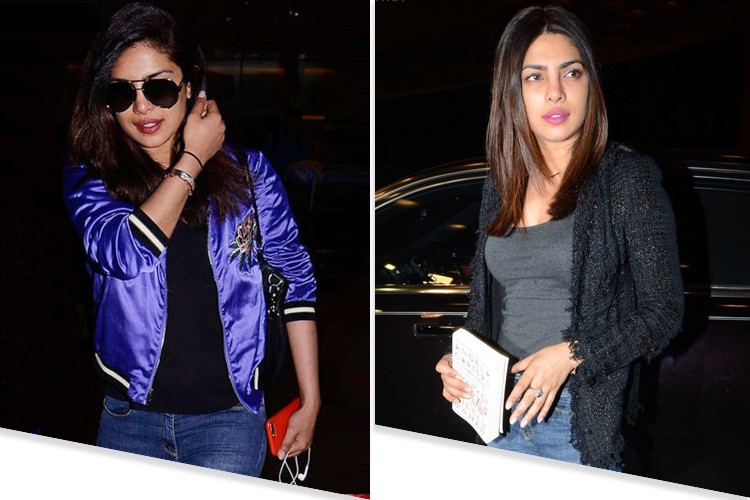 Priyanka Chopra has been traveling more than any other Bollywood celebrity that we know of. This lady has gained worldwide popularity, and so has her fashion sense. It is very tricky to nail the traveling style game, as it needs to be kept simple and stylishly striking at the same time. This woman has mastered the traveling fashion style and is a true travel pro. Take some inspiration for your next airport visit.
In this shiny blue bomber jacket and a black spaghetti top, she looked fab with her medium length hair let down and sunglasses to round off the look. PeeCee knows how to keep it simple when a shiny jacket is part of your outfit, so flip flops are the perfect footwear to go with this look.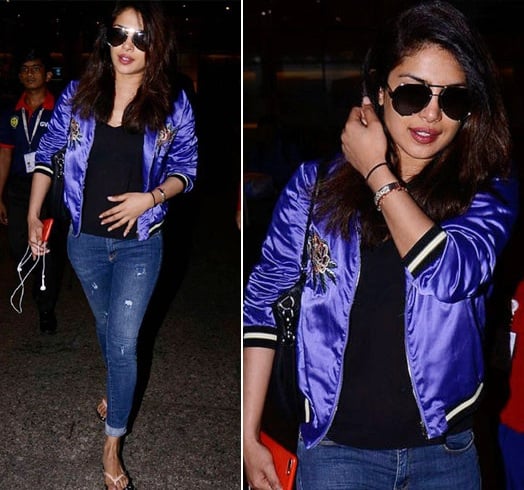 The bold lass looked gorgeous in this dark grey shrug with a lighter shade of spaghetti and jeans. Her pink lipstick was spot on complementing the dark outfit look to every bit. She rounded off her look in Miu Miu footwear. Middle parting of hair do's has never gone wrong with Priyanka and we love her look.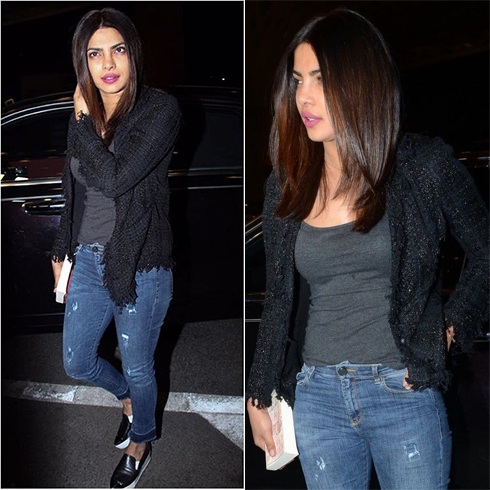 We are seriously impressed with her travel style! What about you?
Priyanka Chopra Becomes The First Indian Ambassador For Pantene Globally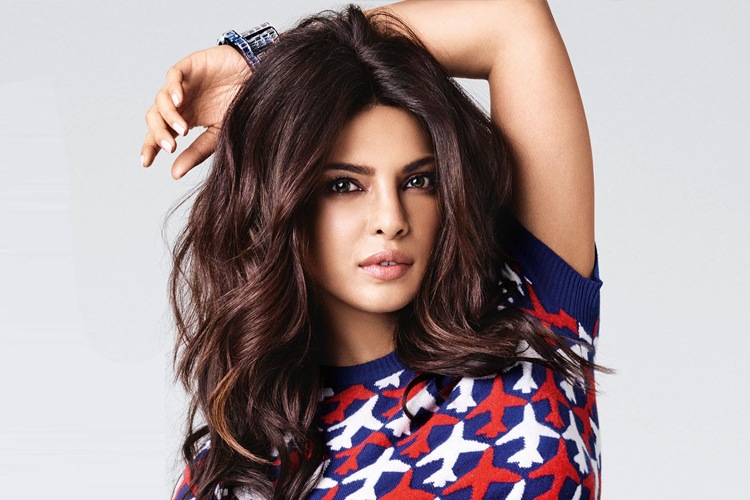 Priyanka Chopra, nothing can stop this woman from reaching unimaginable heights. An actress, singer, film producer, philanthropist and a former winner of the Miss World pageant, she has earned applause internationally for her TV show Quantico and carved a place comfortably for herself in Hollywood. All the million people over the world are obsessing over her, and now Pantene wants that attention too. Yes, you read that right.
The new global ambassador of Pantene is now Priyanka Chopra, the first Indian ever to represent Pantene globally. She has taken on social media how both Pantene and she have the same beliefs that "Strong is Beautiful", and how inner strength is important for hair as it is for life. She is the face of the newest campaign that advocates to make hair stronger and thicker in just two weeks, and we already know she's out to inspire all those women around the world with her beautiful locks.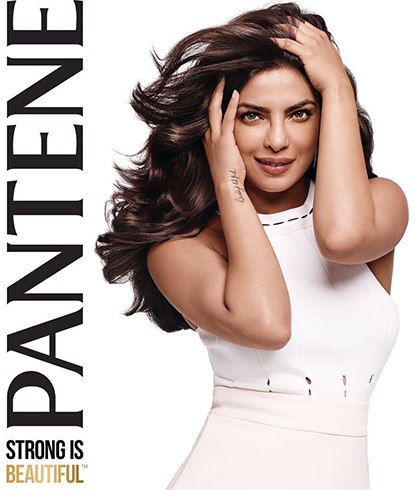 Meanwhile, Priyanka is back in India and we are as happy as she is, to see our iconic figure back in the country. She was spotted at the Kapil Sharma show recently looking brighter than the sunshine, in a yellow 3.1 Phillip Lim vest and pants, teamed with a white tank top, rounding off the look with nude Louboutin heels. Her sprightly hairdo sure was a thumbs up.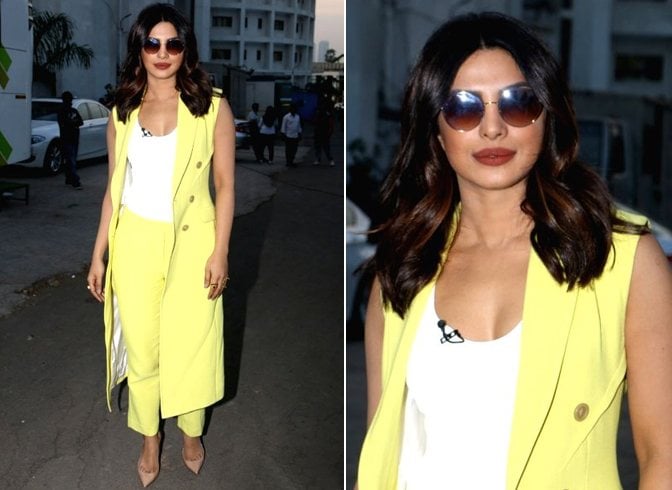 Already inspired, aren't you?
Author: Bhavya Rebala
Priyanka Chopra – A Shot Of Intoxicating Styles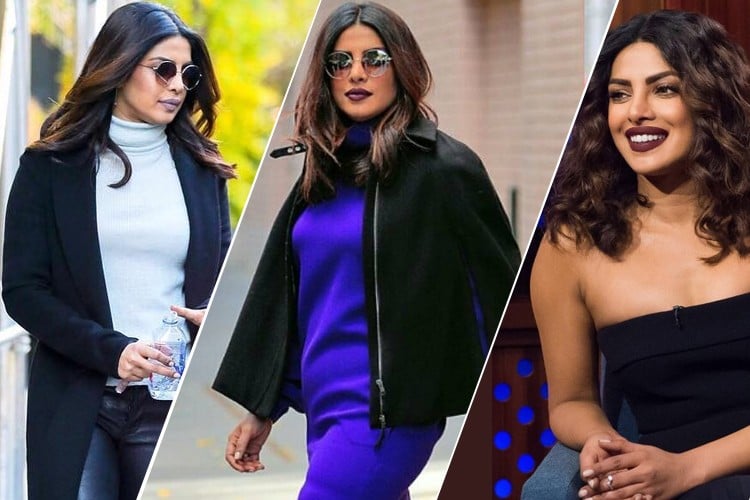 The fashion world is on the watch for all things fashion when it comes to Priyanka Chopra and we are one among them. Having recently done a spectacular beauty shoot, the Quantico lady got us excited about her miraculously easy makeup and her competitive styles.
A blend of right hues is what makes our diva click in absolute ease. Let's delve into her off-late styles and master the art-
In Burberry Boots
With celebrities, it's not always about the outfits that they showcase. It could be either the shades, the shoes or handbags too. Here we are amazed to spot the divalicious Priyanka Chopra flaunting the astounding snakeskin cutout boots from Burberry over a pair of leather pants and a long black coat. If you hold a strong passion for shoes, then this style surely should make way into your collection, what do you say?
With Hyacinth shade lips, smart gogs and the mid-parted swirly hairdo, she kept the look fairly interesting.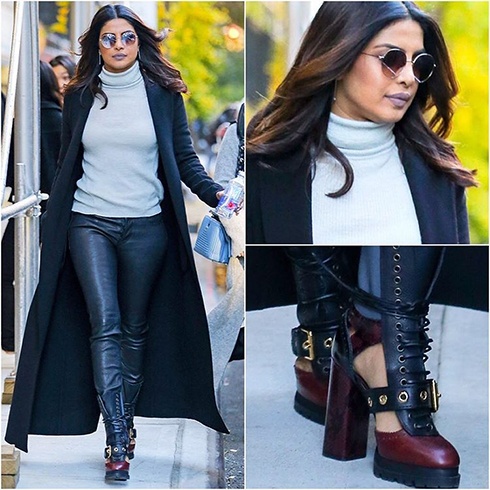 In Costume National
Winter in NYC is playing quite fashionably on our Bollywood beauty, don't you think? In a purple sweater dress from Costume National, she looked eye-catchy. Pairing it with thigh high boots and jam colored matte lips, Priyanka Chopra was breathtaking.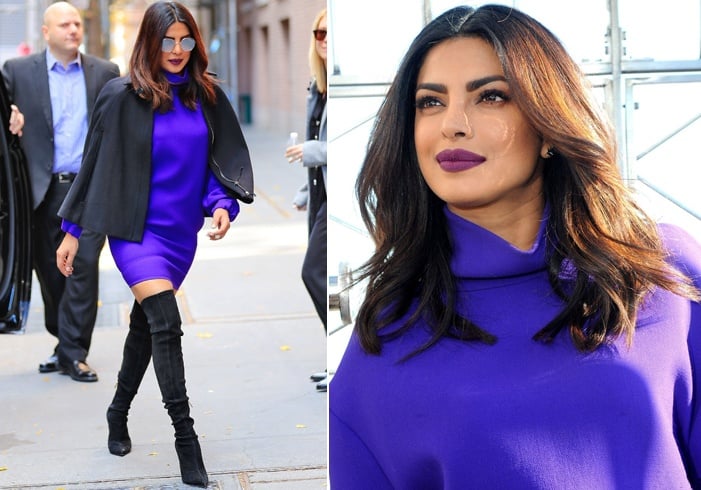 In Dion Lee
Looks like the diva's calender apart from her shooting is filled with talk shows and magazine photo-shoots. And at every other appearance Priyanka amazes us with her fresh and flawless styles. In a strapless Dion Lee outfit, with wine colored lips and stiff curls, she looked stunning.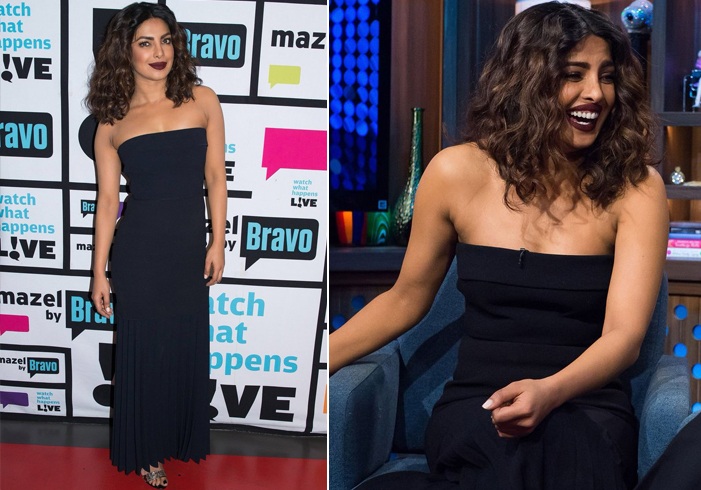 Romping playful lip shades, and being the life and light of every event, Priyanka Chopra is surely storming our Instas, and fashion news and we are glad to note every flick and frisk of her style.
Priyanka Chopra's Makeup Shoot Looks Thrilling!!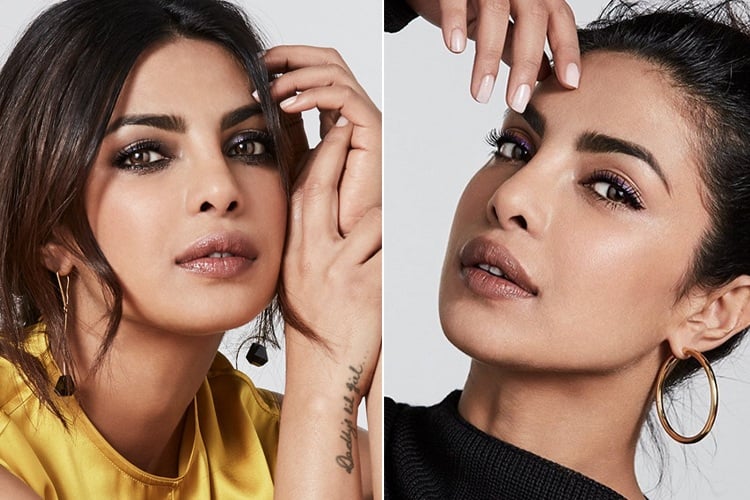 It is no wonder that the whole world is eyeing our Bollywood beauty and charmer, Priyanka Chopra. And, why not? The diva has been climbing steps of success right into the sky.
Recently PeeCee accommodated her schedule to interact with Byrdie, one of the beauty magazines in which the diva is reported to have disclosed her take on DIY masks, de-stressing tips and tricks. But what caught our eye is the impressive photo shoot.
For one of her clicks, to enhance the makeup, the pretty lady dressed up in a bright yellow silk number from Ports 1961. Letting her Celine earrings swing, she pinned her hair into a low bun. The diva was given thick black liner look to bring out the spark of the eyes. She applied a natural glow to the nude lips and contoured her face flawlessly.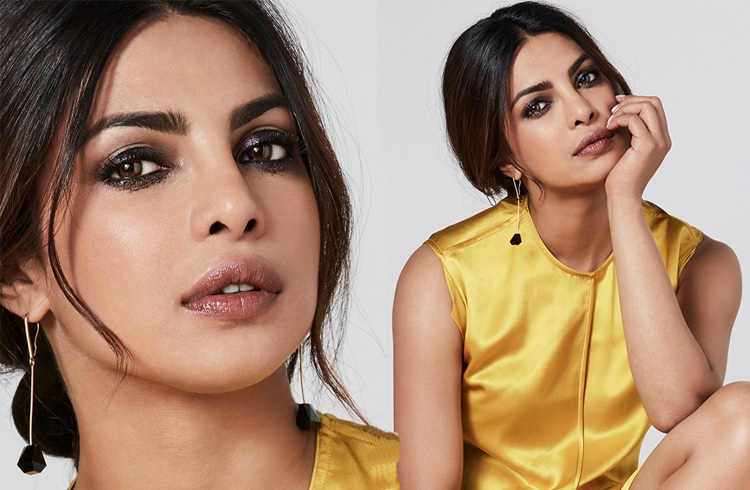 She amplified her blushed look by wearing a stark white COS button down shirt. Letting her wavy hair fall casually and accessorizing with Celine earrings, she looked fresh and rejuvenated.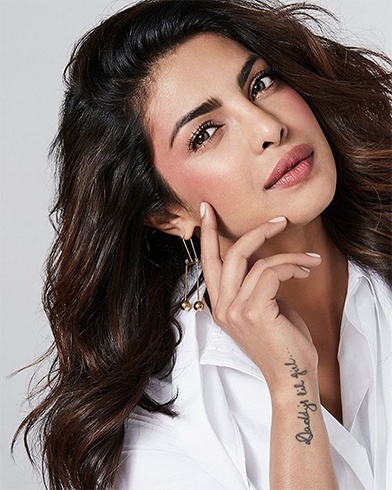 Lastly, she slightly bronzed her dusky complexion well for this image. In a black sweater and bold hoops from
Celine
, with her locks pinned high into a bun, Priyanka looked enigmatic. With black and purple glittery liner, nude lips and apt highlighting, she rocked the look giving us major beauty goals.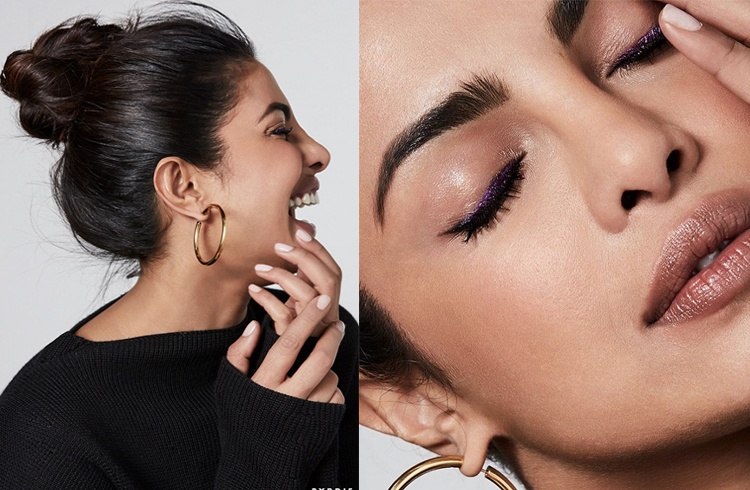 Loved her makeup and minimalist fashion approach!! What about you?
We Are Crushing On PeeCee's Brick Red Lip Shade!

Keeping a close tab on the Quantico girl, Priyanka Chopra is one feature of our work that we enjoy immensely. Shooting the stars, aiming to the moon, the lovely lady is definitely on the rocket of success.
[Also Read: Whoa! Forbes 2016 Declared Priyanka Chopra As 8th Top Paid TV Actress]
While at it, she ensures her appearances are never questionable or debatable. Pulling out gorgeous fashionable apparel that complements her toned figure, she frenzies our thoughts, don't you agree?
In Michael Kors
Indigo it was for PeeCee for the #godslovewedeliver NGO event! In an elite dress from Michael Kors, she looked as poised and serene as the dark waters of the sea. Like a moon showing on the clear sea, her face glowed royally. With metallic ankle strap sandals, a metallic chain, she closed her ensemble. She chose to go with mid-parted wavy hairdo and brownish red lip that suited the look aptly.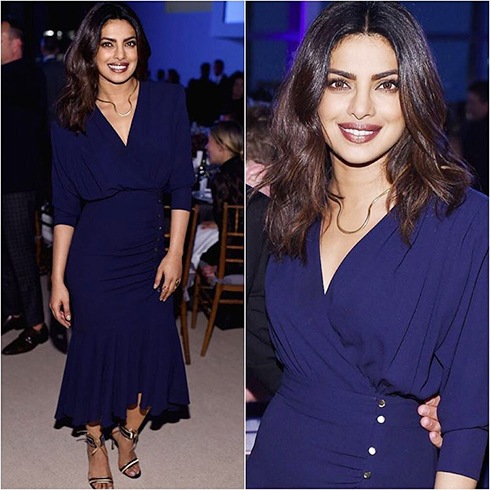 In Burberry x Barneys
PeeCee put on her best looks at the PlayFest event in a printed dress from Burberry x Barneys collection. The X-factor imbibing thigh high slit and the cleavage bearing neckline oomph-ed the style quotient. She found comfort in her usual mid-parted wavy hairdo, and chocolate brown lips. With ankle strap heels, Noor Fares jewelry, she rounded her style.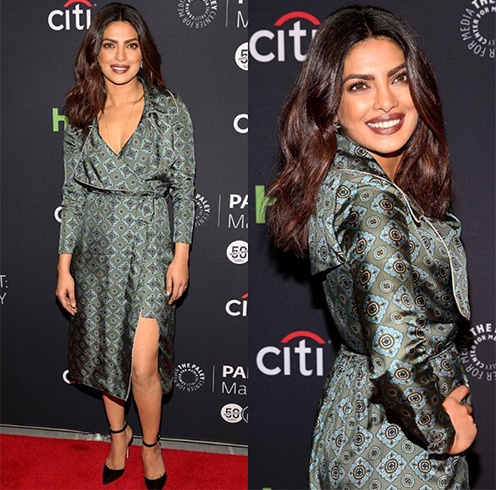 Impressed with her styles? We are! PeeCee can make any outfit look easy to carry with rocking attitude, isn't it?
Priyanka Chopra Convinces Us That Trench Coat Dresses Are The Next Best Thing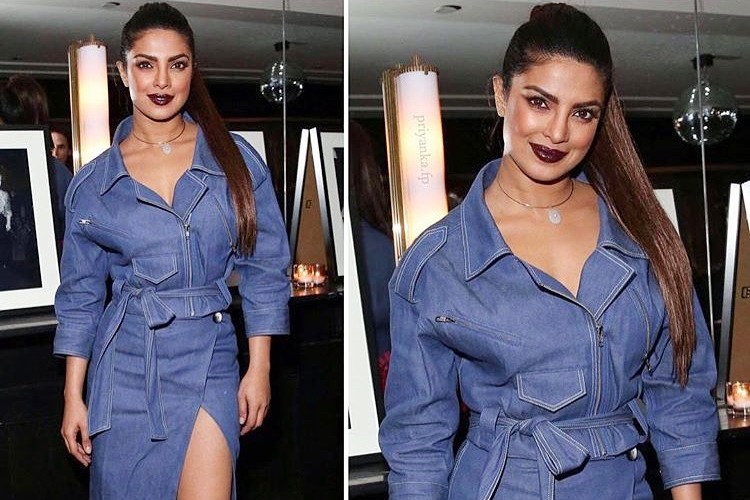 Owning the world of stardom and blitz, Priyanka Chopra attracted the paparazzi all the way to the book launch of the iconic designer, Carolina Herrera.
Wearing a trendy all jean trench coat dress of the designer's Spring 2017 collection with a CVC Stones choker, PeeCee carried herself with an amazing attitude and grace.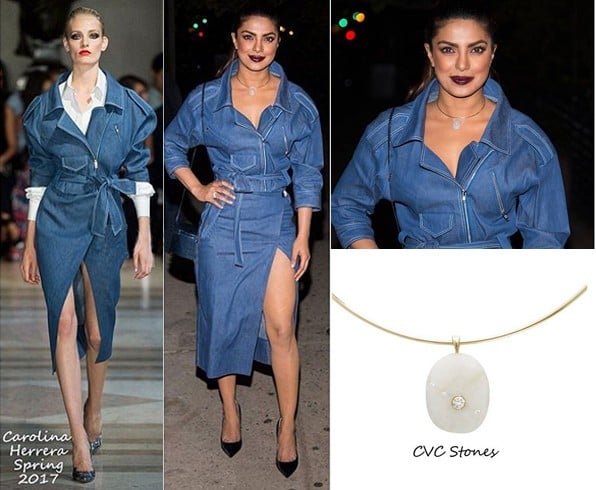 With the thigh high slit giving top notch sex appeal, the oxblood lips spiking a vampire-ish feel, she was hard to look away from.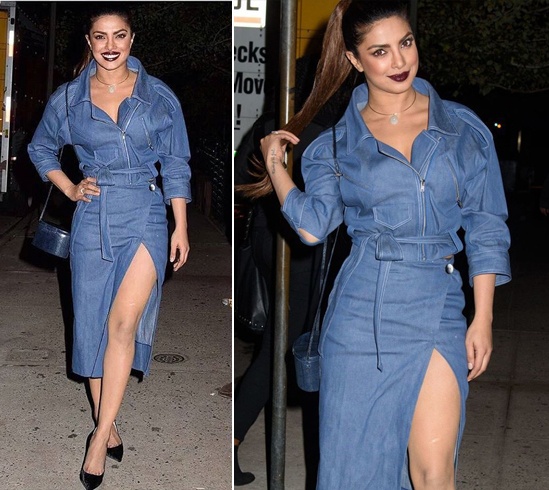 Stepping away from her routine, she tied up her tresses into a neat sleek pony. The rouge lighted up her cheeks right and with deep set eyes, she rounded her look.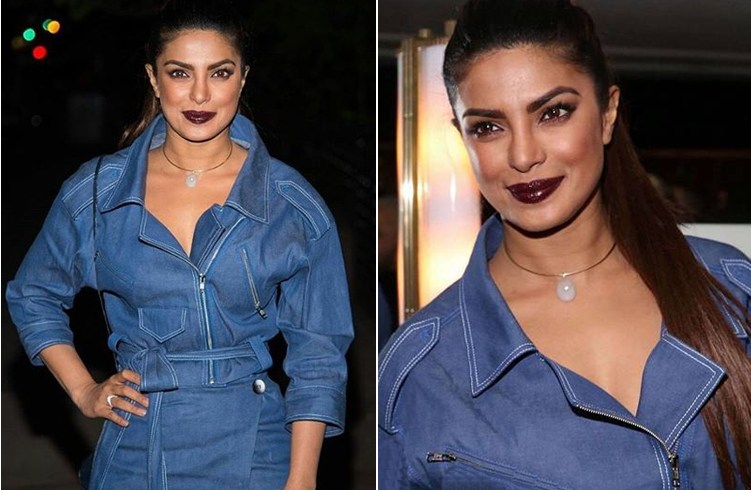 We definitely can't imagine anyone else carrying this guise with such unfaltering breeze. Don't you agree?
Like this look? We surely do!!
Priyanka Chopra Turns A Live Show Into A Party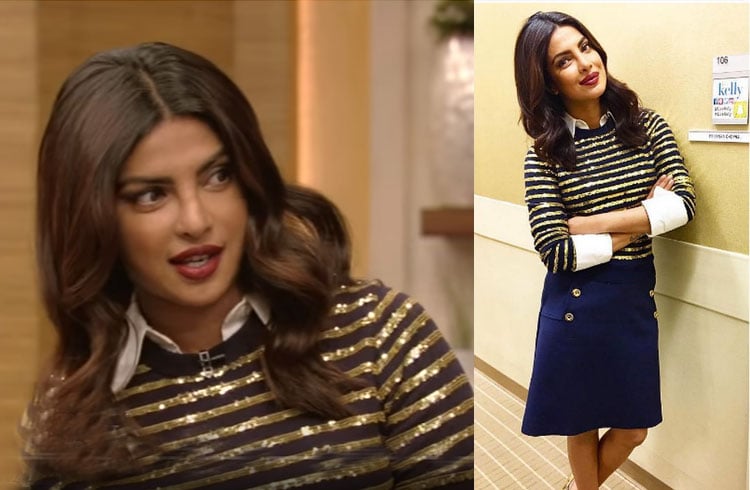 'Work hard in silence, let the success make the noise', holding this statement true to the tiniest detail is Priyanka Chopra.
The roar of her success is echoing in the 7 worlds and we love the sound of it. Appearing on the 'Live with Kelly' show, she presented high dose of entertainment making everyone go gaga over her energetic personality.
Looking easy and adorable, Priyanka put forth a very chic and fashionable look. She dressed to nines in a striped golden shirt and blue skirt by Michael Kors that balanced the formal and party look, perfectly.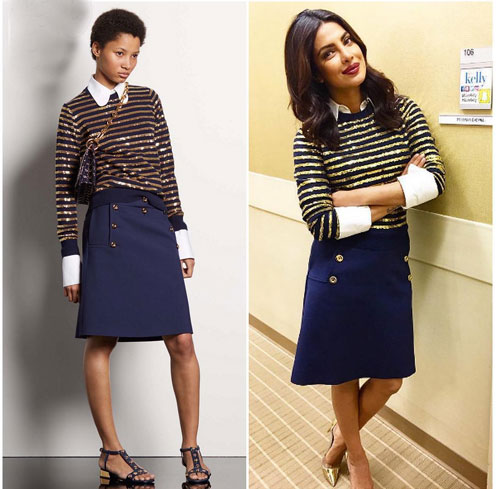 Flaunting mind-blowing action moves in her Gianvito Rossi golden heels, she looked one badass woman. Getting the host Jerry O'Connell to follow her stunts in heels, she tickled our funny bone.
With mid-parted, school girl waves and hairdo by Ted Gibson, deep pink lips and glowing face by Stephanie Brooke Barnes, PeeCee rounded her look and was the light and spirit of the show.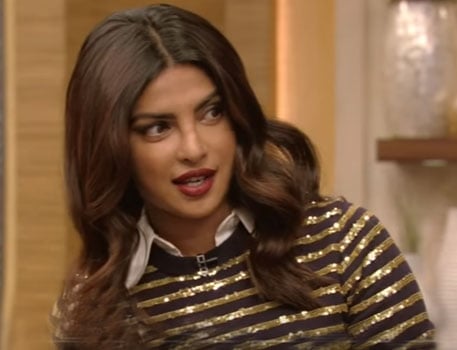 Here is a snippet of the lively show-
Hope you enjoyed the post!!
Author: Sai Bhargavi Chintaluri