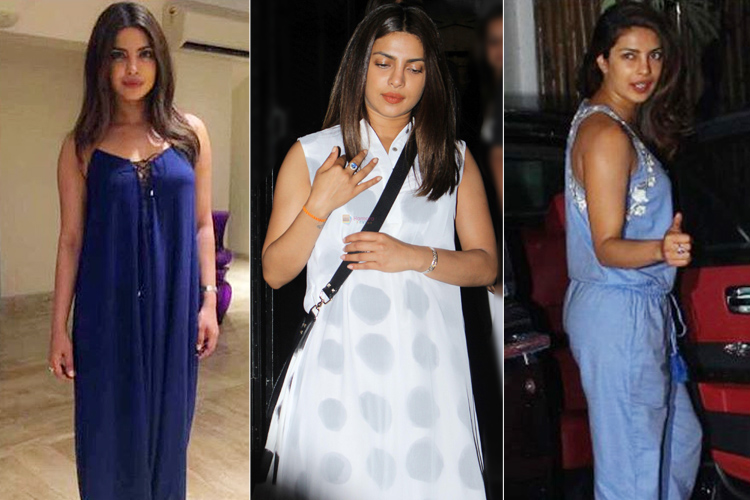 Priyanka Chopra has never failed us right from her modeling days till date, be it in the zone of fashion or performances. Her hourglass figure was totally worth drooling over and the diva has truly created inspirational stories with her attitude, zeal, and focus.
These words are enough to say how deeply we admire her every move and choice. Following ardently, we noticed that the diva plays with her style in sync with the season.
We have seen the diva clad in layers during winter and now that summer has popped up, she is stretching out her fashion choices to include easy, breezy summer styles.
Here are a few of her choices in the recent couple of weeks that we fell in love with-
Maxi Dress
In a striking blue, anti-fit maxi dress from Shweta Kapur, Priyanka Chopra looked totally attractive. Going nada with accessories and keeping it simple, she closed her look. Her hair was brushed to loft soft and she chose a neutral shade of touch-up. Though we are great fans of her well-toned figure, we totally welcome this anti-fit style on the diva.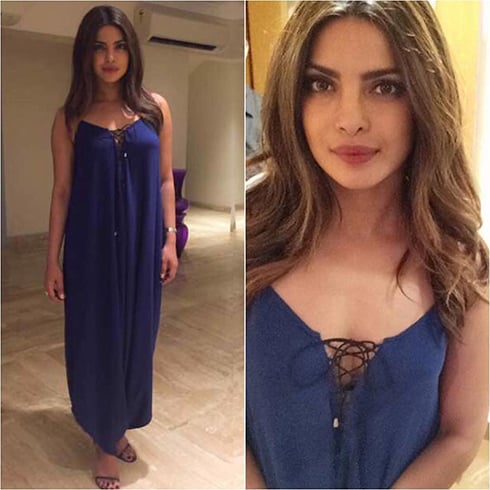 Tunic Dress
PeeCee brought both trendy colors of B-town, black and white together in one look and bowled us all. She picked an overlay polka dots tunic dress from Bennch while out and about in the city. While white dominated in the outfit, she balanced it well with black accessories. A Maison Valentino black handbag and Gianvito Rossi wide heels worked in harmony with her style.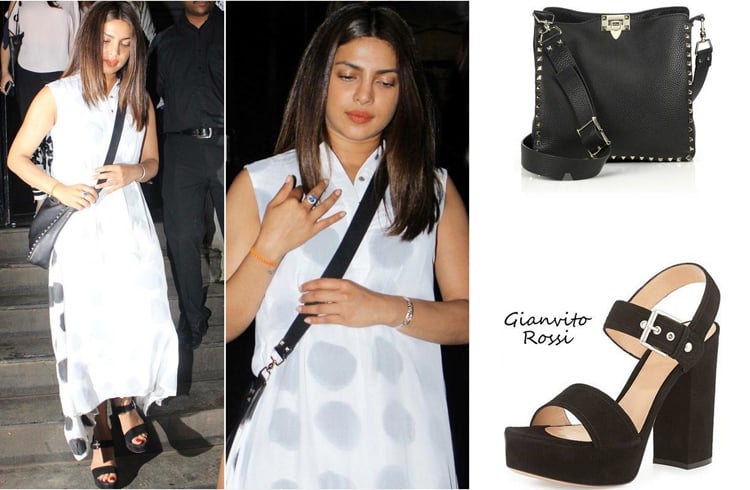 Jumpsuit
Rocking a pleasant colored outfit, Priyanka Chopra was spotted in the city. Looks like the Hemant & Nandita jumpsuit that the diva donned was tailored to fit the lady perfectly. The floral embroidery in white around the sleeve line added charm to the solid colored look. With nude heels, soft hair and natural makeup, she looked worth staring.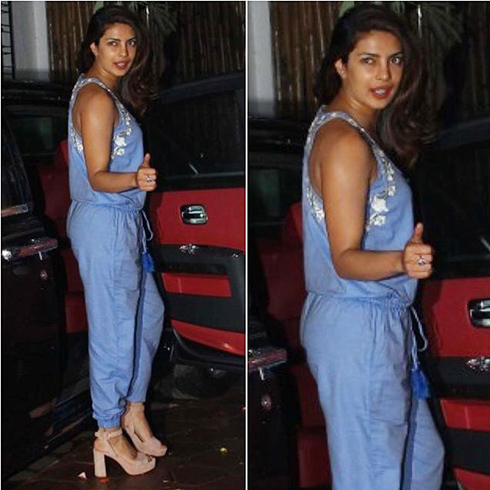 Styled by Ami Patel and Sanjay Kumar Dauhaliya.
June 13, 2017
Author: Sai Bhargavi Chintaluri
---
Priyanka Chopra Strikes It In Black At CFDA Awards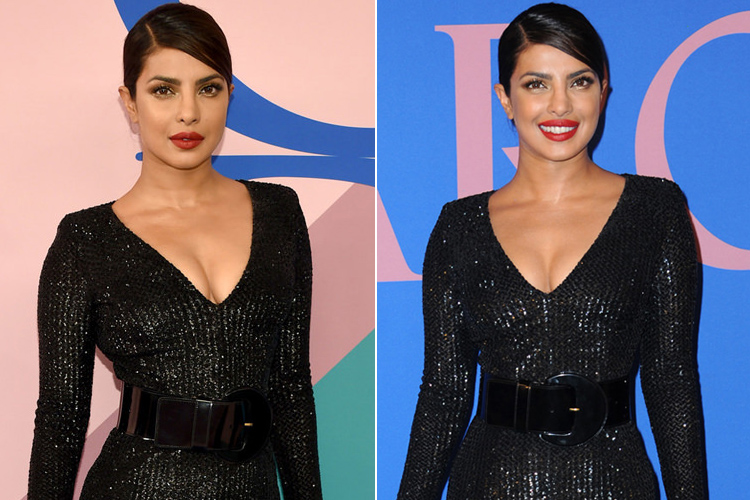 The CFDA Awards took place recently in New York City and of course our global star, Priyanka Chopra was one among the many celebrities that were spotted making great appearances.
Turning the performance standards high and fashion standards even higher, Priyanka Chopra has caught the rapt attention of both entertainment and fashion worlds.
Our favorite, PeeCee went shimmer and glimmer in black Michael Kors outfit for the event. The plunging neckline, the full0sleeved look of the outfit and the tapering wide glossy belt along the waistline clearly added spice, charm, and sensuousness to her look.
She added glossy finished black sandals and rounded her ensemble. She chose to keep her neckline bare and avoided accessories that will steal the show of her style.
Going clear and glowing with her makeup, luscious lashes, matte red lips and sleek side-parted hairdo, she kept her look high in fashion sense. Cristina Ehrlich, the stylist is the mastermind behind the fashion transformation of our lovely actress, PeeCee.
Hope you liked the post!
June 7, 2017
Author: Sai Bhargavi Chintaluri
---
Priyanka Chopra's Baywatch Promotional Style Stories Turned Out Fascinating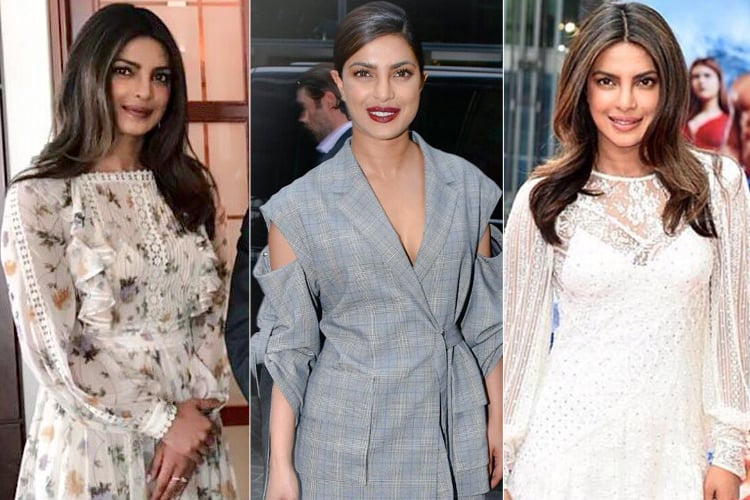 There are days when we fall short of words in praising the accomplishments and the talent of the dynamic actress of B-town, Priyanka Chopra. Her talent and her zeal have got her as far as Hollywood and her fashion has surely sent out ripples all around B-town and Hollywood.
Clearly playing every style with amazing attitude and grace, PeeCee has won our admiration. Here are few more styles that she showcased while promoting her movie, Baywatch, which we quickly added to her style book. Take a look-
In Public School
Bossy and sexy was the diva in a Public School pantsuit style at one of the Baywatch promotional event. The plunging neckline of the outfit, the cut-out shoulders was what set the style in the swing. Side-parted sleek hairdo, deep maroon lips, and subtle highlights rocked her beauty game.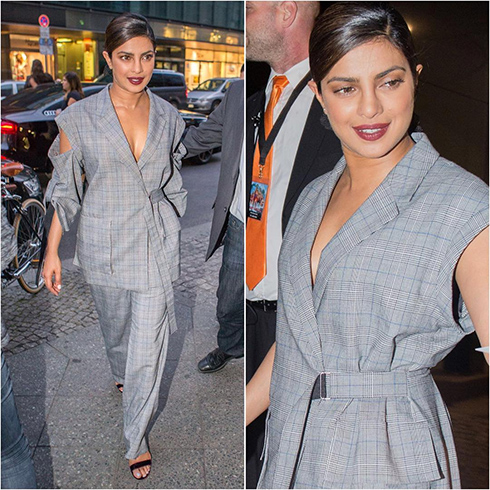 In Marc Jacobs
For the Baywatch premiere in Berlin, PeeCee dolled up beautifully in a white lace mini dress from Marc Jacobs. Sparkling timeless pieces of jewelry from Nirav Modi Jewels and ankle strap Schutz shoes closed her ensemble. With mid-parted soft and wavy hairdo and bronzed makeup, she knocked us off.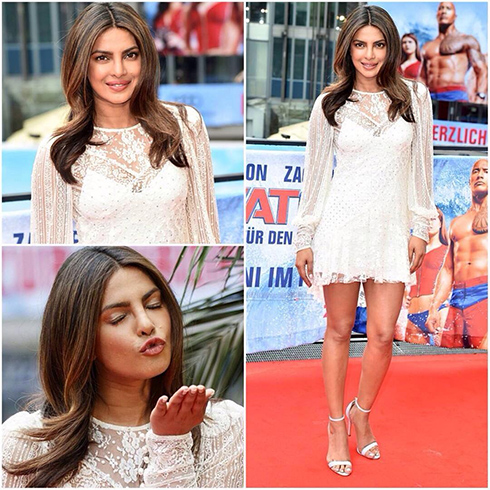 In Zimmermann
While in Berlin for the premiere of Baywatch, Priyanka Chopra was spotted in a floral print mini dress from Zimmermann. Dressed utterly casually and looking lovely, PeeCee also had the chance to meet the Prime Minister, Narendra Modi in Berlin.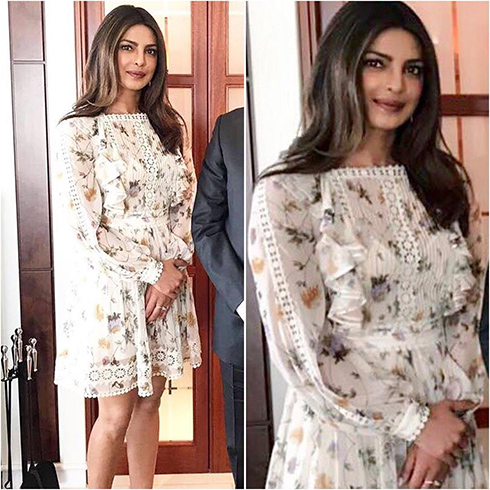 Styling credits go to Cristina Ehrlich. Which style of PeeCee have you found inspiring?
June 1, 2017
Author: Sai Bhargavi Chintaluri
---
Priyanka Chopra Is Setting Challenging Fashion Goals in NYC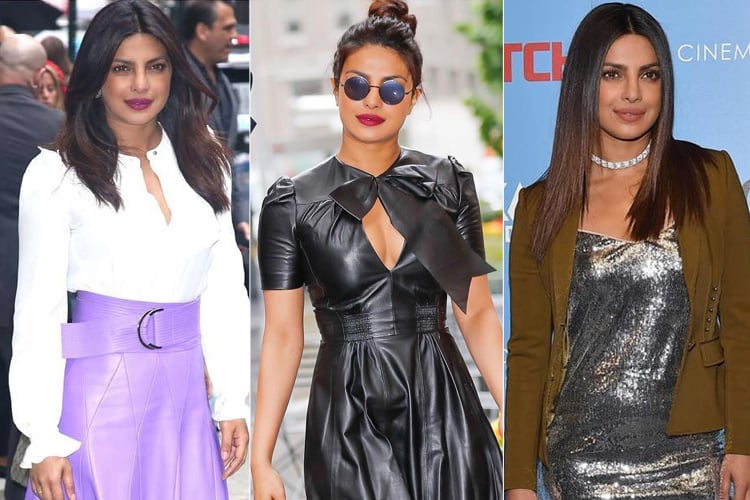 Though we can't deny that we are not missing Priyanka Chopra at Cannes 2017, we are immensely happy to spot the diva taking ample time to promote her upcoming Hollywood film, Baywatch. And while in NYC, the city of style and fashion, she dressed up stunningly for the promotional events.
Scroll down for the details of her looks-
Shimmer and Glimmer
The glamor Queen and the performer, Priyanka Chopra was spotted recently taking time out to promote her upcoming Hollywood flick, Baywatch. The glam cam needed no flash to capture her sizzling shimmering Roberto Cavalli dress and balanced the shine with a khaki color jacket from the same label. Striking jewel pieces from Lorraine Schwartz played the perfect spark card to her look. With gray shade Casadei sandals, she rounded her style.
Makeup artist, Prema aka Patidubroff, gave Priyanka Chopra well contoured, rightly highlighted finish with soft coral matte lips. Lacy Redway, the hairstylist chose to keep her hair non-messy, straight and needle-like.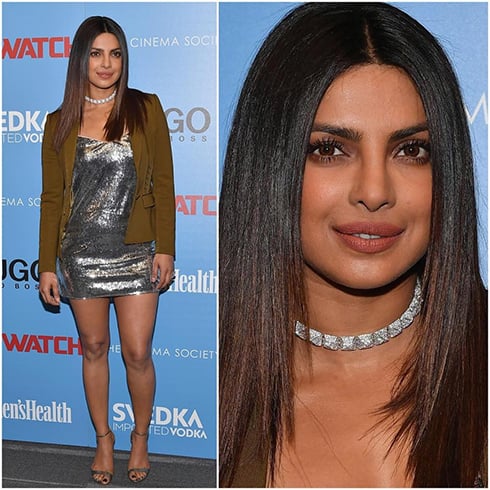 Leather Love
The all-rounder of our Bollywood stepped up and showcased her talent even in the world across the sea wonderfully. She took up the challenge as an RJ at a New York radio station for Baywatch and her style for the event was commendable. In a leather Ralph Lauren black outfit, Maison Valentino jacket, she looked breathtaking. Garrette Leight sunglasses and Senreve handbag in green were her choices of accessories. With her hair tied into a high bun, and with striking deep magenta lips, she closed her look.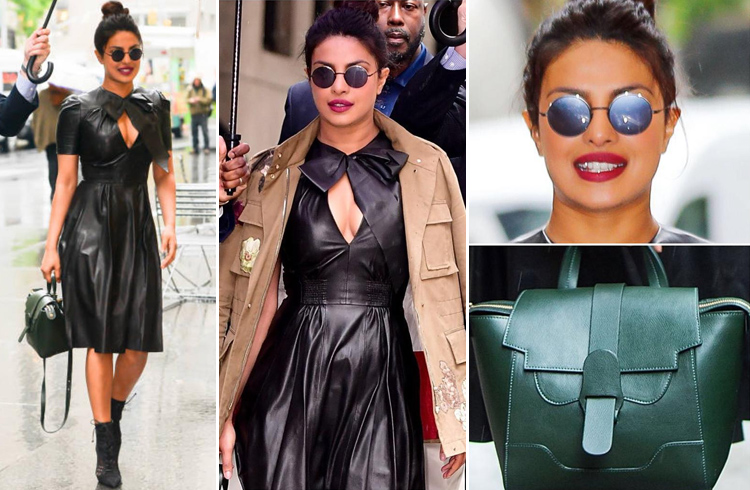 Pop Of Lavender
In a summery white top from Roberto Cavalli and glossy finish Derek Lam lavender skirt, she caught all the paparazzi's undivided attention. The pop of color is definitely a challenge to carry and the diva aced it royally. With Alexandre Birman white ankle strap heels, she slayed the style. Soft wavy hair and bright purple lips rounded her look.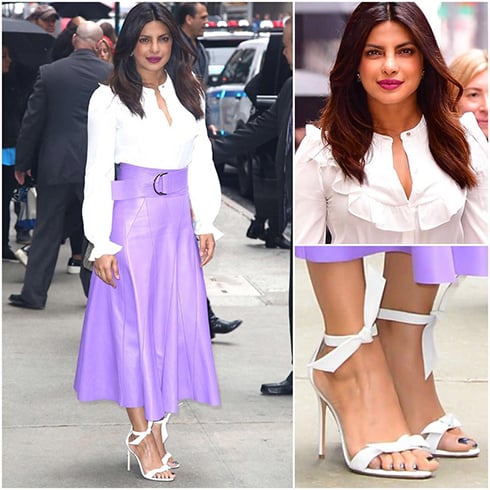 Styling credits go to Cristina Ehrlich.
Which of these three styles have you fallen in love with? Share with us your comments in the section below!
May 23, 2017
Author: Sai Bhargavi Chintaluri
---
Catching Up With Priyanka Chopra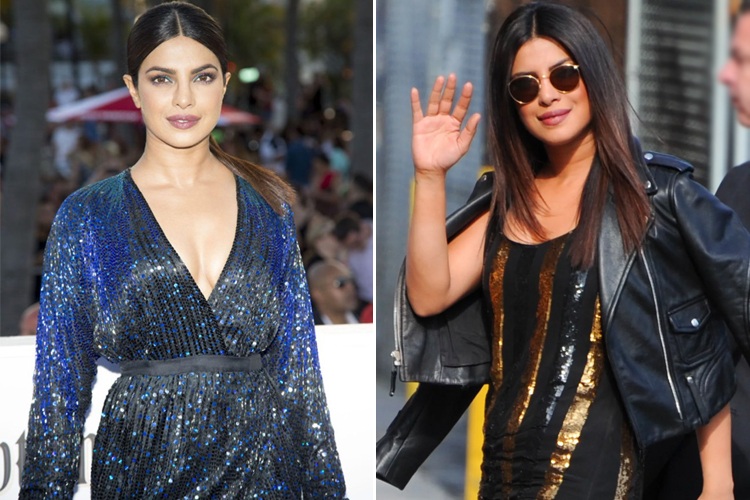 Priyanka Chopra has been taking on the world and how! From busy promoting her debut Hollywood movie Baywatch and talks about her upcoming Hollywood projects, she has it all going. And if that is not enough, she shuttled to Zimbabwe for her global commitments towards UNICEF more recently. Here is a tit-bit on Priyanka Chopra's up-tuned life.
Baywatch Premiere
As Baywatch is all slated to release on May 25th in the US, Priyanka Chopra is busy doing her debut promotions. Besides the sultry actress, the cast also includes Dwayne 'The Rock' Johnson, Zac Efron, Alexandra Daddario, Kelly Rohrbach and Jon Bass.
She was in Miami for the world premiere of the movie and she looked absolutely smashing walking the red carpet in her shimmery dark blue gown. Her dress had a plunging neckline with a thigh high slit, and a black belt to cinch her waist. Priyanka finished her look with a sleek ponytail and strappy black heels.
Priyanka was seen posing together with the entire cast of Baywatch. The movie is an adaption of the classic TV show, made famous with the likes of Pamela Anderson and David Hasselhoff. Both movie stars will be seen doing cameo roles in the new rendition of Baywatch.
The movie is scheduled to release on June 2, 2017 in India.
Next Hollywood Project
Amidst all her movie promotions, Priyanka Chopra has reportedly signed up her next Hollywood movie, as announced by producer Paul Bernon on Twitter.
Paul tweeted, "I am producing this & am so excited to work with Jim, Claire, @octaviaspencer @priyankachopra @michaelaWat!."
The movie is an adaptation of Daniel Pearle's much celebrated work, Lincoln Center play, A Kid Like Jake. It is directed by Silas Howard and also features Octavia Spencer, Jim Parsons and Claire Danes. The movie shooting is going to start in New York this summer.
Director Howards stated this about the movie: "We live in a world that cherishes a child's uniqueness while paradoxically punishing difference. I'm interested in the ways that, even when acting out of love, people can do harm when confronted with the fear of the uncontrollable. How does a parent balance those intense pressures? These tensions fascinate me both as a filmmaker and as someone with intimate knowledge of our culture's fixation on policing gender."
Spotted at a day at the beach
Priyanka Chopra has never stopped making headlines. Her images of enjoying a day at the beach are making waves. The actress was snapped with Victoria Secret Model, Adriana Lima and Baywatch co-stars Alexandra Daddario and Ilfenesh Hadera.
Priyanka wore strapless navy blue bikini top and reflective shades, as she cools off in the sea. Her co-star Alexandra Daddario, wore black crop top and khaki shorts.
Wearing a black halterneck bikini, supermodel Adriana Lima looked absolutely beautiful. She wore her hair in a low ponytail while taking a stroll in the beach.
Jimmy Kimmel Show
Recently, Priyanka Chopra was seen on The Jimmy Kimmel Show as part of her Hollywood debut Baywatch promotions. This is Priyanka's appearance at the Jimmy's show. Her debut premier happened while promoting Quantico. And she made her second appearance after winning the People's Choice Awards.
For the show, Priyanka wore a gold and black sequined striped dress. Her love for brown lip shade is apparent and she totally owns it. Her sense of fun was apparent when quizzed about her Ralph Lauren trench-coat dress and how the enormous train literally took off for her evening after-party look. And Jimmy Kimmel did not stop there- Priyanka raised quite a few eyebrows when she appeared with Nick Jonas. And Jimmy had to grill the actress on it. Here is what she replied:
"We were both wearing Ralph Lauren. So we decided to go together. It was fun. I didn't ask his age."
While exiting the studio, Priyanka was seen in another gold-sequinned black number. The dress was halter-necked and semi-sheer.
The actress was back in the show after her quick visit to South Africa for an event as the Global Ambassador for UNICEF. Before making an appearance on the show, the Quantico star announced, [email protected] #BeBaywatch @jimmykimmellive."
For UNICEF Goodwill
Priyanka Chopra is appointed as UNICEF's newest global Goodwill Ambassador. She has called people across nations to increase awareness and support for oppressed children in the world. She wants people to join forces into becoming the 'collective voice' for oppressed children.
"My wish for children is freedom. The freedom to think, the freedom to live," Chopra said, addressing top UN diplomats, UNICEF Goodwill Ambassadors and children at the event. I, we ask you to join us today to become the collective voice of the oppressed children across the world in our fight against the injustices that they have to endure every day."
Priyanka has also made an emotional visit to Zimbabwe last week, where she met children who had survived sexual violence. "When I met these survivors, young brave women and children, and listened to their experiences, it just broke my heart, I will never forget their stories. As a society, it is on us to provide and take care of our children as citizens of the world, to educate children at a young age that it's not OK to be inappropriately touched and that under-sex age can lead to unwanted teen pregnancy or HIV."
On her second visit, Priyanka visited Childline Zimbabwe, which is a 24 hour service for abused and exploited children. Childline also has 25 community based drop-in centers where Priyanka first stopped at a Childline drop-in center in Epworth and met survivors of sexual violence. Then, she also visited the Childline call-in center to meet with Helpline counselors.
"I was astonished by the number of calls that were coming in during the brief time I was there, the counselors, all all volunteers, told me that many calls come from children in hysterics because they had been raped or abused. They were so scared. Without Childline, they would have nowhere to turn. This is a model that many countries with high rates of violence against children can adopt, because it is a safe place for children to turn to and know that their call will be answered by a compassionate person who will take their complaints seriously and respond."
We are sure Priyanka Chopra will continue making us proud; be it with her work abroad or in India. She is truly the best global ambassador of our times.
May 20, 2017
Author: Sai Bhargavi Chintaluri
---
Priyanka Chopra Sets High Fashion Standards With Her Baywatch Promotions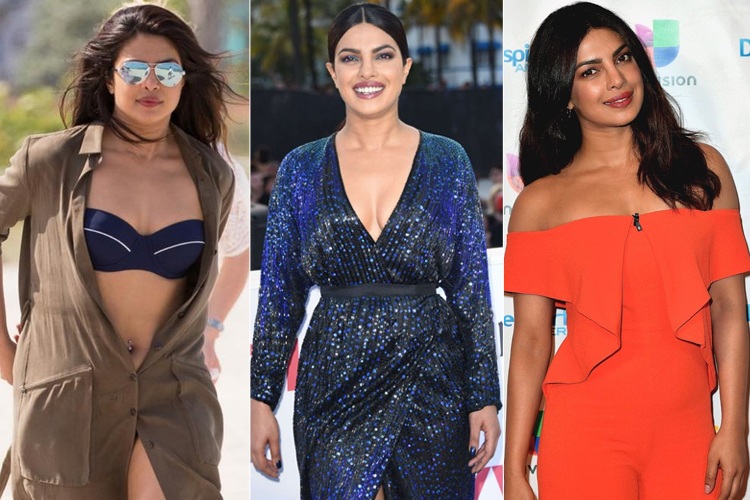 From promotions to the premiere, and straight to spending time with her crew, Priyanka Chopra took us on fashionable tour and got us running with heads and heels together capturing every possible look.
Here we have unfolded her weekend's rampage of appearances and our insight on her styles. Sit back, sip your coffee and take your time in deciphering her fashion feel.
Skirt Style
Priyanka Chopra looked utterly casual yet very endearing in a crisp white shirt and mesh style multicolored skirt from Lela Rose while promoting her upcoming Hollywood flick, Baywatch. She replicated the model to the shoes and kept it simple. Soft on the top and messy towards the end, PeeCee's hair gave her casual style an interesting vibe. No makeup look, soft coral lips defined her beauty game well.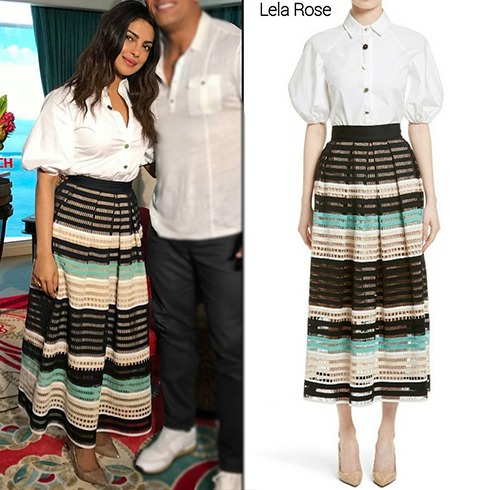 Gown Style
After a series of remarks on her Met Gala look, Priyanka Chopra's admirers hoped for a more strong, captivating and thoroughly articulated style at the World premiere of Baywatch in Miami. And to great relief, the diva kept her look highly intoxicating at the premiere. She looked smoking hot in an asymmetric, thigh high slit Halston dress. Sparkling Nirav Modi jewels added more spark and shine to her look.
Mid parted, sleek yet soft ponytail, dusky makeup, brown lips and manicure playing right with her outfit, she looked picture perfect.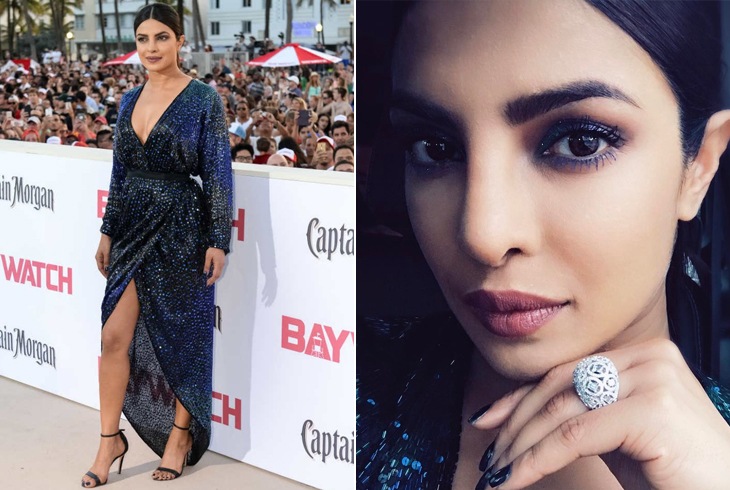 Jumpsuit style
Like a fresh sweet orange, the lovely lady, Priyanka Chopra promoted her upcoming film in a Lavish Alice jumpsuit. She added a contrasting vibe to her style with frayed denim sandals from Gianvito Rossi. Soft hairdo, absolutely breathable makeup kept her style high and strong.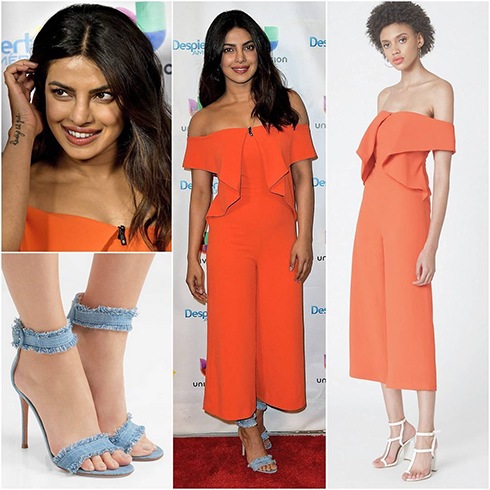 Casual Dress Style
In a scarlet outfit by Maison Mayle from Barneys Newyork, she looked as intoxicating as wine while out and about in Miami. Soft straight hair and her signature plum lips closed her style fabulously.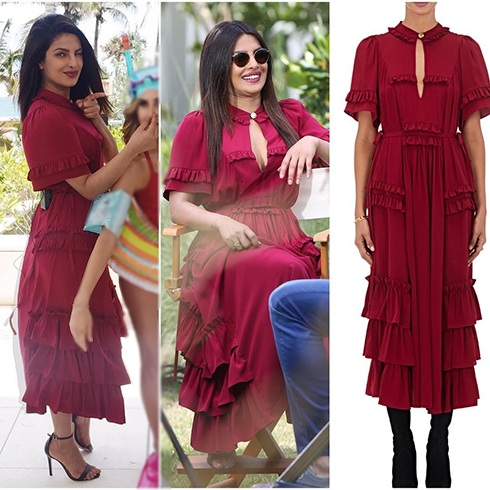 Summer Styles
Her summer styles in Miami are sending out great icy hot vibes all around the globe. She was spotted looking smoking hot yet utterly cool in a white, nearly sheer coverup dress along with beach wet hair.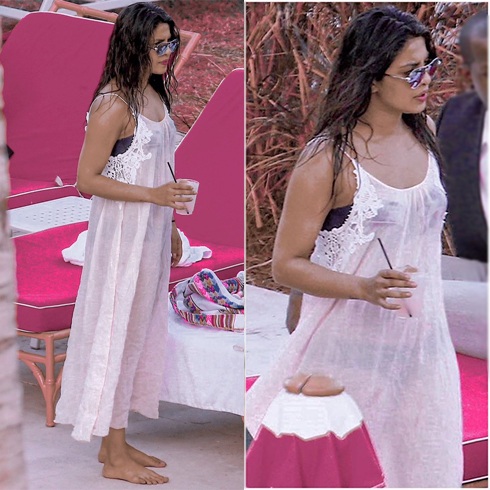 Priyanka Chopra was also spotted doing a Baywatch moment on the beach in a bikini and shirt dress. She looked every bit irresistible in the hot avatar.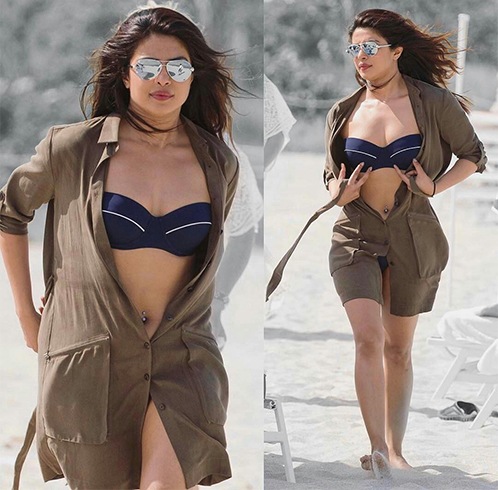 Cristina Ehrlich, the stylist did a spectacular job in styling the Bollywood Queen and helped her nail every style with amazing attitude and grace.
PeeCee you rock and we can't help but fall in love with your every fancy avatar!!
May 15, 2017
Author: Sai Bhargavi Chintaluri
---
Priyanka Chopra Goes As A Desi Girl To The UNICEF Event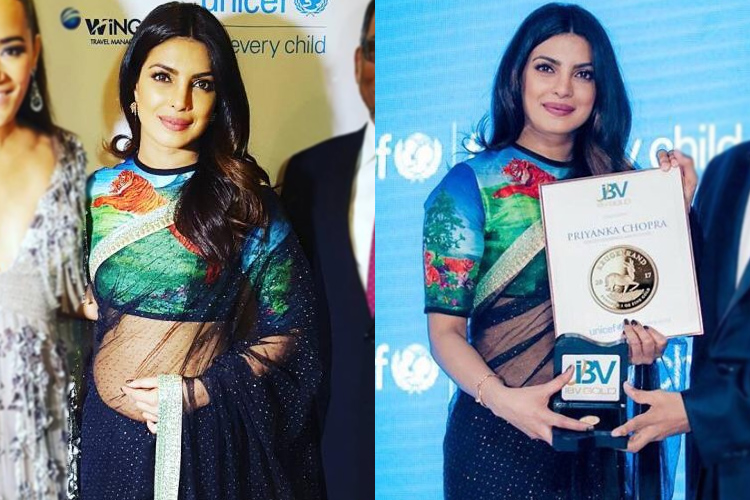 Priyanka Chopra who has won numerous accolades for her outstanding performances in Bollywood and Hollywood was spotted stealing the thunder with her presence at the UNICEF event in Zimbabwe.
The lady, who started her journey as a global ambassador of UNICEF 10 years ago, was found rekindling her time with the underprivileged recently. To the grand event, she went ethnic with an interesting twist in the fashion tale.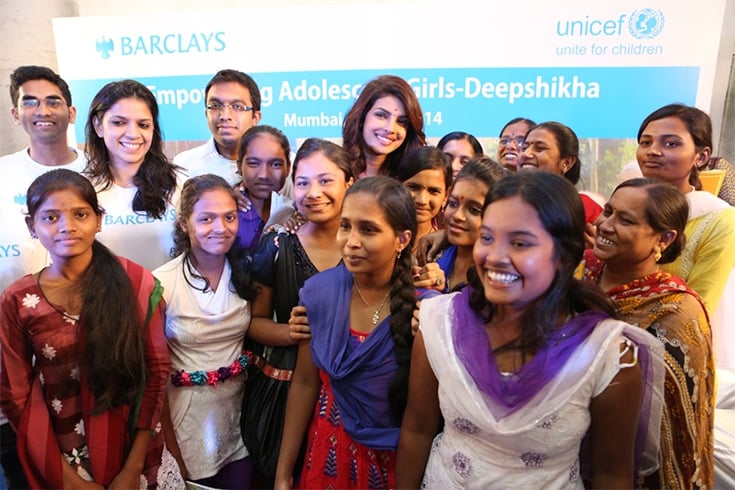 She sported a Sabyasachi sheer sari with a hand painted Bengal tiger blouse. The sari looked simple yet classy but the blouse took us all by surprise.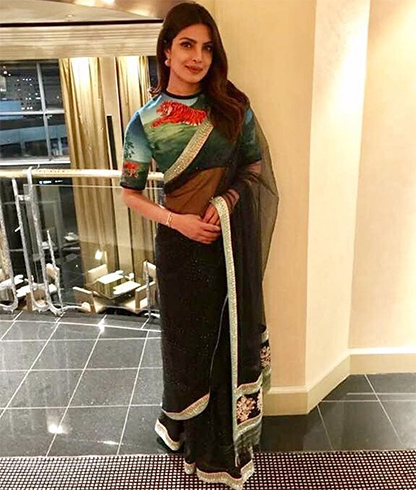 It's not everyone's cup of tea to impress the crowd with such a unique style but PeeCee nailed this style effortlessly. Understated jewelry accompanied her style.
With soft hair, well-contoured face, glowing skin, matte plum lips and bronzed eye shadow, she looked as beautiful as a painting.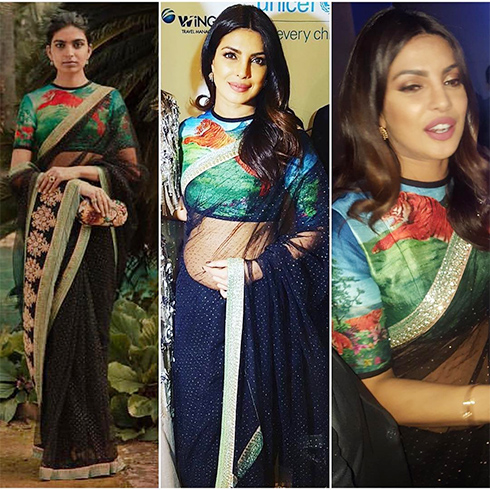 Ami Patel, the stylist, and Sanjay Kumar Dauhaliya, the head stylist together curated this wondrous fashion feature with PeeCee!
May 9, 2017
Author: Sai Bhargavi Chintaluri
---
Priyanka Chopra's Fresh Cotton Style At Baywatch Press Is An Eye Candy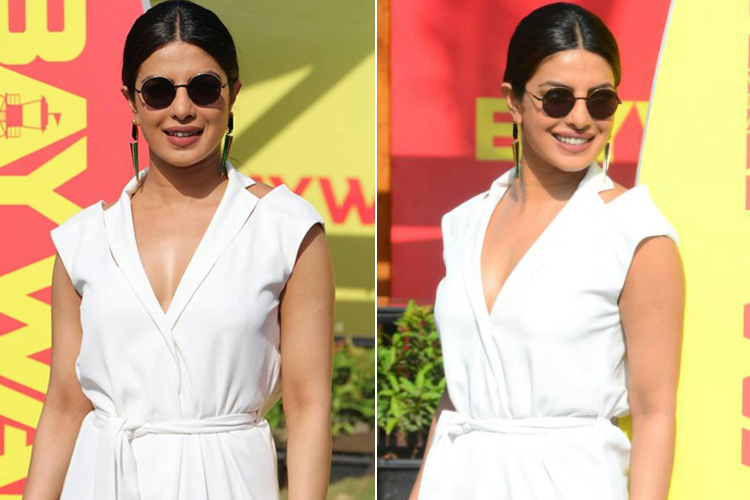 It's a delight to have Priyanka Chopra back in the town making appearances, throwing parties and gracing events. Despite all the juggling between two different time zones that exhaust her, the diva still impresses us with her effortless styles and charismatic appearance.
She graced the Baywatch press meet in India in a Hollywood style. She chose an all-white Paule Ka dress and spiked up the summer heat. The thigh high slit, the low back pattern and the plunging neckline features of the outfit upped her hotness factor high.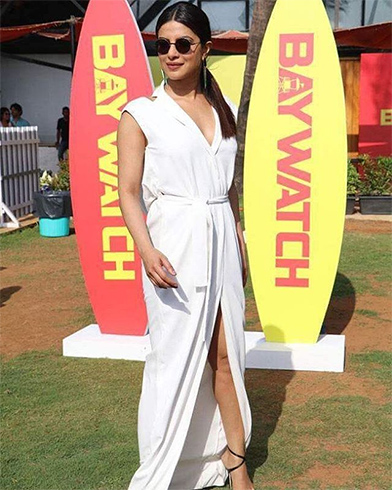 Dangling earrings from Outhouse Jewellery and Giuseppe Zanotti design shoes in black gave her style an edge.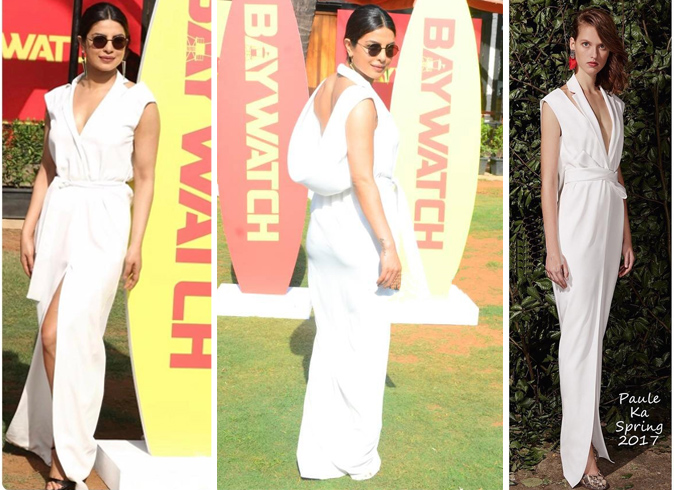 With sleek pony style, nude makeup and bronzed matte finish lips, she looked smart and sassy. Kudos to Ami Patel, the stylist for featuring a heart beats escalating style of Peecee.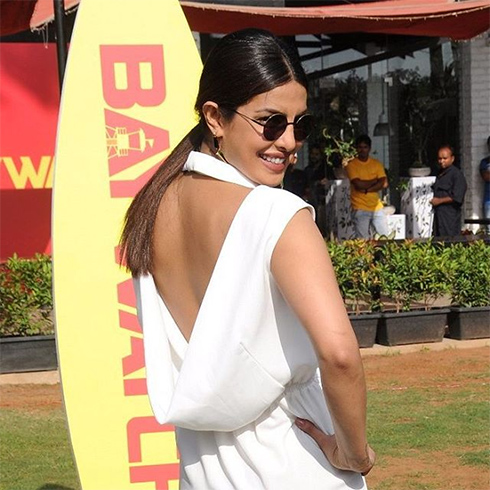 Hope you enjoyed the post! And we wish PeeCee grand success with her film, Baywatch!
May 1, 2017
Author: Sai Bhargavi Chintaluri
---
Priyanka Chopra's NYC Style Notes Are Worth-A-Read
Priyanka Chopra was spotted having a casual lunch with her friends in New York and the streets of NY couldn't have gotten any more beautiful.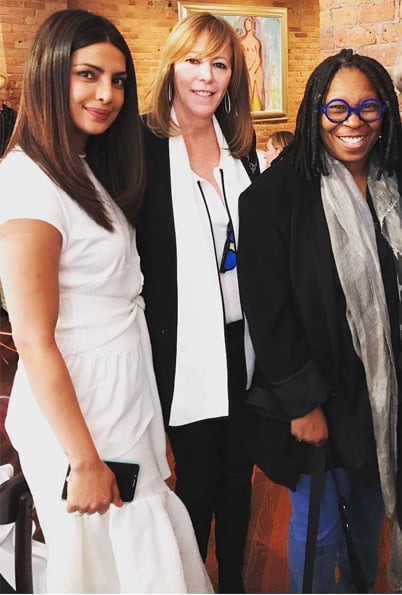 She was spotted in a cool summery white outfit from 3.1 Phillip Lim. The high neckline, the wrap-around style, the knot on the side, and the asymmetric hemline were trendy features of the outfit that beautified her look.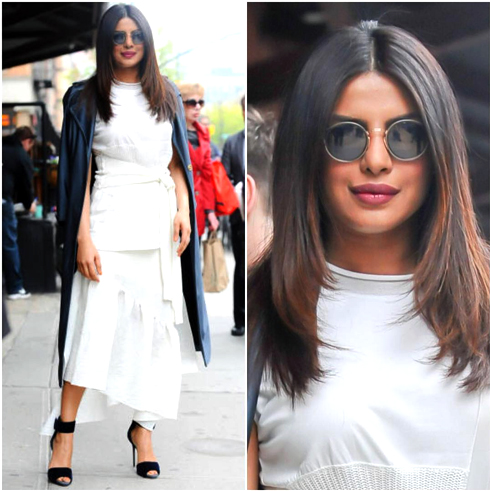 A strike of black with Burberry jacket and Giuseppe Zanotti sandals turned it into a killer style. Mid parted straight soft hair and soft plum shade lips gave a neat and flawless touch to her trendy look.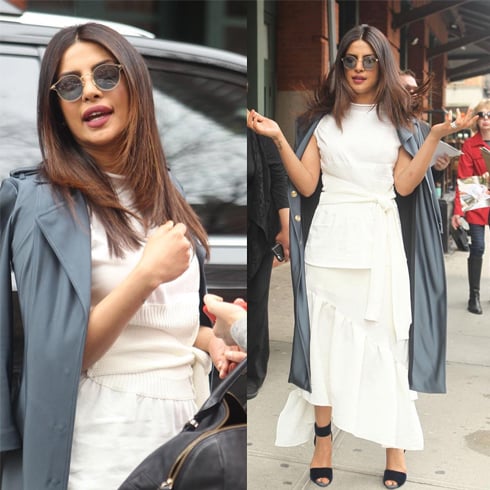 This style of PeeCee was impressive enough to make its way into her New York style file. Cristina Ehrlich, the stylist did an easy yet flattering job, don't you agree?
While the former look was pleasant and adorable, the latter was chic and street style. She was spotted out and about in New York city in a pair of distressed boyfriend jeans, a high collared black top and a blazer from Ralph Lauren. Pinning back her hair into a casual bun and with flawless makeup, she looked classy with a subtle street style vibe.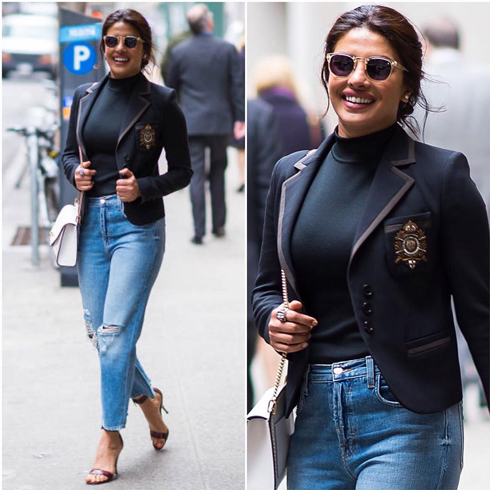 Which look of PeeCee caught your eyeballs? Share with us your comments in the section below!
April 21, 2017
Author: Sai Bhargavi Chintaluri
---
Priyanka Chopra Looks Exotic At Harper's 150 Celebrations
Not just in the world of acting but also in the world of fashion, Priyanka Chopra has earned fame and definitely held her standards sky high.
The diva's work commitment in New York seems to be coming to an end and looks like the lovely lady is making the most of her time with her friends. She recently graced the Harper's 150-anniversary celebrations in the heart of New York City looking breathtakingly gorgeous.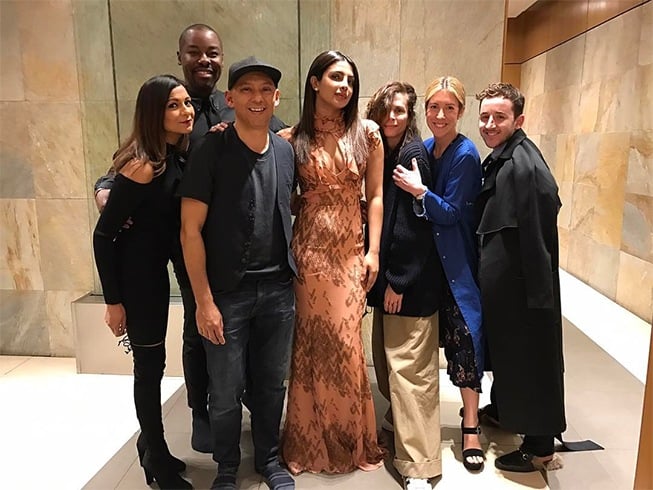 She chose a J.Mendel bodycon printed gown for the grand event. While the color of the outfit complemented her skin tone and the outfit smoothed on her curves without a crease, her plunging neckline was enticing.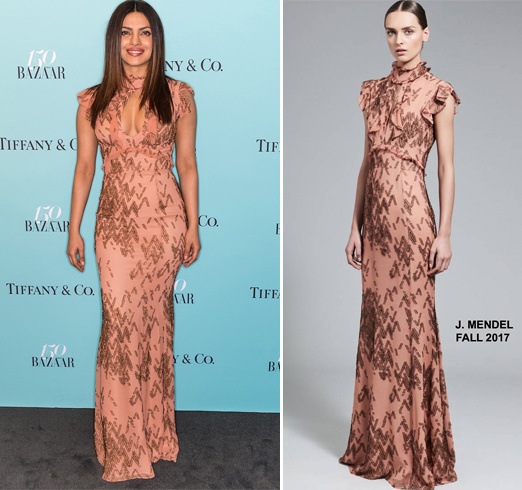 Nirav Modi diamonds were her companions for the outfit. Mid parted straight hair, bronzed makeup, luscious lashes and soft coral glossy lips upped the beauty a notch higher and melted our hearts.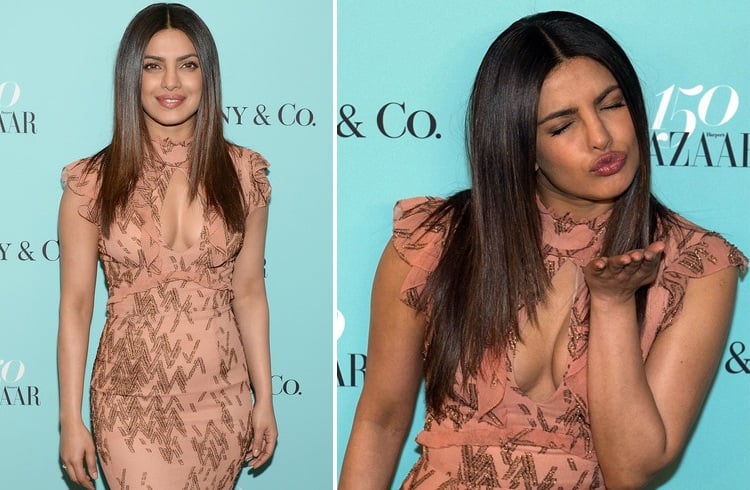 We appreciate the magic that Cristina Ehrlich, the stylist who stayed loyal to PeeCee all through her Hollywood appearances, cast on her!
Author: Sai Bhargavi Chintaluri
April 20, 2017
---
Priyanka Chopra Created Ripples At Baywatch Promotions With Her LBD Style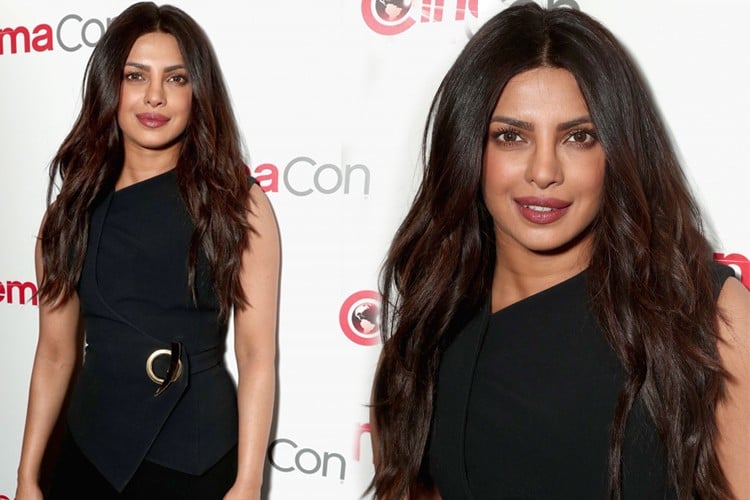 No wonder Priyanka Chopra wasn't spotted at the all-consuming award ceremonies happening around in town, as she was spending her valuable time in promoting her upcoming International flick 'Baywatch'.
CinemaCon, the official Convention of the National Association of Theatre Owners (NATO) rolled out their sixth successful show at Caesars Palace, Las Vegas last night and our Bollywood star graced the event to promote her film among the grand audience.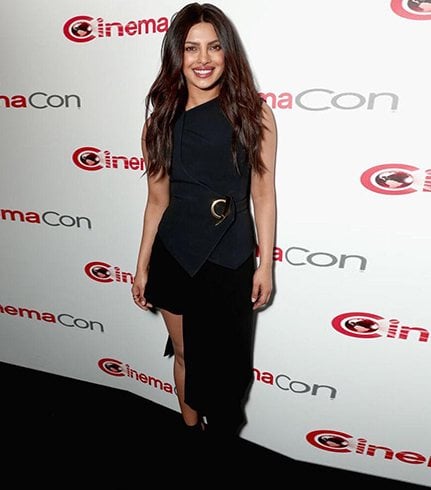 Though we genuinely missed PeeCee knocking off spectacular styles at our local B-town award shows, we found her promotional style equally sensational.
The diva nailed an all-black style in Balmain label. While the top had a wrap-around feel with a blazer style finish, the high-low asymmetric skirt created ripples in the fashion world. She had her hair brushed the usual style, with a mid-partition and rolling messy waves towards the ends.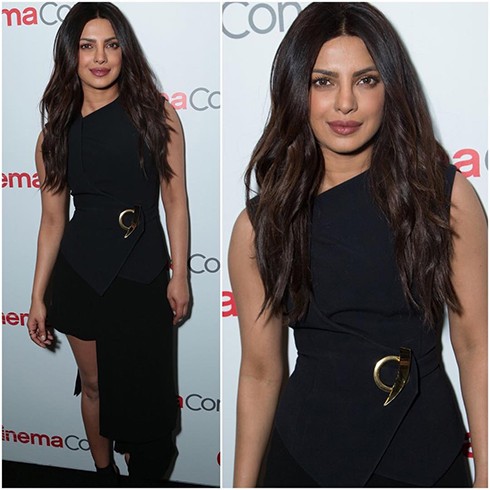 We have seen numerous Christian Louboutin creations but this peep-heel style boots seemed an absolutely fascinating pick to go along with PeeCee's style. Well-balanced light makeup rounded her style flawlessly.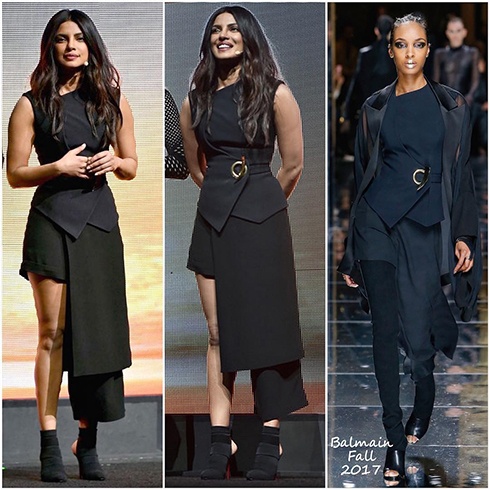 Cristina Ehrlich, the stylist deserves an applause for making our diva rock on the global platform even in the fashion terrain.
Keep going PeeCee!! We love you!
Author: Sai Bhargavi Chintaluri
March 31, 2017
---
Priyanka's Rocking Her Fashion Statements
Priyanka Chopra, she's in the news every day killing it with success and fame all along. Recently creating waves for her marvelous fashion statement and the Best Actress award at People's Choice Awards, she's back again with yet another fashion statement. Keeping it simple with haute couture is Priyanka's style and we are inspired how she never goes wrong.
Post the award at People's Choice Awards, we spotted her on the Jimmy Kimmel show donning a Versace mini dress, oh boy, we were taken aback. The purple and black number was slightly lined with a white lace giving an appealing finishing touch to the dress. Looking gorgeous with her trademark middle parted hair creating waves over her shoulders as well as our hearts. She teamed the outfit with black pumps and kept her accessorizing to the minimum.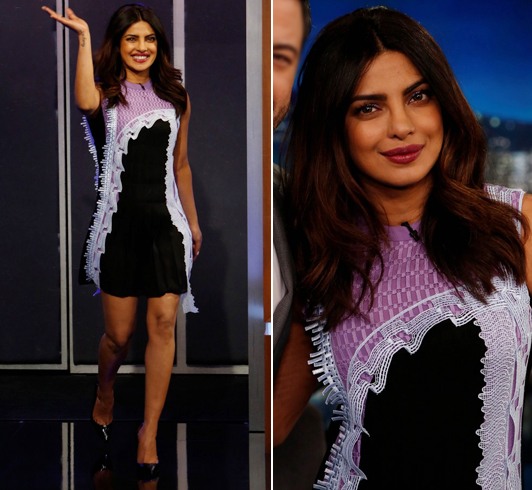 Do you like her style? Let us know in the comments below.
Author: Bhavya Rebala
January 27, 2017
---
Priyanka Chopra Makes Fashion Look So Easy And Simple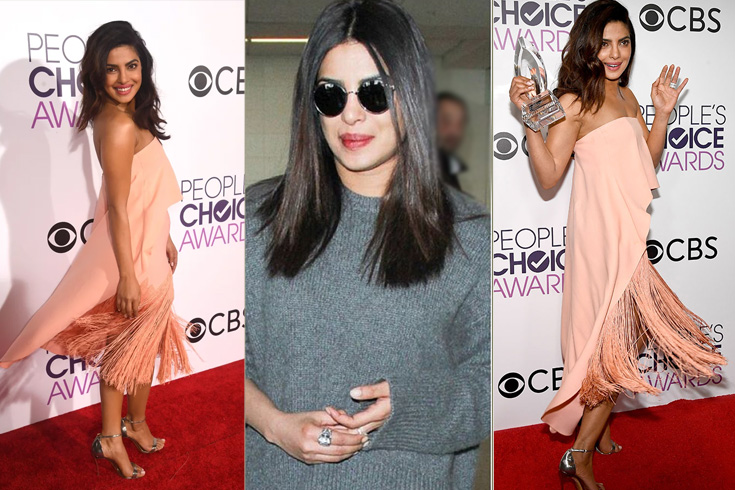 Before we said goodbye to 2016 completely, Priyanka was back in India and continued being the stunner that she is. Now as we unfold a new year, it is a no-brainer that PeeCee never ages, she manages to look ever young and beautiful all along, that we might forget she's an actress of the 90's, still acing it till date. Each of her looks have caught us off guard in the most unexpected way possible. So, let's take a tour on her recent fashion moment that we loved.
Winning the People's Choice Best Actress Award, she embraced the red carpet in a mind-blowing outfit and we think she deserved The Most Fashionable Star Award from our side too. In this Sally LaPointe strapless light peach colour outfit, she captivated us. Accessorized in Nirav Modi Jewels, we think stylist Cristina Ehrlich did a fabulous job. Her makeup was kept to the mark with a red lip rounding off her look, well, only if looks could kill!
Her airport fashion was warm and simple putting all the too stylish airport looks to shame. A perfect look for the chilly weather, she was seen in a woolen sweater cum top teamed with regular distressed jeans. The mustard cape kept the look so stylish, rounding it off with boots. Ah, we feel the warmth and comfort within.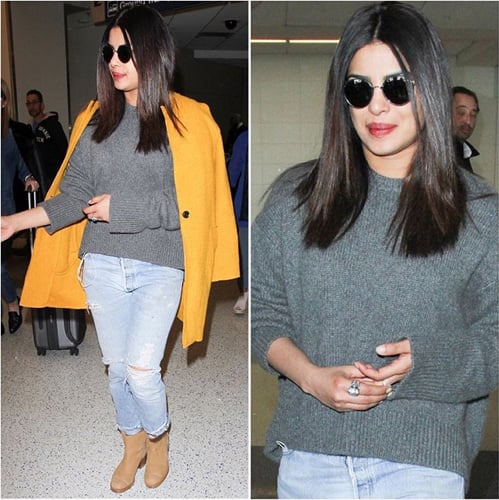 PeeCee makes fashion seem so easy, isn't it?
Author: Bhavya Rebala
January 23, 2017
---
Priyanka's Haute Couture Dress Designer Is Our Muse Now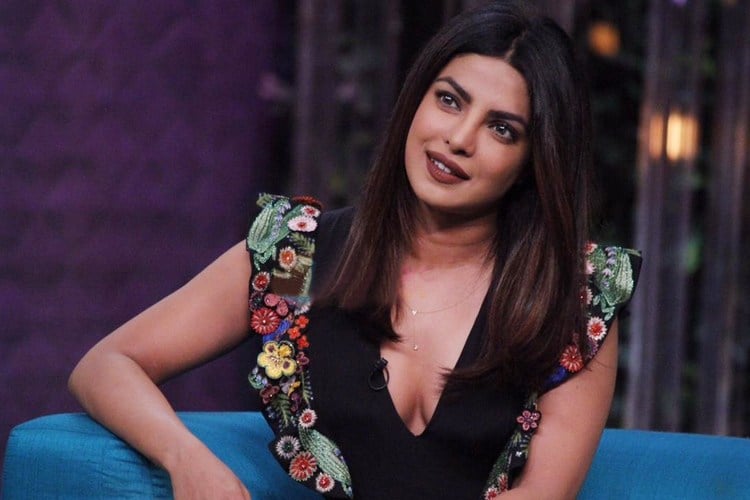 Haute Couture is every girl's dream, and this art of high exclusive custom fitting dresses has taken over Indian celebrities too. Recently, we spotted Priyanka Chopra on the sets of Koffee with Karan in a high fashion style outfit and we are excited to share the details of the outfit with you. We can only say that Priyanka's choice of style is singular, and this star experiments with a range of vibes, pulling off certainly everything in the most polished manner.
Priyanka Chopra was donned in this gorgeous fitting outfit from Fendi is breathtaking keeping the theme simple. We love how the outfit is simple throughout, with just a bit of floral work at the sleeves portion. Teaming this outfit with Nirav Modi Jewels and a dark lip, she has rocked the outfit.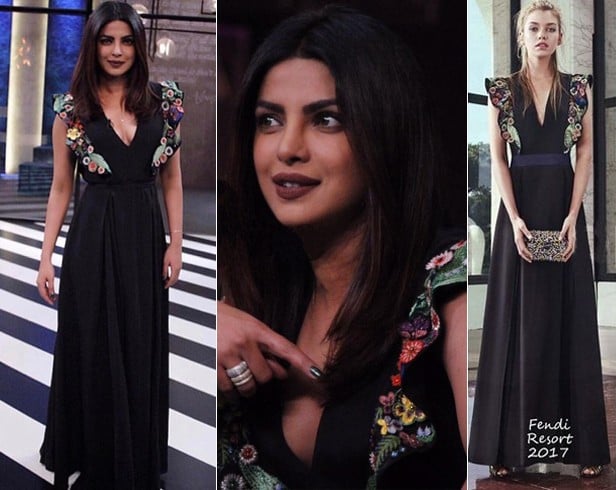 Tell us what you thought about her look. Did you find it perfect or feel it could've been styled better? Drop down your comments.
Author: Bhavya Rebala
January 20, 2017
---
Let's Upgrade To Priyanka Chopra's Airport Wardrobe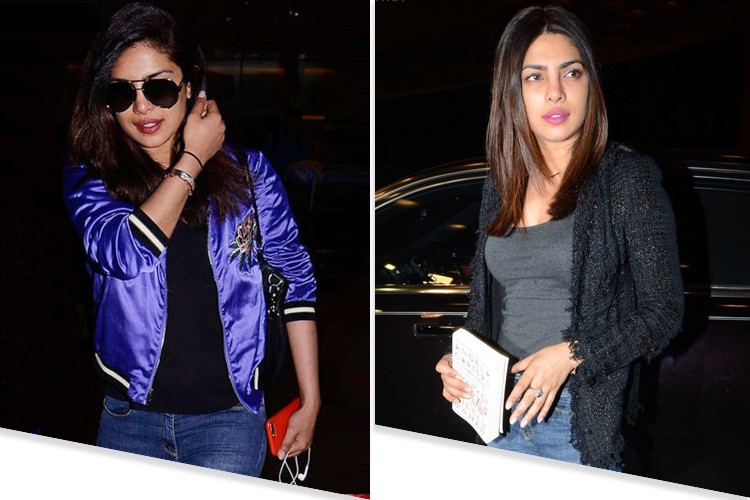 Priyanka Chopra has been traveling more than any other Bollywood celebrity that we know of. This lady has gained worldwide popularity, and so has her fashion sense. It is very tricky to nail the traveling style game, as it needs to be kept simple and stylishly striking at the same time. This woman has mastered the traveling fashion style and is a true travel pro. Take some inspiration for your next airport visit.
In this shiny blue bomber jacket and a black spaghetti top, she looked fab with her medium length hair let down and sunglasses to round off the look. PeeCee knows how to keep it simple when a shiny jacket is part of your outfit, so flip flops are the perfect footwear to go with this look.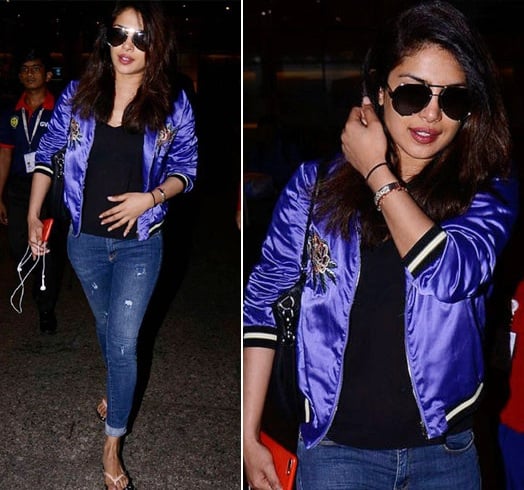 The bold lass looked gorgeous in this dark grey shrug with a lighter shade of spaghetti and jeans. Her pink lipstick was spot on complementing the dark outfit look to every bit. She rounded off her look in Miu Miu footwear. Middle parting of hair do's has never gone wrong with Priyanka and we love her look.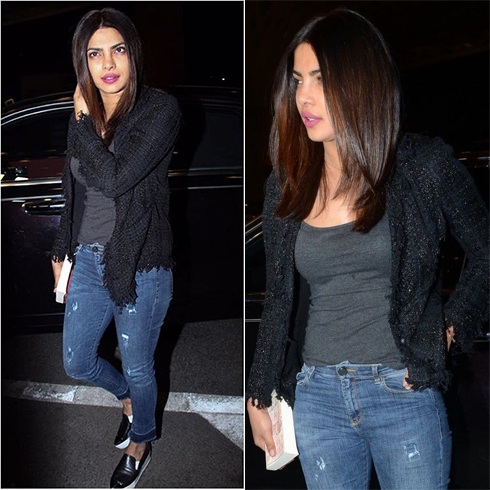 We are seriously impressed with her travel style! What about you?
Priyanka Chopra Becomes The First Indian Ambassador For Pantene Globally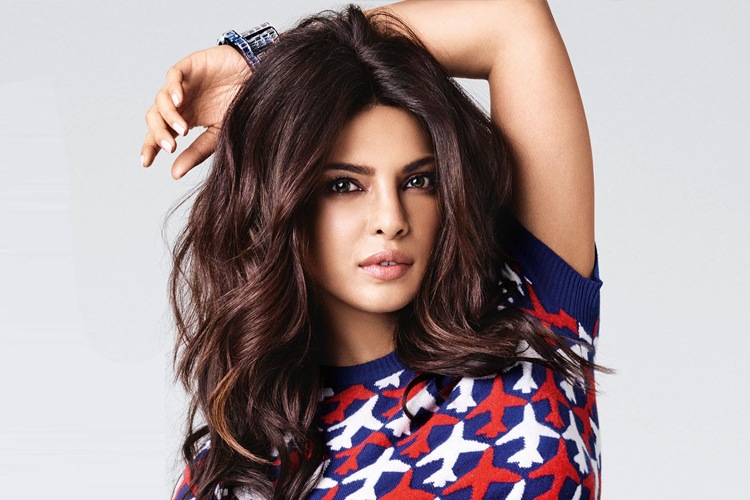 Priyanka Chopra, nothing can stop this woman from reaching unimaginable heights. An actress, singer, film producer, philanthropist and a former winner of the Miss World pageant, she has earned applause internationally for her TV show Quantico and carved a place comfortably for herself in Hollywood. All the million people over the world are obsessing over her, and now Pantene wants that attention too. Yes, you read that right.
The new global ambassador of Pantene is now Priyanka Chopra, the first Indian ever to represent Pantene globally. She has taken on social media how both Pantene and she have the same beliefs that "Strong is Beautiful", and how inner strength is important for hair as it is for life. She is the face of the newest campaign that advocates to make hair stronger and thicker in just two weeks, and we already know she's out to inspire all those women around the world with her beautiful locks.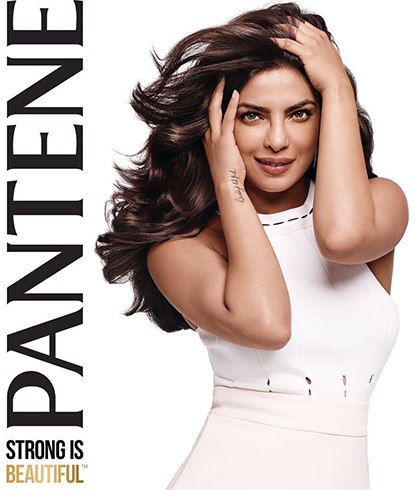 Meanwhile, Priyanka is back in India and we are as happy as she is, to see our iconic figure back in the country. She was spotted at the Kapil Sharma show recently looking brighter than the sunshine, in a yellow 3.1 Phillip Lim vest and pants, teamed with a white tank top, rounding off the look with nude Louboutin heels. Her sprightly hairdo sure was a thumbs up.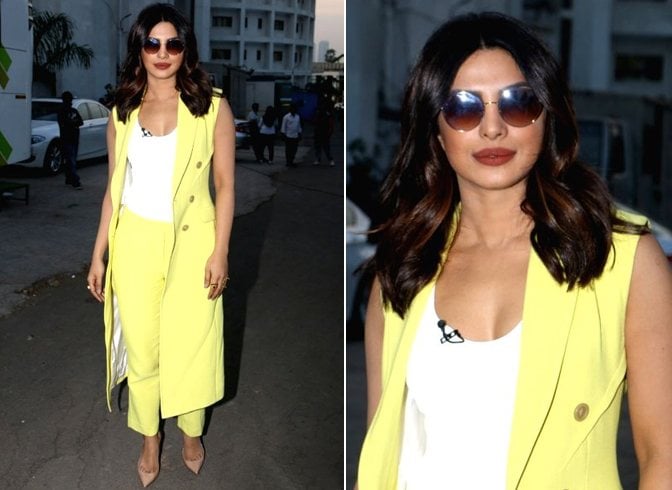 Already inspired, aren't you?
Author: Bhavya Rebala
Priyanka Chopra – A Shot Of Intoxicating Styles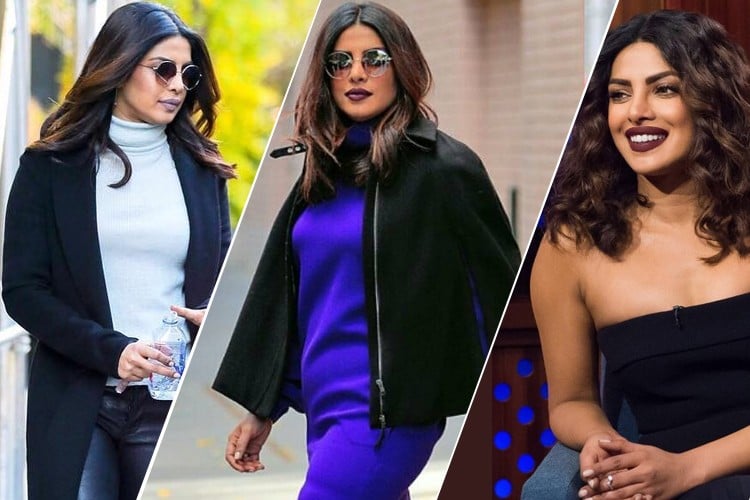 The fashion world is on the watch for all things fashion when it comes to Priyanka Chopra and we are one among them. Having recently done a spectacular beauty shoot, the Quantico lady got us excited about her miraculously easy makeup and her competitive styles.
A blend of right hues is what makes our diva click in absolute ease. Let's delve into her off-late styles and master the art-
In Burberry Boots
With celebrities, it's not always about the outfits that they showcase. It could be either the shades, the shoes or handbags too. Here we are amazed to spot the divalicious Priyanka Chopra flaunting the astounding snakeskin cutout boots from Burberry over a pair of leather pants and a long black coat. If you hold a strong passion for shoes, then this style surely should make way into your collection, what do you say?
With Hyacinth shade lips, smart gogs and the mid-parted swirly hairdo, she kept the look fairly interesting.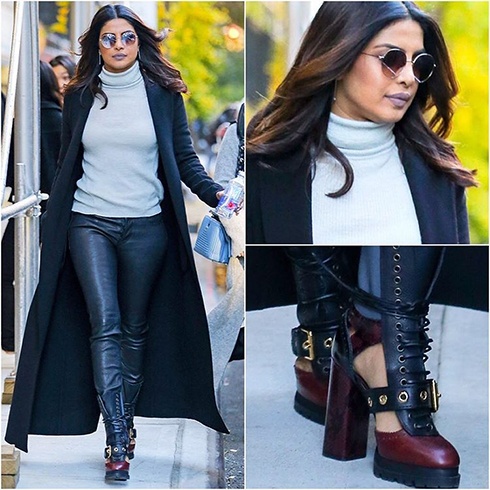 In Costume National
Winter in NYC is playing quite fashionably on our Bollywood beauty, don't you think? In a purple sweater dress from Costume National, she looked eye-catchy. Pairing it with thigh high boots and jam colored matte lips, Priyanka Chopra was breathtaking.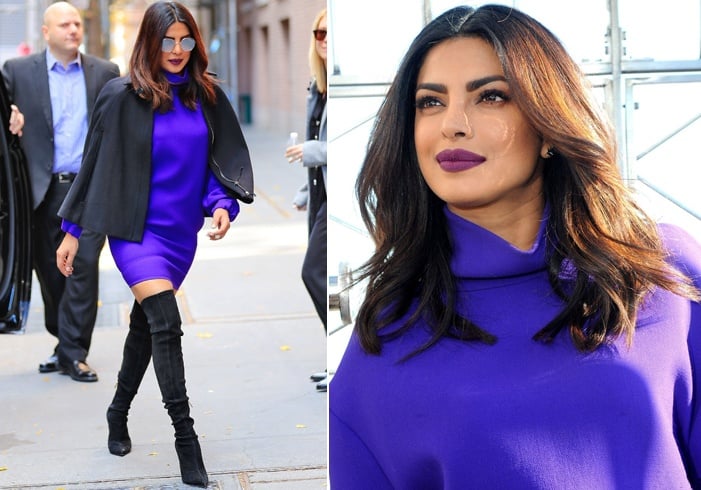 In Dion Lee
Looks like the diva's calender apart from her shooting is filled with talk shows and magazine photo-shoots. And at every other appearance Priyanka amazes us with her fresh and flawless styles. In a strapless Dion Lee outfit, with wine colored lips and stiff curls, she looked stunning.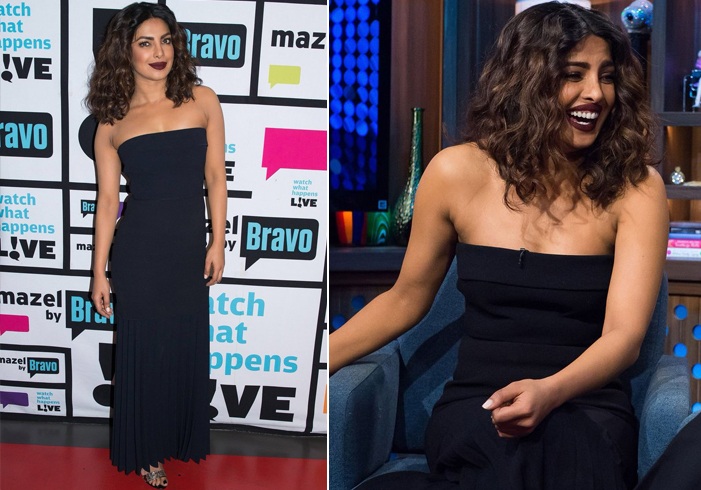 Romping playful lip shades, and being the life and light of every event, Priyanka Chopra is surely storming our Instas, and fashion news and we are glad to note every flick and frisk of her style.
Priyanka Chopra's Makeup Shoot Looks Thrilling!!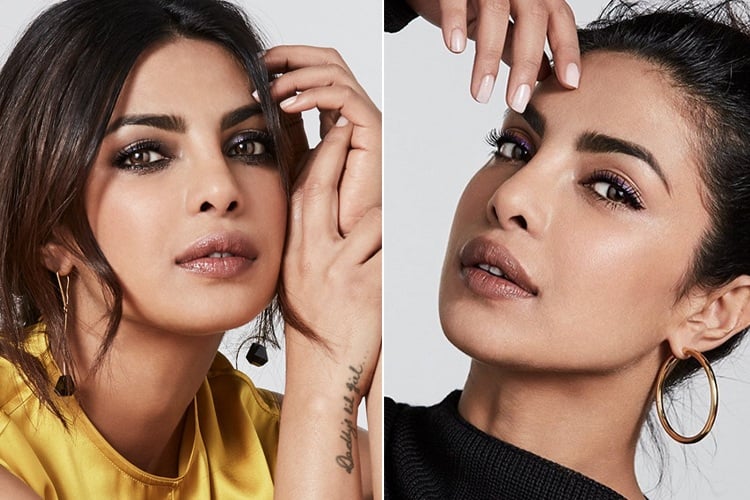 It is no wonder that the whole world is eyeing our Bollywood beauty and charmer, Priyanka Chopra. And, why not? The diva has been climbing steps of success right into the sky.
Recently PeeCee accommodated her schedule to interact with Byrdie, one of the beauty magazines in which the diva is reported to have disclosed her take on DIY masks, de-stressing tips and tricks. But what caught our eye is the impressive photo shoot.
For one of her clicks, to enhance the makeup, the pretty lady dressed up in a bright yellow silk number from Ports 1961. Letting her Celine earrings swing, she pinned her hair into a low bun. The diva was given thick black liner look to bring out the spark of the eyes. She applied a natural glow to the nude lips and contoured her face flawlessly.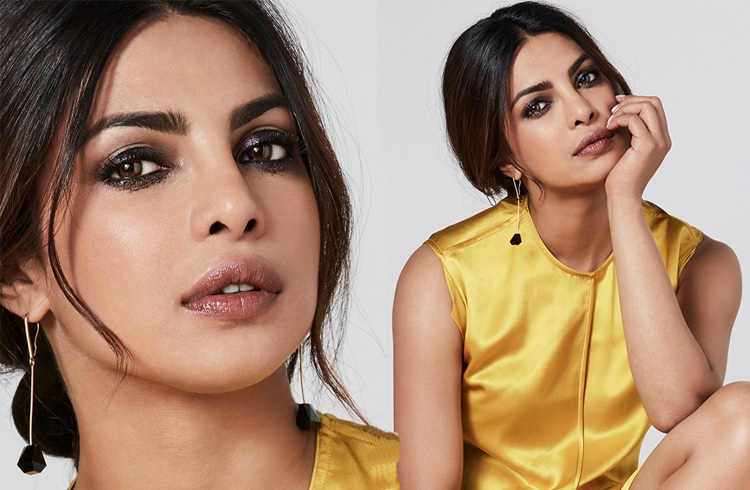 She amplified her blushed look by wearing a stark white COS button down shirt. Letting her wavy hair fall casually and accessorizing with Celine earrings, she looked fresh and rejuvenated.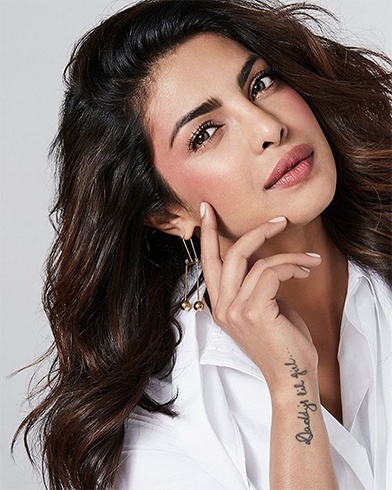 Lastly, she slightly bronzed her dusky complexion well for this image. In a black sweater and bold hoops from Celine, with her locks pinned high into a bun, Priyanka looked enigmatic. With black and purple glittery liner, nude lips and apt highlighting, she rocked the look giving us major beauty goals.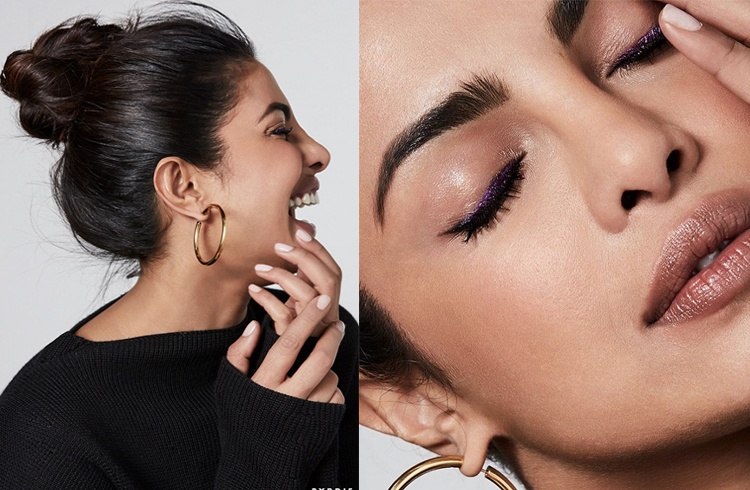 Loved her makeup and minimalist fashion approach!! What about you?
We Are Crushing On PeeCee's Brick Red Lip Shade!

Keeping a close tab on the Quantico girl, Priyanka Chopra is one feature of our work that we enjoy immensely. Shooting the stars, aiming to the moon, the lovely lady is definitely on the rocket of success.
[Also Read: Whoa! Forbes 2016 Declared Priyanka Chopra As 8th Top Paid TV Actress]
While at it, she ensures her appearances are never questionable or debatable. Pulling out gorgeous fashionable apparel that complements her toned figure, she frenzies our thoughts, don't you agree?
In Michael Kors
Indigo it was for PeeCee for the #godslovewedeliver NGO event! In an elite dress from Michael Kors, she looked as poised and serene as the dark waters of the sea. Like a moon showing on the clear sea, her face glowed royally. With metallic ankle strap sandals, a metallic chain, she closed her ensemble. She chose to go with mid-parted wavy hairdo and brownish red lip that suited the look aptly.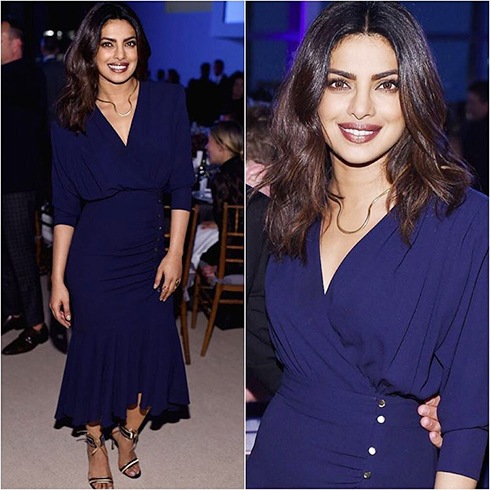 In Burberry x Barneys
PeeCee put on her best looks at the PlayFest event in a printed dress from Burberry x Barneys collection. The X-factor imbibing thigh high slit and the cleavage bearing neckline oomph-ed the style quotient. She found comfort in her usual mid-parted wavy hairdo, and chocolate brown lips. With ankle strap heels, Noor Fares jewelry, she rounded her style.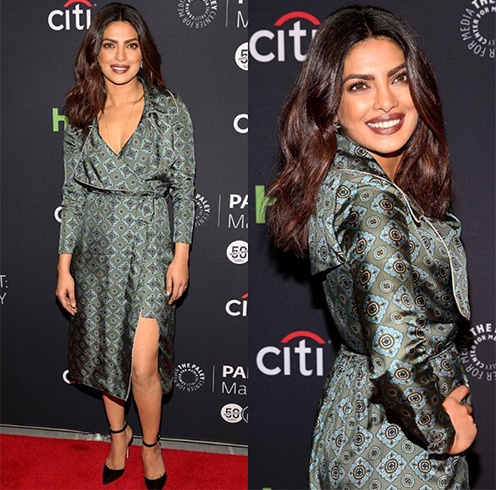 Impressed with her styles? We are! PeeCee can make any outfit look easy to carry with rocking attitude, isn't it?
Priyanka Chopra Convinces Us That Trench Coat Dresses Are The Next Best Thing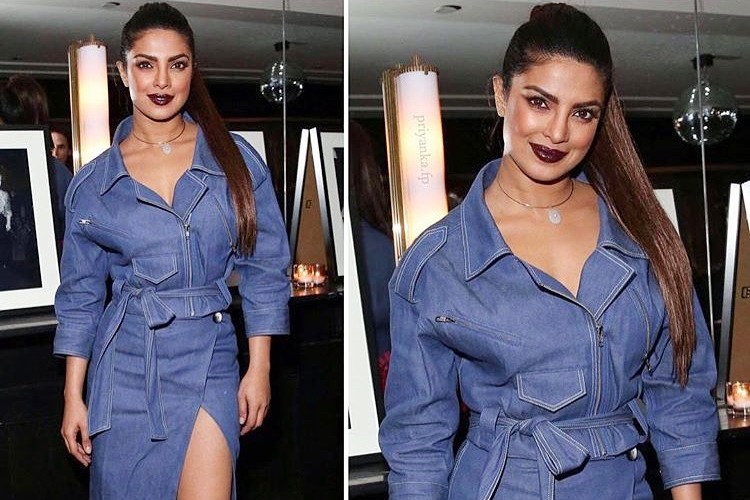 Owning the world of stardom and blitz, Priyanka Chopra attracted the paparazzi all the way to the book launch of the iconic designer, Carolina Herrera.
Wearing a trendy all jean trench coat dress of the designer's Spring 2017 collection with a CVC Stones choker, PeeCee carried herself with an amazing attitude and grace.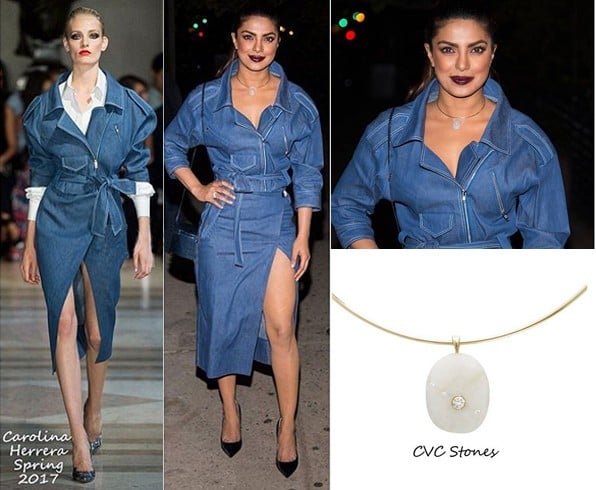 With the thigh high slit giving top notch sex appeal, the oxblood lips spiking a vampire-ish feel, she was hard to look away from.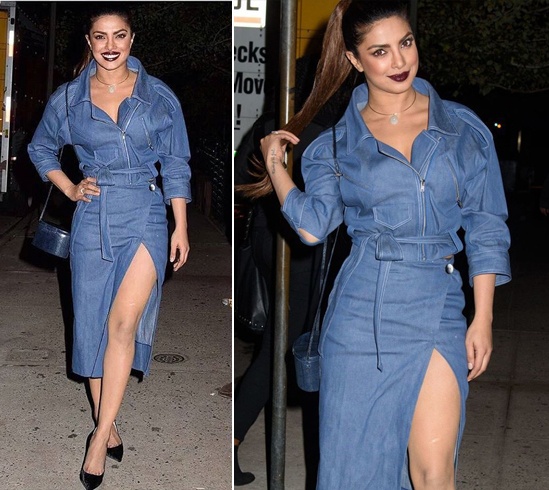 Stepping away from her routine, she tied up her tresses into a neat sleek pony. The rouge lighted up her cheeks right and with deep set eyes, she rounded her look.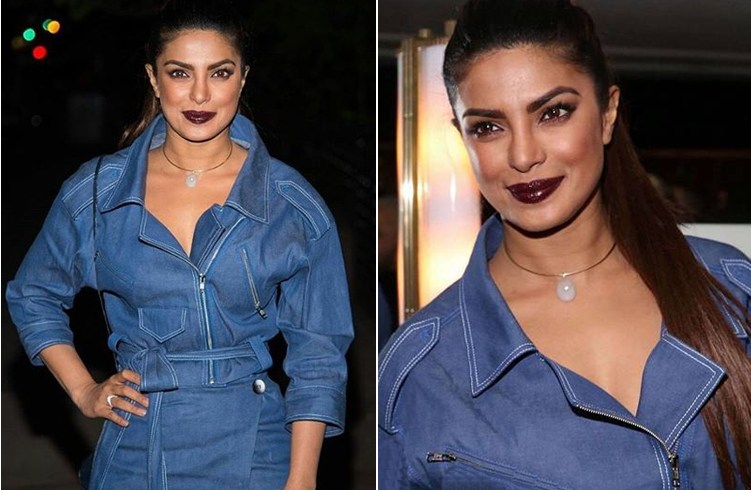 We definitely can't imagine anyone else carrying this guise with such unfaltering breeze. Don't you agree?
Like this look? We surely do!!
Priyanka Chopra Turns A Live Show Into A Party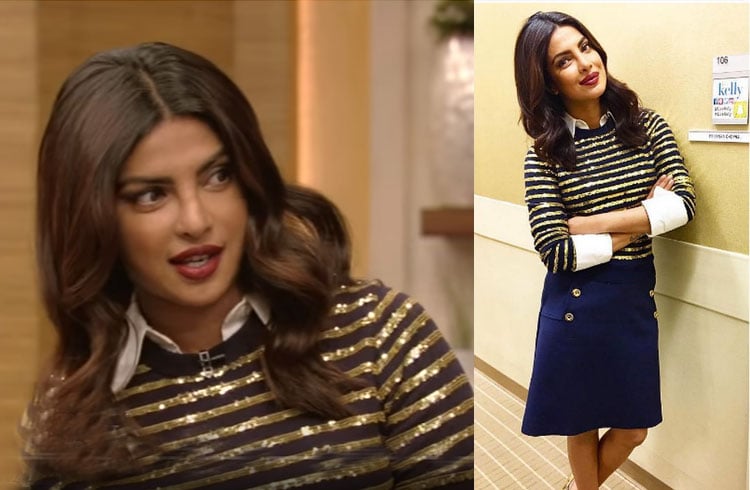 'Work hard in silence, let the success make the noise', holding this statement true to the tiniest detail is Priyanka Chopra.
The roar of her success is echoing in the 7 worlds and we love the sound of it. Appearing on the 'Live with Kelly' show, she presented high dose of entertainment making everyone go gaga over her energetic personality.
Looking easy and adorable, Priyanka put forth a very chic and fashionable look. She dressed to nines in a striped golden shirt and blue skirt by Michael Kors that balanced the formal and party look, perfectly.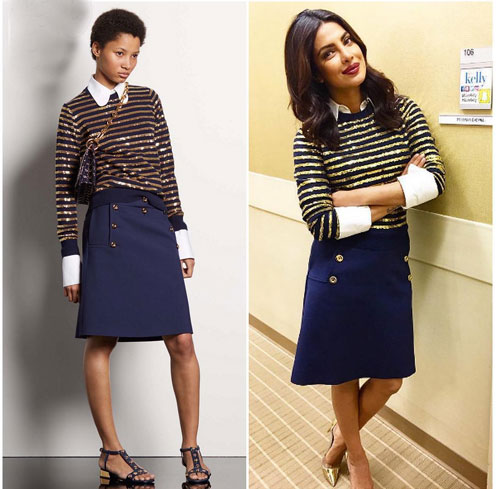 Flaunting mind-blowing action moves in her Gianvito Rossi golden heels, she looked one badass woman. Getting the host Jerry O'Connell to follow her stunts in heels, she tickled our funny bone.
With mid-parted, school girl waves and hairdo by Ted Gibson, deep pink lips and glowing face by Stephanie Brooke Barnes, PeeCee rounded her look and was the light and spirit of the show.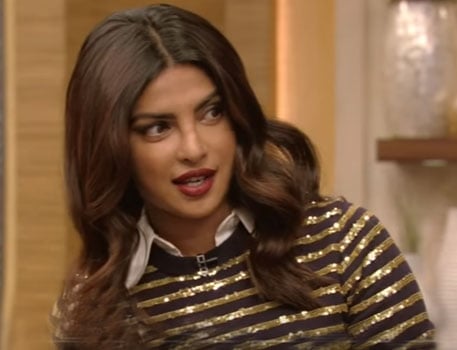 Here is a snippet of the lively show-
Hope you enjoyed the post!!
Author: Sai Bhargavi Chintaluri