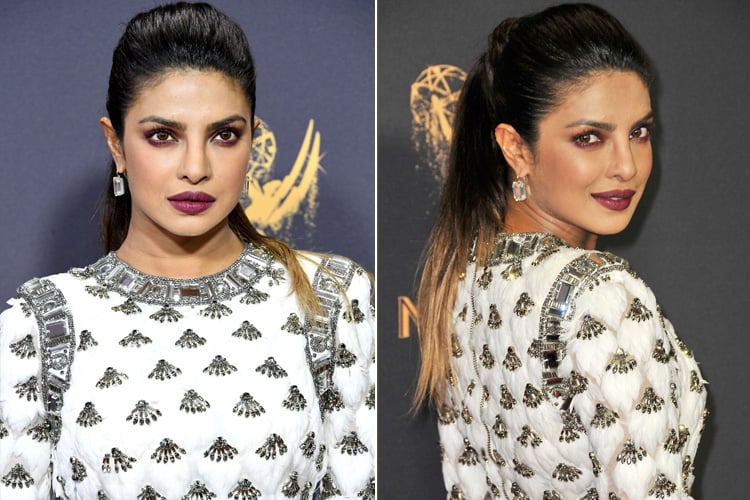 The multitude of talents of Priyanka Chopra isn't limited to her acting but her remarkable singing and modelling skills add to her repertoire too. She empties her energy to perfect the her rendition and the way she flies from one corner of the globe to another tirelessly, it's safe to say she is one of the most hardworking actresses in Bollywood and Hollywood combined. Her styling on red carpets renders craze to the the shutterbugs, and her gorgeous brown face takes their breath away. No matter how much you know about her, you can never have enough of it. So read on.

Priyanka Height | Priyanka Age | Priyanka Boyfriend | Priyanka Family | Priyanka Professional Career
The weekend ended on a grand note for all of us with the larger than life 69th Primetime Emmys Awards 2017. Glued to our seats, thoroughly enjoying the best and worst moments of Emmys, we had a ball of a time.
As much as we were cheering for the best actors of the most rocking TV series, we equally feasted on the fashion gamble of the divas. Of all the attendees, we had eyes mainly for our desi girl, Priyanka Chopra who like always charmed her way through looking absolutely stunning.
Priyanka Chopra chose to go mermaid style in a custom-made Balmain white outfit. While the well-tailored body-con outfit complemented her toned bodyline, the fur train added a trendy and chic vibe.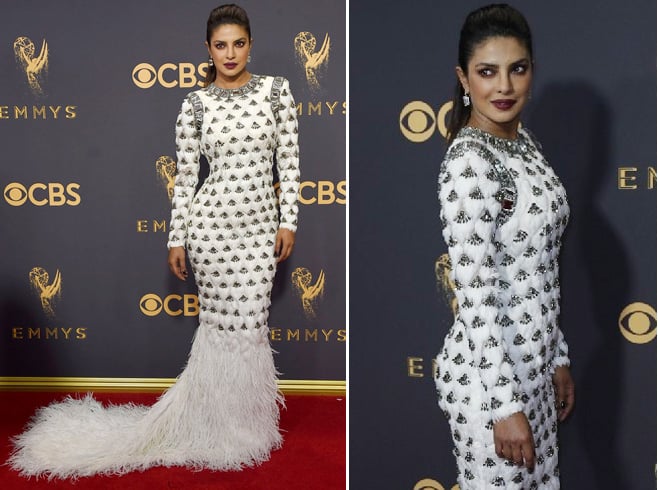 With sparkling gems that played along with the embellishments of the outfit, she garnered a grand avatar. Danilo, the hairstylist pinned her tresses, sleek and tight into a high ponytail. Prema, the makeup artist, gave her a glowing touch up with deep plum lips and luscious lashes.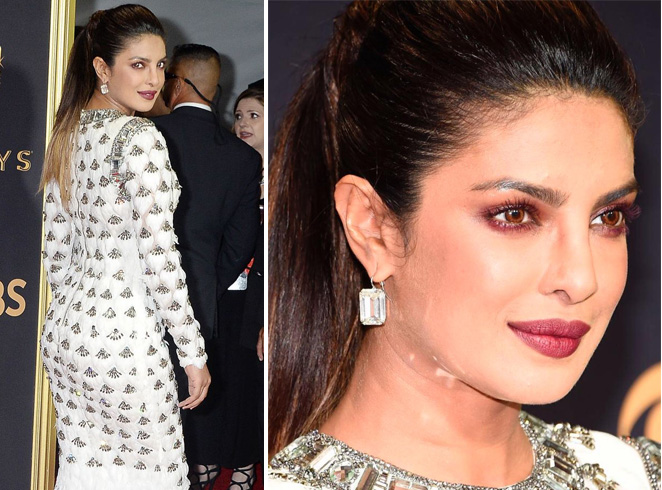 Cristina Ehrlich, the stylist like always did a spectacular job in styling PeeCee. Hope you enjoyed catching the witty, lovely, bold and beautiful diva on the silver screen.
September 21st, 2017
Author: Sai Bhargavi Chintaluri
---
Priyanka Chopra Age, Figure, Height, Sister, Husband, Without Makeup and Bio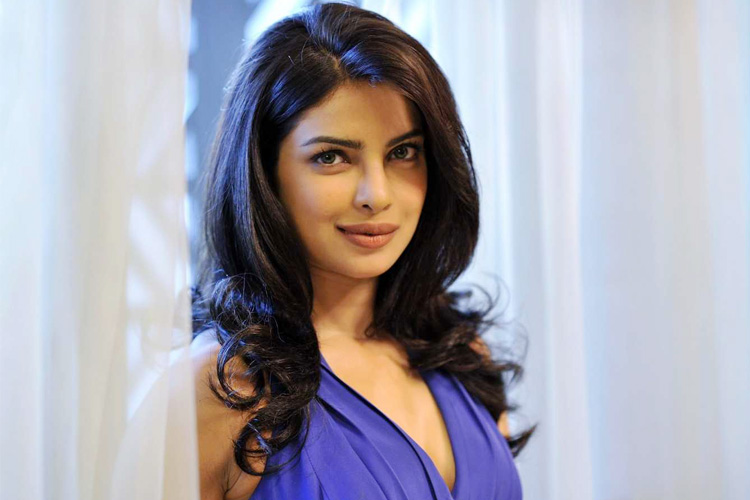 Personal Details
Name
Priyanka Chopra
Birthday Date
18 July 1982

(35 years)

Sun Sign
Cancer
Eye Color
Dark brown
Hair Color
Dark brown
Nationality
Indian
Religion
Hinduism
Education
She was schooled in Army Public School in Bareilly, Uttar Pradesh, India. Thereafter Piggy Chops attended earned her university degree from Jai Hind College in Mumbai, MH.
Occupation
Actress, Singer, Model
Marital Status
Single
Family Details:
| | |
| --- | --- |
| Father | Ashok Chopra, was a physician in the Indian Army |
| Mother | Madhu Chopra, is a physician in the Indian Army |
| Siblings | Siddharth Chopra, younger brother, Parineeti Chopra (Cousin) |
| Spouse | N/A |
| Children | N/A |

Past Relationships
Priyanka had dated model Aseem Merchant during her early modelling days. The couple broke up after Pee Cee won the Miss World title in 2000.
The model turned actress found love again in Harman Baweja and the two dated for over a year before splitting up in 2009.
Rumors of affair between Shahid-Priyanka went rife when the former opened the doors of Priyanka's apartment past mid night when IT officials showed up.
Apart from Shahid, the Quantico star was also linked with Akshay Kumar during the filming of Aitraaz and with Shah Rukh Khan during the making of Don. The star wives were furious and forbade their respective husbands to ever work with the former Miss World.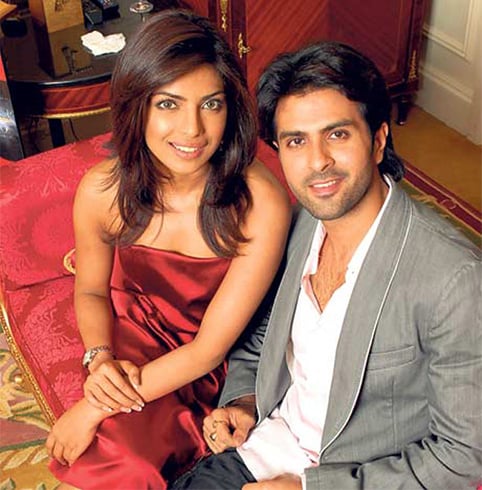 Body Status
| | |
| --- | --- |
| Build | Slim |
| Height | 5'7" |
| Weight | 60 kg or 132 pounds |
| Waist Size | 24 cm |
| Hip Size | 34 cm |
| Shoe Size | 7.5 (US) |
| Body Measurement | 34-24-35 |
Favorite Things and Hobbies
| | |
| --- | --- |
| Color | Red |
| Food | Junk food like pizza, Buffalo wings and double cheese burger |
| Place | Mumbai |
| Book | Romeo and Juliet, Tell me Your Dreams, Letter from a Father to His Daughter |
| Perfume | Dune, Ralph Lauren Romance |
| Hobby | Writing poetry, Singing |
| Actor | Kishore Kumar, Mel Gibson |
| Actress | Sushmita Sen |
| Film | Walk in the Clouds, Pretty Woman |
Professional Career
First Debut: Thamizhan (Tamil) and Andaaz (Hindi) in 2002
Brand Endorsements: Appy, Blenders Pride, Colgate, Schmitten, Vatika Hair Oil, Rajnigandha Silver Pearl, Garnier, Tah Huer, Swipe Technologies, Nikon, Asmi, Pantene, Nirav Modi Jewels, Guess
Carrier Achievements:
"Nielsen Box Office Award" for Outstanding Contribution to Asian Cinema, 2009
Bengal Film Journalists' Association Awards: Best Actress for Aitraaz in 2005
BIG Star Entertainment Awards, New Talent of the Decade, 2010.
BIG Star Entertainment Awards, Most Entertaining Film Actor – Female, 2012
BIG Star Entertainment Awards, Most Entertaining Actor in a Social/Drama Film – Female, 2014
BIG Star Entertainment Awards, Most Entertaining Film Actor – Female, 2014
Filmfare Awards, Best Female Debut, 2004
Filmfare Awards, Best Performance in a Negative Role, 2005
Filmfare Awards, Best Actress, 2009
Filmfare Awards, Critics Award for Best Actress, 2012
Filmfare Awards, Best Supporting Actress, 2016
Global Indian Film Awards, Best Villain Female, 2005
Global Indian Film Awards, Most Searched Female Actor on Internet, 2007
GQ Men of The Year Awards, Woman of The Year, 2010
GQ Men of The Year Awards, Award for Excellence, 2014
Indian Telly Awards, Most Impactful Debut on Television, 2010
International Indian Film Academy Awards, Best On-Screen Beauty, 2007
International Indian Film Academy Awards, Best Actress, 2009
International Indian Film Academy Awards, Best Actress, 2010
International Indian Film Academy Awards, Green Globe Award for Contribution to a Greener Earth, 2011
International Indian Film Academy Awards, Woman of Substance, 2014
International Indian Film Academy Awards, Woman of the Year, 2015
International Indian Film Academy Awards, Best Supporting Actress, 2016
Lions Gold Awards, Favourite Actor in a Leading Role – Female, 2009
Lions Gold Awards, Favourite Popular Film Actor – Female, 2011
Lions Gold Awards, Favourite Actor in a Leading Role – Female, 2012, 2013, 2015
Lions Gold Awards, Favourite Marathi Film, 2017
MTV Europe Music Awards, Best Indian Act, 2015
National Film Awards, Best Actress, 2008
Nickelodeon Kids' Choice Awards India, Best Movie Actress, 2013
People's Choice Awards, Favorite Actress In A New TV Series, 2016
People's Choice Awards, Favorite Dramatic TV Actress, 2017
People's Choice Awards India, Favourite International Music Debut, 2012
Producers Guild Film Awards, Best Actress in a Leading Role, 2009, 2010, 2013, 2015,
Producers Guild Film Awards, Entertainer of the Year, 2012
Producers Guild Film Awards, Star of the Year, 2013
Producers Guild Film Awards, Hindustan Times Celebrity for a Cause, 2015
Producers Guild Film Awards, Guild Global Honor, 2016
Sabsey Favourite Kaun Awards, Sabsey Tez Sitara, 2006
Sabsey Favourite Kaun Awards, Sabsey Favourite Heroine, 2009
Sabsey Favourite Kaun Awards, Sabsey Khoobsurat Ada, 2009
Sabsey Favourite Kaun Awards, Most Amazing Performance, 2009
Sabsey Favourite Kaun Awards, Sabsey Favourite Jodi, 2009
Screen Awards, Best Actor in a Negative Role, 2005, 2012
Screen Awards, Best Actress, 2009, 2015
Shanghai International Film Festival, Golden Goblet" (Jin Jue) Award for Contribution to Cinema, 2009
Star Box Office Awards, Ms. Money Bags, 2014
Zee Cine Awards, Best Actor – Female 2013,
Zee Cine Awards, International Female Icon, 2014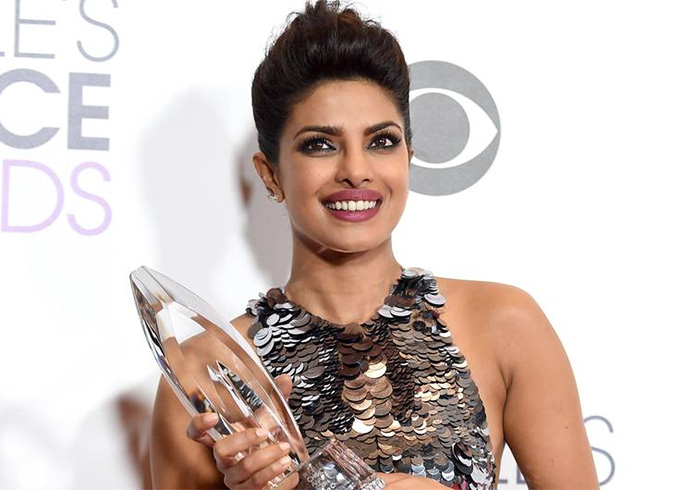 And, this is not it. There are a bunch of other achievements and awards this damsel has bagged! Nevertheless, you must get the idea how vast and gigantic her popularity is.
Remuneration: INR 3 Crore for Ads and 12 Crore for movies. She earned $11 million in 2016 from her show Quantico and brand endorsements.
Net Worth: $28 Million
Priyanka Chopra Weight Loss
Workout Plan
Her workout regimen is a balanced compound of cardio, weight training, and yoga. Generally she works out an hour a day, 4 days a week. It starts with 15 min on the treadmill, followed by push-ups and reverse lunges.
She includes about 20 – 25 bench jumps and 20 to 25 reverse lunges to her exercise routine, added with 60 seconds on planks hold and about 25 bench curls.
The Baywatch baddie has a thing for resistance training, detests weight training equally.
If she is not able to make a trip to the gym, she would still include running and spinning in her schedule.
The Bollywood Diva swears by yoga and practices it religiously for the ancient exercise system not only gives her body its perfect shape, but get her inner peace and makes her skin glow.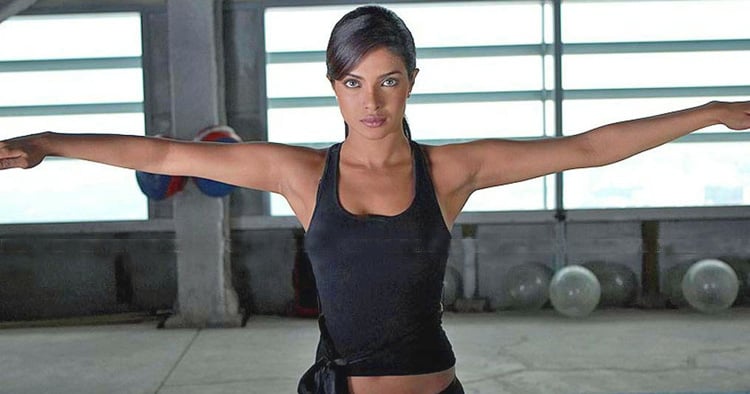 Diet Plan
She isn't the one for diets, in fact she is the kind who would cherish a jalapeno in her Margaritas. But should you want to see what a typical Priyanka Chopra plate looks like, here's a sneak-peek.
Breakfast – Two eggs, a bowl of oatmeal with skimmed milk
Lunch – The quintessential Indian Thali with 2 chapattis, vegetable, dal and some salad.
Evening snacks – a serving or sprout salad or turkey sandwich
Dinner – grilled chicken or fish, or veg soup.
Besides the above she loves to snack on nuts, and imbibe glasses of coconut water. Weekends are her cheat days and she would treat herself with tandoori food, cakes, and chocolates.
Social Profiles
Interesting Facts
Before we wrap up, here's a bunch of fun facts about your favorite actress.
Everyone suffers from some insecurity or the other during teen years. Priyanka hated her lips because, to her, they were too big. She wasn't very happy about her eyebrows either as she considered them to be too bushy. She hated her hair too. We wonder how this former Miss World feels about herself now.
More than often we have heard the media and fans call her Piggy Chops. Every wondered the origin of it? Priyanka, in an exchange with Glamour magazine, revealed that it was given by a co-star. Piggy, because she eats a lot, and Chops from Chopra. "It was cute for a while, but now it's like, 'Ahhh!" she adds.
Now we know, Piggy Chops is her favorite nick name, but her friends call her Sunshine, Yanka and Mimi and the 35 year old absolutely loves it.
Both her parents were doctors and the actress was practically raised in a hospital that made her quite averse to the idea of becoming a doctor, as many would expect of her. In her own words, "…the level of formaldehyde and the sight of blood, I knew I couldn't be a doctor! They definitely taught me discipline, and respecting people's time, and whatever the job is, nothing is ever menial."
Though she knew she wouldn't be a doc at any cost, the Exotic singer took a minute to figure out what her final career choice would be. There was a time she was considering criminal psychology very seriously, but later enrolled in engineering. It was only after she was crowned Miss World in 2000 that she gave modelling a serious thought – the rest is history.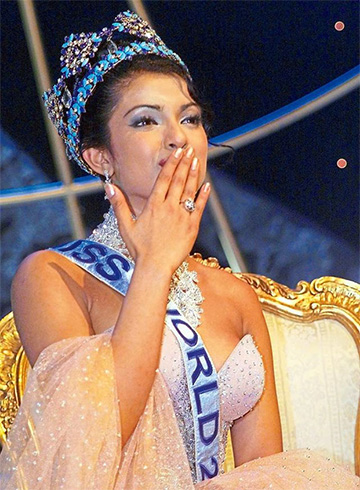 She may be now ruling American hearts but there was a time in her life, when the Quantico star was studying in Massachusetts and was vehemently bullied for her race and nationality.
When it comes to guys, our desi girl, apart from love, kindness and loyalty would look at the kind of shoes the man wears. Good taste in shoes is important as it speaks a lot about the person. But again, she doesn't find those men attractive who put a lot of effort to their looks, precisely – overly groomed guys turn her off. She would rather be with someone who'd make her laugh.
Priyanka has a special place in her heart for high end cars and is a proud owner of BMW 7-Series, Mercedes S-Class, and Porsche Cayenne.
In 2010 she was invited to cast her foot impression at the famous Salvatore Ferragamo museum in Florence, Italy. She was the first Indian artist to have her foot cast at this museum visited by tourists from all over the globe where the likes of Audrey Hepburn and Marliyn Monroe had their feet cast.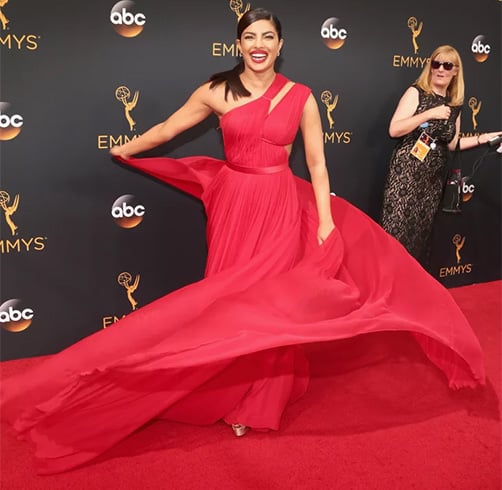 We all went gaga over Aishwarya Rai's regal looks in the remake of cult classic, Umrao Jaan. Did you know that the movie was originally offered to our girl Priyanka Chopra first, but she had to turn down the offer on account of a busy calendar? The actor's fans would have killed to see her in all those studding regalia but again, seeing how the movie tanked at the box office, we are pretty sure they aren't ruing anything.
Blessed with genes, Priyanka never restricts herself to much on some extra fries. In fact, she always keep candies in her hand bag. I know it's tough to believe given that ever fit and well-toned body she flaunts, but again, with a great natural metabolism, she says, she never puts on. Some people don't even have to try, and that's not even fair.
That PeeCee's list of fans is endless is no secret, but it's astounding to see even the Hollywood biggies have signed up for this beauty's fandom. In one of his interviews, Ryan Reynolds was seen praising the actor.  "I have not seen her show but I've seen her interviews and she is charming, funny, and smart. She's got a huge following and is doing great. I would love to work with her. I can see why she is a big star." he said.
Alex Parish isn't the first character that required the actress to go through some extensive action training. Girlfriend is a bad ass and has portrayed such characters many times. Turns out she trained in Ju Jitsu, Karate and Gatka for do justice to the action packed roles in the Don and Drona.
When asked to comment on the topic of nepotism stirred by Kangana ranaut recently, Priyanka backs her Fashion co-star and reveals how she was dropped from movies because the directors got calls from some who's who in the industry to cast their family members.
July 22nd, 2017
Author: A. Debnath
---
Priyanka Chopra Defined Class And Style At TIFF 2017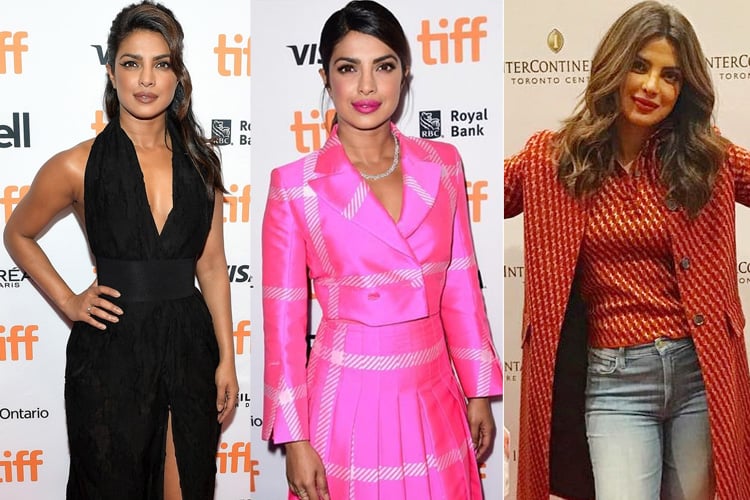 Toronto International Film Festival (TIFF) 2017 is on roll and Priyanka Chopra attended few soirees as a special guest. Driving the paparazzi bonkers with her elite and interesting fashion choices, PeeCee sparked up the red carpet.
Priyanka Chopra rocked a classic black, halter neck gown by Los Angeles based designer, Zaid Affas. The plunging neckline and the thigh high slit were striking features of the LBD that added a sensuous appeal to the diva. Black heels, brown lips, winged liner and half pinned hairdo rounded her grand avatar.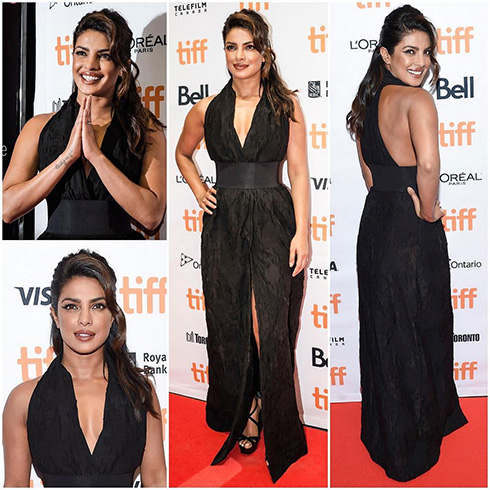 Priyanka Chopra was a strong dosage of pink in Fendi separates at the screening of Pahuna, a movie from her own production house. Nirav Modi necklace, shocking pink lips, and sleek hairdo rounded her bright stunning look. The studded black boots felt a bit out of place, don't you agree?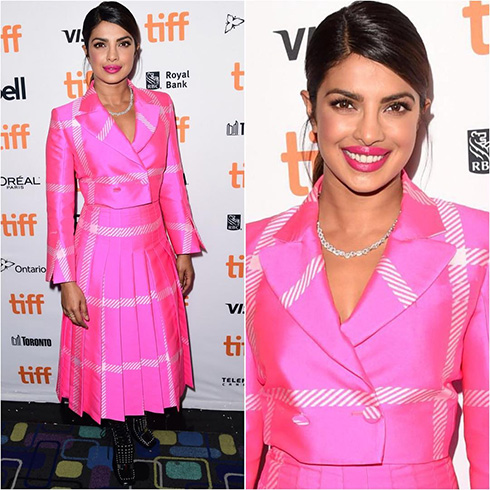 She was also captured looking smart and chic in a Bottega Veneta top and jacket over a pair of boyfriend jeans by Mother. Stuart Weitzman stark white boots were her choice of footwear to the uber cool look. Wavy hairdo and red matte lips added a lovely finish to her casual style.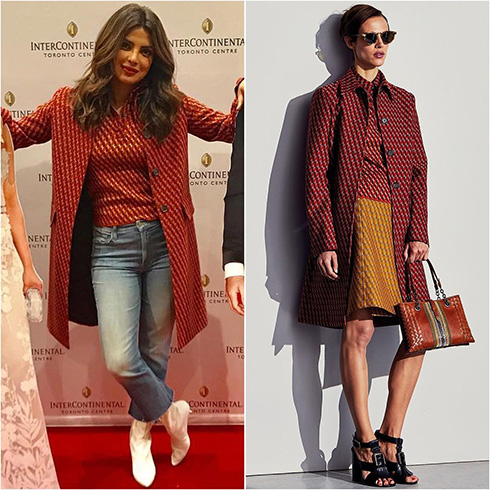 Styling credits go to Cristina Ehrlich. And we are in complete awe of the grace with which PeeCee flaunts her curves and challenging fashion choices.
September 8th, 2017
Author: Sai Bhargavi Chintaluri
---
Priyanka Chopra Took Paris For A Spin With Her Captivating Styles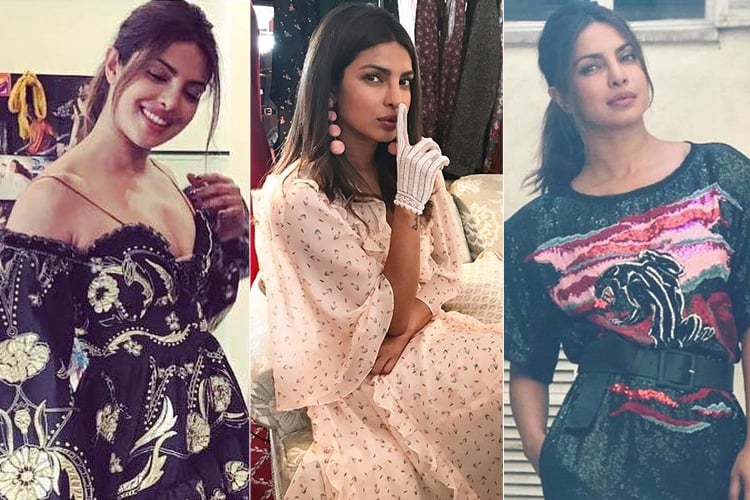 Though we miss Priyanka Chopra at our Bollywood events, we are happy to catch up with her on the Hollywood platform. She was spotted having a gala time in the world of showbiz at the Paris Fashion Week 2017/2018.
Engrossed by her talented performances, we almost forgot that PeeCee started her career with fashion. A sneak at the styles checked out by her at Paris Fashion Week 2017/2018 rekindles the memories of the diva as a model.
In Dundas
Looks like the diva has taken a great liking to this label, Dundas at the PFW this season. She was captured in three different looks from the same label and with every look, she elevated her style game.
She was clicked looking trendy and smart in a black mini graphic print dress. The wide belt tapered her slender mien. Going zero with accessories and a messy ponytail, she closed her style.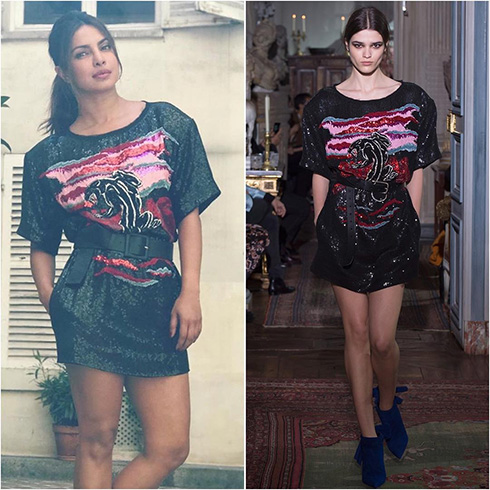 Priyanka confounded us with one of the styles. She was clicked giving a killer pose in Dundas asymmetrical hemline, high-low thin strap dress. Love the contrast red heels!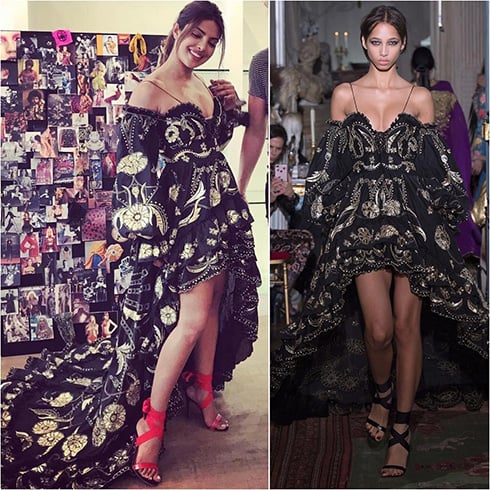 In Ulyana Sergeenko
In soft peach summer maxi dress by Ulyana Sergeenko, Priyanka brought a pleasant style to our fashion radar. Rebecca De Ravenel earrings played along well with her style. Soft, straight hair and natural brown makeup rounded her look.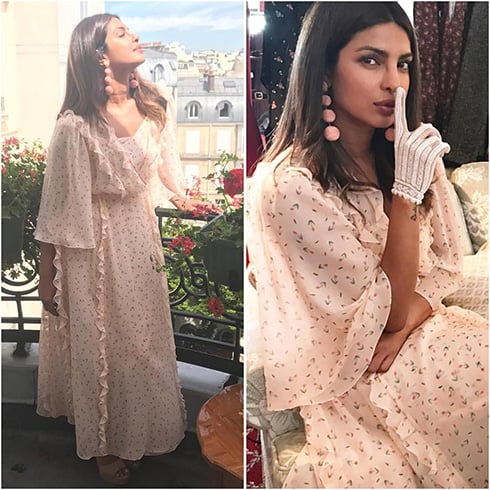 Be it a party, trendy, street style or easy-breezy, PeeCee slayed every style perfectly. Don't you agree?
July 7th, 2017
Author: Sai Bhargavi Chintaluri
---
Priyanka Chopra Makes Us Wanna Replay A Black And White Fashion Story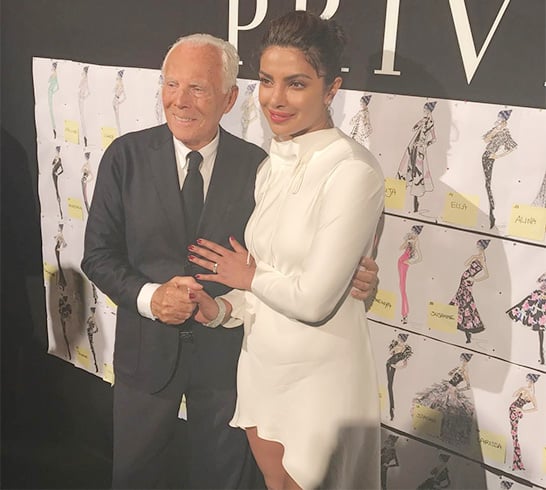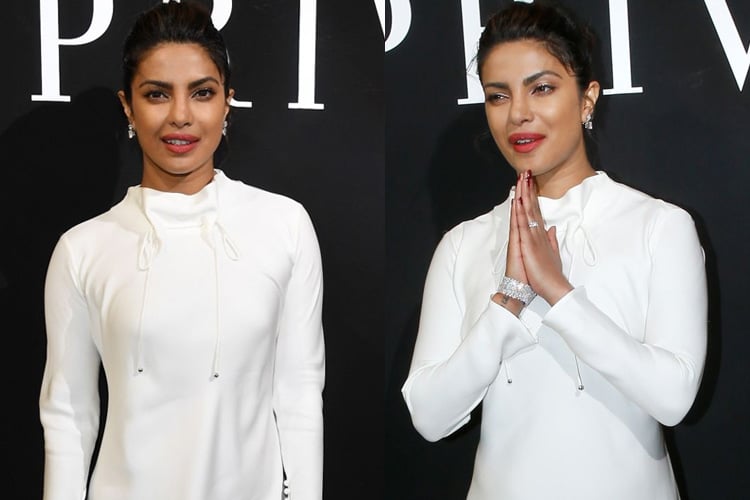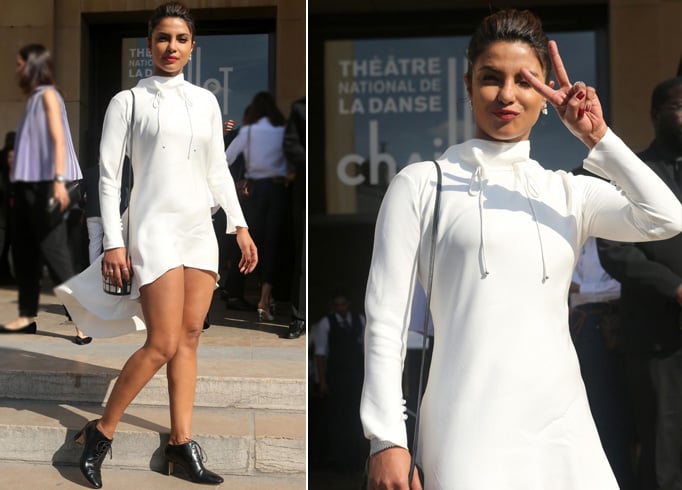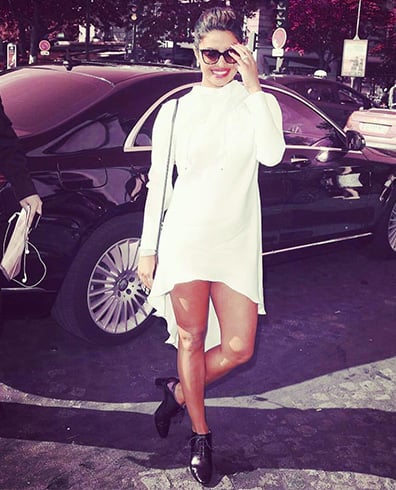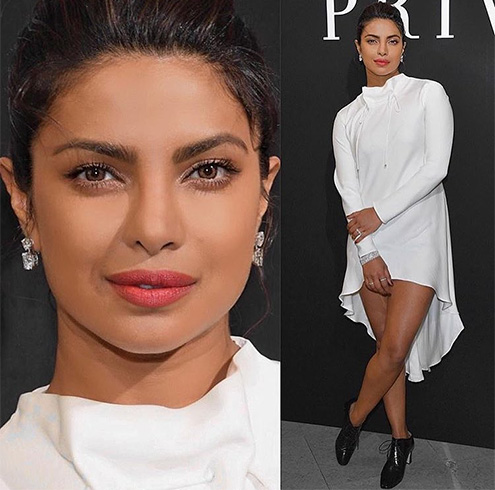 Priyanka Chopra was spotted on the front row at the Paris Fashion Week 2017. She was captured wearing a white Armani high-low outfit, extending her love and support for the Giorgio Armani Prive Haute Couture Fall/Winter 2017-2018 presentation.
Black ankle length booties, neatly pinned hair, maroon manicure and intact makeup elevated her style smoothly and stunningly. Not sure if the dazzling diamond pieces were in harmony with the look though, but we surely admit that the accessories added elegance to her style.
July 5th, 2017
Author: Sai Bhargavi Chintaluri
---
Priyanka Chopra Adds A Cool Quotient This Summer With Her Styles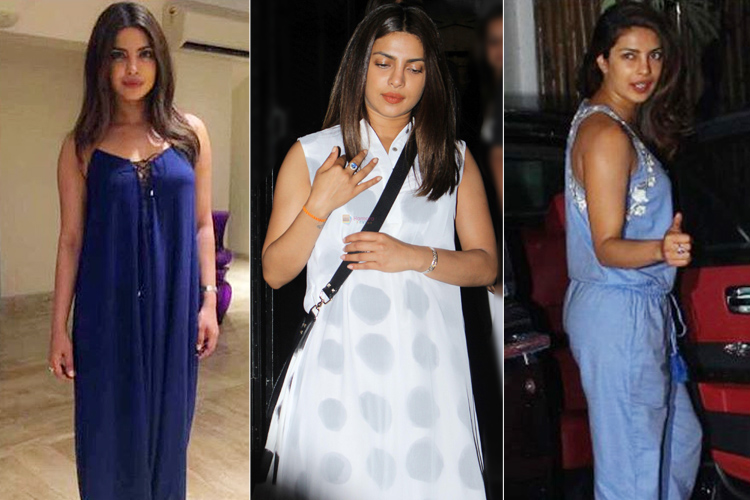 Priyanka Chopra has never failed us right from her modeling days till date, be it in the zone of fashion or performances. Her hourglass figure was totally worth drooling over and the diva has truly created inspirational stories with her attitude, zeal, and focus.
These words are enough to say how deeply we admire her every move and choice. Following ardently, we noticed that the diva plays with her style in sync with the season.
We have seen the diva clad in layers during winter and now that summer has popped up, she is stretching out her fashion choices to include easy, breezy summer styles.
Here are a few of her choices in the recent couple of weeks that we fell in love with-
Maxi Dress
In a striking blue, anti-fit maxi dress from Shweta Kapur, Priyanka Chopra looked totally attractive. Going nada with accessories and keeping it simple, she closed her look. Her hair was brushed to loft soft and she chose a neutral shade of touch-up. Though we are great fans of her well-toned figure, we totally welcome this anti-fit style on the diva.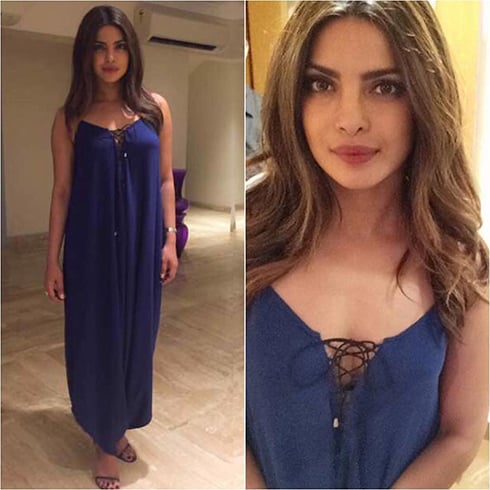 Tunic Dress
PeeCee brought both trendy colors of B-town, black and white together in one look and bowled us all. She picked an overlay polka dots tunic dress from Bennch while out and about in the city. While white dominated in the outfit, she balanced it well with black accessories. A Maison Valentino black handbag and Gianvito Rossi wide heels worked in harmony with her style.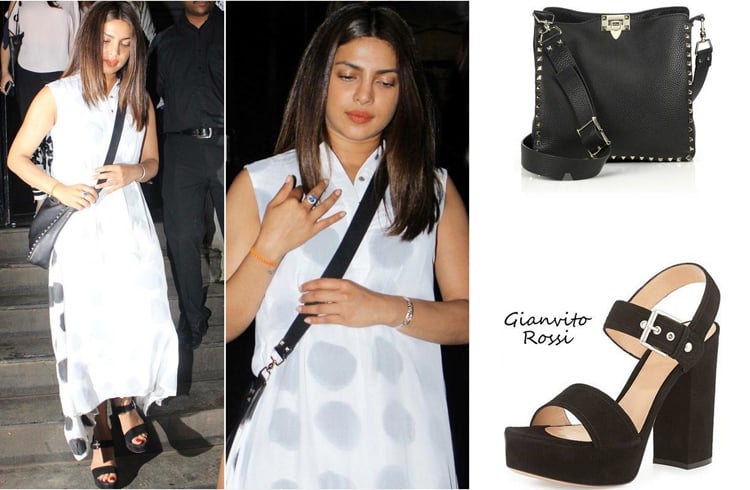 Jumpsuit
Rocking a pleasant colored outfit, Priyanka Chopra was spotted in the city. Looks like the Hemant & Nandita jumpsuit that the diva donned was tailored to fit the lady perfectly. The floral embroidery in white around the sleeve line added charm to the solid colored look. With nude heels, soft hair and natural makeup, she looked worth staring.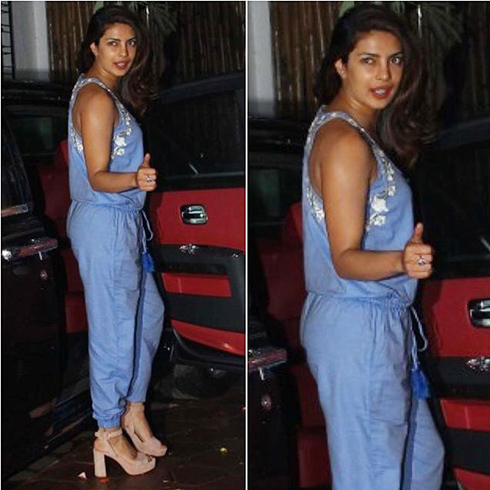 Styled by Ami Patel and Sanjay Kumar Dauhaliya.
June 13, 2017
Author: Sai Bhargavi Chintaluri