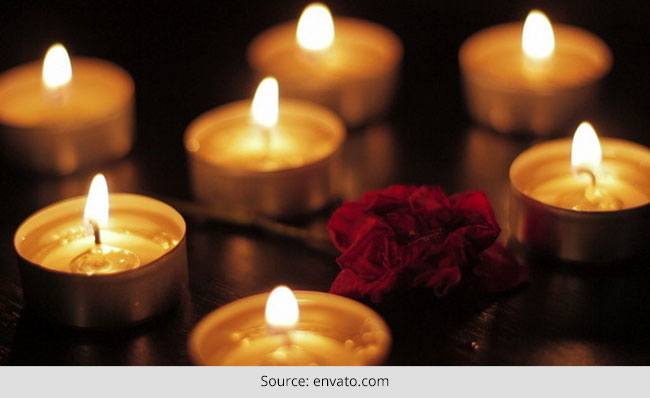 Tea light candles, those dainty little pots that exude a soft glow, are the perfect accessory to set a romantic tone to your evening. You can use them in your room to create a very appealing and romantic atmosphere. Candlelight and romance have had a never-ending affair that has stood the test of time. So much so that candlelight has become synonymous with romance. Candlelit dinners and a Jacuzzi with candlelight around it are all the perfect settings for a romantic date. You can bring this magical air of romance to your room by using the seemingly innocuous tea light candles.
How to Give Your Room a Romantic Makeover with Tea Light Candles
1. Create a cosy corner
Decorate a corner of your room with a divan or a mattress and plush pillows and cushions to create a cosy corner. Place tea light candles in glass jars to create soft romantic lighting. Have a bottle of wine and glasses ready to unwind and cuddle with your loved one.
2. Hang some DIY tea light candle chandelier
You can easily make a chandelier that can then be suspended and lit to bathe the room in the soft candle light. The tea light candles will look ethereal and oh-so-romantic suspended from your ceiling.
3. Make a big romantic gesture
If your partner likes being surprised and likes romantic gestures, then why not make one using tea light candles? Here are some ideas.
4. Use scented tea light candles
Place scented tea light candles on the floor. They give off a very subtle scent, quite in contrast to the overly strong scent that you might get from regular scented candles. So cover your floor with scented tea light candles, making sure to leave a path for you to walk through. The light and the scent will create a very romantic and very pleasant atmosphere.
5. Use candle stands to create a visual effect
Use candle stands of varying heights to create an interesting visual effect.
6. Keep it rustic
Who says romance has to be all about delicate candles and pretty curtains? If you think your loved one would prefer a more rustic feel, you can bring that in with some wood stands. The fire and the wood will give off a very rustic, being-in-the-forest vibe.
7. Create a spa atmosphere
There is nothing that says 'I love you' better than pampering your partner, making them feel special. Roll out a yoga mat on the floor and keep some soft towels and scented oils handy. Light up some tea light candles and give your partner a very relaxing massage, allowing them to unwind from all the stress of the day.
[sc:mediad]
8. Attach a wall stand
The simplest and quickest way to give a romantic glow to your room is to have a candle stand nailed to the wall. Anytime you want to create a romantic atmosphere all you have to do is switch of all the electrical lights, light the candles, and put on some soft music to instantly give your room some much needed pizzazz.
9. ave tea light candles along with fairy lights
Use fairy lights with your candles to create a fantasy land feel. Going over-the-top is how you make an impact.
10. Flowers, flowers, and flowers
Candles are romantic, but candles and flowers together are the epitome of romance. Make some intricate decoration with your candles and some flowers to set the scene.
11. Make your candles float
Tea light candles are so light and dainty that they can float prettily on water. So how about making them float in a big glass bowl or even wine glasses?
12. Light and place the candles in front of a mirror
If you don't have too many candles, one way to make it look like you do, is to place the candles in front of a mirror. The reflection will make the candlelight look grander and give an illusion of there being many more candles.
13. Bring your garden indoors
Bring your potted plants, especially those with flowers, into your room to create a very mystical atmosphere. The earthy fragrances along with the candles will help create the right look.
14. Keep unlit candles around your room
Have some scented tea light candles around your room. You don't have to light them up to enjoy the scent, even unlit candles give off a subtle scent that will help give your room a very inviting, very romantic feel.
15. Place the candles in lanterns
Place your candles in metal or paper lanterns with patterns that will project the light in interesting designs.