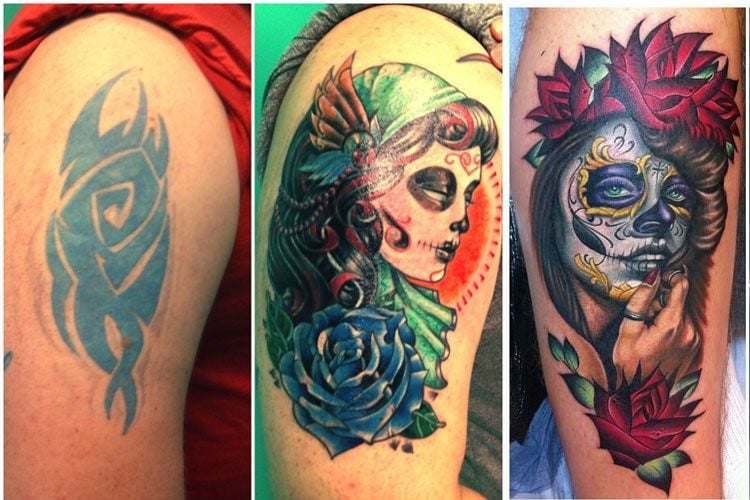 When it comes to tattoos, sometimes our decisions are not always the best. But we have to understand that tattoos are a decision of a lifetime and if you don't make a sane decision, you may end up regretting your entire life. But there is a silver lining to your dilemma. Sometimes, there are a few good artists who can really change your 'Bad' Tattoo to a 'Badass' one. Whether it is covering up a tattoo on the arm, legs, or even fingers, these 34 amazing Tattoo Cover-ups  will really leave you in awe.
[Also Read: Tattoo Designs for Women]
1. The Sickly Thin Bird Who Got Multi-coloured Makeover
This girl decided to get a pretty birdie tattoo, but somehow, the bird turned out to be pretty sickly. Thankfully, the new tattoo artist had a colour makeover in mind. The bird was covered up by a gorgeous peacock feather!
2. The Colorful Oil Who Was The Perfect Cover Up For The Weird Looking Fish
It is no wonder that the person wanted to get rid of such a weird looking fish to a much better looking owl.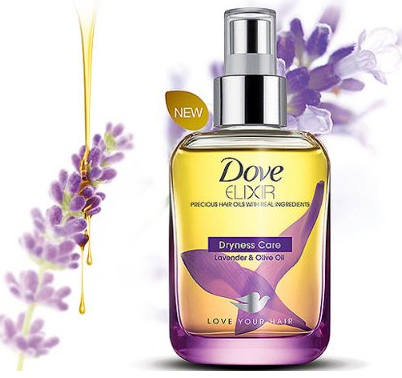 3. When Tribal Tattoo Leveled up
Check out the below tattoo cover up. Her tribal tattoo was a common piece until she decided to cover it up with something even better.
4. When Avril Lavigne Fan Decided To Retire
She had always been a fan of the punk rock chick Avril. Her tattoo was her tribute. But gone are the days of Avril, and so she decided to give her tattoo a facelift too!
5. When Justin Broke A Girl's Heart
Name tattoos are the ones which need to be covered up the most. The same happened with this Justin tattoo. The before and after images of this tattoo will leave you wondering where the name Justin has disappeared.
[Also Read: Finger Tattoos]
6. When She Gave Her Scar A New Look
The scar on her stomach transformed into a beautiful looking tattoo with this gorgeous motif. This is one of the best tattoo cover-ups that we have seen.
7. When Some Sad Music Gave Way To A Nice Little Owl
The homemade music tattoo looked bad. But the owl that covered it up looked gorgeous!
[Also Read: Religious Tattoo Designs]
8. Bye Bye Smudged Fairy
Again, the result of a bad and inexperienced tattoo artist, the smudged fairy looked pretty desolate until a new tattoo artist did his magic and covered up this tattoo on the arm with beautiful flowers.
9. The Insect Which Got A Makeover
The old spidey got a nice makeover and actually started resembling a spider. This before and after cover up tattoo shows how an old and drab looking spider was transformed into a much better looking spidey.
10. A Flower In Full Bloom
She had a small flower until her tattoo artist decided to cover it up into a nice full bloom plume!
11. David Lost The Battle To A Rose
David's name was skillfully hidden with the help of this beautiful rose. The before and after images will leave you searching for the name.
12. The Roaring Tiger Took Over Daryl
Mistakes in the form of tattoos and names are so common. Here, Daryl's name was swiftly covered up with a roaring tiger. This cover up tattoo's before and after images will leave you guessing where the name Daryl was inked.
[Also Read: Arm Tattoo]
13. A Bunch Of Roses
She had a lone rose, but the tattoo artist decided to include a nice bunch. The below image shows a beautiful cover up of tattoos on arms.
14. Creepy Crawly To A Nice Little Turtle
Who likes lizards? But a nice little turtle would be good for a makeover.
15. The Raven Feather Swept Away The Memories Of A Slinky Looking Creature
The slinky cat or fox, well we couldn't decide what it was was beautifully covered up by the raven feather. We think that the artist has done an amazing job of covering this tattoo on the foot with a stunning black feather tattoo.
16. The Gargoyle Got A Beautiful Facelift
There was once a sad gargoyle. It was lonely and ugly until the tattoo artist decided to cover up the tattoo with beautiful flowers. You can hardly see a glimpse of the previous tattoo.
17. When The Unicorn Decided To Get A Little Classy
The previous unicorn was a sad excuse. But the one that covered it up was gorgeous!
18. When The Name Disappeared In A Bow
A bow tattoo is the perfect cover up tattoo for girls who want to say goodbye to the guy who ditched them!
19. The Ugly Peacock Feather Just Got A Lot Better, Artistically
The drab looking peacock feather got a makeover and became fab!
20. The Sad Fairy Was Replaced With A Beautiful Bunch Of Roses
This was quite a shock. There is absolutely no inkling of a sad fairy under that bunch of happy roses.
[Also Read: Spring/Summer Tattoo Designs]
21. The Sword Which Got An Amazing Upgrade
With the below tattoo cover-up, even Aurthur would have loved something this majestic.
22. Non-descriptive Tattoo Turns Creative
This before and after image is a perfect example of mixing creativity with your design. The artist has done a clever job of covering up the previous tattoo by depicting the perfect meaning of a cover-up.
23. Time To Say Goodbye To The Tiny Star
Another fine example of cover up tattoo on feet. The before and after images of this tattoo will leave you amazed. The artist has managed to cover up a sloppy looking star with a gorgeous peacock in all its glory.
24. Name To Nameless
This tattoo cover up does not leave any inklings of the previous tattoo. Covering up of names is quite tricky but when you have a skilled artist, the before and after images are definitely a sight to see.
25. From A Non-descriptive Tattoo To A Space Tattoo
This tattoo cover up will leave you guessing where the previous non-descriptive tattoo was.
26. Black And White Roses To A Colorful Bouquet
One of the best cover up tattoos that we have seen! Add new life to a black and white tattoo by adding in colors.
27. From A Shadowy Cat To A Bright Sunflower
This black tattoo cover up is definitely going to brighten up your day. The bright and yellow sunflower is a good tattoo cover up idea to get rid of the sad looking black cat tattoo.
28. The Tribal Tattoos Get replaced With A Lady DJ
Kudos to the tattoo artist who has covered up the tribal tattoos with the exquisite design. Now this is how you get a tribal tattoo cover up done.
29. The Lighthouse Tattoo Just Became Prettier
One of the best ways to get a tattoo cover up on sleeves would be to make it colorful if it is done in just black ink. We totally love this cover up tattoo design where the beauty of the previous tattoo has been enhanced without any major changes.
30. Time For Cyrus To Fly Away
Cover up of tattoo names is one of the most difficult task and it is very important to get the perfect design which would completely make the name invisible. This tattoo name cover up idea is perfect since the tattoo artist get kept the new design also as black and white which has completely camouflaged the name.
31. Show Your Love For Your Daddy
Isn't this black tattoo cover up idea one of the sweetest ones that you have ever seen? Who would have thought that the weird looking heart design with horns would gave for a sweet Daddy's Girl tattoo?
32. When the Star Gave Way To Dreams
Star tattoos are quite popular but if you are looking for a star tattoo cover up then we assure you that this dreamcatcher tattoo is one of the best tattoo cover up.
33. From A Small Cute Tattoo To A Beautiful Elaborate Tattoo
Have a small tattoo but want to upgrade it to an elaborate one? Check out this small tattoo cover up idea. How beautiful does that peacock look?
34. The Bright Sun Gives Way To Blooming Flowers
Getting a large tattoo cover up done can be pretty tricky since the tattoo artist has to ensure that the new design is able to cover up the entire previous tattoo. We thing the tattoo artist had done a beautiful job of covering up the large sun tattoo. What do you think?
Did these amazing tattoos leave you spellbound? We are sure that after going through this post, you have got some amazing inspiration for tattoo cover up for women.