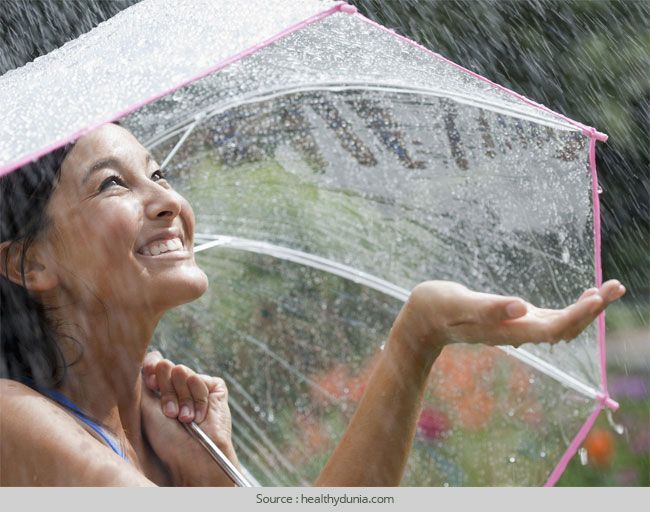 True that monsoon brings a great relief from the summer heat. But with the rains come humidity. The sticky weather makes your skin sticky too. Those of us with oily skin suffer the most. Dirt and moisture mix together to harm our skin in many ways. The most exposed area is your face and acne is almost unavoidable during this season. What can you do to keep your oily face fresh during this rainy season? Let's find out.
Cleanse
Keep your skin clean at all times. It is often advised to wash your face regularly if you have oily skin. This is a myth – twice or thrice during the day should be enough. Too much of cleansing can cause excess production of sebum and thus increase the oiliness and acne associated with it. Try mild gel based face wash that does not affect the natural moisture on your face.
You can use homemade remedies too for oily skin – Use a papaya pulp face mask or an oatmeal scrub. To keep away blackheads and whiteheads from your face during the monsoons, try a facial sauna once or twice a week. Add a few drops of clove oil to a bowl of hot water and hold your face against the steam for 5 minutes.
[Also Read: Home Remedies For Oily Hair]
Tone
It is absolutely necessary to tone your facial skin to maintain its natural ph balance. During the monsoons, it is easier for both airborne and waterborne microbes to attack your oily skin. Use a good anti-bacterial toner, especially before going to bed.
An oily skin tip: Make an effective toner at home – mix 5-10 drops of lavender oil in a tablespoon of water and apply it to your face with a cotton ball.
Moisturize
Yes it is humid – but that doesn't mean your skin is well moisturized. In fact the skin is dehydrated during the rains due to the constant wetting and drying effects. Some of us may even experience some itching due to this.
Rosewater is the best defense for dehydrated skin. Use a combination of Rosewater and strawberry/orange oil for a natural moisturizer. You can leave it on for 10 minutes and wash it off with cold water. Cream based moisturizers should be avoided if you have oily skin.
Exfoliate
Excessive humidity leads to extra oiliness and dead cells. It is important to remove them effectively to keep breakouts away from the face.
Exfoliate your oily skin with a face pack during the monsoons – mix 2 tablespoon of baking soda, 1 teaspoon of cinnamon powder, half a lemon's juice and 5 table spoons of honey into a paste. Apply this paste to your face and rinse off after 5 minutes. Use this more than twice a week during the rainy season for best results.
Tightening Mask
Mud packs are very useful for oily skin. You can use clay based face packs during the monsoons too. Multani Mitti or Fuller's earth is the most popular mud pack. Add a pinch of turmeric powder to this for the antibacterial effect. Rosewater and sandal powder can give you a cooling effect and avoid excessive dryness. You could try a cucumber and white clay mask too – Whip up a peeled cucumber with one tablespoon of yogurt, a teaspoon of lemon juice, 2 tablespoon of brandy and some white clay. Apply and leave this pack on for 20 minutes.
[Also Read: Multani Mitti for Skin, Hair and Body]
During the monsoons, oily skin faces an increased risk of acne to the nose, forehead and chin areas. Make sure you give extra care to your face by keeping it well moisturized and clean. The rainy season may pose a challenge to oily skin, but you can tackle it with the correct skin care regimen. Make sure you follow these tips regularly.