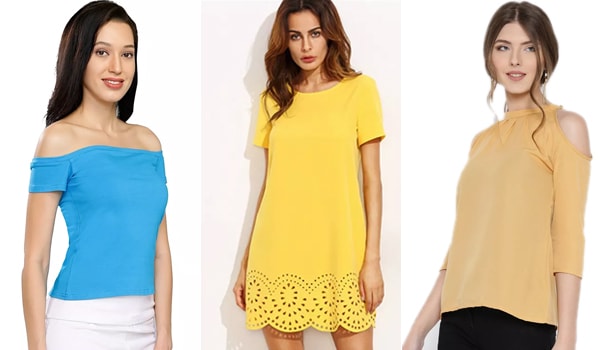 Your date night could be the most important night for you this week. You might be raiding your closet in search of the perfect top, dress, jumpsuit that you could wear. Fancy outfits don't necessarily mean date night outfits, so woo your date with the kind of attention you would want.
Shop these outfits that spell "Date Night" in every way. Off shoulders, cold shoulders, unique necklines, this curated list of date night clothes are what you may be looking for now.
Date Night Outfits That Will Make Him Go Weak In The Knees:
These tops and dresses will have you looking your best on your date night. With added styling tips, you could gear up to steal hearts at first glance!
1. Glow In The Dark With A Yellow Shift Dress:
Add sunshine to your wardrobe and stand out in the darkness. This yellow shift dress is dreamy and perfect to go for that candlelight dinner. A loose fitting shift dress that brings in radiance and style. Team it up with a pair of flats or wedges and look like a dream girl!
2. Go Classy With A Classic Black Flared Top:
Think of any occasion and a black outfit always seems perfect for it. This black top has a unique twist to it with a belt encircling the waist and a flare accentuating your hourglass figure. Accessorizing this top with a blingy necklace and ring makes the look picture perfect.
3. Turn Heads In A Turquoise Off-Shoulder Top:
Why not ace the trend of wearing off-shoulder tops? An off-shoulder top seems to be the most common outfit that can transform your look into chic in seconds. This blue off-beat off-shoulder top is body-hugging and all the more trendy. Keep the look simple with a pair of skinny jeans.
4. Mesmerize Your Man In A Mustard Cold-Shoulder Top:
This mustard crepe top is a win-win with its beautiful color and the hottest trend -cold shoulder. Always remember, a high neck top is best teamed with tied up hair and the rule is applicable to this one too. A pair of black jeans can do justice to this bomb of a top.
5. Make Him Fall Head Over Heels In A Solid Pink Crop Top:
Who doesn't love to flaunt that tiny, sleek waist? This solid pink high-neck top is the most desirable pick for all the toned beauties out there. From pairing it with a skirt to jeggings, everything will look on point with this cute little top. Warn others before they're floored!
Let us know which date night option you liked the best. Did your partner compliment you? Without a doubt, the answer would be yes. We are waiting to see your exciting reviews in the comments box below.
Buy the collection before it's gone! Hurry up!
Shop this collection on voonik.com
Author: Bhavya Rebala