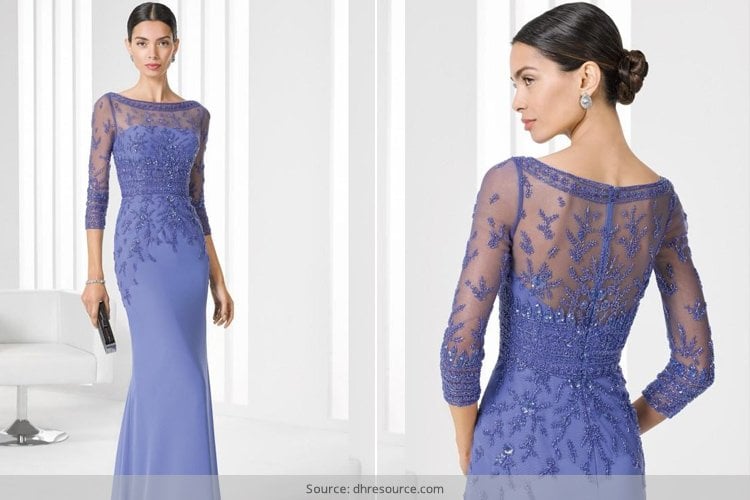 In today's fashionably conscious world, finding the right dress can be a humongous task and when it comes to choosing evening dresses for weddings, it's even more tiresome. For starters, you cannot look better than the bride (it's her day after all!) and in most Indian weddings, if you wore an evening dress, people might stare so hard at you that you wouldn't even know what to do!
Choosing the right evening dresses for weddings is finding that dress which would be the right balance between traditional and elegant and something that would also fit your budget. In this article, we will give you some good ideas on what to wear for weddings or evening gowns for weddings.
Before we talk about the different kinds of evening dresses and styles, here are some questions you could answer for yourself. These will help you narrow down your selection.
Length of your dress
There are just two possibilities here – you either choose a dress that is long and flowing or you settle for one that reaches your knees. Your choice will depend mostly on the location of the wedding and what's in vogue that season. Both the styles of evening dresses look great; you just have to make up your mind!
Long evening gowns or dresses can be with or without the trail –again depending on the kind of look you want to flaunt. It's always easier to have one without the trail because trails can be hazardous if you are not too careful.
Type of Skirt
Just like the length of the dresses, the skirts of the dresses also come in a variety of styles. For instance, if you love flowing and long dresses, princess or ball gown type evening dresses would be perfect for you. Unlike the ball gown skirt, the straight cut gown is great for those who are petite. The elongated nature of this gown means that it can help you look longer and leaner. A trumpet skirt, on the other hand, can accentuate a slimmer waist and make you look curvier. It, of course, gets its name from the instrument that it resembles. The mermaid skirt, on the other hand, is a very dramatic skirt and can contour the chest. It is thus a great skirt for those who have a bigger bosom and would like to camouflage it.
The length of the dress and the type of the skirt are thus very important factors to understand the kind of dress you would like to finally go for. Now let's look at the different types of weddings and the best choice of evening dresses for these events:
Beach Wedding
A beach wedding, of course, guarantees a lot of surf and sand, so you can actually leave the heels at home, or if you would absolutely like to wear them, make sure you carry a set of spares that will help you get rid of the sand and help you dance the night away! A rule of the thumb in beach weddings is to go for lighter fabrics and floral designs. You could also go for maxi dresses or those that come with a high-low hemline. Linen and chiffon are the perfect choices because they can be rid of the sand with just a swirl!
A White-Tie Sort of Wedding
When you have to dress up for a white-tie type of wedding, it is important to take your best clothes out. White tie weddings are like stately dinners or like royal balls and elegance is the key. You can wear elegant yet glittery evening gowns and pair them with a classy pair of heels. The USP of such weddings is old world Hollywood charm, so take your best evening gowns out of the closet!
A Black Tie Wedding
Black tie weddings are again a luxurious affair but are not that formal. You might not need to wear long, flowing gowns and shorter but classier looking dresses can take the cake. Sequins look good and lace plays an important part too. If you are not too sure about the length of the dress you want to wear, stick to conservatism and choose longer dresses. A black-tie event, however, gives you more freedom to experiment than a white-tie event.
[sc:mediad]
A Semi-Formal Event
A semi-formal wedding gives you more freedom to try out different colors or fabrics. You don't need to stick to chiffon or tulle evening dresses but you could also wear bodycon dresses with some bling to complete the look. Depending on when the event takes place, you could go for darker or lighter and bold hues. So if the wedding is towards the evening, stick to darker shades with a statement piece. For a daytime wedding, fuchsia and orange or combination of bolder colors should do the trick.
Festive Chic Wedding
Just as the name suggests, a festive chic wedding gives you an immense creative freedom to experiment with anything and everything – colors, fabrics, and designs! You can be bold with your accessories like your heels, shoes, and even your bags. Floral patterns, graphics, and abstract art – you can have anything and everything on your dresses when it's a wedding like this. Remember not to be over the top, of course!
A Temple Wedding
There are many weddings in India that happen in the temple and if you are invited to one and you are dying to wear evening dresses, then your best bet would be to go for ethnic dresses or Indian prints (Jaipuri prints or Madhubani art) in rich fabrics like silk. Your evening gown for the wedding should reflect an ethnicity that will not offend anyone at the wedding. So choose your dress with care. Nowadays Anarkali dresses too are being made longer and mimic a traditional evening dress.
So, there you go – your ready reckoner to choose the best evening dresses for weddings is complete. Carefully assess the wedding type before rushing to buy a dress. Also, deciding on the length of the dress and the type of skirt, you can make this process a lot easier! Hope you found our style guide helpful. If you have any more styling ideas please share it with other fashion buffs here!