Those of you who dream of being a "trapeze" artist as a kid, here is something which can give you a taste of it. It is not just a sport activity, but something beneficial from the health angle too.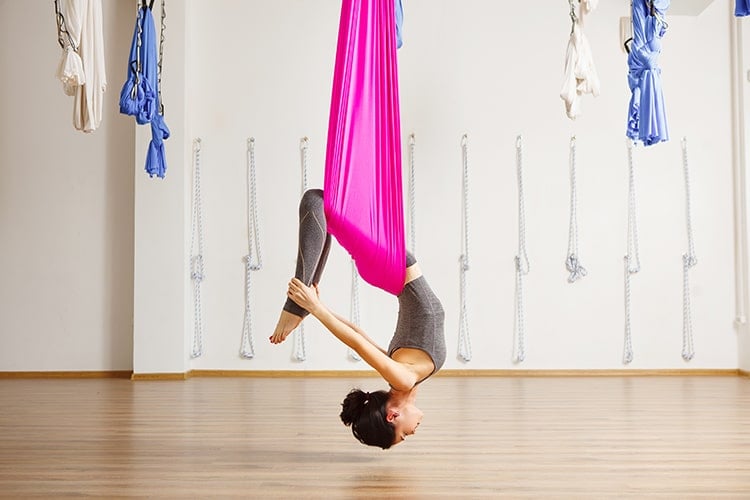 Well, you must have heard and/or seen famous celebrities doing Aerial Yoga. Is it done in the air? Yes, in MID-AIR.
Aerial yoga is a combo of many things – traditional yoga poses, dance and pilates with the use of a hammock. It defies gravity and lets you perform yoga poses that may be difficult to do on the ground, but easier when done in air.
This new aerial fitness model is having many followers. No skills or shoes required. Won't you like to know more about aerial yoga benefits – which is all fun and acrobatic in the air?
Who Invented Aerial Yoga?
This is what Besthealthmag.ca has to say:
"Antigravity yoga is a new kind of workout invented by aerial performer Christopher Harrison—a former gymnast and Broadway choreographer. It involves performing a series of exercises inspired by yoga, Pilates, calisthenics and aerial acrobatics in a hammock-like apparatus, in order to achieve a total-body workout".
Industry Practitioners On Aerial Yoga:
According to a ladies fitness site, Aerial yoga is a:
"Practice of traditional Hatha yoga with soft fabric hammock, supporting 1000 lbs, suspended a few feet off ground. The hammock is a prop like a strap or block, intended to assist alignment, deepen awareness and provide the immediate benefit of spinal decompression. With the weight of the body partially or fully supported along with the help of gravity, you can explore and create space in your bodies as intended in traditional Yoga practice. Without the compression of the joints and spine you can achieve proper posture and alignment through relaxation rather than effort, therefore finding a more balanced and unencumbered expression of each pose."
So you see there is plenty of action in aerial yoga – there is aerial yoga hammock, aerial yoga swing. All these are aimed at aerial yoga weight loss. The hammock in fact is a tool to help students achieve various yoga positions.
Aerialyoga.com has this to add:
"Many Aerial Yoga postures are designed to help the student better understand the purpose of traditional Yoga postures and some are meant to help students achieve advanced traditional Yoga postures which can take years to learn. Through Aerial Yoga the fascia unwinds, the mind quiets, core-strength is built, and participants leave the class feeling whole."
To sum it up, aerial yoga is doing yoga with a twist!
And aerial silk yoga means the silk wraps around your body which support you in difficult poses like inversions.
Benefits Of Doing Aerial Yoga:
Eager to know?
Forget all tricks and gimmicks as Aerial Yoga works with gravity to relax your body, center the mind and uplift the spirit.
Here are a number of aerial yoga benefits which you can experience and imbibe in an aerial yoga class:
1. Total Body Workout:
Due to the aerial yoga movements, almost all the body parts are made to move and stretch. When it happens, toning of the muscles, and strengthening of the joints happens during the workouts.
Guess what?
This type of workout is also used for physical rehabilitation. One of the main features includes decompression of the spine.
2. Reactivation of Inner Body:
The sweat produced by you during aerial yoga is very beneficial for the regulatory functioning of your internal body via your circulatory, respiratory and digestive systems. This boosts your mental abilities, relaxes and regenerates your mind, and can you believe it also nourishes your skin.
Hey, don't forget…
It also strengthens memory and intelligence!
Doesn't aerial fitness sound a bundle of health package to you?
3. Psychologically beneficial:
Like any other workout of yours, aerial yoga helps in rebuilding your emotional system by relieving you from stress. It also helps you combat stress when you are out-of-home and your ecosystem, and in the big bad world outside.
4. Helps tackle Back Problems:
Aerial yoga, as you know, gives you the chance to hang freely. In the process, it allows your spine to lengthen. With less strain on your back as you do the exercises, aerial yoga swing eases tension in the spinal cord and hip joints, thereby making you feel better.
[sc:mediad]
5. Improves flexibility and strength:
With so much fluidity and free movement that aerial yoga brings, you are bound to enjoy the benefits with less effort. You just have to counteract gravity! Suspension in the air releases tension on the bones and muscles. This increases flexibility in the body – spinal and shoulder flexibility in particular and strengthens core muscles.
6. Ups your Mood:
When you are doing aerial yoga, it pumps your adrenaline as you go against gravity. This releases "happy" hormones e.g. serotonin, oxytocin, endorphins, dopamine, which boost your mood thereby helping you feel more energetic.
7. Helps in Digestion:
For those of you suffering from indigestion and constipation, aerial yoga benefits are a virtual boon. The variety of stretches and movements that you do in aerial fitness, improves your digestive system so that you can feel at comfort and relaxed.
8. Old Age and Heart disease:
Doing aerial yoga swing not only improves blood circulation, it also helps combat symptoms of old age. The aerial yoga also detoxifies the circulatory and lymphatic systems. This lowers the coming of various cardiovascular issues.
9. Improves memory:
Aerial yoga is a "brain tonic", virtually! It fortifies your neural connections thereby enhancing your memory power and memory functions.
10. Spiritually uplifting:
Undeniably so!
Yes, aerial yoga makes you experience more joy and optimism as it increases your creativity leading you to develop your own artistic skills.
Key Points To Remember While Doing Aerial Yoga:
This one is important!
Wear loose and comfortable clothing which gives you the "range" of movement. It can be yoga pants and top.
Do not go for extremely loose clothing as you need to prevent the extra fabric coming in the way of your aerial yoga moves.
No footwear required! You have to be barefoot. Rem'ber you are doing aerial yoga (it will look stupid to have shoes on feet and doing aerial fitness).
Before starting your aerial yoga class, take off your jewelry (whether it is necklace, bracelets, rings, or earrings).
Be well-hydrated before you start your aerial yoga class. Eat a light meal before the class begins. Getting nutrition will give you the energy needed by your body to work out safely.
Maintain good personal hygiene. Wear a deodorant. There is always a person next to you using the hammock.
Keep your finger and toe nails trimmed. There is no biting session here!
An hour before the class, avoid eating any acidic foods or drinking acidic liquids.
Before the class begins, do not use any hand lotion.
It is interesting to note that aerial yoga is open to any age group, body type, or body size. But the old, the injured and the physically challenged need to think twice before starting this new yoga technique.
Precautions Before Doing Aerial Yoga:
Even though there could be many of you wanting to enrol for the aerial yoga swing, it is not recommended in the following cases/situations:
Pregnant women: The inversions involved in the aerial workout can be stressful for the pregnant ladies.
Recent Eye surgery: If the eyes have not fully healed after the eye surgery, then doing aerial yoga can bring more harm to the operated eyes.
Vertigo Patients: With the sudden change in movement as a result of aerial yoga, those suffering from vertigo can experience dizziness as an end result. So it is best to seek the advice of the doctor first.
Also, do not do this kind of workout on your own, in order to avoid the possibility of any injury.
So my dear, hope the benefits of aerial yoga shared above have widened your horizons to go beyond the traditional yoga methods. Yay or Nay? Tell us so in the comment box below.