Bollywood and fashion have always gone hand-in-hand since the 1930s when Hindi cinema arrived. Is it just the film plot that interests us? NO! It is also the costumes worn by the leading ladies to the vamps that make the news.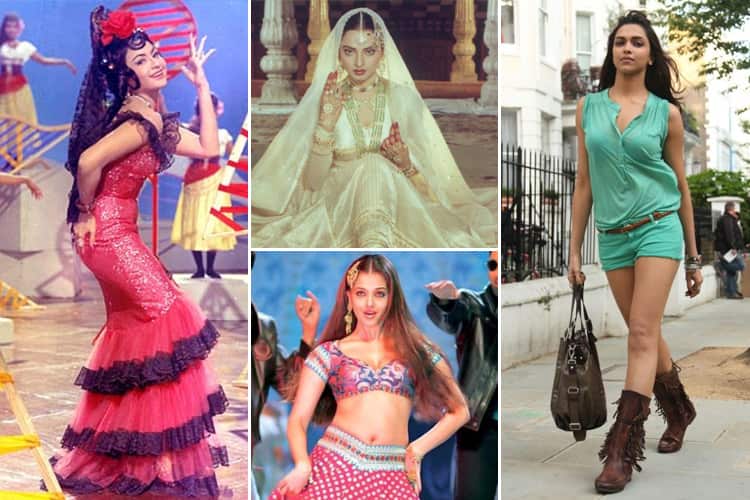 Period costumes to show-girl styles, hip fashion statements and flared pants to chiffon saris, crop tops, and boots, long skirts and kurtas, figure-hugging churidar suits, mini skirts to dungarees, spaghetti straps, show-stopper earrings, there are so many things we go lovingly mad after seeing our favorite heroines sport them. This is the influence of Hindi cinema on mainstream fashion. Get yourself a cup of coffee (or matcha green tea) as I take you through all-time Bollywood fashion.
List Of Top Bollywood Outfits That Inspired Fashion
Here comes the best of Bollywood fashion or the Bollywood inspired fashion that created history.
1. Madhubala's Anarkalis in Mughal-E-Azam:
K. Asif's epic, monumental in every way, showed a doomed romance between a Prince (played by Dilip Kumar) and a courtesan (enacted by Madhubala). But what a larger-than-life enigmatic style it was when we saw the leading lady dressed in a resplendent and embellished costume now famously addressed as the "Anarkali" style. The Bollywood Anarkali made history as the first fashion trend from the world of cinema that rocked the nation. I think the timeless song "Pyar Kiya To Darna Kya" picturized a testimony to the labor of love that has gone in the making of this gorgeous Anarkali. It's given serious fashion goals to Madhuri Dixit and Mallika Sherawat, don't you think so?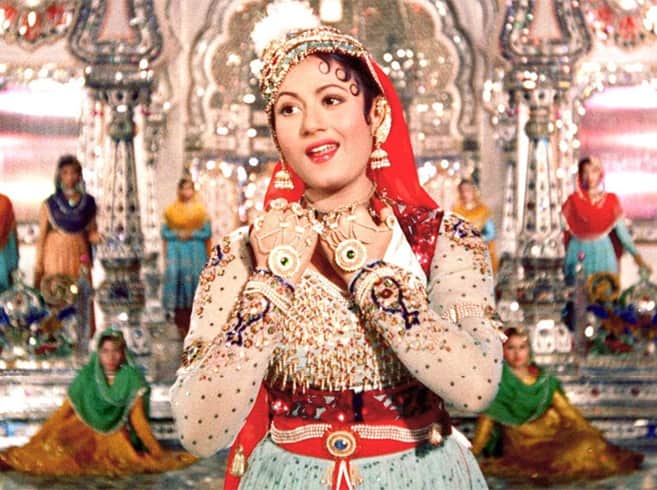 2. Mumtaz's Sari in Brahmachari:
She was not the leading lady in this film (Rajshree was) yet Mumu stole the show in her bright orange-colored Bollywood saris, draped in an uber cool unconventional manner. Mumtaz's impish charm and button-cute looks made her a living legend of Hindi cinema.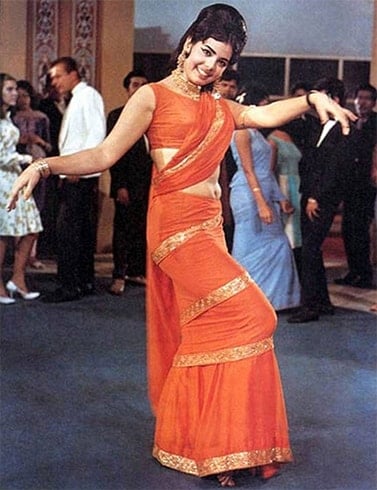 3. Sharmila Tagore's Swimwear in An Evening in Paris:
Ms. Tagore stormed into Bollywood with her stunning looks and performance but our Kashmir Ki Kali looked sexy and sophisticated in her ultra-glam printed blue swimsuit to portray the modern Indian woman in the film. This was Bollywood style at its saucy and daring best at that time!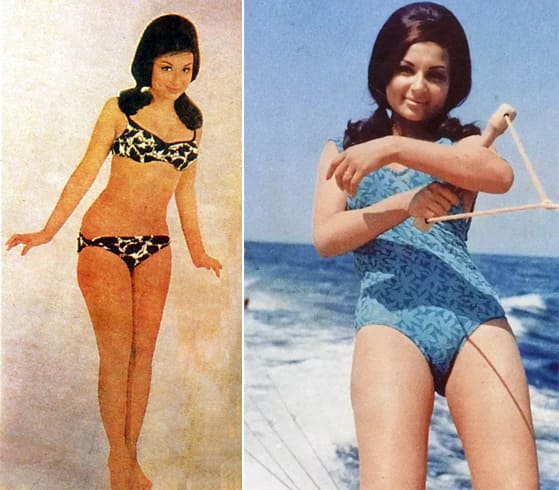 4. Helen's Flamenco Frock in Teesri Manzil:
She is the ultimate show-girl of Hindi films for all times to come. And Helen's dancing skills were matched by her costumes which depicted Bollywood fashion trends in a modern and cosmo appeal.
You know something? Helen's appearance in this Spanish flamenco costume in the song 'O Haseena Zulfonwali' is the one that will remain etched in our minds forever. That is all-time Bollywood fashion for you.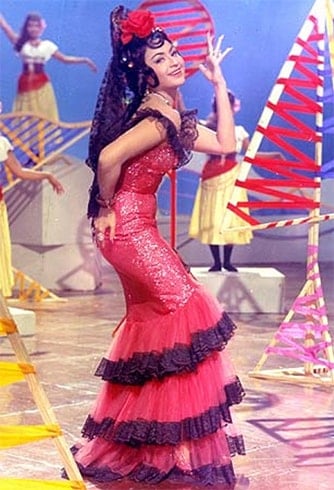 5. Sadhana's Bodycon Suits And Churidars in Waqt:
She played the Lady Love in the all-time classic Waqt made by the late Yash Chopra. But her tight-fitting churidar kurtas and fringe haircut stood out as a rage that is fondly remembered as 'Sadhana-cut'. It actually set the bar of what to expect from a Yashraj heroine. Bollywood outfits, I tell you!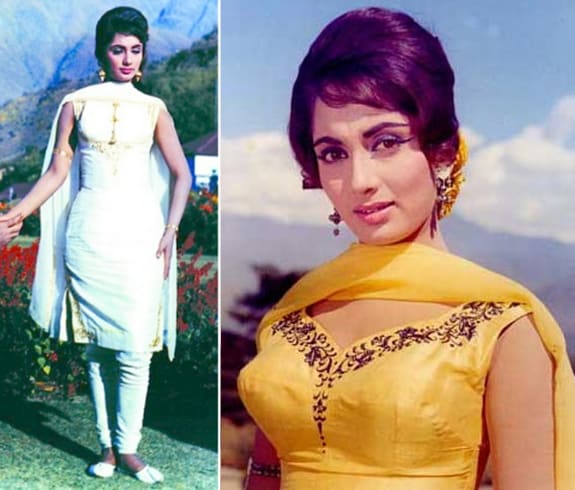 6. Zeenat Aman's Bell Bottoms in Hare Ram Hare Krishna:
Fabulously hippie was Zeenat in her on-screen avatar. She played the 'Flower child' in the cult movie by Dev Anand titled 'Hare Ram Hare Krishna'. And my god, her dresses – were they too early for that century? No, her fashion needed to be ahead of its time. So what did we have in terms of Bollywood outfits in this movie? Everything the present day divas love to wear – floral prints, bell sleeves, bell bottoms, over-sized glasses, rudraksha beads. Our Lady Zee just carried all these with elan. Perhaps the only other film star who could have done justice to the role and the casual-and-indifferent clothing is I think Parveen Babi. What say?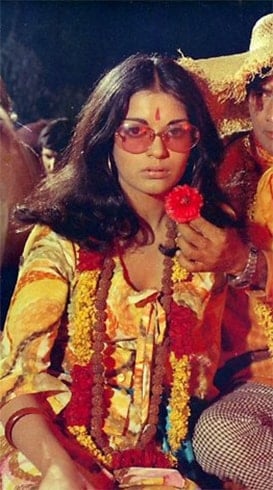 7. Dimple Kapadia's Knot Top in Bobby:
If the film was all about celebrating the love of adolescents, then its leading lady Dimple Kapadia did full justice to the child-woman quality she exuded in the film. Her carefree sensuality, as she romped in a hot black mini and knotted polka-dotted shirt created an overnight sensation. Can someone match her teenage looks in the film? Dunno. But Dimple gave us Bollywood fashion trends effortlessly.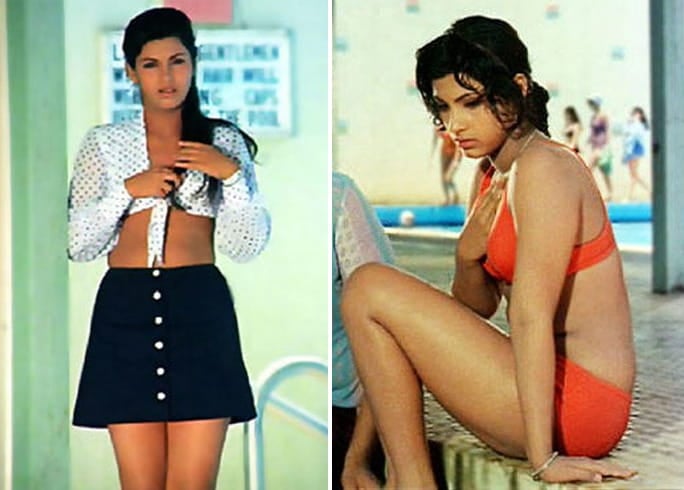 8. Rekha's Mughal Passa in Umrao Jaan:
Did Jadau and Polki jewelry complete Rekha's role of a courtesan in this film directed by Muzzafar Ali? Yes, but her 'adas' in the movie helped prove her acting caliber. You saw opulence and poetry and pearl-hued brocades too. The costumes worn by Rekha in Umrao Jaan is a perfect case of Bollywood inspired fashion. There is one more actress who deserves a mention in the dress and jewelry she wore as a courtesan in Kamal Amrohi's film Pakeezah – and that is Meena Kumari.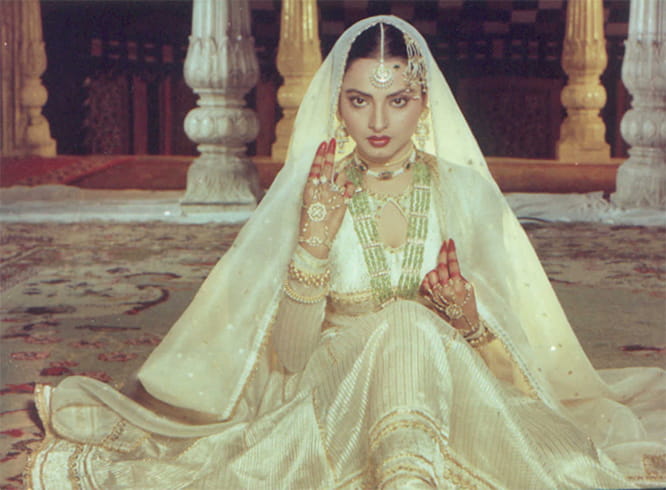 9. Sridevi's Chiffon Sari in Mr. India:
It was not a plain chiffon blue sari, it was one of the most iconic Bollywood saris that ruled the heart of many Indians (males and females both). The hotness of Sridevi in this sari-and-song can even beat molten lava. This sizzling blue sari refuses to fade away into oblivion.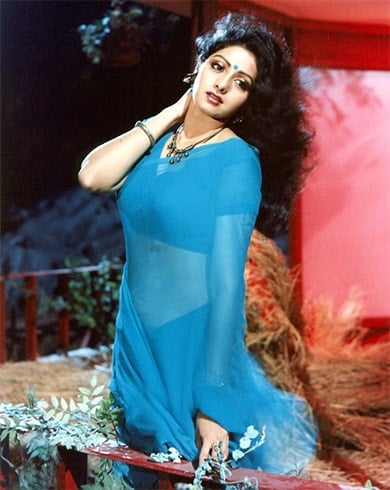 [sc:mediad]
10. Madhuri Dixit's Backless Blouse in Hum Aapke Hain Koun..!
There can never be another Mads looking at her dance moves in 'Ek Do Teen' (Tezaab), 'Choli Ke Peeche' (Khal Nayak) or 'Humko Aaj Kal(Sailaab). But it is her 'Didi Tera Devar' outfit in Sooraj Barjatya's biggest blockbuster Hum Aapke Hain Koun..!, which grabbed the fashion headlines as one of the most iconic Bollywood saris of all times. No prizes for guessing – it was the super gorgeous crystal-encrusted purple satin sari which became a huge hit in wedding circles. Plus, her almost backless blouse which remains the focal point of the song till this day.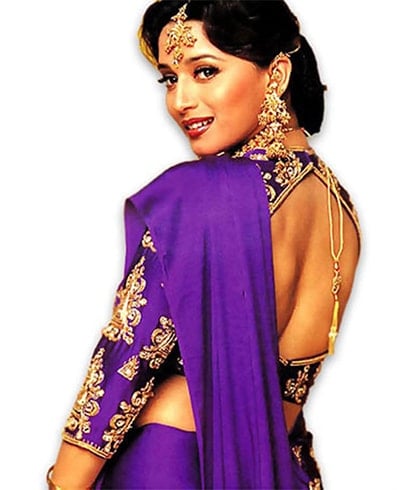 11. Kajol's Bridal Look in Dilwale Dulhania Le Jayenge:
Just like Madhuri's purple sari, the Dulhania in the film Kajol rocked the nation and overseas market in her shiny green ensemble in DDLJ, Bollywood's longest-running romance.
There is another memory of Kajol in DDLJ, which is fresh in our mind – her full-length sleeveless maxi dress paired with a crochet top, wavy hair and geeky glasses.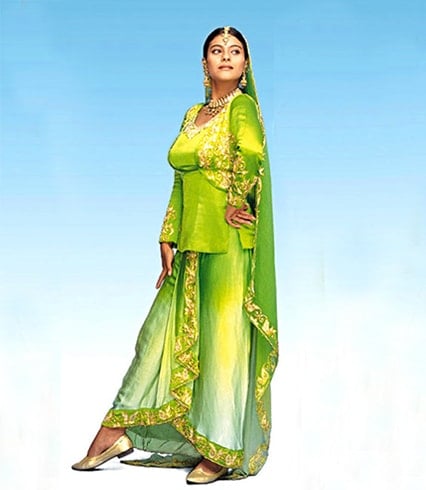 12. Kajol's Lacy Blouses in Kuch Kuch Hota Hai:
KKHH was a landmark in Bollywood fashion because it brought many international clothing brands to the silver screen. Then there was Manish Malhotra who designed Kajol's outfits – lace blouses paired with pastels and bright chiffons. The Bollywood inspired fashion was bursting.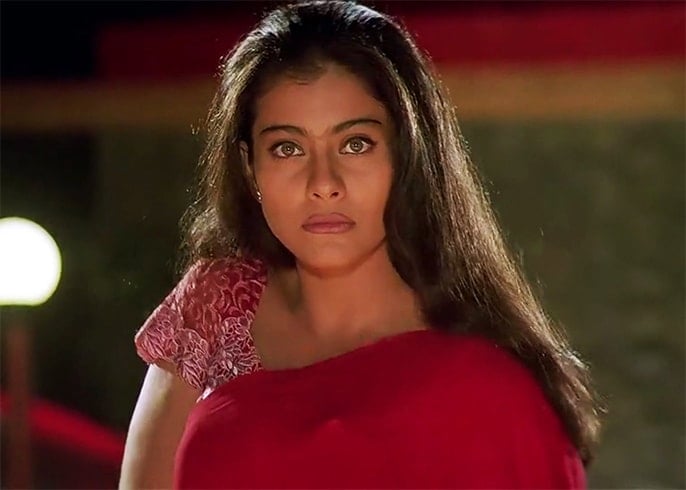 13. Urmila Matondkar's Short Dresses in Rangeela:
It was Urmila's breathtaking transformation in this film that drove the country's imagination WILD! Couture designer Manish Malhotra's chic and mast designs comprising of short, frilly dresses made it one of the true blue Bollywood fashion trends. Urmi's Amrapali-inspired bustier paired with a tiny flowing skirt sent the temperatures soaring.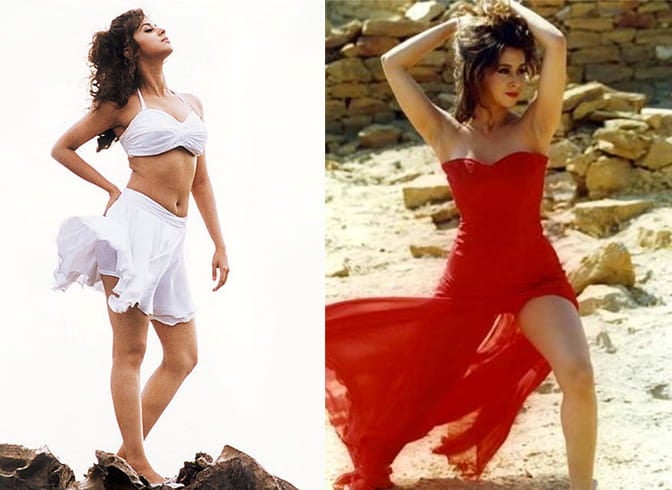 14. Sushmita Sen's Retro-inspired Saris in Main Hoon Na:
Sush's black and red polka dotted sari caught the fancy of Bollywood watchers and fans for many years from the day of release of the film Main Hoon Na.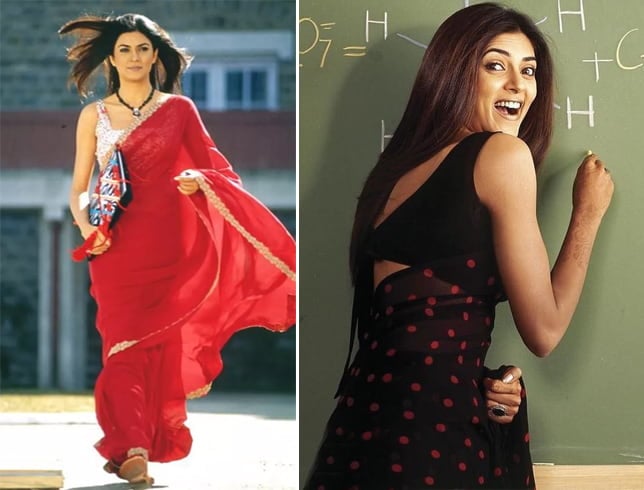 15. Aishwarya Rai's Sensual Lehenga in Bunty Aur Babli:
Kajra Re….Ouf! What a saucy and playful number showing Ash dressed in a seductive deep neck choli and a glitzy lehenga. It almost gave a new definition to Bollywood lehengas.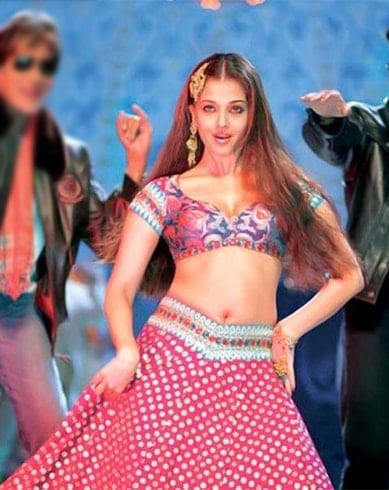 16. Kareena Kapoor's Harem Pants in Jab We Met:
When Patiala salwars and harem pants were teamed up with extra long tee shirts, nothing could go wrong ever. It was the rise of a trendy statement thanks to the chatty and endearing 'Geet' played by Bebo in this hit film.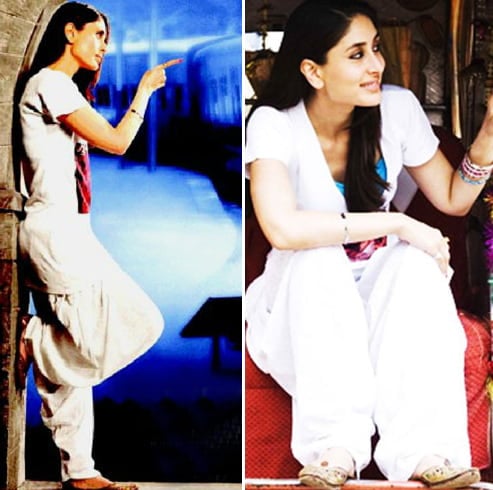 17. Karisma Kapoor's Luxe Athleisure Outfits in Dil Toh Pagal Hai:
Lolo's sport luxe outfits in the film DTPH gave a new whiff of comfort and attitude to athleisure. The dance clothing was functional – there were lycra leggings, hot shorts, sports bras, tank tops, and boots. This Bollywood inspired fashion brought 'gym clothing' into mainstream fashion.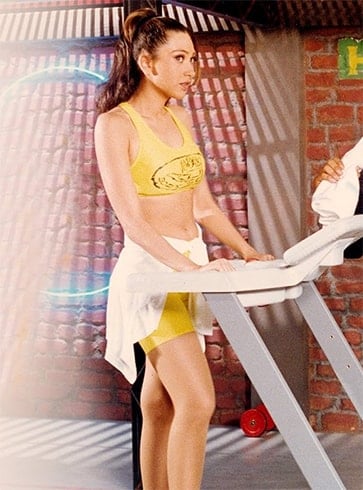 18. Aishwarya Rai's Mirror-work Ghagras in Hum Dil De Chuke Sanam:
If there were ghagras, there were Bollywood saris too in this hugely successful Bhansali film. Ash's deep cut mirror work cholis, Bandhani saris, and ghagras designed by Neeta Lulla can be counted among the most famous Bollywood costumes ever.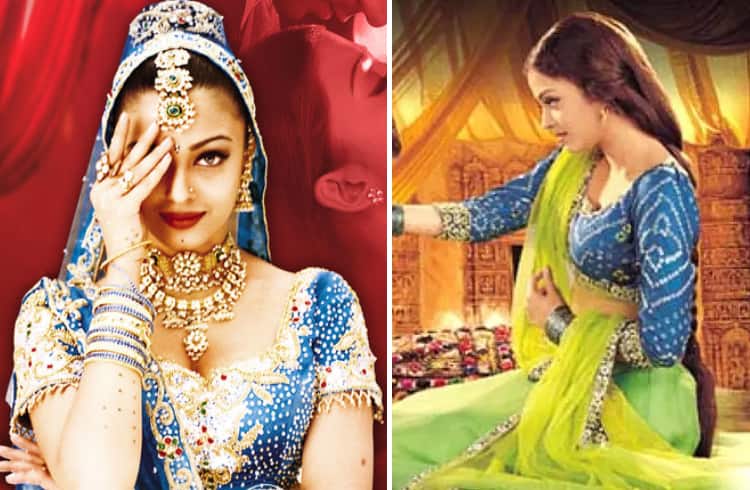 19. Rani Mukherji's Collared Kurtas in Bunty Aur Babli:
From dashing collared kurtas paired with Patiala pajamas, and matching dupattas to super trendy oxidized silver jewelry and a jhola bag, Rani's ensemble was a huge hit with women across the country.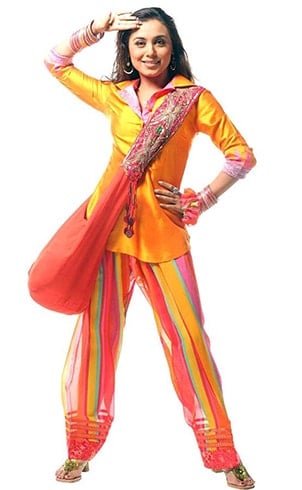 20. Deepika Padukone's Boho-Chic Outfits in Cocktail:
Kudos to Bollywood fashion stylist Anaita Shroff Adajania who styled Ms. Padukone in the film 'Cocktail'. You saw everything glam and sexy in DP's short skirts, skimpy tops, messy hair, blingy dresses. The film also brought Aztec designs to fashion – from clothes to accessories.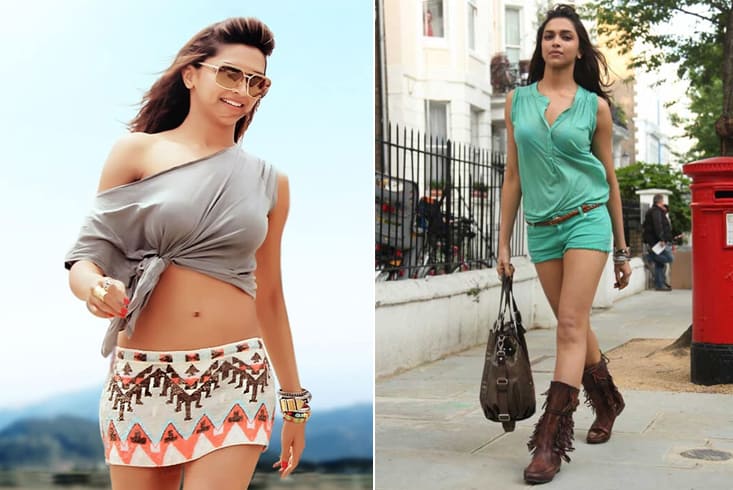 21. Sridevi's Cotton Saris in English Vinglish:
This successful film of Sridevi was not just her comeback vehicle but showcased cotton saris as the go-to outfit. Don't forget the block printed saris worn by Sridevi which proved that women will always look beautiful in Bollywood inspired fashion.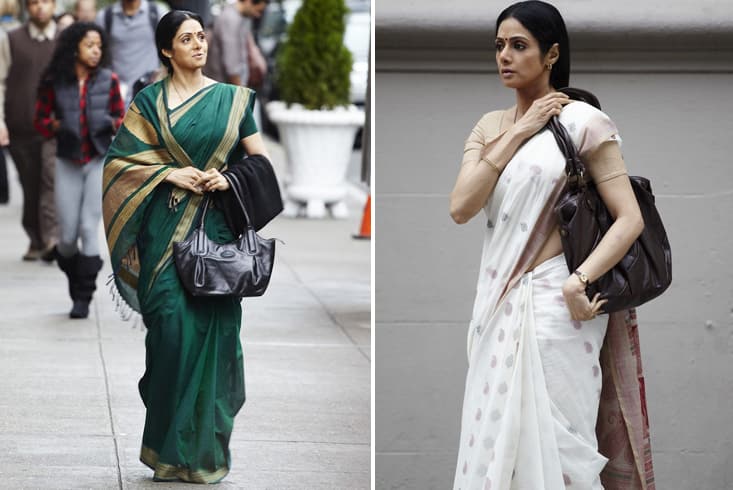 So which of the Bollywood fashion trends did you like the most and want to start wearing. Share your thoughts with us. We would love to hear back from you!