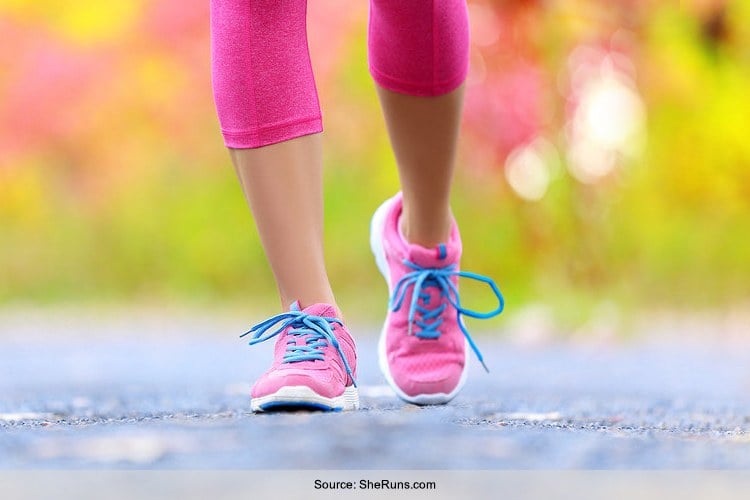 If you love working out, you're clearly obsessed with your running or walking shoes. You want your shoes to withstand a marathon or even a Zumba-session that leave you with a pair of toned legs and a healthy heart but many a time with a torn sole. To say that you want your shoes to go the distance is a huge understatement.
Shopping for a walking shoe means a nightmare of never-ending trials. You need to remember a few points the next time you want to go on a fuss-free shoe shopping spree – firmness, flexibility and fit are the 3 key F's that spell a perfect pair of footwear.
These are the things we look for as we set out to get the best running sneakers or walking shoes available in the country. Each of these pairs supports the feet throughout the strides and allows toes enough space to breathe. These shoes also provide the much-required cushion, support, and stability that the feet need to take off and land during the workouts. Whether it's the racing track, treadmill or road, in these shoes you are clearly the winner. You may find the perfect pair and fall in love with it, but alas you will have to use and throw it after treading 500 miles. Like it or not – by then your shoes will be over and done with. Don't be heartbroken. Here comes a handy list of some amazing walking shoes for women you can buy to say bye to blisters and hello to comfort and good health.
Top Ten Walking Shoes For Women:
1. Nike Women Air Max:
It's no surprise that the footwear model that heralded the running revolution makes one of the first appearances on our list. The iconic Air from Nike has been synonymous with work out and fitness ever since its very inception thirty years ago, and it still continues to be a firm favorite of runners worldwide. The 2017 version of the shoe is amazing and absolutely brilliant in the way it offers abundant cushioning, all thanks to its Max Air powered heels, foam midsole and a durable rubber outsole that is capable of getting a grip of the perils of the hard ground. No woman can go wrong by singling out in a pair of Nike Women Air Max.
2. Adidas Energy Boost:
You think Nike is claiming all the fame and Adidas won't follow? In your dreams! The German sportswear brand has introduced the ultimate competitor to Nike's pride, the Air max range. In a very short span of time, the Boost by Adidas has become a hot favorite among people who love the outdoors. The shoe is apt for women as it has the Adaptive Techfit a 4-way stretch mesh forefoot which ensures a perfect fit, Boost to return energy to the midsole and a supportive fit frame around the heel – capable of enduring the roughest of surfaces. What's more, you ask? The Boost is also compatible with the MiCoach app and you can download it easily on your smartphones and track the distance you have walked or run. Ladies, we say, you do give these shoes some serious consideration.
3. Nike Women Flyknit Max:
Nike, however, stayed unbeatable and came up with another piece of excellence in the form of the Flyknit Max. The shoe strikes as the perfect balance between fine looks and brilliant performance. These stunning shoes have this super densely knitted upper body that provides strong resistance to wear and tear; its cushioned footbed ensures a comfortable walking experience, and the Phylon midsole inside offers an extra cushioning. The lightness of the product and its dynamic outsole make it score high on durability. The Nike Women Flyknit Max, hence, is a perfect choice for someone who is looking to make a style statement even at the gym.
4. Adidas Women Climacool:
Looks like we are trapped in the Nike-Adidas loop, but trust me guys, there are more coming after this one. Anyway, so Adidas thought over women's liking and launched the Climacool range. These beauties are crafted by none other than ace fashion designer Stella McCartney. A famous designer backing them up isn't the only factor these wonderful pairs boast of. The Climacool technology ensures that the shoe is well ventilated and provides a 360-degree cooling for the entire foot. A great pair of shoes for women, its multi-layered mesh offers great breathability, a cushioned midsole guarantees comfort, while its durable rubber outsole accounts for the runner's confidence. If teamed right, they would also double as a perfect accessory to round off your casual look in style. Now you'd have to think real hard to come up with an excuse for not buying them.
5. Reebok Women Zjet:
This is one brand new entry in our list that has won hearts across the globe. These shoes are a hot favorite amongst fitness divas everywhere. The sportswear company has designed and launched many dazzling shoes to their credit already, but the Zjet is nothing like what you have worn before. The remarkable pair is equipped with a PU and mesh upper body. Other features that the Reebok Women Zjet boasts of are the uber comfortable cushioned footbed complete with JetFuse technology. Together they promise lightweight cushioning and a durable outsole. I would buy and try this one at once as sporting a pair of white sneakers is the hottest trend this season.
[sc:mediad]
6. Nike Women's Zoom Vomero 9:
Its classy design is sure to be a visual treat for your eyes. Its high selling point would be the Dynamic Fit technology which fits the foot like a glove, oops, we mean sock. Its unbelievably cushioned footbed will make you feel that you are running on clouds. It also has a fully cushioned midsole, heels which enhance responsiveness and a very sturdy waffle outsole. In short, every single feature that a top class sports shoe needs to have is present in the Nike Women's Zoom Vomero 9.
7. Puma Women Ignite:
The next two entries on our list are from another highly acclaimed international brand, Puma. This one has been a favorite amongst runners since years, and is the first choice of the fastest human on Planet earth – Usain Bolt! The German sportswear brand has now come up with a perfectly designed walking shoe for women in the form of Puma Women Ignite. The pair has many benefits to offer. First, Its midsole features Ignite a superior cushioning PU foam formula that disperses impact forces while providing optimal responsiveness and energy return. The forefoot Propulsion Zone+ helps you move forward by increasing your speed and stride length. Moral of the story, total paisa wasool.
8. Puma Women Osu v4:
Puma has done an excellent job with this next pair on our list. The shoe symbolizes girl power. However, the Puma Osu v4 is a lot more than a merely good-looking footwear. It has a mesh upper body that guarantees longevity and a lot of airiness. Like most shoes on our list, this one too has a cushioned footbed promising ample comfort and a tough outsole for a firm stride on rough terrains. It offers a whole new closure system for easy wear. A lightweight style perfect for your morning walks if you are a beginner.
9. Nike Women Air Zoom Structure 18:
The Structure 18 is stylishly designed and its mesh ensures that your foot gets ample ventilation even while you are enjoying a cool breeze in the park. Its upper body comprises a lightweight engineered mesh and strategically placed bonded overlays for an adaptive fit. Its midsole includes a co-molded dual-density foam along with a crash-pad to provide extra comfort and support to your feet during long walks. In short, it makes for one of the best walking shoes.
10. Adidas Women Adizero Feather 4:
Another gem of a shoe brought by Adidas is the Adizero Feather 4. These wonderful babies come with a denim upper body to up your cool quotient in your college. Complete with a cushioned footbed and EVA midsole for lightweight comfort, a flexible tongue that aids in painless fit with an AdiWear outsole for high durability. For those who are already fans of Adidas, this one is a must-have in your footwear collection.
So now you have no reason to put your health goals on the back-burner. Choose a pair from the list and hit the road to fitness. Let us know in the comments section below which one from the above list is your favorite.