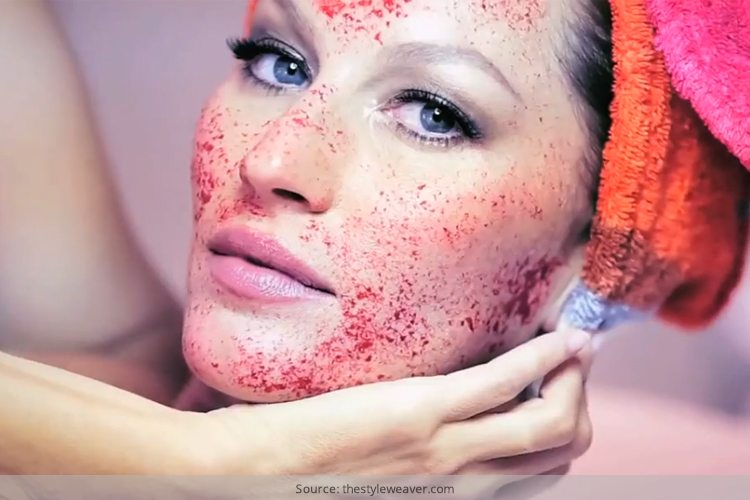 Before you go eww, let us stop you right there. Today we are going to talk about beauty with a twist. This time, we are going to focus on the rise of the vampire facial benefits. Don't fear, we aren't getting the evil vampires to do the job, but we will tell you more about the vampire facial benefits and how it can help. Take a look!
[Also Read: The Natural Non-Invasive Face Lift Mask]
Ever Wanted a Facelift? First Understand What Is Vampire Facial
Who doesn't want a facelift? Believe us when we say, if it was for free, we all would be running for one almost every week. However, money isn't the only factor here with a facelift; the thought of undergoing the knife can be scary for some. So if you want firm and tight facial skin, and don't want to undergo the costly surgery for the same, vampire facial benefits are for you.
One of the proven benefits of vampire facials would be that your skin doesn't look dull and it wouldn't look too tired too. You get to look years younger and fresh, and this is a non-surgical facelift we are talking about.
Vampire facials are all about natural fillers and plasma. The two when combined from your own bloodstream, would be taken and injected into certain parts of your face. In turn, your face would turn flawless over time- no fine lines, no wrinkles and au natural products used- your own blood.
Who Endorses Such Facials?
You'd be surprised, but celebs in Hollywood are for the treatment and have made it popular. This is also for those who don't want to go under the knife and don't want botox for that matter. There are many who would want to use a very natural approach; gory to some, but it works. Now don't confuse this treatment with eternity treatment or sleeping in a coffin, NO!
The Workings Of A Vampire Facial
It takes approximately half an hour to forty five minutes to get the facial done. Prior to the procedure, the surgeon would first draw plasma and blood from your body using a syringe. Platelets from your blood would be separated and wherever on your face deemed fit, the platelets would be injected- nose, mouth, cheeks, under your eyes, lines around the mouth et al!
[Also Read: Do Chemical Peels Work]
More Benefits
Financially and cosmetically, truth be told there are a lot of benefits with this treatment. And now that you know what is vampire facial, let us take a look at the vampire facials treatment benefits!
Brighter and smoother face
Natural resources used
Less expensive as compared to other non-surgical facelifts
No known side-effects at all till now
Easily accepted by the body
Helps regenerate collagen
No artificial chemicals or drugs used or needed.
Celebrities That Endorse Vampire Skin Treatments
Who else other than KIM KARDASHIAN that we can think of, and sources from Hollywoodlife.com quote "anything that makes you look and feel youthful" on her reality show, and boy, did she ever. Over 90% of HollywoodLifers polled said the facial was crazy, not cool! Read on for our EXCLUSIVE interviews with plastic surgeons to further explain Kim's crazy move."
In an interview to Hollywoodlife.com, Dr. Jeffrey Spiegel, Board Certified Facial Plastic Surgeon in Boston, MA, explains the basics:
"The procedure is performed by drawing some blood, typically from the arm, and it is then prepared by mixing with certain chemicals and spinning it in a centrifuge to produce something called platelet rich fibrin matrix. Only about the equivalent of 2 teaspoons of blood is needed. This produces then produces a gelatinous material that can be injected into the face."
What do you think about the vampire skin treatments? Is it worth it? Would you try the same someday? Let us know!