Selecting the perfect eyebrow pencil is just as essential as selecting the right eyeliner for you. Similar with your eyes, the eyebrows play a huge impact on the overall look of the face. Not only does it impact your facial features or shape brows, it also corrects it. With a number of brow options to select from, including wax, gels, powders, most remain clueless. But, our suggestion is the classic eyebrow pencils that are a must-essential. They fill in, shape, define, and emphasize your natural brows like no other formula.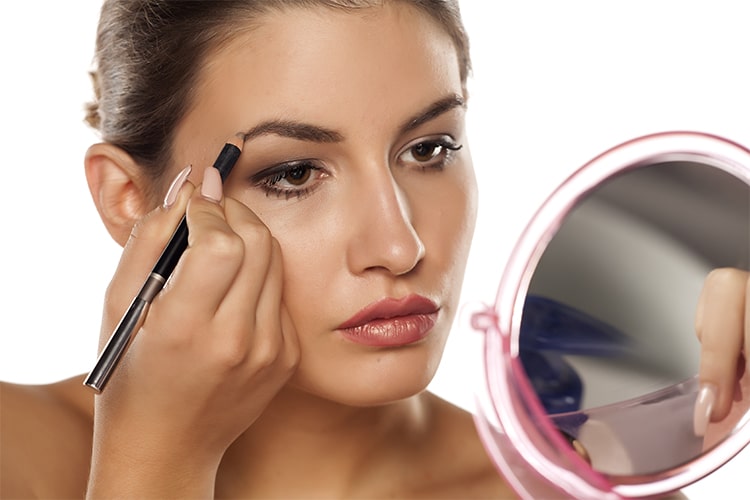 Discover our pick of 10 best eyebrow pencils in India with the best foolproof formulas. There's an eyebrow pencil for all.
The Best Eyebrow Pencils for Faking Brows:
Brow pencils are perfect for anyone wanting to transform their brow game. Read our reviews of 10 favorite formulas below.
1. NYX Professional Makeup Micro Brow Pencil:
With shades suitable for all hair color, the micro brow pencil by NYX Professional Makeup features a teeny tip and spoolie brush for neat, well-groomed brows. The long wearing formula is great at faking brows thrice its price.
2. M.A.C Brow Sculpt:
Light brow heads be glad, M.A.C Brow Sculpt comes in realistic pigments and flatters everyone. Use the brush on one end to keep the brows into place and the other end is the pencil.
3. L'Oreal Paris Brow Artist Expert:
The super-fine tip of this brow artist expert by L'Oreal Paris creates the most natural-finish brows at every application.

4. Rimmel Professional Eyebrow Pencil:
We're yet to discover whether anyone isn't fanning Rimmel Professional Eyebrow Pencil. The available shades are black brown, dark brown, and hazel. Its slanted tip is simple to use, long-lasting, and the other end ensures that your brows look 100% ready. This is one of the best eyebrow pencils available for beginners.
5. Maybelline Total Temptation Eyebrow Definer Pencil:
A skinny applicator tip and brush means that Maybelline Total Temptation Eyebrow Definer Pencil is lightweight enough to wear for longer hours, as well as providing maximum precision. On top of that, you will face no slanting brows, thank you.
6. Revlon Colorstay Brow Pencil:
A classic and great brow pencil with great results, Revlon Colorstay is easy to use, long-lasting, and is available in realistic shades.
7. E.L.F Essential Instant Lift Brow Pencil:
[sc:mediad]
A double ended brow pencil with a retractable tip on one end, and the brush on the other for recreating fuller brows with the most natural finish. There are several shades to choose from, including soft and dark ones.
8. Benefit Cosmetics Goof Proof Eyebrow Pencil:
Benefit has a great brow offering with several products to match your daily need. One of these includes the Goof Proof Eyebrow Pencil which is an ultra-skinny pencil best for drawing individual hair. It comes in an impressive number of shades.
9. FACES Ultime Pro Eyebrow Defining Pencil:
What sets the FACES Ultime Pro Eyebrow Defining Pencil from the crowd is the super-slanted tip designed to create an instant natural-looking arch and lift. The results are just as good as its competitors.
10. Colorbar Stunning Brow Pencil:
Once you get over the fact that the Colorbar Stunning Brow Pencil is cost-effective, you'll fall in love with its blendable formula and creamy finish.



These are the top ten eyebrow pencils in India that are a must-essential in any makeup kitty. With just few flicks, these brow pencils can create full, thick, and well-defined arches. Which one do you prefer? Tell us in the comment section below.