It goes without saying that when it comes to beauty, the Greeks have been paving the way since the dawn of civilization. Their regal style, which draws inspiration from their rich culture, has been used as a benchmark for ages. But have you ever wondered how you can sport the classic Greek hairstyle? Well, if you have, then you have landed on just the right page!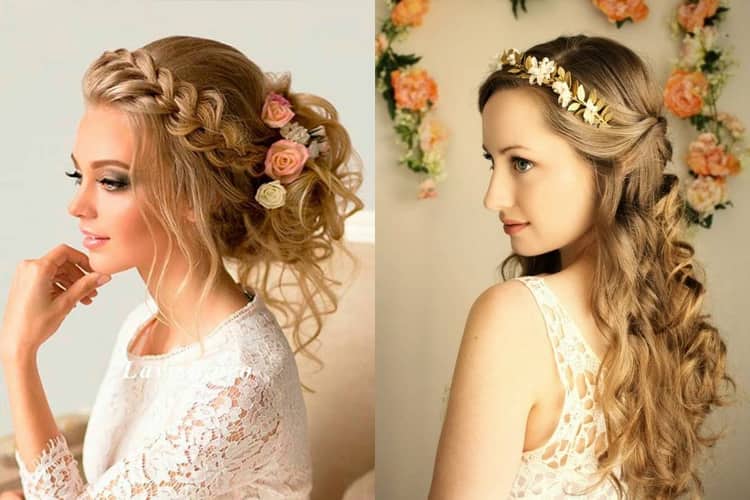 Today, we are going to lay down before you everything that has to do with Greek women's hairstyles so that you can sport them anywhere, anytime and with anything that you wear.
The ethnic Greek hairstyles may look pretty intricate and crafty. But do not panic. We are going to list down for you some of the easiest ways with which you can work the Greek magic on your hair without even breaking a sweat. So, what are you waiting for? Dive in!
Hottest Greek Hairstyles You Must Try Today:
Tune into the hairstylist in you and turn on the blow dryer as we give you some exotic and classy hair ideas to try.
1. Take His Breath Away With A Greek Braided Updo:
One of the striking features of Greek hairstyles is the awe-inspiring volume they add to your crowning glory. They help create an illusion that your hair is much more voluminous than it actually is. Sounds great, doesn't it?
Have your small side braids cover and hold your top bun. Pull out locks from each side and you are ready to hit the ramp. This hairstyle works fantastically for women with long hair.
2. Floor Everyone With A Greco Fishtail Braid:
A fusion of the classic fishtail pony and the French braid, this look gives the mundane braided look a whole new makeover. Also known as the Mermaid's tress, this is a popular Greek look for summers that allows you to look scorching hot without sweating it out.
3. Sizzle In A Semi Fishtail Updo:
This Greek hairstyle is one of the most popular ones from the land of Alexander the great. Letting your hair down while sporting a fishtail braid in the middle, is always a great hairstyle to go along with formal evening gowns.
You can also accessorize it right by adding one or two vintage hairpins at the top of the braid here for a chic look.
4. Crave For The Braided Crown:
Of all the Grecian hairstyles that there are, nothing is more royal in its appeal than the braided crown look. It simply requires you to take two different sections of your hair from both the sides and braid the ends. Follow this by crossing them over the crown of your head and you are ready to rule hearts. Pin it up to make sure it stays in place. And with that, a fashion queen is born!
5. Wow Everyone With A Grecian Waterfall Braid:
A variant of the semi fishtail updo, this hairstyle requires you to create a braid on one side of your head and have it run across just below the crown while letting the rest of your hair open. It helps to pull off the charming elegant look that is sure to leave your man mesmerized with your beauty.
6. Look Stunning With A Low Greek Bun:
This is another example of a Greek women's hairstyle with an ethnic appeal. Add to the fact that this is pretty easy to nail and gives you a relaxed yet classy look.
All you need to do here is create two loose and lightly tied braids from either side of your head and wrap them around the actual bun while setting it as low as possible on the nape of your neck. You can increase the style quotient by pulling out a couple of side locks and accessorizing the top of the bun with a hairclip.
7. Mesmerize With A Messy Grecian Bun:
If you are looking to avoid the sleek and proper hairdo while experimenting with the Greek look, then this hairstyle is tailor-made for you. Although similar to the low Greek bun mentioned earlier here, this one needs you to simply make a bun (it can be as high and as low as you want it to be) and pull out locks from either side of your forehead and behind your shoulders.
If you backcomb the hair on your crown, it will accentuate the hairdo further. This is an ideal hairstyle to adorn with delicate floral accessories and look like a celestial beauty.
8. Experiment With A Greco Spit Hairdo:
Dating back to the renaissance era, the Greco spit hairdo helps you pull off the regal look with much ease. All you need to do here is make two to three braids and have them clubbed together on one side while leaving the rest of the hair loose.
What you should keep in mind here is the fact that the braid must be made using the front hair, while it is pinned behind the ear on the opposite side.
9. Hail The Greek Half Updo:
A Greek version of the everyday half updo hairstyle, this highlights your hair volume in the best way possible while giving an effortless and magnificent look.
To sport it, all you need to do is to braid the frontal portion of your hair in either a Dutch or a French braid style and pin it behind the crown of your head. You can leave the rest of your locks cascading down in the form of luscious curls and you will look no less than a showstopper!
10. Go Classy With A Greco Braided Bun:
The Greco braided bun is a chic classic look that is as simple in execution as it looks, although it never fails to leave an everlasting impression on the people around you.
[sc:mediad]
All you basically need to do here is create two or three braids (depending on the length and volume of your hair) and tying them up in a large bun. Yes, you are ready to slay in a matter of a few minutes!
11.  The Grecian Braided Bottom Knot:
The Grecian braided bottom knot works best for women having colored hair or highlighted hair as it accentuates the rich hair color further.
You can work this out by running a braid from one side of the head to the other while tying a thick knot with the rest of your hair that lies below the braid. Much like many of the other Greek hairstyles, you can also pull out some of your locks here for a softer and more carefree look.
12. Flirt With The Greco Balayage Look:
This is one style which is perfect for women with medium-length hair. Start with making a side parting and leaving your layered fringes open to frame your face and up your feminine charm.
Next, like the Grecian waterfall braid mentioned earlier in this list, this hairdo requires you to have a loose braid below the crown and the rest of the hair flowing underneath it. Wear a tiara to steal the show in style!
13. Nail It With The Frizzler:
Did you think that having short hair would stop you from sporting a fabulous Greek hairstyle? Well, think again! We have just the apt Grecian style for women with short hair.
All you need to do is roll up the frontal hair above your forehead and tie them underneath a tiara or a headband. And just like that, the frizzles will create the Greco magic that you thought never existed.
14.  Romance The Greek Rose Bun:
The Greek rose bun works amazingly for women who are blessed with long and luscious locks. With two large braids from both sides of the head joining together in the center and ending in multiple small braids curled up in the shape of roses, this is one elegant hairdo that is surely going to make you the cynosure of all eyes. It is a perfect hairstyle idea for a date night!
15. Look Playful With A Greco Ponytail Braid:
The Greco ponytail braid is one look that endears to a lot of cultures since it takes inspiration from a variety of hairstyles across the globe. To sport this, you have to create one or two side braids (based on your discretion) and tie them high up in a ponytail fashion with side locks dripping down to create the ethereal look.
That brings us to the end of the list of the hottest Greek hairstyles that you need to try to channel the inner goddess in you. What are you waiting for? Try them today to give your mane an exotic makeover! Let us know your favorite one from the list in the comments box below. We value your feedback!