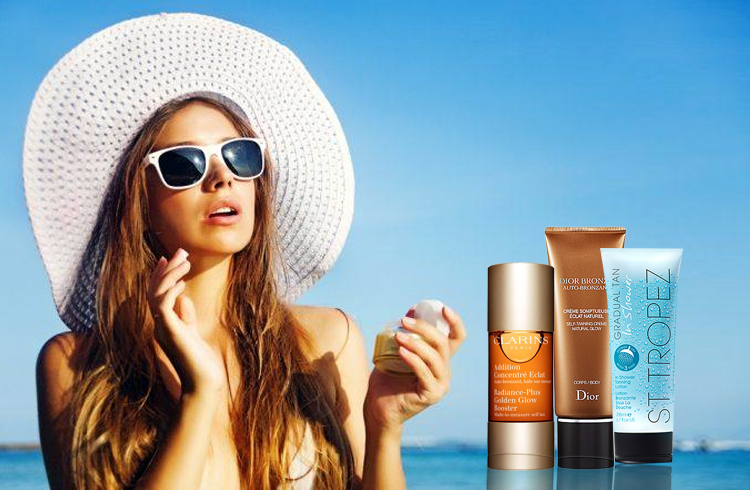 Are you waiting to be sunkissed?
Or is your skin health more important than a gorgeous tan?
Don't compromise on either. Sunless Tanners lotions are here to keep your skin healthy as well as give you promising shades of fake tan to keep you looking fresh and natural. We are talking about at-home faux-colour applications that will solve your patchy streaky tan nightmares.
What are Self Tanners?
Also known as, Sunless Tanners, these products are in the form of a lotion, cream, spray etc allowing the body to get a natural tan without having to sit out in the sun.
Wait…
But are they as effective as a normal tan?
Do Sunless Tanning Lotions Work?
Of course, they do. A sunless tanning lotion works just the way natural UV Rays would affect the colour of your skin, but here, the lotions give you no skin damage. There are a variety of them based on colour, the duration it lasts, etc. So you need to be well researched before choosing your perfect sunless tanner.
Best Selling Self-Tanning Lotions
Check out the best self tanners to keep you ready for this summer!
1. Tarte Brazilliance PLUS+ Self Tan
This tanning cream is an effective moisturizer infusing a natural self-tan effect into itself. It camouflages the blemishes making it one of the best creams. The best feature is that you don't need to exfoliate before applying this best self tanner, as it does it all for you.
How To Apply:
Put the mitt onto your hand.
Squeeze a little bit of cream onto the mitt and rub it all over your skin, or where you require a tan.
This tanning cream blends into the skin in an incredibly easy way hydrating the skin. This revolutionary self-tanner has a hybrid outlook that doesn't make it streaky or smelly.
Color Output: Bronze Glowing Tan.
How Long It Lasts: Allow 10 minutes after application of the cream before putting your clothes on. Also, do not shower for 8 hours after application, for a long lasting effect.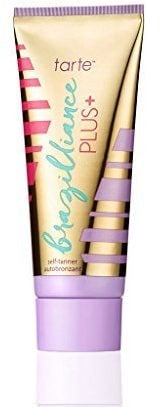 2. Bareminerals Faux Tan Body Sunless Tanner
This is best instant self-tanner rather than the gradual tanning process and is your go-to product if you're in a hurry for a fake tan.
How To Apply:
Apply directly onto skin. Make sure all your fingers are together when you rub it against the skin. Do not rub it with individual fingers, in order to avoid the streaky nature of tan.
Squeeze drops of it onto the skin and rub.
Color Output: A Bronze Olive Complexion.
How Long It Lasts: Lasts for about 4-5 days. Needs re-application again.

3. Almay Healthy Glow Makeup + Gradual Self Tan
This is best sunless tanning lotion for your sensitive skin, this Almay product doesn't clog pores and creates an even tan with a great coverage. The added advantage of drying quickly, not being greasy, and being a built in foundation makes it a winner.
How To Apply:
Take a little bit of the tanning cream on your hands and using one finger, put dots of the self tanner cream on your face or skin.
Now evenly rub the cream onto the skin with your palm.
Color Output: Shades exist from light to dark.
How Long It Lasts: The tan comes on after 3 days of applying it. Lasts for longer on the body than the face.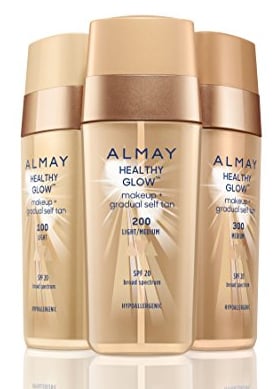 4. Kardashian Sun Kissed Instant Sunless Mousse
This is a citrus-like smelling mousse that gives an instant tan that enhances gradually. The scented mousse does the work of a self tanner as well as a perfume.
How To Apply:
Squeeze the mousse onto a mitt that is on your hand.
Apply it then onto your skin in a circular motion.
Even it out well onto your skin for an instant tan.
Color Output: A light sun-kissed shade.
How Long It Lasts: 24 hours for sure. Or a little more.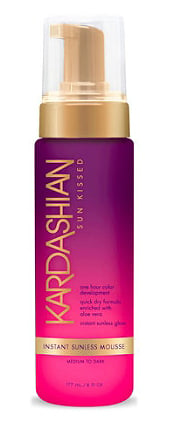 5. Clarins Radiance-Plus Golden Glow Booster
Apart from the regular sunless tan that it gives, it gives a noticeable glow that gradually perfects over a period of time. The 3-drop procedure is to concentrate on the tan whereas the 2-drop procedure is to perfect the glow.
How To Apply:
Turn the bottle upside down, press the base and dispense 3 drops.
Mix the drops with your regular moisturizer in your palm.
Now apply evenly to skin.
Color Output: A light facial tanner with a glow.
How Long It Lasts: It lasts for three days.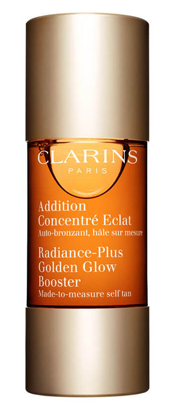 6. St. Tropez In-Shower Gradual Tan
With a sweet almond oil touch, this product has been proven to hydrate skin while developing a tan that is so natural and glowing.
How To Apply:
This product needs to used while showering.
Take some of it into your hands and apply it to the skin in circular motion.
Rinse off the shower gel with warm water from your skin.
Wash hands after application of this self-tanner.
Color Output: Golden glow.
How Long It Lasts: The glow needs to be replenished every 2 days.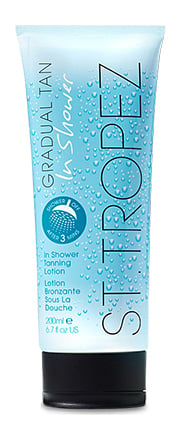 7. L'Oréal Sublime Bronze Tinted Self-Tanning Lotion
This self-tanning lotion is recommended for an instant tan with a mild glittery outlook to shine at your event.
How To Apply:
Apply a good moisturizing cream on the skin first.
Now, apply the self-tanning lotion with the help of a mitt.
Evenly rub it until there are no streaky patches.
Color Output: A proper bronze color tan with subtle shimmer (As the name suggests)
How Long It Lasts: About a week
8. Vita Liberata pHenomenal 2-3 Week Tan Mousse
Non-sticky, odorless and an instant tanning is possible with this mousse, which locks hydration into your skin.
How To Apply:
Exfoliate skin before applying. Do not moisturize the skin.
Pump it two to three times to take the right amount of mousse into hands and apply in circular motions.
Apply over 3 times over 12 hours to 24 hours.
Color Output: Brown Tan
How Long It Lasts: 5 days

9. First Aid Beauty Slow Glow Gradual Self-Tanning Moisturizer
This self-tanner conditions the skin as well as nourishes it apart from the tan. It is a very lightweight moisturizer that gets deeply absorbed into the skin giving a tan effect without any side effects.
How To Apply:
Exfoliate the skin before application.
Apply through hands evenly on face and body.
Wait for the moisturizer to completely dry before the skin being donned in cloth.
Color Output: Natural Bronze colour. Can be used daily to achieve a darker shade.
How Long It Lasts: 5-7 days (Based on a normal sun tanner duration)

10. James Read Self Tan Express Bronzing Mousse
This mousse is a watery foam that needs to be blended into the skin quickly. A quick natural tan that is promised by this product gives a unique colour effect.
How To Apply:
Pump the foam into a tanning mitt.
Start applying on the skin in a fast motion as it needs to be quickly blended.
Leave it for about 10mins to dry.
Color Output: A dark Orange colour.
How Long It Lasts: 4 days.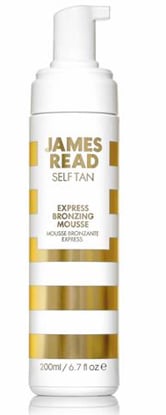 11. Lancôme Flash Bronzer
With a fabulous natural-looking tan colour, this product is mostly preferred on legs.
How To Apply:
Take out your tanning mitt for this product too.
Be careful while applying it on your skin in any motion.
 Leave it for about 30mins to dry.
Don't let the product slip onto other parts of the skin where it isn't needed.
Color Output: Deep bronze tan.
How Long It Lasts: 4 days.
12. Neutrogena Micro-mist Airbrush Sunless Tan
This is a light mist that comes with a prominent smell and gives a natural even tan.
How To Apply:
Wash face to exfoliate the skin.
Hold spray at a good distance from skin before spraying.
Keep the can in constant motion while doing so.
Wash hands after the application process.
Color Output: An even dark bronze shade with a tint of orange.
How Long It Lasts: 5 days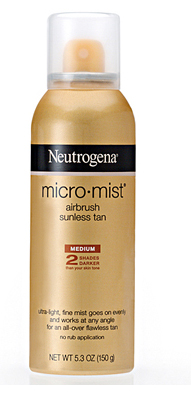 [sc:mediad]
13. Dior Bronze Self-Tanner
With an excellent smelling fragrance, it is easy to apply this self-tanner which dried quickly as well.
How To Apply:
Squeeze some onto your hands.
Apply on skin in circular motion.
Wait for it to dry for about 30mins.
Color Output: Light Brown Colour
How Long It Lasts: 5 days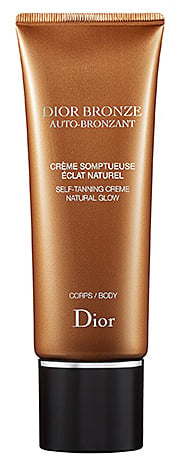 14. Tanceuticals CC Self Tanning Body Lotion
This self-tanner has cosmeceuticals in it and has a long lasting effect on the skin. The coconut-like smell comes off as a pleasant fragrance.
How To Apply:
Take some of it onto a tanning mitt or your hands
Apply over the required skin evenly so it blends into the skin easily.
Just a few minutes to let it dry.
Color Output: Darker Bronze Shade.
How Long It Lasts: 1 week.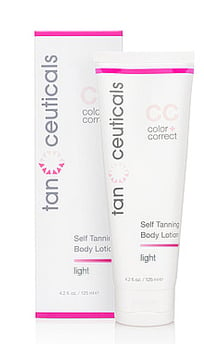 15. Fake Bake Flawless Liquid Spray
At any time of the day, Fake Bake Liquid Spray is a handy product leaving a completely natural tan with a smell that isn't close to pungent.
How To Apply:
Use the professional mitt that is included with the product for this process.
Spray the product onto the mitt.
Then, rub the mitt onto skin in a circular motion.
Wait for 10mins for the spray to dry.
Color Output: A glow of a bronze shade, not to the extremes of light or dark. Medium shade.
How Long It Lasts: 5 to 7 days.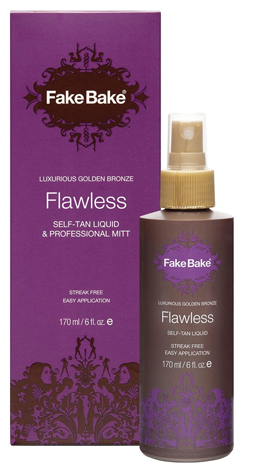 Having known some of the best sunless tanners, it's time to avoid the harmful effects of the sun and get a natural tan at your ease, pace and need. Anytime, Anyday!
[Also Read: 28 Best Natural Ways To Remove Sun Tan (Face, Skin & Hands)]
Images Source: totalbeauty.com
Recommended Articles
Best Clarifying Shampoo
Top 10 Best Cosmetic Brands
Coral Lipstick Shades
Best Perfumes for Women
Breast Enlargement Creams