Actresses surely give us a wealth of inspiration when it comes to beauty and grooming. Talk of hairdos and Jennifer Lawrence short wavy bob to Margaret Robbie's shoulder-length waves are a reference in point when it comes to short wavy hairstyles. With few hair products such as curling iron by your side, you are all set to rock a modern, chic look. So let's get started in knowing more about short and wavy haircuts and see how they can make us look a diva in no time.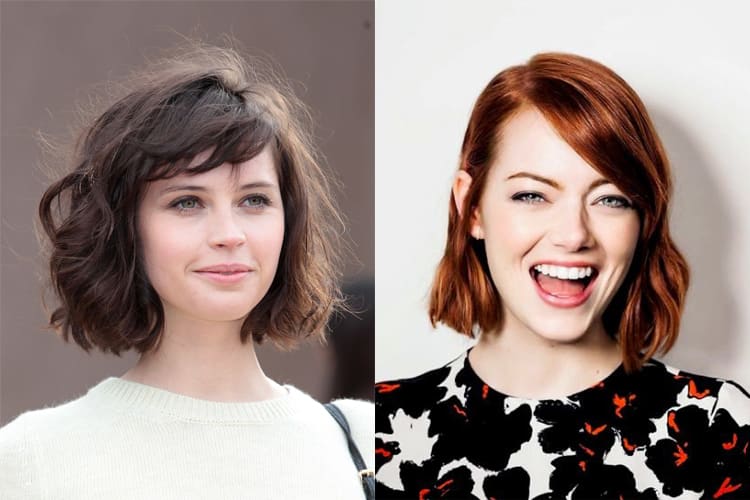 Short And Impressive Hairdos:
Here are some short wavy hair styles you can make your own with minimal effort.
1. Short Wavy Bob:
The key to this hairstyle is how you get your hair cut. If you want different hair thickness, try out the new layering technique. The feathery layers throughout the hair ends gets you a nice messy look. To add some drama, style your hair with a deep parting and do a sea salt spray on the roots to amplify the waves. You can also get your hairdresser cut layers around the face so that you can walk away with a cute, playful bob.
2. Medium Wavy Bob:
Effortless in style and minimal maintenance, a medium length bob is good to go when waves are on your mind. Should you be having naturally wavy hair, ditch the brush and go for a wide-toothed comb. This will get the frizz out of the way. If your hair is devoid of movement, use a sea salt spray on damp hair and blow dry your hair upside down to get the right volume. When you want to dry your hair, get few sections of your hair in your hands to get the wave. At the end of it, you and your hair ooze pure sophistication without any hassle whatsoever.
3. Wavy Bob With Bangs:
This is a cute and classic wavy bob hairstyle. It gets you the feel of a true vintage cut with irregular-shaped bangs. Get curls at the end to make this short haircuts for wavy hair attractive.
4. Chin-Length Bob:
This bob hairstyle is subtly designed considering it has the same length at the front and back. Just get in a few layers and this bob looks super sleek, clean and easy to sport. Colour your hair to bright blonde and it will make the whole look shine.
5. Wavy Bob For Red Hair:
You have to give it to Emma Stone. And what? Flowers and accolades for sporting a short wavy bob hair cut so cutely, that too in copper color, the season's trendiest. The blunt cut ends give a thicker look to her hair.
6. Beachy Wavy Bob:
Baywatch or Beach? This medium bob haircut for wavy hair is just perfect to sport for a relaxed casual trip. To emphasise the beautiful textures, color your hair to a blond ombre shade.
7. Nape Length Bob:
If romantic haircuts is on your mind, then this soft nape-length bob with bangs is just perfect to go. This short wavy bob looks supercool (and hot) when the hair color is of a sophisticated shade, say for example an ashy brown. Add in subtle brown highlights here and there to get some vibrancy to the look.
8. Side-Parted Messy Bob:
There will be times when mere curly or wavy hair won't be enough to create a spark and chemistry in your hairstyle. So you need spontaneity in your hair locks. You can get that by parting your hair to the side and allowing your waves to fall messily.
[sc:mediad]
9. Choppy Look:
Sporting a choppy look is on trend. It shows you are not a girly-girl but a rebel. And for that thick wavy hair will do as they can be easily styled in choppy layers. Thereby giving you a messy texture and plenty of volume around the head. To strike a contrast, create a quirky look with symmetrical waves on each side of a short and straight fringe.
10. Shaggy Cuts:
Shag cuts complement wavy hair and enhance natural movement beautifully. If you have got thick and coarse hair, go in for a layered haircut with tapering tips. This will help reduce the thickness of hair and give you a daintier look.
11. Thick And Wavy Hair:
Don't feel bogged down with thick and wavy hair. You can upgrade your hairstyle by going for bob with side bangs. Messy-looking short wavy hair will never disappoint you in your fashion statement.
12. Bob Cut For Dark-Skinned:
Here is some nice hair-inspiration for black ladies – wavy bob hairstyle. And how effortless it looks on face.
13. Short-n-Wavy:
Margot Robbie gives us a trick or two of short wavy hairstyles through her simple choppy waves. Leave it as natural wave or get a flat iron to acquire a more refined look. Whatever your choice, it is a no-fuss approach to hair styling.
14. Short-n-Loose Waves:
It is hard to resist Kendall Jenner's short hair which is all about loose waves and shine. Run a serum throughout the length of your hair and ends and you will go rocking.
15. Side Swept Bangs:
This side-swept wavy hairdo is all about tousled waves added to the mid-lengths to bring in the much-needed movement and shape. You will agree this short wavy hair looks soft and polished and cut out for all elegant events.
16. Thin And Trendy:
Thin hair too can sport trendy hairstyles. The one you see in the pic below is simply adorable for the sporty and feminine waves it creates. The sides kiss the face so that is the spicy factor you were looking for in short wavy hair. No doubt the tousled hairstyle looks radiant despite looking messy. Straight bangs are one-sided.
So which of the short haircuts for wavy hair appealed you the most. Do you have short wavy hair or are now getting tempted to sport one? Tell us in the comments below.