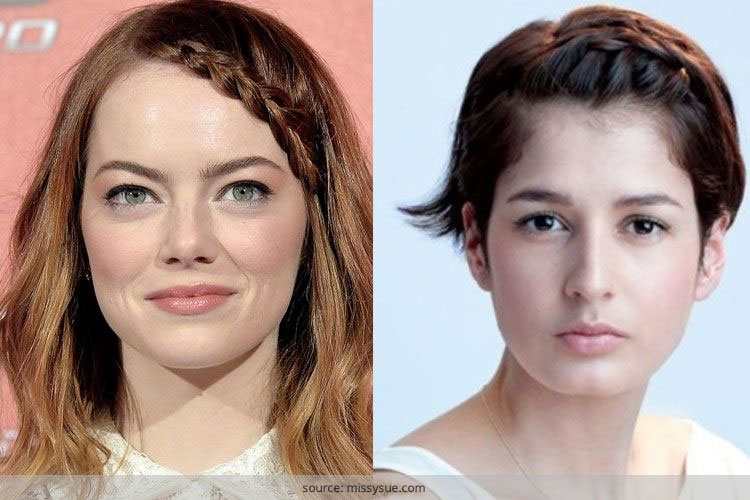 Known for making a serious impression, braids are often conceived as a style meant exclusively for medium to long length tresses! Their breezy boho vibe is the loss which short-hair ones feel. They console themselves as the price to pay for keeping the aura of cool confidence of short hair, neck area dry in the sultry summer and easy no fuss dry time! However, we are here to dispel the myth and announce loudly that braids for short hair are definitely possible regardless of you sporting a bob cut or a pixie cut! All short haired beautiful females – dump the limited short hair styles and have fun pulling off these cute braided hairstyles for short hair.
Braids For Short Hair
1. Simple Front Plait
Who else to take inspiration for easy braided hairstyles for short hair other than Emma Stone! With a side part, take a small section of hair from the front of the wider part and do a simple plait. Taking it over the front hairline simply pin it back stylishly as Emma has done with her long bob hair. Giving a very subtle and cool braided look, the style can be done with almost all short haircuts and is a great way to keep hair from falling over the face.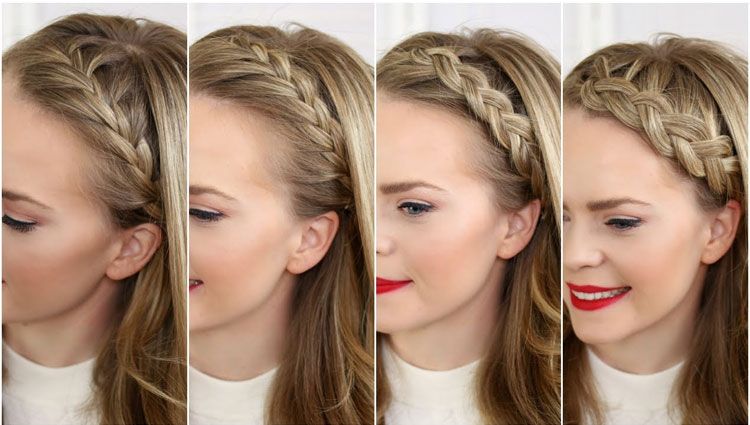 2. The French Side Braid
French braid hairstyles for short hair work terrific as it can keep all your small tresses in place and is super easy to do! The side French braid looks quite chic and can be achieved on pixie, bob, lob and almost all kinds of short haircuts. For a cool and edgy vibe, use a volumizing and thickening mousse on your hair, side part them and simply French braid the thicker part to pin it behind the ear. Give it a twist by doing it on the shorter side and leaving the wider part unbraided! However, take this braid till deep in the back of your head.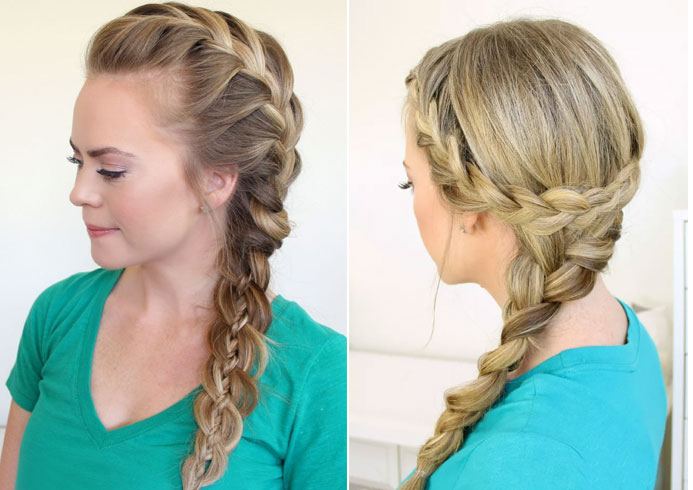 3. French Crown Braid
If those sporting a pixie cut found the previous style a trifle difficult, try this braided hairstyle for short hair! Crown braids are often used on long tresses but they can be easily achieved on pixie cuts as well! First divide your hair with a deep side part. Start French braiding of your hair from the part in the wider side, moving towards the opposite temple! Creating about an inch braid, stop at the temple and secure it well with bobby pins. Style the remaining hair in the usual manner. The final result is a terrific feminine vibe!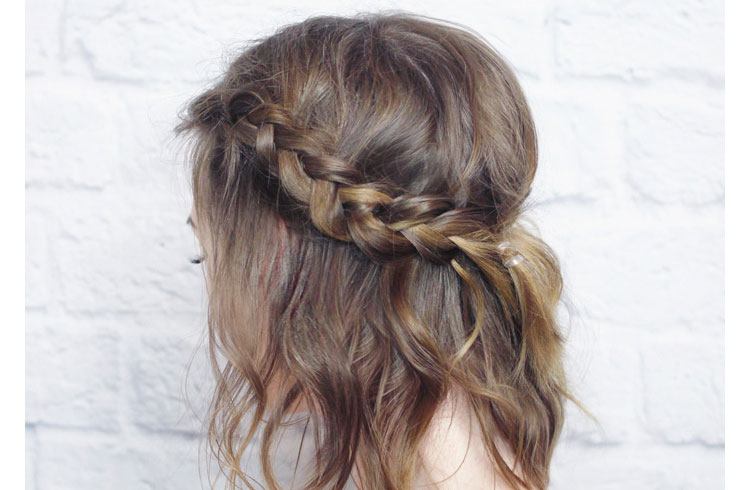 4. Loose Fishtail Braid
The same style can be given twists using different braids for short hair! In the image, check out the loose fishtail braid starting from the top part of the hair. One of the most stylish ways to braid short hair, it looks extremely neat and sexy and works great for thick hair!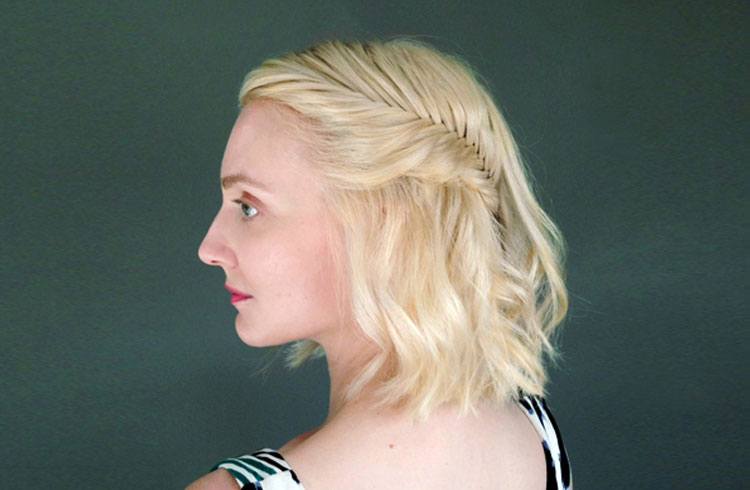 5. Twisted Fishtails
Yet another style of fishtail braids for short hair! Carrey Mulligan has nailed the look on her pixie cut! To imitate the style, put some volumizing mousse on your hair, curl them and then run a brush through them to get the undone ooze. Now from the wider part of your side parted hair, pick out a section of hair near the front hairline and create a fishtail braid backwards. Similarly create one more braid with another section of hair slightly beneath. Finally pin the first braid on top of the second. The twisted look created adds a very edgy and glamorous style, perfect for even the red carpet!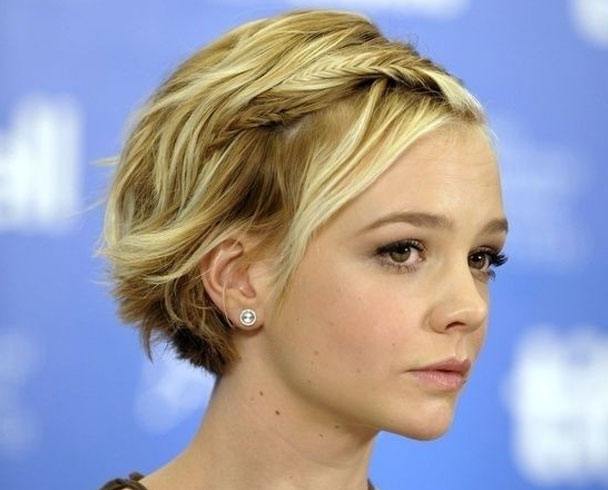 6. Waterfall Braids
Waterfall braids are perhaps one of the most beautiful braids for short hair which looks so effortless and on point! Whether you do it one side with a deep side part or do it on both sides with a center part and tying both braids at the back, the look is always bang on. Even though it looks extremely sophisticated and glamorous, it is very easy and a quick hairstyle to do and flaunt.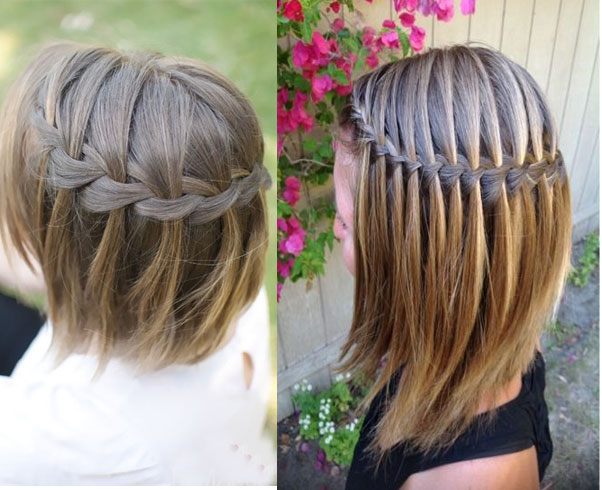 7. Half Up Messy Braid
Create a gorgeous deconstructed look with simple braids for short hair which are longer than 4 inches. Give your hair some wavy curls and a middle part. Now from one side, take a section of hair from the top closest to your face and braid them backwards after sectioning it into three parts and passing each piece underneath instead of above one another. While braiding, add chunks of hair from the top layer into the braid. Stop adding hair once you reach about two inches behind your ear and simply braid till the end and pin it temporarily on one side. Repeat the same step on the other side. Finally tie both braids together with clear elastic at the back of your head. Loosen the braids a little bit and let the loose strands falling out be as is for the messy sensual look!
[sc:mediad]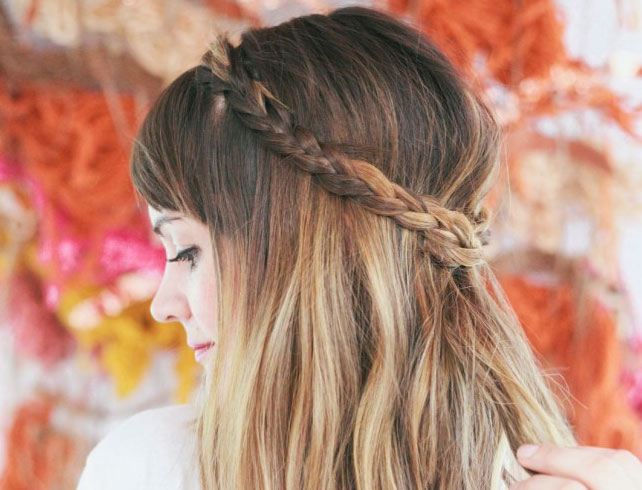 Easy-peasy, lemon squeezy! Which braids for short hair appealed the most to you?