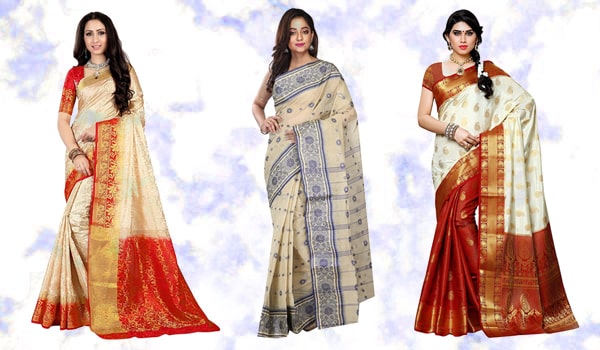 We believe that there's an ensemble for every event. The same goes for saris. Whether it's a Puja, wedding reception, or sangeet ceremony, sarees are an ideal wardrobe choice. So on this special occasion of Durga Puja, we have pencilled few Bengali Saree looks that are worthy of buying.
These classic drapes are available at reasonable prices. So go ahead and make your pick before they run out of stock!
Sarees for Durga Puja:
Have you checked out these Sarees? You are sure to fall in love with these stunning pieces that are worthy for steal.
1. Bengali Silk Sarees:
Bengali silk Sarees with rich zari detailing with matching blouse adds appeal to the ensemble. Give sartorial relevance by wearing the saree with different cut sleeves. This is a look that won't look out of place at a mehndi reception or party affair.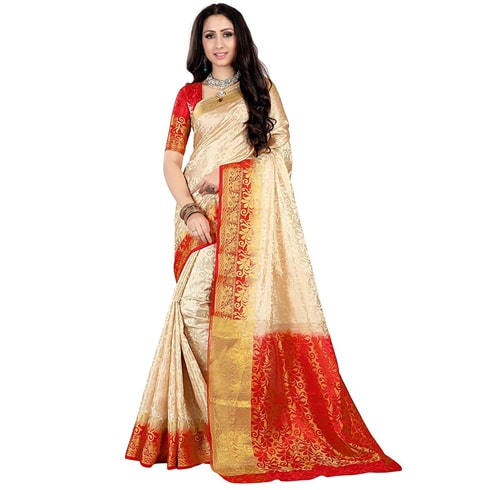 2. Bengali Garad Silk Saree:
The Garad silk saree from West Bengal is distinguished by its red border and paisley motifs. Known as a symbol of purity, the Garad saree can be worn during festive occasions. Wear it with red lips and it can take you from a sangeet to a wedding reception.
3. Bengali Sarees in Cotton:
Bengali Sarees in cotton has a printed border blouse piece. The beige handloom traditional saree features a zari border on the pallu end and zari panel along the border.
4. Bengali Banarasi Sarees:
The Banarasi sarees is an artistic replica of Banaras (Varanasi) designs. It's gold brocade, quality silk, zari with silver detailing, and rich embroidery makes it a perfect choice for weddings. It's matching blouse is versatile enough to be carried up or down on any occasion.
5. Bengali Jamadan Sarees:
The Bengali Jamadan Sarees is a thin texture made from cotton. It features ornate workmanship with rich depictions of floral and nature designs. The super absorbent cotton material makes it an awesome wear for summer.
Do write in to us about your favorite saree in the comments section below. Stay tuned for further updates on festive style and ethnic wear!