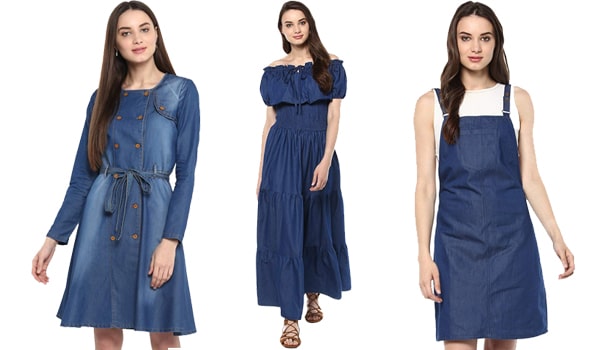 Denims are classics and our love for this fabric is undying. While our favorite pair of jeans is like second skin, dresses done up in cool blues are trending hot. Just like your denims these dresses too will occupy a soft corner in your heart. From the trending ruffles to bell sleeves to the teeny weeny dungarees, everything about denim dresses spells chic and cool.
Transitioning smoothly from your summer wardrobe to your autumn -winter closet, these denim dresses could well be your go-to pieces in the season ahead. To have you stock up the seasons best, we scooped out these trendy and hassle free denim dresses from Amazon.in.
So ladies scroll through these pieces of blues and we bet you will want to buy one right away.
1. Full Sleeve Denim Dress:
To beat that slight nip in temperatures replace your sleeveless denim dresses with this full sleeve shoulder placket denim dress in a lively indigo. This double breast denim dress takes its inspiration from a fitted trench. We are loving this buttoned look that can easily rev up your casual afternoon look.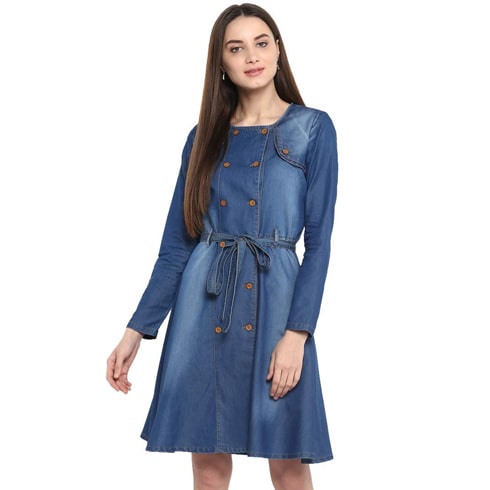 2. Off-Shoulder Denim Peasant Dress:
There's something innately pretty and innocent about peasant dresses. Taking you back to the field, peasant dresses instantly render that beautiful small town lass look. Taking your regular peasant dress notches higher is this one done up in the denims. The off-shoulder piece tucks onto your waistline defining your curves to perfection.
3. Denim Drawstring Bell Sleeves Dress:
With bell sleeves assuming much superiority in the fashion forums across the world, this denim dress boasting of a ruffled neckline and elaborate bell sleeves catches eye almost instantly.The drawstrings amidst the ruffles amps the cool quotient of the knee length dress. Pair it up with your ankle length winter boots and a pretty sling to get your autumn look just right.
4. Denim Dungaree Dress:
Denim dungarees are a must have for any fashionista. Instead of pant style opt for this pretty denim dungarees dress. Pair it with a short sleeve turtleneck and a backpack. For some chic add on complete this look with a pair of cool socks and chic lace ups.
5. Denim Pinafore Dress:
Pinafore dresses are love. This denim pinafore is our pick for the season ahead. Wear it with a warm insert sporting cool slogans or trending prints. Complete this look with a pair of wedges and some trendy accessories.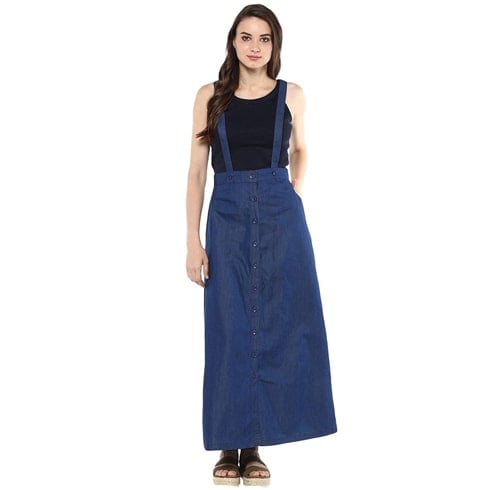 Hope we took your denim love notches higher with these chic denim dress series.
Author: Sonam Maheshwari