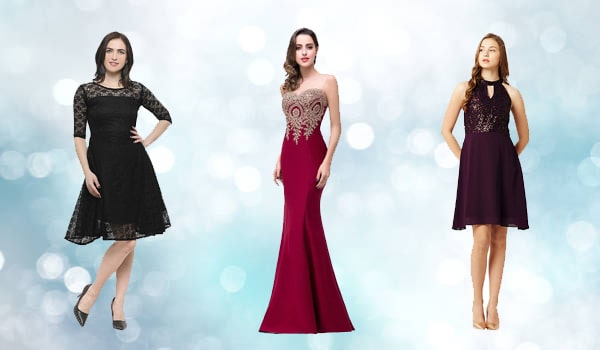 Is it Prom time? Yes! Then you have come to the right place for suggestions!
Prom is the first ever semi-formal dance party of high-school students and it is a great deal for each and every one of them. We understand the importance of the prom time, the need to get the style right, the desire to look flawless and catch everyone's undivided attention. So here we have assorted a handful of styles that might suit your palette. Get Set Go!
Maxi Dresses:
It is no big surprise that every girl's dream is to dress up like a fairy for her prom. Here are a few magical prom dresses that you wouldn't be able to resist.
Woopower S Black Fashion Off-Shoulder Prom Dress:
Slide the length of the dance floor of your prom party in this magnificent flowing sweetheart neck shimmering gown in black and gray. Cinched at the waistline, it will allow the fabric to flow with a great flare. A dazzling piece of a choker, a pair of studs, and a glittery bracelet will nicely tie up the style, don't you think?
Selx-Women Lace Applique Mermaid Prom Gown:
Flaunt your slender mien in this body con mermaid patterned prom gown and catch your onlookers' eyes. While the applique adds spice to the solid colored style, the sheer neckline and back give a sensuous look. Pick the color that brings out your eyes, and complexion and get noticed.
Guocai Women Halter Sleeveless Sequins Prom Dress:
Like sequins but would like to stay away from too much? Then this Guocai halter neck sequin dress is the right pick for you. With the skirt part of the outfit well-pleated, sequin-free and flowing, and the bodice heavily sequined, the outfit is perfectly balanced. With pockets available to slide in your phone, or essentials, makes the outfit even more irresistible.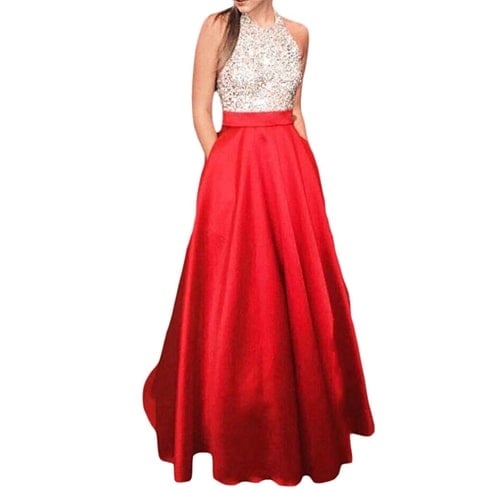 Mini Dresses:
For prom, usually we find many youngsters live out their fairytale styles in a dreamy flowing gown, but it is time to break the trend. Switch to the mini dress styles this prom and the bag of compliments is bound to overflow.
Stylistico Brand Floral Full Net Knee Long Dress for Women:
Oh, what can possibly go wrong with an LBD? Nothing! Right!
So make your prom night classy and impeccable with this lace, the net dress just surfacing right above the knee. Toss in a pair of contrast-colored pumps, a blingy clutch and few statement pieces of jewels to make the style click in a glance. Light in weight, with a complimentary belt and reasonable in price, this makes for a good prom dress.
Magna Off-Shoulder Skater Dress:
From the chiselled collar bone, to the slender legs, flaunt those all off this prom in this off-shoulder skater dress. The asymmetric hemline will compensate hugely for the height of the individual and a pair of black or neutral toned classy pumps will add a stunning appeal. Rich in color, sexy in silhouette, it is your go-to prom style that give you a glamorous image.
Miss Chase Women's Wine-Red Sequin Skater Dress:
A bit of glitter is all you need for the prom night and make that possible effortlessly with Miss Chase enigmatic purple sequin skater dress. Right above the knee, this halter neck dress is both classy, rich and sexy. With the shimmering neckline of the outfit, you can skip the accessories around the neck. However, a bunch of chunky bracelets, or rings, and earrings will work miracles on the style.
Share your thoughts, experience and comments on this prom dress collections!
Author: Sai Bhargavi Chintaluri