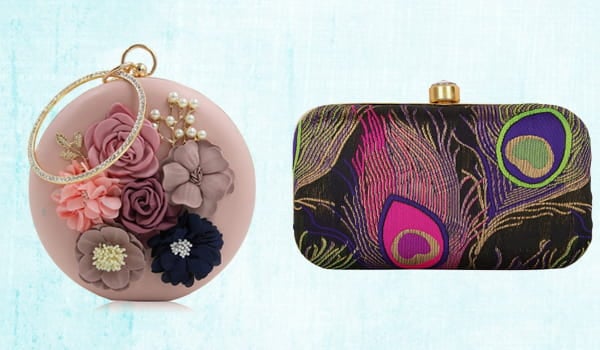 Clutches are much more than just a carrier of your essentials. From a fashion followers perspective, clutches or mini audieres play an integral part in creating a perfect look.
An important element, clutches observe much attention. At times adding on to the monotone drama, at times playing a beautiful contrast, a right clutch can take your dress up notches higher on the fashion scale.
7 Clutches To Own For The Festive Season:
With a full festive season ahead of us, you have all the reasons to buy clutches that will soothe your aesthetics and finish your festive playups just right. From solid hues, to fancy embroideries these clutches are more like lethal weapons in the hands of a fashionista.
Every piece prettier than the other, we rounded up our search on these 7 pieces of extraordinaire at prices that are surely most ordinary, available on amazon.in.
Scroll through and we are sure you will be tempted to add at least one of them to your collection.
1. Blush Pink Rose Overload Box Clutch:
With pretty pink roses stacked all over the escapade of the clutch, this one is a sure delight to complete your soft and delicate day dressups. Complementing both your Indian and western looks this piece will come in much handy when you wish to add a subtle touch up of glamour. Carry it in your hand or hang it from your shoulder, this box clutch will grab much eyeballs.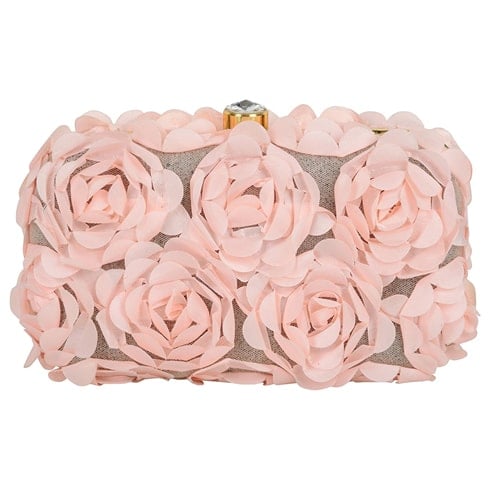 2. Circular Rosegold Clutch With Pretty Floral Bunch Motif:
If you are bored of squares then this circular clutch is meant for you. Done up in a gorgeous tone of rosegold studded the base is adorned with a pretty bunch of floral applique motifs all in elegant english colours. Sealed with a stone studded metallic ring the clutch is sure to amp your glam girl quotient.
3. Grey Crystal Studded Egg Box Clutch:
Grey is the colour of the hour and to match up all your outfits in grey we picked out this charming and classy egg shaped box clutch. The right blend of bling and posh, this piece is sheer opulence, most apt for those grand festive dinners.
4. Multicolour Geometric Print Handbox Clutch:
Embedded in it's geometric striped print and that melange of brightness is the spirit of festivity. Colourful, vibrant and modish this clutch will give your festive dress-ups a power packed upgrade.
5. Black Clutch With Peacock Feathers:
Replace your basic black clutches for this festive special carrying peacock feather motifs in shades of pink,blue and green scattered all through. Add finishing touches to your all black festive dress ups with this fitting upgrade.
6. Silk Potli Clutch:
Traditional never goes out of fashion. When it comes to clutches, their most traditional forms, the potlis are back in vogue. So make way for this ivory silk potli clutch embellished all over with a golden jaal embroidery. Pair your sarees and those heavy anarkalis with this classic.
7. Cool Saree Diva Green Clutch:
For the chic fashionista we have a surprise. This green box clutch exudes desi vibes courtesy the print that has an Indian woman cladded in a saree. Quirky and cool, this clutch will certainly get your festive dressing some extra brownie points.
Roll in the festivities most beautifully and let these clutches bring more glory to your fashionable repute.
Author: Sonam Maheshwari