Fashion becomes a tricky affair when you have to do colour-pairing. It can either make or break your outfit. It is natural to feel uneasy when you are experimenting with color combinations for clothes. Not to worry. This task is made simpler as I take you through an intelligent variety of colour-coordinated looks that will enhance your fashion styling.
On the color combinations part, the outfit ensembles are in bold to chic-looking subtle colours. So that your choice sets are as unique as you.
Color Combinations
Ready to embrace the color combinations for clothes? Here we go.
1. Green and Yellow:
The smell of freshly cut grass on a warm yellow summer day-can there be anything better than this? This colour combo gives you just that. The fresh green and mellow yellow looks great on most skin complexions. If your skin is of warm tones, emphasise on mustard, khaki and dark green. But if your skin is cool toned, then add bright yellows and iridescent greens.
Anyhow, to rock the color combo of green and yellow, go ahead and partner a smart yellow blazer with either a simple grey skirt or pair of jeans. Then, add a fresh white shirt and green accessories to get a bright new look.
To add vibrancy to outfits, colour blocking is an easy way. It marks a smooth shift from winter wardrobe to summer wear. Add some solid colors to your outfit and watch the transformation roll out.
As always, keep it simple and don't be afraid of mixing it up.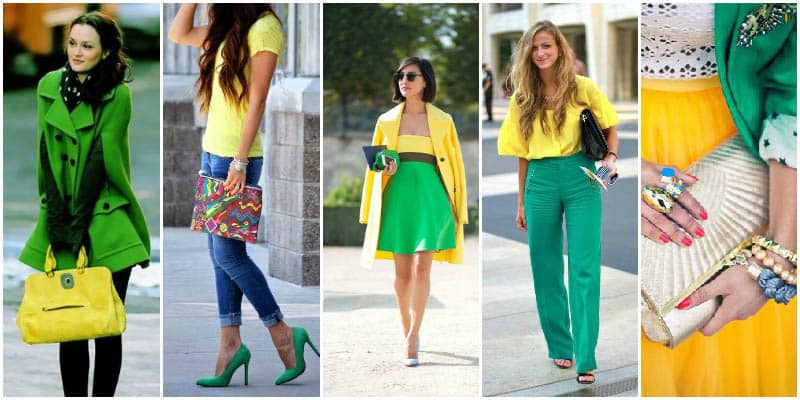 2. Pale Blue and Pink:
Pastels is the 'it' colour for spring. While soft pinks and blue may look to be subtle, they can be striking to the eye as a bright pop of colour, when styled the right way. This color combo of pale blue and pink will give you beautiful memories of jasmine and a warm spring breeze.
For a day look, try out soft blue cashmere sweater with a pink jacket. It will melt away any soft memories of winter. Pastellooking accessories, such as a handbag and white stiletto statement shoe complete the color combinations with Blue.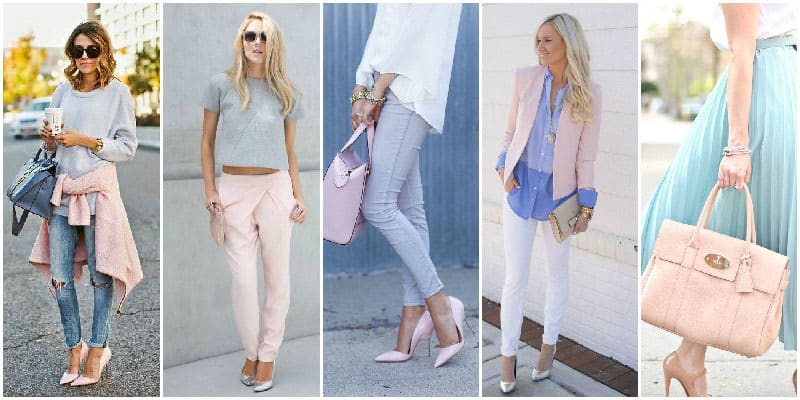 3. Red and Blue:
This color combination is an all-time favourite look. Look how it can make you a bold figure in no time with a pair of jeans, a tailored red jacket and killer heels. It's like having business on the top and party on the bottom. Looks sexy and smartens up a casual look.
A classic striped shirt will add the charming factor to your personality. Don the French Chanel-inspired look by wearing a pair of jeans and red blazer. You can also wear a white shirt underneath your red jacket to highlight the brightness of the red. Hope you will try out these color combinations with red and blue.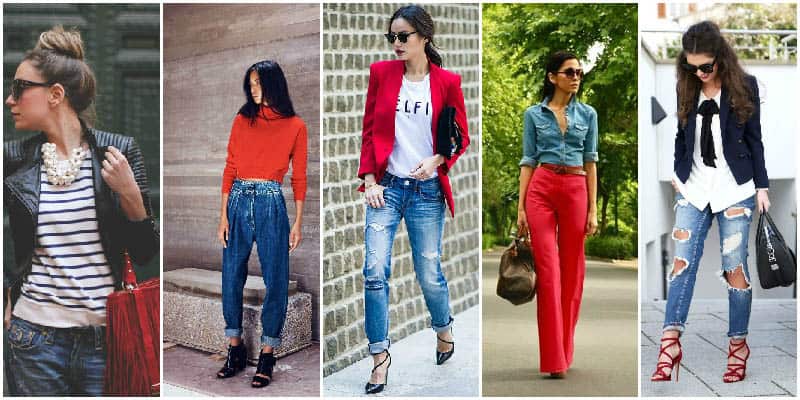 4. Cobalt Blue and Turquoise:
Think of color combinations cheat sheet and there is another happiness combo coming for you, which is colourful and bright. It is cobalt blue with turquoise. It gives you both elegance and class. Not every time you need to break it with a neutral colour, such as white or cream. For here is a colour pairing which can look great with both silver and gold accessories. So it is a versatile styling partnership, left best to your imagination.
Pair a regal blue dress with a casual flat turquoise shoe and you will look picture perfect, irrespective of the occasion. You can also pair it with statement necklace and you will look chic in no time.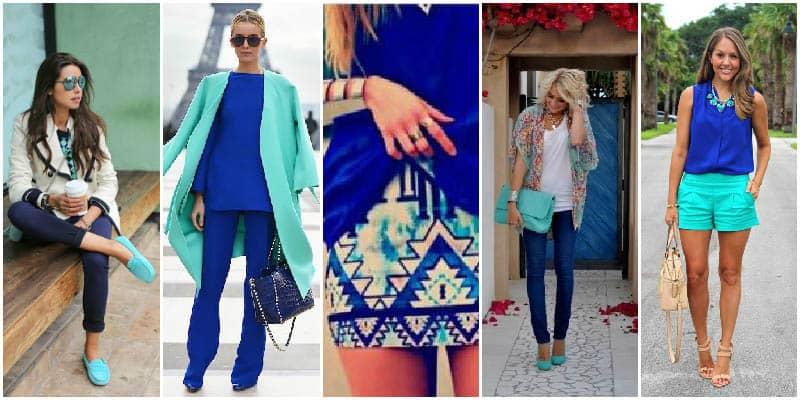 5. Orange and Blue:
Contemplating about colour blocking technique? Orange and blue is the perfect colour scheme to use. Go for blue pants and orange top or choose a dress that is a perfect mix of both the colours. Try out a burnt orange mix with a darker navy blue. It will look different. Whichever shade you go in for, don't forget the perfect shoe – a nude shoe which will emphasise your outfit right.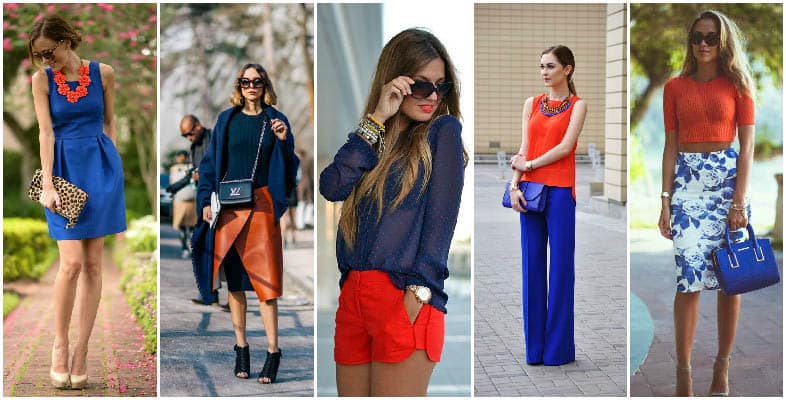 6. Tan and Maroon:
Tan colours can be hard to style, but when you style them with a rich deep colour, like maroon, your color combinations with brown becomes relatively easy. While mixing the right texture and hue, try a corduroy skirt with a satin camisole. You will be surprised how your color sense brings appreciation from all quarters.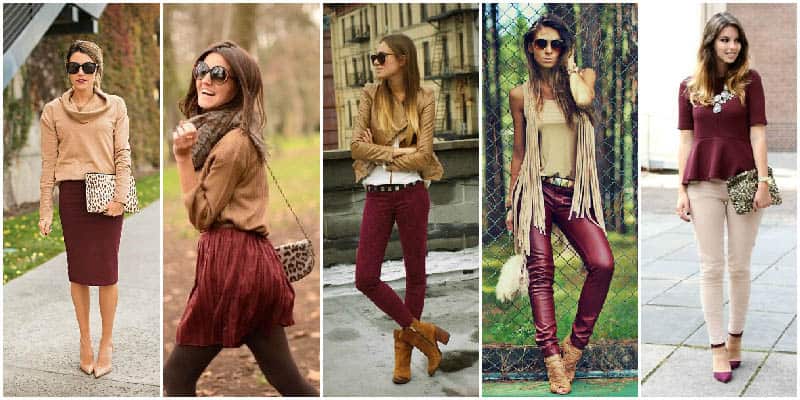 7. Orange and Black:
Meet the new BLACK – in the color combinations of orange and black. Nothing lifts any black outfit more than a bright colour, and orange certainly does it – making it bold and instantly attractive.
No more shying away from wearing a bright coloured pant. Wear a high-waisted flare pant, with a black crop top – this season's must-have item. If you want to conceal the pant's zip part, wear a loosely tucked-in oversized sweater. Don't forget to carry a luxe bag to complete the look.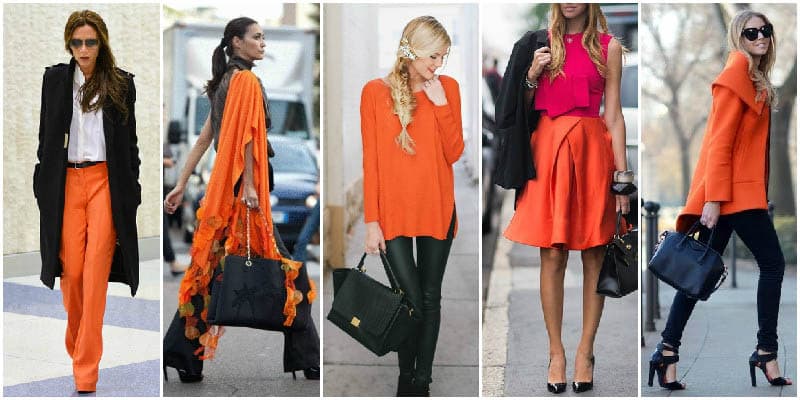 [sc:mediad]
8. Pink and Grey:
This color combination can be utilised the whole year. There are no limitations at all. A soft pink top with a dark grey pant looks complimentary. Extend this colour teaming to your accessories. A wide brim hat will be the season's best fashion pick.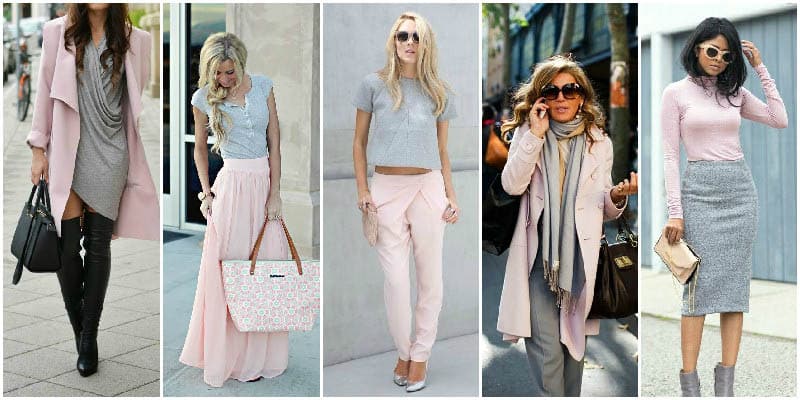 9. Purple and Coral:
Coral is not just reserved for lipsticks and knitwear but looks impressively hot when you have to work out its color combinations with purple. When you wear it with confidence, it will be the perfect summer outfit.
For all skin tones, coral is the flattering colour. The deep rich purple tone gives it just the right amount of contrast.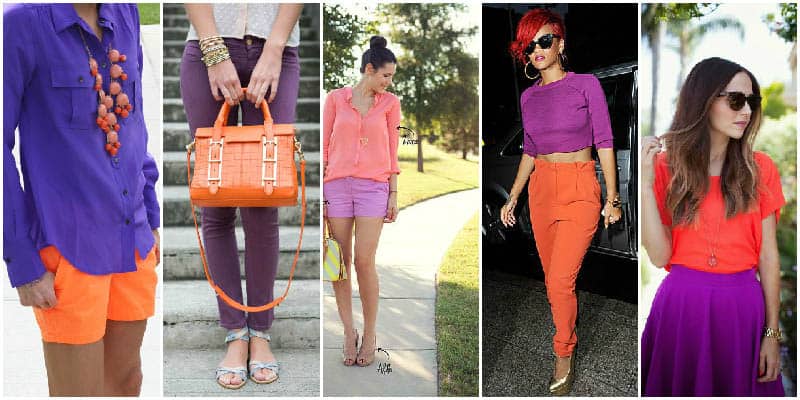 10. Purple and White:
White is a colour, which is the most preferred in summers. It looks even more fantastic when paired with purple. Mix in some gold and silver accessories and it will complete the look.
Are there any more colour combos apart from this? There is a color combinations chart, which is a major help to those practicing fashion. I think the color partnership shared above should be sufficient to follow for the teenagers and divas.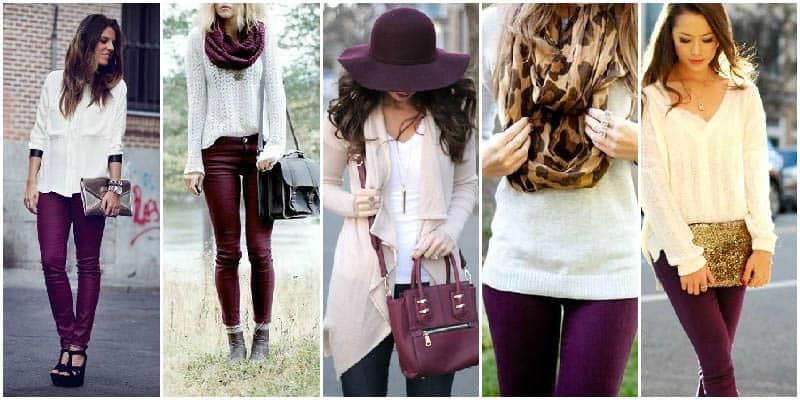 So, which of the color combinations for clothes did you find most interesting to include in your wardrobe? Tell us in the comments below.
Images Source: thetrendspotter.net