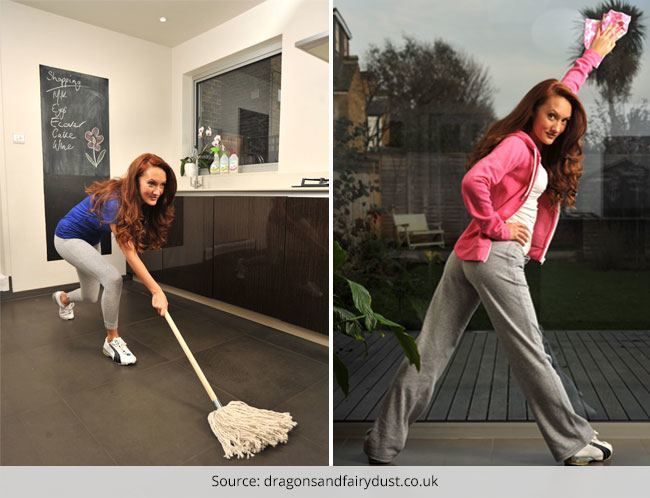 You don't really have to hit the gym to get fit and stay in shape. How about making your household work act as your workout instead? Imagine all the money and time you'd be saving that way. In fact, some strenuous household chores actually help you burn more calories than you would in a one hour workout session at the gym. Also, when you combine your household work and your workout session into one routine, you'll also end up with a spanking clean house. Now who doesn't want that?
Stretch Your Muscles
Instead of using a mop to wipe the floors, use a towel. Bend yourself at the waist, while keeping your knees unbent, and reach the floor to wipe it. While this may be extremely difficult to do in the beginning, once you get the hang of it you'll realise what a great stretching exercise this is.
Get Your Groove on
Listen to some nice fast music while doing your household chores, and be sure to dance for it! Many household chores tend to become monotonous and boring and we don't want that to happen. So keep it exciting by playing some awesome music and working at a fast pace.
Give Your Swanky Kitchen Appliances a Break
Planning to bake a cake? Opt for whisking the ingredients manually instead of using an electric mixer. Make your own bread by thoroughly kneading the dough. These actions help burn more calories than you would think. Making them a regular practice helps keep you fit and helps strengthen the muscles in your arms.
Squat While Doing the Dishes
Washing the dishes can be a pretty mundane task. Add some calorie-burning squatting to it and you end up really working those thigh and back muscles. Maintain a cycle, like squatting three times between washing each dish.
Time Your Chores
Just like you would at the gym, allot time slots for each chore. Following a specific order helps make your household work more effective as a workout session. If your cleaning the windows, determine how long it should take and then work at a fast pace to cut that time in half. You have to work fast but achieve the same results as you would if you spent double the time doing the task. By assigning yourself tight timelines, you keep the work interesting and end up working those muscles harder.
Go Up and Down the Stairs
If you have stairs in your house, make it a point to go up and down in a fast pace. This really helps to get the blood pumping in your heart and is also a great way to keep your bottom nice and tight. So if you have to go up the stairs to clean the rooms, then take one cleaning item with you at a time and make multiple trips up and down the steps to fetch each of them. Just be very careful not to trip.
Work Your Upper Body
Dusting ceilings and fans is a great way to work the upper body muscles. Just be sure to alternate between both hands so that you work your upper body evenly. Use a heavy duster to make the chore even more of a workout.
Rearrange Furniture
Moving furniture around and rearranging them is a great way to work your whole body. So go ahead and think of arrangements for your couches and dinner table. What's more, when you regularly rearrange your furniture, you can avoid the accumulation of months of dust under them.
Wring Your Washed Clothes
How about skipping the dryer cycle in your washing machine and wringing the clothes by hand? It really works those arm muscles. You can also twist your body this way and that while wringing your clothes to add more movement.
While doing such household chores, always wear comfortable clothing and sensible shoes. And it is also a good idea to stretch out and loosen your muscles before you start with the chores. That way, you reduce the risk of muscle cramps and pulls. Keep yourself hydrated with lots of water. Know your ability and pace yourself accordingly. Make all your movements more exaggerated and pronounced to make it more of a workout than just regular housework. Combine these ideas with a good balanced diet for best results. And most of all, to gain the most out of it make sure to have fun while doing it.