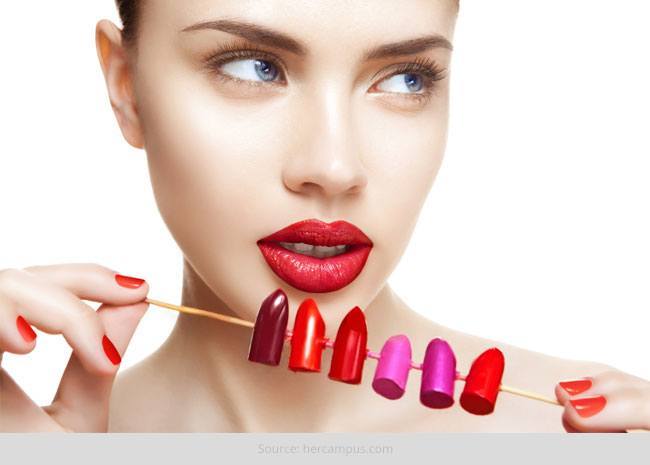 Bright lips can make you look glamorous and lively if you know how to sport it. Bright lipsticks have always been popular; a punch of bright colour is always required to look modern and stylish. Just follow these simple dos and don'ts if you are planning to sport bright red, purple or pink shade!
1. Always pick the right shade. We usually get attracted to the colours that look nice on our lips. Believe in those colours and see how they look on your lips, don't try colours on hands. True red look great on fair skin, whereas the brown-reds or mahogany shades suit dusky complexion. If your skin has a little golden glow, try slightly orange or brownish red colour. Ladies with pinkish glow look gorgeous with bright pink or purplish red shade.
2. Keep the season in mind while selecting the perfect bright lipstick shades. For example you can go for a gloss or little lighter tones for sunny weather and deep dark shades for chilly winters.
3. Do use a lip pencil of same colour to fill in your lips fully. By using a lip pencil, you can make sure that your lipstick will stay for longer period of time. If you think your lips will look better by extending your lip-line, then you are wrong; they will look totally unnatural!
4. Regardless of what you are using to apply the colour, do try to be as precise as you can. Sometimes even the best quality can look bad if it is not applied carefully. You can use a lip brush to apply the colour correctly.
5. Don't worry if the lipstick colour you just bought isn't the exact shade you wanted; simply blend the colours properly to get perfect lip colour.
For example, try mixing some mauve to get precisely the same red colour you always wished for or you can try out mixing bit of brown shade if you think the bright shade you just bought doesn't go well with your skin tone.
6. Separate a tissue paper into two separate layers and use one of them to blot your lips in order to get rid of extra colour. Brush some loose powder over your lips while keeping the paper-tissue on your lips, a very little amount of powder will still go through the tissue and help you set the lipstick properly.
7. Keep the eye make-up simple when you sport a bright shade of lipstick. Similarly, maintain the overall look understated so that your lip colour can draw all the attention.
[sc:mediad]
8. Don't forget to paint your nails with the similar shade. Nails painted with same colour will give you that extra pinch of style.
9. Touch-ups are very important, especially when you are having a long day ahead. Make it a point to carry the lipstick along with you all the time.
10. Keep your hair-style slightly casual. If you go for a highly formal up-do, you might end up looking fake and unnatural; slightly loosen up a few strands of your hair to create a very modish look.
11. Don't assume that you can flaunt any bright lip colour with the type of skin tone you have. For example, bright plum shade doesn't go well with extremely fair skin tone.
12. Don't ignore the inside part of lips. So if you apply some lip primer prior to using your lip colour, then the lipstick will stick at its correct place and this way you can avoid uncoloured patches on your lips.
13. As mentioned above, avoid a bold style anywhere else when you sport a bright shade of lipstick. A formal hair-do, huge ear-rings earrings along with a matching dress will make you look fake and uninteresting. So make your lips be the centre of attraction when you decide to flaunt a bright purple, red or orange lip colour!
14. Now relax and enjoy the look you just created with your bold and bright lipstick colour. The most important rule to sport bold lipstick is to not permit it to overshadow your individuality and persona, simply use it as an accessory to emphasize the cool and courageous side of your personality.
Anyone can pull off a bold and bright lipstick; you just need to wear it with some self-confidence and a beautiful smile!