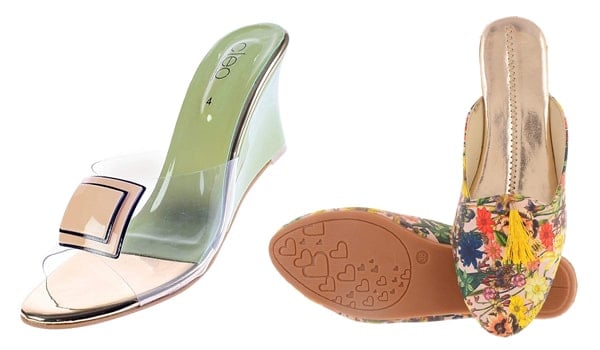 To simply put, these shoes are eye-candy, ranging from exquisite flats, to exotic printed heels, and textures. These in-the-moment styles are now available at Amazon at huge discounts, so now's the moment to start saving.
We trust you'll get all splurge-worthy shoes equally intriguing, so browse through our slideshow for major foot addiction.
1. Cleo from Khadims Women's Faux Leather Wedges:
Nod to the '90s with a pair of Faux leather wedges-all would approve! The see-through Wedges are perfect in keeping up with the transparent trend. The heels will take you through from after-sunset cocktails to office to date night with utmost ease. The leather Wedges are now availed at a discounted price of Rs. 494.

2. Authentic Vogue Women's Office Wear Sandal:
The chic pointed toe heels demand the spotlight, so keep this feminine hybrid in your wishlist. Make the black heeled sandal your go-to-shoe by wearing them with everything including jeans and sundresses. You can now avail the sandals at a discounted price of Rs. 499.
3. Catwalk Women's Fashion Sandals:
Mules are having a serious moment this Fall, and these fashion sandals address the trend in the ultimate fashionable way. They are a cut above your daily go-to-flats, these exquisite pair can add appeal to any ensemble. The fashion sandals are now available at a discounted price of Rs. 599.
4. Fashtyle White Block Heels:
White block heels are the ultimate sophistication. Allow yourself some height, with this sturdy design. The white block heels always give out a dressy feel with a bold LBD and white number. You can now avail the shoes at a discounted price of Rs. 494.
5. Zapatoz Women's Mesh Sneaker Shoes:
Try this pair of punchy mesh sneakers for your next off-duty work. These western inspired sneakers look just as chic worn with a floral dress as they do with Faux leather pants. It can be availed at a discounted price of Rs. 499.
6. Chokhi Collection Printed Designer Flat Sandal for Women:
The printed designer flat sandal from Chokhi Collection is essentially ornaments for your feet. Just be sure to wear your look correctly as it is a delicate design. You can now avail the sandals at a discounted price of Rs.259-285.
These sandals, like work of art, simply deserve to be noticed. Do you plan on getting any of these? Write in to us in the comment box below.