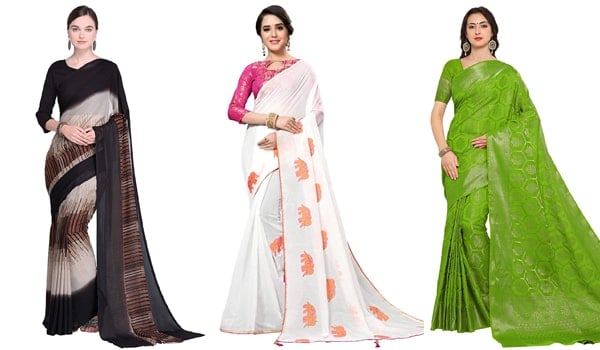 Whether your workspace is strict about dress code or is relaxed, there is still a certain degree of refinement that should be maintained. A welcome change is the saree.
Whether you're testing the waters or willing to risk it, here is a slideshow on picking the right saree for your Workplace. We are pretty confident that you can introduce these Indian wear into your own wardrobe. Take a look!
1. AKHILAM Women's Linen Saree:
For a sober green saree, the AKHILAM piece has a lot of character. Thanks to the frill ends and linen material. There's also a white blouse making it a must-buy. Wear it with ethnic jewellery and peep-toe sandals. The saree can be availed along with two exclusive blouses.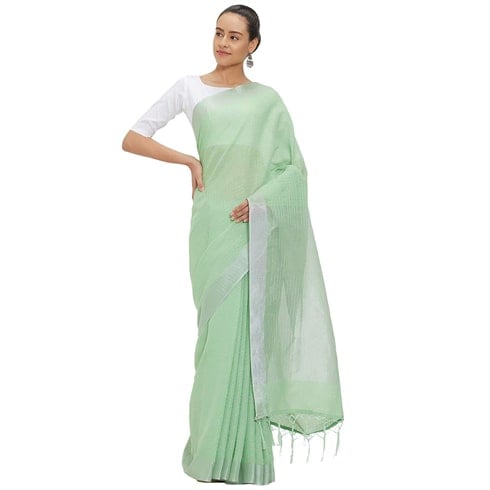 2. Sidhidata Textile Women's Georgette Printed Synthetic Saree with Unstitched Blouse Piece:
This Georgette Printed Saree is work appropriate because of its half-sleeves and synthetic texture. The saree comes in a full-length (making it perfect for office) and a cream hue that makes it look neutral. Wear it alone or with a wool coat.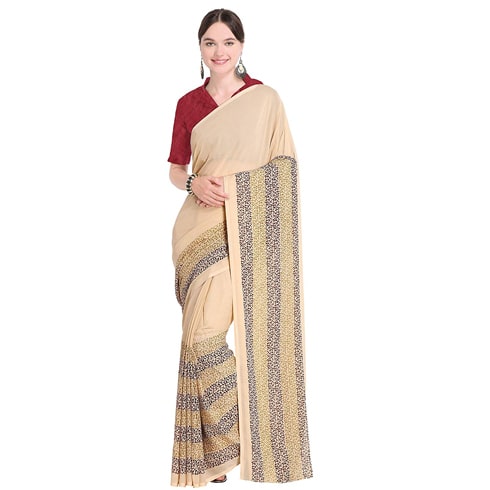 3. Monika Fashion Women's New Chanderi Designer Embroidery Saree with Blouse Piece:
Slip the summer spirit in your winter staple wardrobe by getting into this Chanderi embroidery saree. The combination of white, pink, and gold fits perfect with the season's mood, along with its attached art silk Blouse fabric. Allow the saree to elevate your look to a new place.
4. Women's Blend Green Silk Saree:
Embrace the fall weather in this silk saree. The rich green hue, full-coverage, well-shaped silhouette, and cutout sleeves make the overall look relaxed. The silk blend material with matching blouse makes it perfect for even the most conservative of workplaces.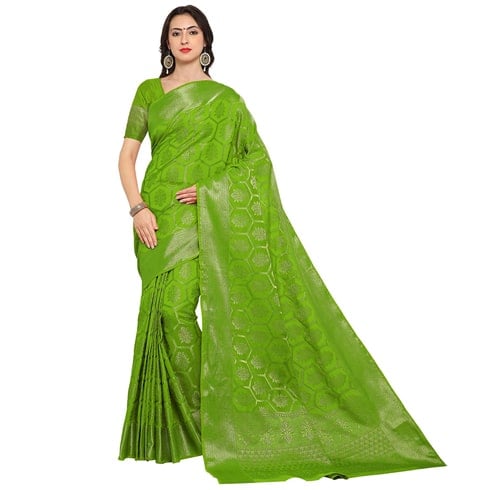 5.Mimosa Women's Chiffon Saree with Blouse Piece:
Fancy and decent enough to wear to office, Mimosa chiffon Saree features all-over zari woven border and pallu. Gold trim ends highlights the deep-neckline. Wear it with flats or heels.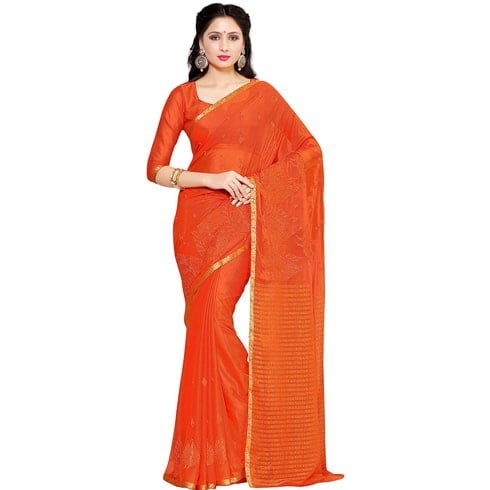 6. Sidhidata Textile Women's Synthetic Georgette Printed Saree with Unstitched Blouse:
Embracing Georgette printed Saree has never been simpler. The minimal style can give the opportunity to play with other aspects of your ensemble. Draw attention to your face with matching motif earrings or give a surprise element with your footwear selection.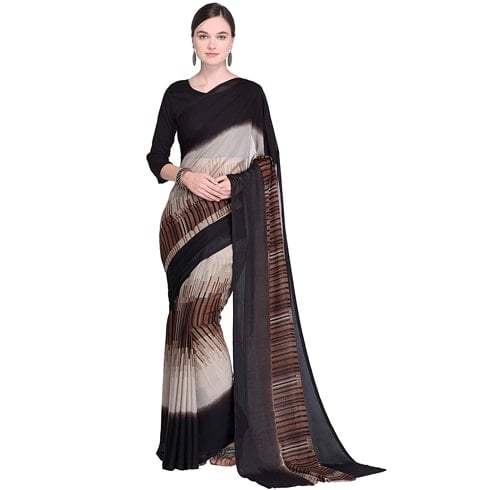 You can pull these Saree looks for everywhere else, too. Style them with gold accessories or diamond studs. But do not over accessorize as the saree already holds the spotlight.
We hope you enjoyed going through this series of work sarees. Which Saree would you love to try out at your office? Tell us in the comment box below.