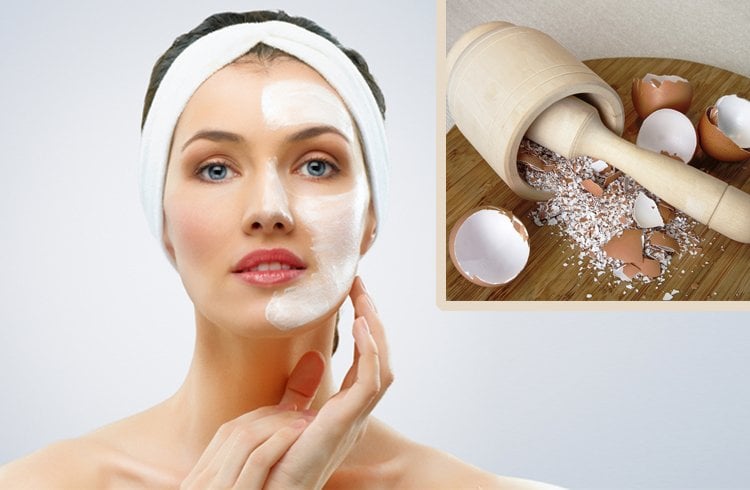 Most of us crack open an egg and then discard the shells after completing the cooking business, don't we? Don't do that anymore- not when you can enhance the beauty of your face! Beauty from egg shells have been long used, and here are some surprising and easy ways to achieve it. Save your money on costly spas and treatments. Here's how:
Wash the shells gently under running water. You would notice a thin transparent membrane; clean it well and remove the semi-permeable skin that is attached to the inner wall. (This membrane has anti ageing properties. Place it on your skin as it is to remove wrinkles, crows feet, laugh lines, cuts, nicks, burns and wounds.)
Place the shells in the oven for ten minutes at the lowest temperature and break them. This will kill all the germs and bacteria on the shells, if any.
Now place the clean shells in another bowl and crush. Do it in a blender for a fine powder.
Beauty Regimes
Now that you have the egg shell powder handy, here are a couple of ways to start your beauty regime with egg shells.
1. As A Face Mask
Crack open another egg and remove the yolk. Mix the white and a teaspoon of egg shell powder to form a paste. Apply the paste on your face, your neck and your forehead and wait for ten minutes. When it dries up, wash off the paste on the face and pat the skin dry. For normal to dry skin, do this once a week, for oily skin, do this twice a week. For sensitive skin, once in every ten days should do. This is a beauty process that helps firm up and tone the skin.
2. For A Youthful Glow
To help prevent premature signs of ageing, combine egg shell powder and an egg white to form a paste. Apply the same on your skin and massage gently in circular strokes until it gets very sticky. Wait for half an hour and then wash off with cold water. Pat dry and moisturize your skin. This should be done thrice a week for any skin types, preferably just before a shower.
3. Attain Glossy Dewy Skin
Mix a tablespoon of egg shell powder with a pinch of turmeric and a teaspoon of honey. Form a paste and apply it all over your skin. Wait for half an hour and then wash off with cold water. This should be done for all skin types everyday before a shower. Your skin would stay dewy fresh all day long.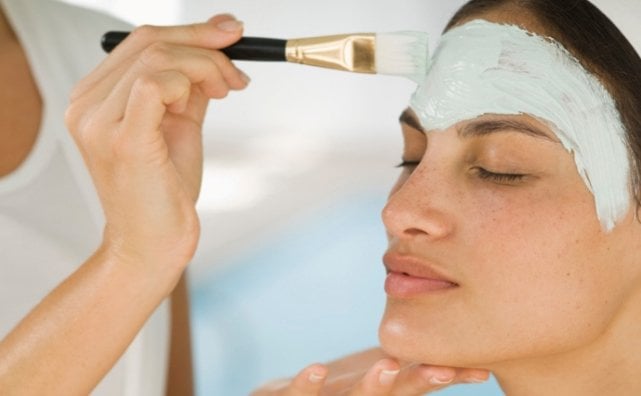 4. Fight Sensitive Skin
Sensitive skin can be irksome to have, which is why your skin needs most help to deal with inflammation and irritation, apart from rashes. Here is where a tablespoon of eggshell powder can help. Use one teaspoon of apple cider vinegar with same amount of egg shell powder and form a paste. Apply the same on the face and wait for half an hour. What you should do is prepare this paste five days in advance and freeze it. Rub the frozen paste on your face or prepare fresh if you wish. Once the paste dries up, follow the massaging technique of facials and wash the face with cold water. Pat dry and moisturize. This should be done twice a week so as to balance the pH levels of the skin and fight inflammation.
[sc:mediad]
5. Exfoliate The Skin
Skin exfoliation would be easily done at home sans the use of costly products available in the market. A tablespoon of eggshell powder with oatmeal in equal measure and milk to form a paste is the best recipe here. Apply the paste on your face and wait for ten minutes. Once it is semi dry, dab cold milk on the face and then gently in circular motions, rub the face. The dead skin cells would be removed and the elastin and collagen found in the shells would penetrate deep into the dermal layer of the skin. Wash off and pat dry.
When it comes to promoting skin cell rejuvenation, retinol is a great ingredient to use, because it loosens the outer most layer of the skin and forms newer cells. However, egg shell powder too can do the needful, only better. Using the face packs we have just mentioned above, instantly get newer, younger looking skin.
Now would you throw away your eggshells? Think about what we just told you!
Images Source: pinterest