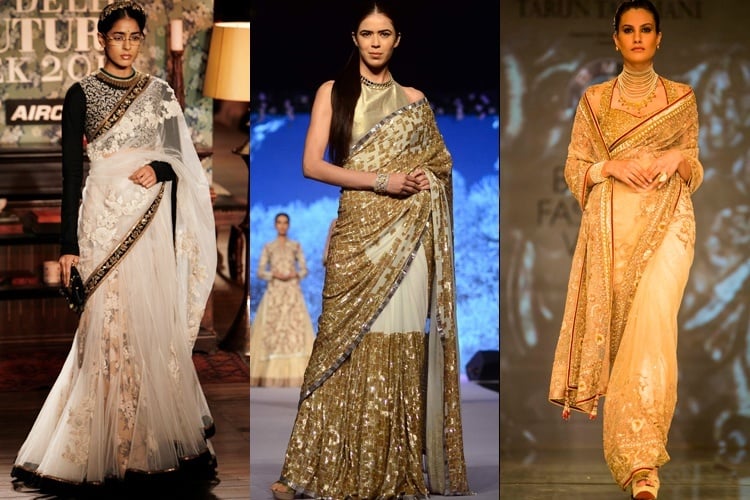 Ever since Lakme Fashion Week got over, we have been wondering about all the designer clothes that we saw and how beautifully they were made. Most of the designers followed a particular theme around Varanasi Weaves and we fell in love with their collection.
While designers like Monisha Jaisingh and Manish Malhotra displayed a fusion of indo western clothes, there were few designers who gave us gorgeous desi wear! Currently, the fashion market is oozing with lehengas.
[Also Read: Designer Sarees For Karva Chauth]
But if there is one thing that has never gone out of fashion, it is sarees.
Yes. As long as I can remember, I grew up watching women clad in sarees. My mum, my grandma, my teachers and even doctors! That is the hold this 6 yards of fabric has over Indian women!
But over the past few years, the traditional sarees have gone and they have given way to designer saree's. We would now like to call these Indian designer sarees. Yes, of course our closets are still filled with luscious silk and pochampalli sarees (Hey! We are from south and having these materials in our wardrobe is imperative!)
But then again, you guys! The feel of a Satya Paul georgette saree is just out of this world! An elegant yet skimpy blouse, adorned with a strand of pearls, a box clutch, pop of red on your lips, and you are good to go!
And then there are traditional saree's worn by Vidya Balan. God! We just love that woman for modernising sarees and bringing them back in a sexy way!
There is so much about designer saree's that meets the eye, you know? There is a lot of hard work that goes into every single piece. Designing a saree isn't an easy-peasy job. Especially when it is embellished to look fabulous and which in-turn makes you look beautiful.
We have seen the most exquisite and beautiful Indian designer sarees on our desi actresses and we have fallen in love with them, every single time. Like literally. Remember that time when Karisma Kapoor wore a beautiful white saree for Filmfare awards?
Or that time when Kareena Kapoor made her first appearance as Mrs. Khan in a red Manish Malhotra saree?
Or when Deepika Padukone wore that gorgeous Sabyasachi Mukherjee saree?
[Also read: Anju Modi Collection]
There is something about Fashion designer saree's that melts our hearts!
#Sigh! We love it when we watch our favourite celebrities get dressed so well!
But here's the thing – Celebrities might have an innate sense of fashion or the might have an entourage of people who'll (who'd) help them getting dressed, but the real credit goes to designers who put in their heart and soul into each piece of clothing.
When it comes to designer saree's everyone has a set of basic questions. Here they are
What are designer sarees?
What makes designer sarees unique?
How do you know it's a designer saree?
What makes Indian designer saress so expensive?
What types of materials are used when they make designer sarees?
Well, we will try to answer your questions in a short paragraph below!
[Also Read: Blouse Designs Catalogue]
How Are Designer Sarees Made?
The designer first imagines a rough draft of the saree, then he/she puts it on paper, then they give life to it by colouring it.
Now, once the sketch is ready, this said sketch goes to karigar's who try to weave the designer's designs. Once this gets done the material that has been worked on to and weaved it, goes to masterji who tries to stitch it and get the pieces together. Sounds tiring right? But just imagine the hard work that goes into every single designer saree! We think designing saree's is all about paying attention to detail.
Besides, there are times when things don't function smoothly and when the raw materials get passed to and fro between the karigar, the masterji and the designer.
Well, let's just suffice to say that designing saree's is not a cake walk and it is for this precise reason that Indian designer sarees are well, expensive.
Besides the common process, there are a lot of other things that come to play when it comes to designing sarees. What material to use, what handwork to use, matching the colour palette, making it look different – so that people from all walks of life can wear them – and finally catering to the needs of their building audience.
Of course, there are other things that a designer considers while creating their new line, but the above mentioned are the most crucial.
In today's cutthroat world, where the competition is increasing, designers have to make sure that their designs are special, exquisite, fresh and in demand. While most of the designers stay afloat with their collections, few of them sail.
Now that we have covered all the basic stuff, we would like to talk about the 'obvious' stuff. Coming to the most obvious question, how expensive are designer saree's? Or what is their approximate cost? Well, to be very technical and literal, the cost depends on numerous factors. One of them could be the designer himself, or the amount of work that the saree has or even the weight of the saree.
The Most Expensive Saree
The approximate cost of Indian designer sarees ranges from thousands and can even go into lakhs – something which is petty cash for a certain sector of the society. While we are talking about the high society and how that community spends a ludicrous amount of money of designer wear, let's talk about the most expensive saree to be ever designed or worn by a celebrity, shall we?
Well, the most expensive designer wedding saree is priced at Rs. 39,31,627! Yep, I can't even say that out in words. But judging by the commas in the numeric, the saree is VERY expensive. It has been designed by the founder of Chennai Silks and is a rare piece.
Here's a picture for you to check it out!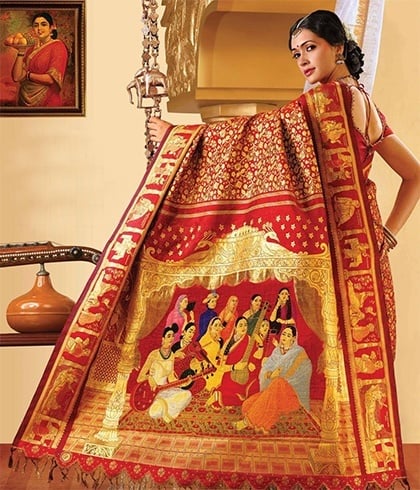 A little more detail about the bright red and golden designer wedding saree – it has embellished work that is made out of gold and silver threads. That's not it! The saree also has diamonds encrusted which amount to a total of 3 carats! WOW, right? If you'd like, you can read more about it here.
Now, who wore the most expensive saree? Nita Ambani of course! Her designer wedding saree costed a whooping amount of 40 lakhs!! Her saree, as well was designed by the founder of Chennai Silks.
Here's a picture!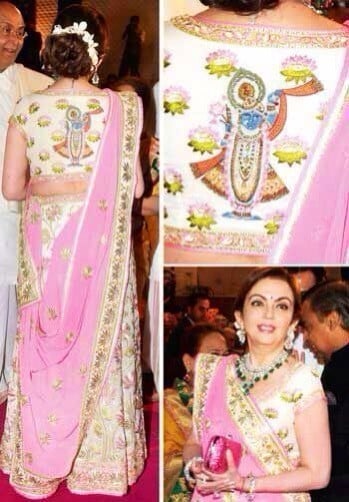 Well, few people may like silk, few people may not. So in that case, here are the designers you need to keep an eye open for! Here you will find all the information about latest designer sarees and the ultimate designer sarees collection.
Here are their names (in no particular order)
1. Sabyasachi Mukherjee
Sabyasach Mukherjee is one man who made me fall in love with sarees! Looking at Vidya Balan draped in those gorgeous nine yards made me lust, drool and dream! Wearing a saree designed by maestro is every girl's dream come true! The thing about Sabyasachi Mukherjee and his saree's is that they have a traditional touch and have a flair for a drama. They give you the much desired regal and royal look with heavy embroidery borders infused with dark and light colour palette. Who wouldn't love Sabyasachi's designer sarees collection!
[Also Read: Sabyasachi Mukhrjee – The Fashion Wizard]
Here are pictures of saree's that we have come to love!
Here are some more Sabyasachi Designer Sarees for you: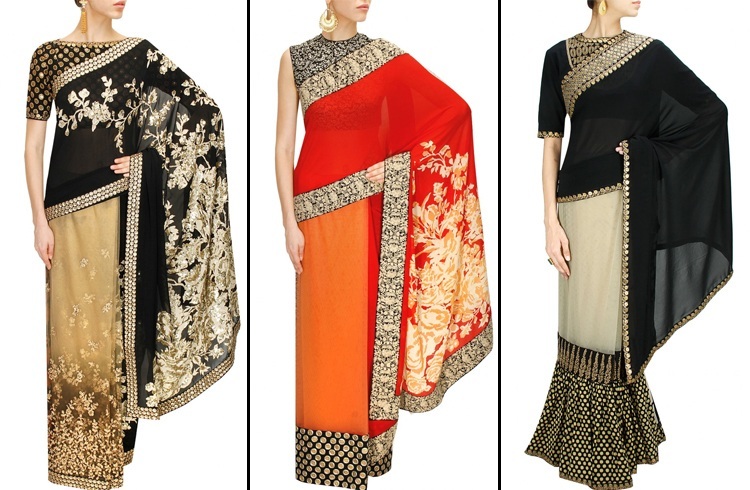 2. Manish Malhotra
If Sabyasachi Mukerjee's designer sarees have a traditional touch, then Manish Malhotra's designer sarees are more fun and fantastic. They are mostly made of light weight cloth and are not heavily embellished (unless you specifically opt for one) which makes them easy to manage. Manish Malhotra plays with very vibrant and popping colour palette which has colours that remind you of a bright sunny day! The main idea behind Manish's sarees is that they make you feel sexy and young. Bright coloured with sequined border and a sexy-to-die-for blouse is what his creation is all about!
[Also Read: Manish Malhotra at ICW 2015]
Need an example?
Here are some more Manish Malhotra Designer Sarees for you:
3. Abu Jani and Sandeep Khosla
Abu Jani and Sandeep Khosla are designers who aren't afraid to play with the colour white and it's 50 shades. You'll find that most of their collection revolves around sarees which are rather simple (only at first glance) and have shades if white like – half white, off white, ivory, powder pink and so on. Their work style includes lots and lots of chickankaari with silver kaamdani. This is heaven for anyone who can appreciate good art! But this doesn't mean that they don't play with colours. Although Abu Jani and Sandeep Khosla have a niche for anything white and light, they have, many a time ventured in areas of bright shades. Abu Jani and Sandeep Khosla's designer sarees collection is worth dying for!
Let's explain with an example, shall we?
Here are some more Abu Jani and Sandeep Khosla Designer Sarees for you:
4. Tarun Tahiliani
Talk about master designers and miss Tarun Tahiliani out? Impossible! Well, let's just say that Tarun Tahiliani's fashion designer sarees are more on the off-beat and unconventional side than anything else. He likes to play with designs and isn't shy of making bold statements. There isn't a favourite colour in his palette but there definitely is a favourite muse. Any guesses? Well, Shilpa Shetty of course! If there was anyone who got sexy back, then perhaps it was Tarun!
[Also Read: Tarun Tahiliani at Indian Bridal Fashion Week]
Here are some more Tarun Tahiliani Designer Sarees for you:
5. Satya Paul
To be very honest, Satya Paul's fashion designer sarees don't need any introduction. They are a brand in their own and they have a very unique fan following. If you have ever owned one, you can swear by the quality of the saree and how it makes you feel. The soft feel of satin against your skin is totally worth the price that you'd be paying. Apart from all these, Satya Paul designer sarees are famous for their unique prints, abstract designs and indulgence of sequins.
You just need to have one Satya Paul saree in your wardrobe!
Did you know? Gauri Khan partnered with him and launched a collection of her own?
That's how good he is!
Here are some Satya Paul Designer Sarees for you: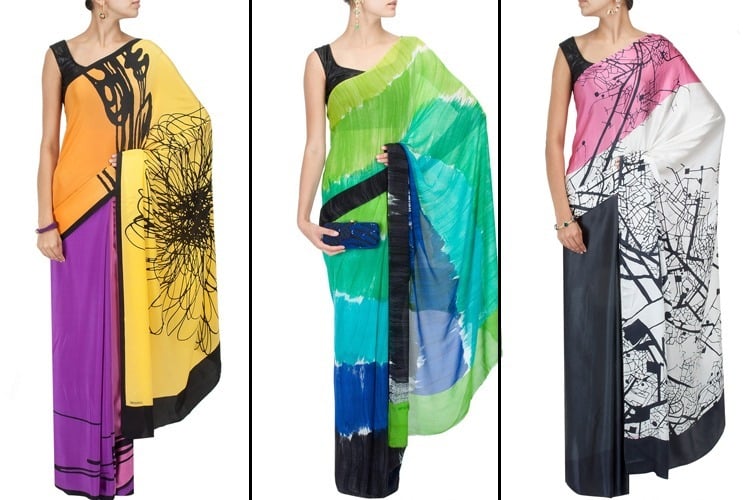 6. Payal Singhal
If you are a fan of fancy, quirky, out of the box inventions, then Payal Singhal sarees will do the trick for you. Did you guys like what she presented at the Lakme Fashion Week winter/Festive 2016? Or what Madhuri Dixit wore the other day?
Here are some more Payal Singhal Designer Sarees for you: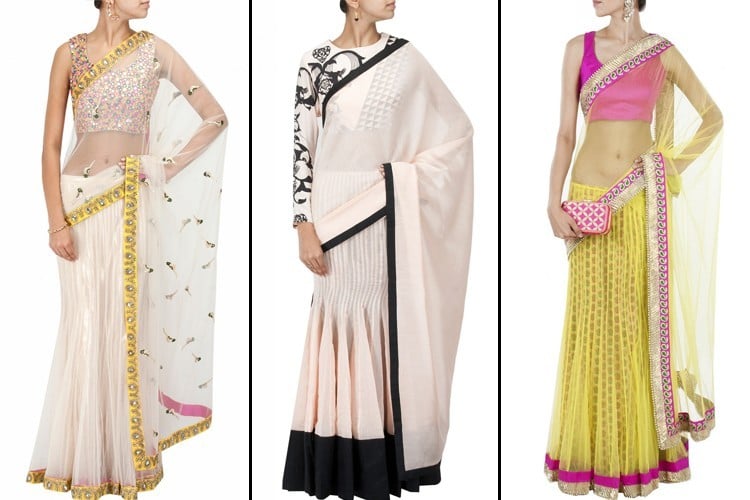 [sc:mediad]
7. Ritu Kumar
If you'd like to channel your inner Rajmata and would like to feel like an absolute princess for one evening, then you must own at least one saree by Ritu Kumar. Rich, deep, filled with tradition and culture and opulent are the words I would take to describe Ritu Kumar's sarees. If you like to look royal, then Ritu Kumar should be the label you should sign up for!
Hand weaved, hand crafted and absolutely beautiful!
Take a look
Here are some more Ritu Kumar Designer Sarees for you: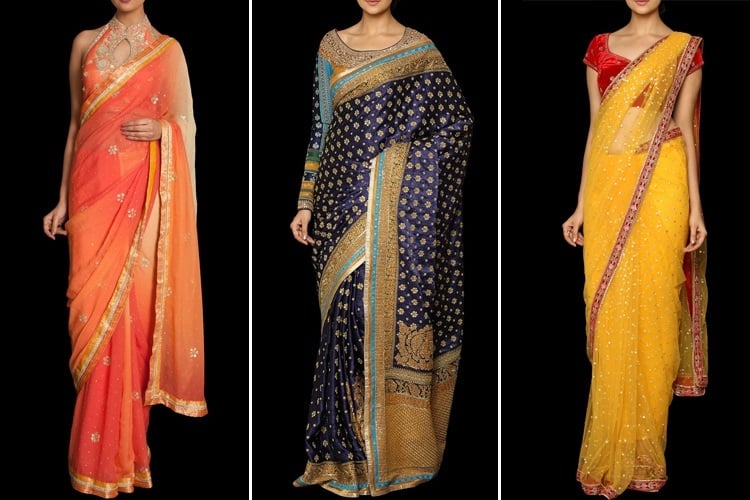 8. Gaurav Gupta
If you want unique designs that will set you apart from the rest, then you must turn to Kareena Kapoor's favourite fashion designer – Gaurav Gupta. His designs are unique and his sarees are not just items of clothing but pieces of art – exemplary!
He gets you the fusion of indo-western look and more often than not his saree's have something different. That being said, his buttery pallu is the most exquisite part of his fashion designer sarees collection.
Here are some more Gaurav Gupta Designer Sarees for you: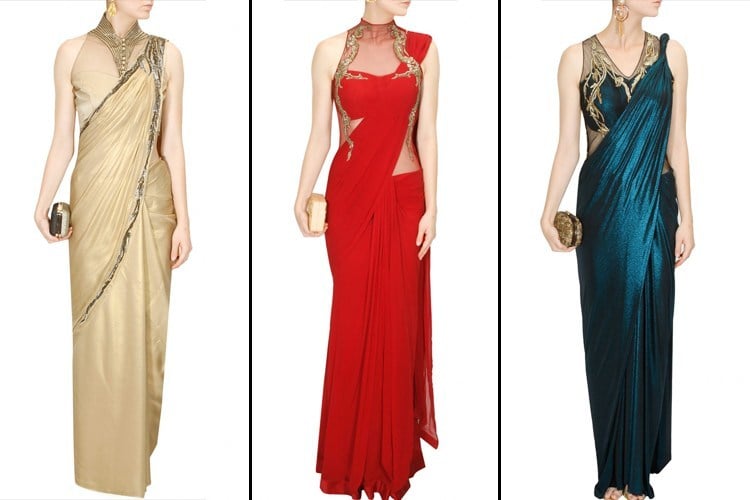 9. Urvashi Kaur
While we have spoken about all the different types of sarees and all the unique designs that the designers have to offer, we have not spoken about any brand that offers a unique blend of latest designer sarees with contemporary touch!
Urvashi Kaur takes your everyday material and turns it into something very chic and contemporary!
Take a look!
10. Masaba Gupta
Well, Masaba Gupta really needs no introduction, does she? Her work does the talking and to be honest, we feel that everyone needs to have one Masaba Gupta latest deigner saree in their wardrobe. Just like they need a Satya Paul saree!
Here are some latest trendy designer sarees:
Well, so this was us showing you our favourite Indian Fashion designers whose designer sarees we absolutely love. If you want us to add more designers to our list, let us know.