High neckline is the only thing everyone is going crazy over. Isn't that strange? We have gushed over the plunging necklines that speak oodles of sexuality, but here is an exactly opposite neckline, which has almost taken over the deep plunges. Yes, you can never say what will be the next hot trend in the fashion scene. High necklines are sexy and chic and still conservative enough to be safely worn to any venue and occasion.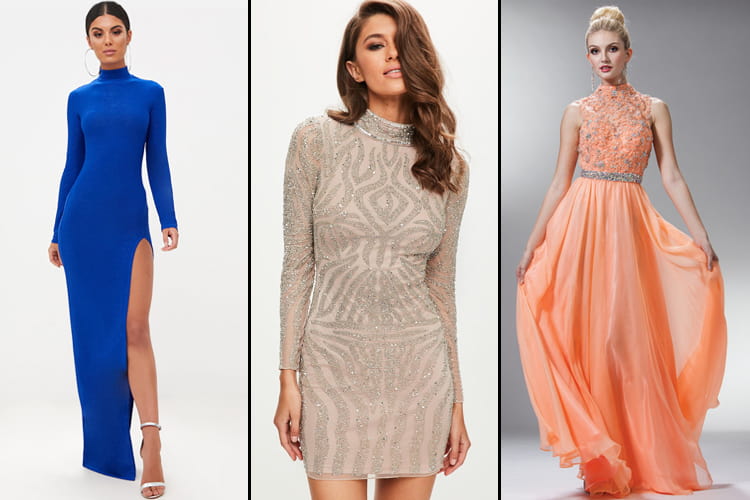 We all have that little black dress in our wardrobe. But this season, I am planning to switch it up a little and get myself a black high neck dress to stay on top of the fashion game. They have been around forever but only now have they risen to the status of a must-have and we can totally get why!!!
High Neck Bodycon Dress For Every Purpose:
1. The Plain Jane Dress:
For those new to the whole concept of high neck dresses, let's begin with this sexy midi dress in bottle green. The number checks all the boxes one might consider while picking a dream dress – it is understated, yet very stylish. The bodycon dress highlights the perfect highs and lows of your body. You can easily wear a dress like this to a family dinner, a celebration or even to work if you round it up with a formal jacket. A dress like this one can be worn with nude gladiators or black pumps. A steel handcuff will be a fine accessory.
2. Sequined High Neck Dress:
For a more festive feeling, this silver dress with its fine sequin embellishment proves to be a dream pick. The high neck is complemented with full sleeves but the short length saves it from being too conservative. The model has certainly made a wise decision of completing the look with matching strappy heels. You too can wear a dress like with nude makeup and beachy waves.
3. Crochet Dress:
If you thought things are going to get a little boring with high necks as we have grown up associating high necks with sweaters only, you are in for a pleasant surprise. The dress shown below is a fine manifestation of wearing the high neck in a sexy way. Crochets are an all-time favorite of the fashionista in us. We love to play a little peek-a-boo through them and the law stands true in cases of these dresses also. If I had to wear this dress, I would wear my hair in a high pony and add a rich dash of pink on my lips.
4. High Neck Long Dress:
High neck long dresses are gradually getting its fair share of attention. We have seen many Hollywood celebrities embrace the attire in recent red carpet events and it only takes a minute of gaze to ascertain why it is becoming the go-to dress for everyone. Now we all love to get ourselves some lace, don't we? How about this magenta lace dress featuring a high collar and a button up bodice? With its poufy sleeves, it exudes some regal old-world Hollywood charm. Certainly a "must have" for our wardrobe. A number like this one can be complemented by dark wine or plum lip color and gold accessories.
[sc:mediad]
5. High Neck Dress With Long Sleeve And Slits:
When you opt for a high neck dress you completely cut out the sexy skin show on bodice area. But that doesn't mean that you have to do away with 'sexy' altogether. The royal blue dress is the perfect example of a sensuous high neck dress. With the full-length sleeves and turtleneck upper half, the designer saved the sexy of this dress from the skirt area. The blue number, with all that drama going on that, would work like magic on a leggy lass. Full marks to the model for rounding up the look with large hoops and silver barely-there strappy heels.
6. Floral Dress Can Be High Neck Too:
Yes, we all have a love for florals, and there is perhaps no way one can go wrong in florals. The high neck dress below or any similar one will be the cutest thing in your wardrobe if you have one. The three-quarter sleeve goes well with the mood set by the high neck, and I am totally loving the ruffle detailing at the thigh area. If I were to don this one, I would totally arrange my hair is a messy top knot. Nude makeup and some peachy lip gloss would be enough to complete the outfit of the day.
7. High Neck Wedding Gown:
For the past couple of weeks, we have all gone gaga over Meghan Markel's wedding gown and makeup. And we are sure many of you have finalized a replica of it for your wedding. Just in case you are yet to pay the advance, I suggest, have a quick look at the high neck wedding gowns, like the one here, and give these a shot. A high neck wedding gown, with an adorned neckline, would free you from the added journey of finding that perfect necklace that would go with your gown. A pair of dangling earrings would complete the job.
8. Prom In High Neck:
High neck numbers could also make for amazing prom dresses. Whether you opt for tons of tulle to form a flared skirt or just a satin trail, a beautiful princess dress would look great on any teen eyeing that "Prom Queen" crown. You might not want to go too risqué for a school function so plunging necklines are off the list. We say bring in some high neck swagger. Anything is a pastel shade would look great if adorned with heavy embellishment at the bodice. For this special evening, you may opt for chandelier earrings and a classic bun. The make-up would look good if kept understated.
[Also Read: Prom Dresses Trend 2018]
9. High Neck Sweater Dresses:
Going back to the basics is not always a bad option. These turtleneck sweater dresses only reinstate our vision. This grey sweat-dress can be teamed up with some comfy warm leggings, in black or white and make for the perfect ensemble of a chilly winter morning. You can accessorize this outfit with some colorful beaded jewelry. I would pick a pair of sneakers or converse with them. A cute beanie would complete the look.
10. High Necks And Denims:
There is absolutely no style or fashion that a good denim cannot be crafted into. We all have that body-hugging pair of jeans and a trendy jacket that we can always fall back on when in a fix. But this denim dress looks fine too. Maybe the jeans can chill for a while and the next time you want to reach for denims, pick a dress like this. The midi length and the three-quarter sleeves go perfectly with the mood of the dress. Colorful heels could complement the look well.
This trend has moved renowned labels to create new high neck dress designs and even your regular store will have a rich variety of high neck dress patterns for you to choose from. Just a matter of time before you reach for your pick. Let us know your favorite in the comments box!