Good news for those pretty lasses reading this piece. Particularly those who don't want to tuck in and drape sarees the traditional way. Neither want to be clad in six yards in a conservative fashion. Hurray! There are saree gown designs waiting for you – the new twist in traditional Indian wardrobe.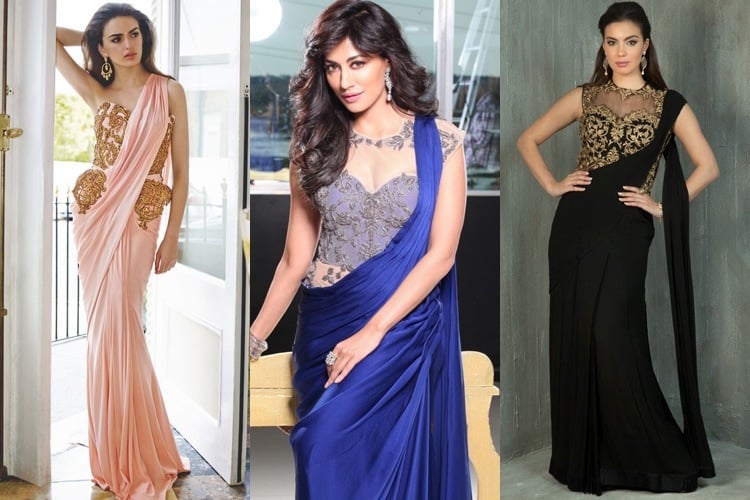 [Also Read: Bandhej Saree Designs That Surely Would Rock Spring 2016]
Beautiful Saree Gown Designs
Beautiful Saree Gown Designs are the complete no-hassle outfit that would stay in its place, never mind if you happen to step over the saree tucks and pleats. All in all, saree gown is tradition and modernity rolled into one. Makes sense, agree?
Whoever brought in this novel concept in India? Without a doubt, it has to be Shilpa Shetty Kundra who wore a golden saree gown at her wedding reception.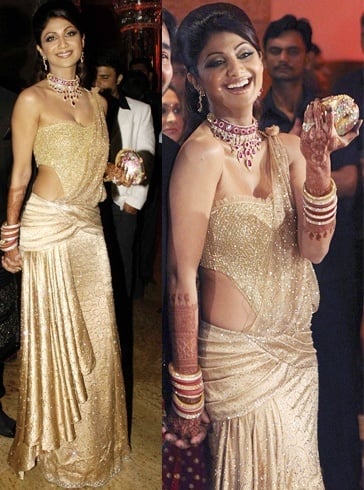 Bollywood being Bollywood, other actresses followed suit. Which is why, tinsel town actresses emulated this fashion trend like nobody's business. If there is Deepika in saree gown, there is Kareena Kapoor in saree gown also. How can one miss out the Cannes-cum-Prem Ratan Dhan Payo heartthrob Sonam Kapoor in saree gown?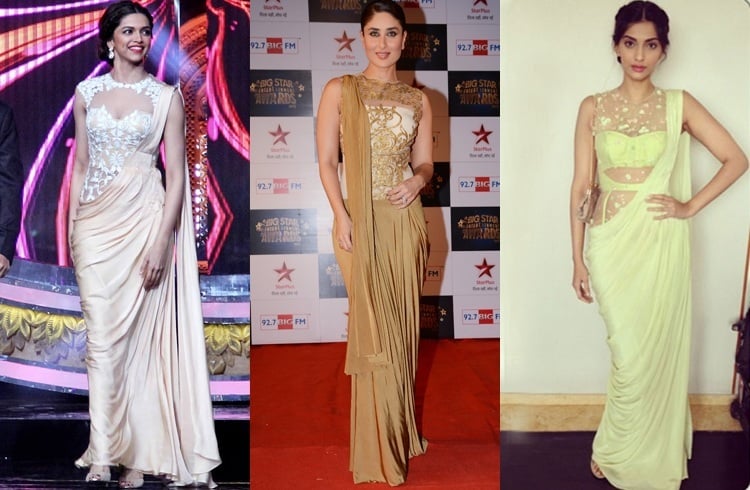 Or for that matter the tennis sensation Sania Mirza who was a rage in the blue gown as she walked for Shantanu & Nikhil at Blenders Pride Fashion Week 2012 in Mumbai.
[Also Read: Concert Outfits]
On the international celeb front, Paris Hilton made news in year 2012 when she came over to India to launch her handbag store. She wore a neon pink saree style gown with pallu style sleeve. Yet another example of saree gown was the one worn by Hollywood celeb Hayden Panettiere at one of the events hosted in 2012.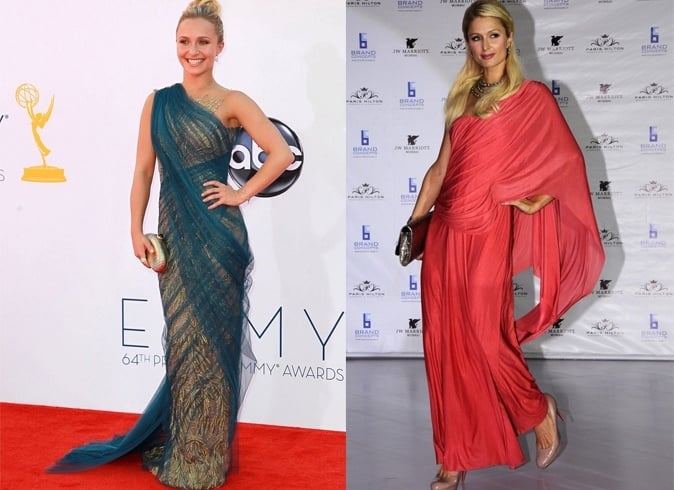 [sc:mediad]
Popularity Of Saree Gown
If you are a social bird, there is no point being seen in the traditional and boring cuts and shades.
Saree Gown fills the gap tremendously. It is a truly westernised saree which is silhouetted in the form of gown. Hence it gives modern vibes that can be equaled to a cocktail outfit. This makes it popular among the Page 3 celebs and social wannabees.
If you see it closely, a saree gown is a long gown that has a lap on the left shoulder. Foot length gowns they are which are carried as a fish tail saree. Actually the saree gowns are styled in such a way that they come with a pallu hanging loose from the shoulders.
The saree gown designs are available in several shapes, sizes and a plethora of colours and patterns. There are sheer pastels to hues of pink, red, orange and blacks to make your saree gown shopping experience rich and enticing. As for the saree gown designs, it starts from something simple and goes on to detailed embroidery work.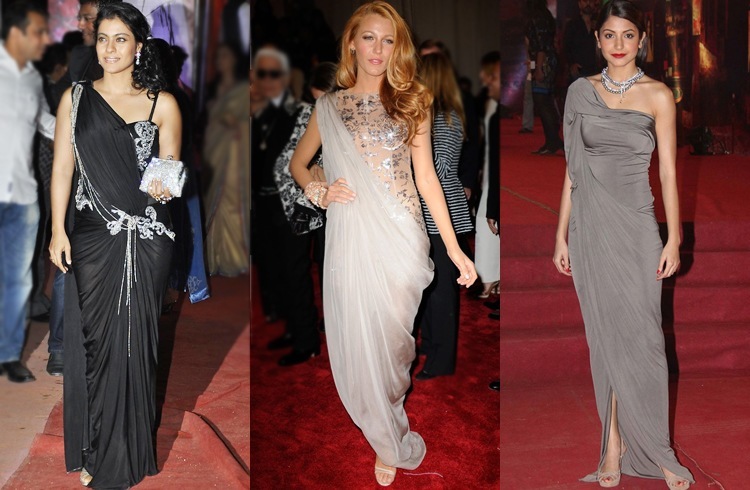 Saree Gowns From The Fashion Designers
Indian couturiers have left no stone unturned in making Beautiful Saree Gown Designs. Whether it is a ramp or social gathering, this fabulous fusion wear can vary from a satin wrapped dress to intricately embroidered with sequin work.
[Also Read: Tips And Tricks On How To Style Black Saree]
'East meets West" beautifully sums up the saree gowns designed by fashion brains Varun Bahl, Gaurav Gupta to Malini Ramani. All have created Beautiful Saree Gown Designs that portray glamour on a contemporary canvas with western silhouettes.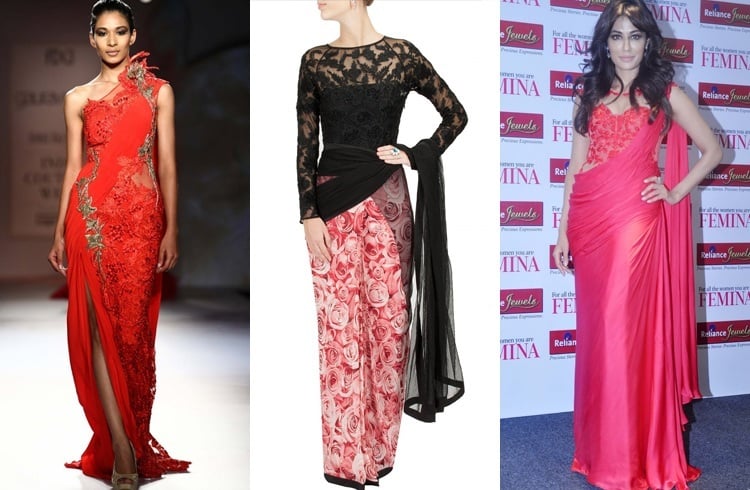 Styles In Which Saree Gown Can Be Worn
Extremely dressy and elegant, saree gown is a sartorial invention made with the saree. Here are a few styles on how to make saree gown.
1. With Bodice Blouses
A bodice blouse gives a complementary look with a saree gown, with gorgeous work done on it.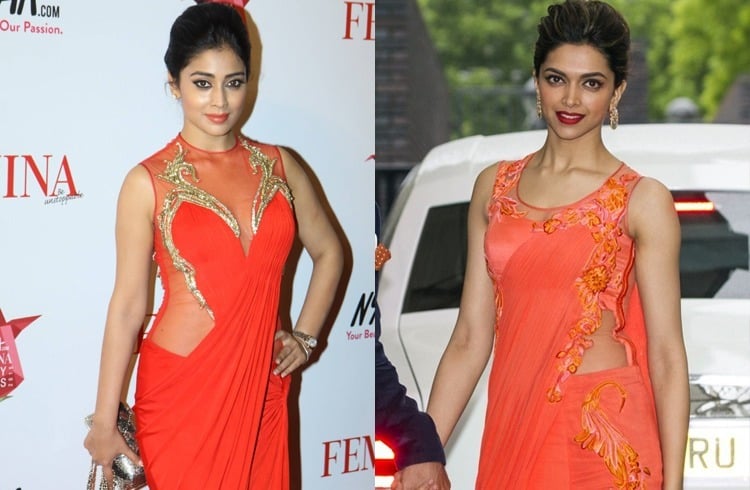 2. With Regular Blouses
A saree gown can be worn with a regular blouse too. It looks quite the same as an ordinary saree, the only difference is that it looks pre-pleated.
3. With Cape
Add a cape to your exquisite looking saree gown and see how gorgeous you look. The cape is generally made of lace, beads and metal chains.
[Also Read: How To Design A Plain Saree At Home]
Here are some more saree gown designs for you to get inspired from.
1. Drive away your blues with this simple yet stunning saree gown.
2. A dark green gown style saree with lace will ensure that all eyes are on you.
3. A designer saree gown by Gaurav Gupta shows that all that glitters is not gold!
4. Chuck the lehenga and opt for a one of a kind saree gown dress for your reception party.
5. If not your reception then you can try wearing a saree wedding gown as well and set new trends.
6. Another exquisite Gaurav Gupta creation, this saree gown has to be on your wish list.
7. Love everything blingy? Then a metallic saree gown dress has to be part of your wardrobe.
8. Don't want to steal your bestie's thunder at her wedding but still want to stand out? Try this cream silk embroidered saree gown.
9. The fashion ramps are our number one source of inspiration and this orange and golden designer saree gown was definitely hard to miss!
10. A combination of purple and gold always works well be it on a saree gown or any other ensemble.
11. Light up your diwali with this navy blue designer saree gown with sequin work and zari embellishments.
12. It's time to upgrade your basic black ensemble with this saree gown design.
13. Here is fun saree gown that you can sport at a sangeet party. The floral work and slight ruffles at the end just add to the charm of your outfit.
14. Lace lovers!!!! Who wouldn't want to grab their hands on this lace style saree gown dress?
15. If being simple yet stunning is your forte, then this gown style saree is right up your alley.
Is your best friend's wedding coming up? Or is there a social invitation to be attended? Go ahead and make the right noise and impression with Beautiful Saree Gown Designs. Let us know when you are planning to include the saree gown in your wardrobe.