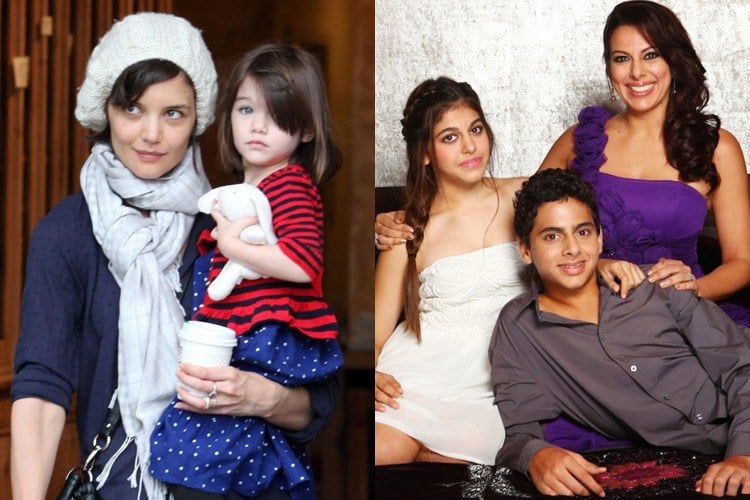 Moms are moms. However being a single mom needs a lot of guts and skill to be able to manage things single-handedly.
Call it a trend or new found social status, but the phenomenon of single mothers and famous single mothers is fast catching up. The rate of celebrity single parents and celebrity single moms is something to watch out for. In fact you will find lots of Hollywood single mothers and Bollywood single mothers who are cool about being tagged as single mom.
[Also Read: Fashionably Fit Bollywood's Moms]
Celebrity Single Moms
Let us find out more about famous celebrity single moms spanning A-list actresses to chart-buster pop stars who are happily enjoying single motherhood. It's a lesson to learn for many single girls.
Madonna
The Queen of Pop Madonna has led a chaotic life. But she is an icon when it comes to Hollywood single mothers. Though she found it as a struggle in the beginning, but "multi-tasking" is her middle name. Now that Madonna loves being a single mother, her children fill her up in many ways and inspire her.
Kate Winslet
Many know that this 38-year old Titanic star is an Oscar-winner. Little know that having been separated from her director husband Sam Mendes, Kate Winslet not only belongs to the crop of Hollywood single mothers but also to that of famous single moms. Both Kate and Sam called the split "extremely amicable". Winslet not only had a child from Mendes but also one from her previous marriage to Jim Threapleton.
As of today, Kate is a proud mother of a third child from her new husband Ned Rocknroll. This famous single moms has also played a single mom in her new movie Labor Day.
Sandra Bullock
Her marriage to Jesse James didn't deter Sandra from adopting little Louis Bardo in the year 2010. It took this celebrity single moms a good four years of home visits and paperwork to adopt Louis. It's nice to know her motherly skills. Sad to know that Sandra's husband James had cheated on her which led her to file for a divorce. So many trials and tribulations Sandra had gone through that this Hollywood single mothers needs a full salute.
Linda Evangelista
Did you know that Augustin James, the 4-year old boy of Linda Evangelista then was the son born to Salma Hayek's husband François-Henri Pinault. Call it destiny or whatever, but child Augustin was born to Linda when Salma Hayek and her hubbie Pinault were on a break. Such is life!
Katie Couric
Among the breed of famous single mothers, Katie Couric needs a salute. After the death of her husband due to cancer in the year 1998, Katie became a single mother to her daughters Caroline and Elinor.
[Also Read:Bollywood Moms Who Truly Inspire Us]
Katie Holmes
After her six year old marriage to the dashing Tom Cruise, Katie Holmes had a break-up with him. As a result she went from living a life of luxury to leading a simpler life as a single mom. Holmes has been quoted by the entertainment journalist David Caplan as saying that Holmes has emerged as "the people's single mom".
Kristin Davis
It was in October 2011 that Kristin announced her adoption of her baby Gemma Rose which happened without her partner. Needs guts and steel to be able to do that, don't you think so?
Halle Berry
Having been through two rocky marriages can be quite jolting. But Halle Berry put it as past. After all she had her daughter Nahla to look after (who was born out of her marriage to model boyfriend Gabriel Aubrey). As she split with her husband in year 2010, Halle decided to keep things amicable for their daughter.
Denise Richards
She has been labelled as a super mom by international media following her divorce with Charlie Sheen. Naturally as being in her early '40s, Denise is having to look after her cub of five babies born from Sheen.
[sc:mediad]
Sushmita Sen
She is Bollywood's single hottest mom to her adopted daughters Renee and Alisah. She is also the ex-Miss Universe. What does it take to manage her shooting assignments and looking after her daughters. Well Sush is a living example of Bollywood single mothers who have made it big on their own steam.
Amrita Singh
Most of us know Amrita as the first wife of actor Saif Ali Khan. Ever since they parted ways, Amrita has single-handedly raised her children Sara and Ibrahim. She is a true example of Bollywood single mothers who is leading a life undisturbed.
Raveena Tandon
Mast Mast girl Raveena is a kid-lover. Even before she got married to Anil Thadani, Raveena went ahead and adopted two kids Pooja and Chhaya. After her marriage, Raveena gave birth to two children Rasha and Ranbir. This is the story of celebrity single moms.
[Also Read: Celeb Moms who Battled Postpartum Depression]
Pooja Bedi
She is a smart example of celebrity single moms and a source of inspiration for many single mothers. Following her divorce with her husband Farhan Ebrahim, Pooja is raising her two children single-handedly.
Sarika
Way back in the 1980s, Sarika and Kamal Haasan got into a live-in relationship even though Kamal was married to Vani Ganapathy. After Sarika became a proud mom, Kamal got legally divorced from Vani. Destiny had something else in store. Years later both Sarika and Kamal parted ways, and ever since Sarika has brought up her daughter-cum-actress Shruti single-handedly.
Tell us which of the famous single mothers do you love and why.