It's a surprise that the tall beauty, Katrina Kaif didn't make an appearance at both GQ Men of the Year awards and the Vogue Women of the Year awards. Her absence was felt and hence on little peeking, we noted that besides being dedicated to her upcoming film work, she also made an appearance for a festive event.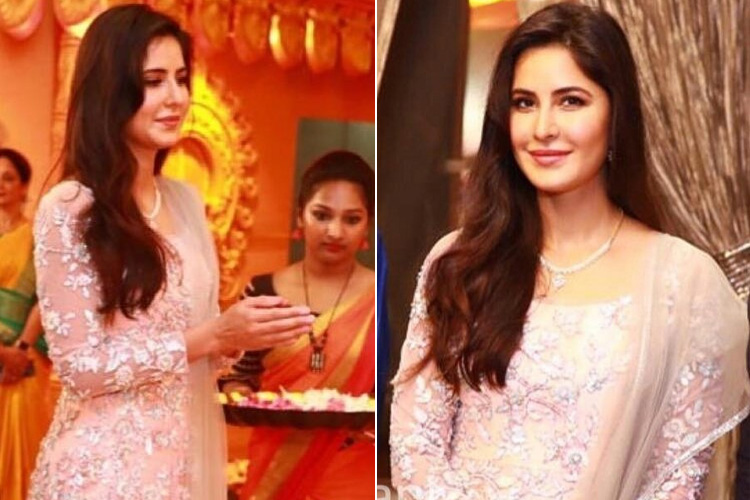 Katrina was spotted attending the Kalyan Jewellers Navratri celebrations looking grand and magnificent in a Manish Malhotra pastel toned Anarkali outfit.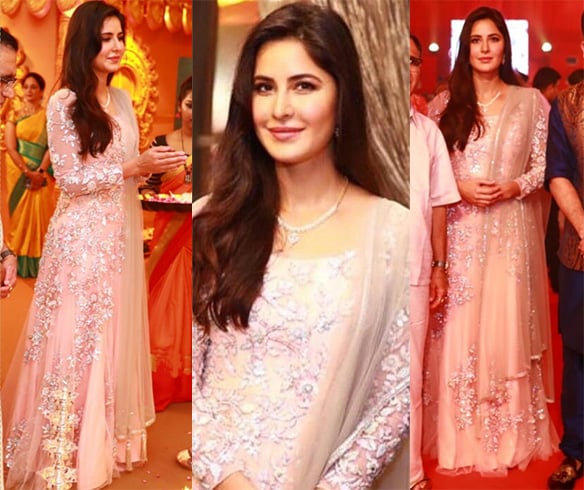 The designer, Manish Malhotra, never ceases to amaze us with his intricate embellishments/ embroidery blended in perfectly with the flowing texture of the fabric.
If you have been an ardent follower of the diva, you would have noted that she doesn't take much liking for heavy jewelry and steers away from loading her look with accessories.
Hence, it was simple baubles from Kalyan Jewellers that sparked up her look. With her signature hairdo and natural looking makeup, she looked royal and beautiful. The only missing piece of the look is a bindi, what do you think?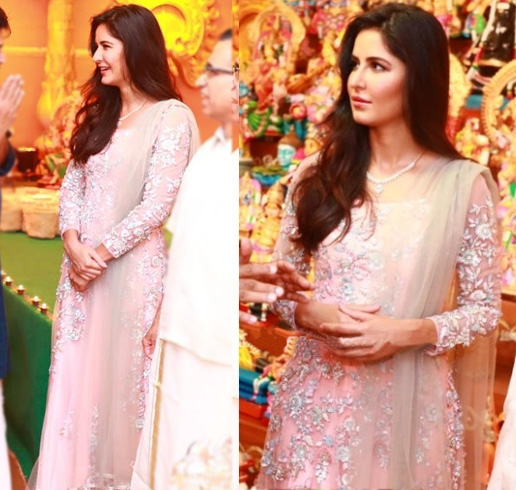 Hope you liked the brand duo!
September 26th, 2017
Author: Sai Bhargavi Chintaluri
---
Katrina Kaif's Diet And Workout Routine To Get Those Envious Abs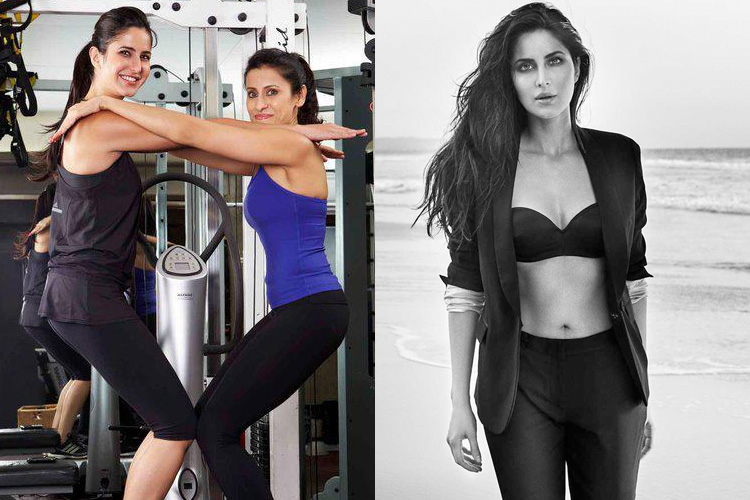 From Chikni Chameli to Kamlee to Kala Chashma. Katrina's abs have been the real showstoppers.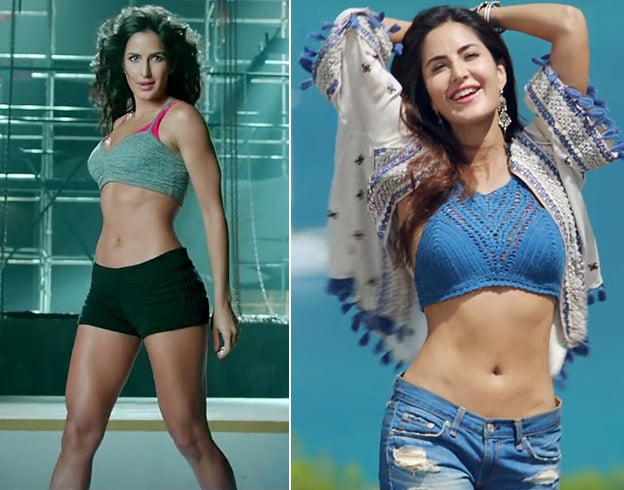 "Abs like Katrina Kaif "is a phrase now, thanks to her steamy on-screen spotting, with a special mention to last year's hottest song, Kala Chashma. We totally love the song, and keep going back to it. But as we start watching the video we tend to lose it somewhere at her waist, and from thereon it becomes all about gazing at those killer abs.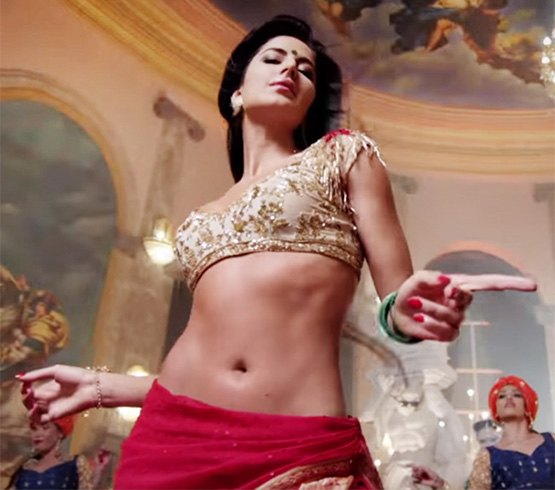 We have to admit we skip a beat every time this tinsel town girl flaunts her envious midriff letting her chiseled waistline and, perfectly toned core do all the talking, as she sways to the beats.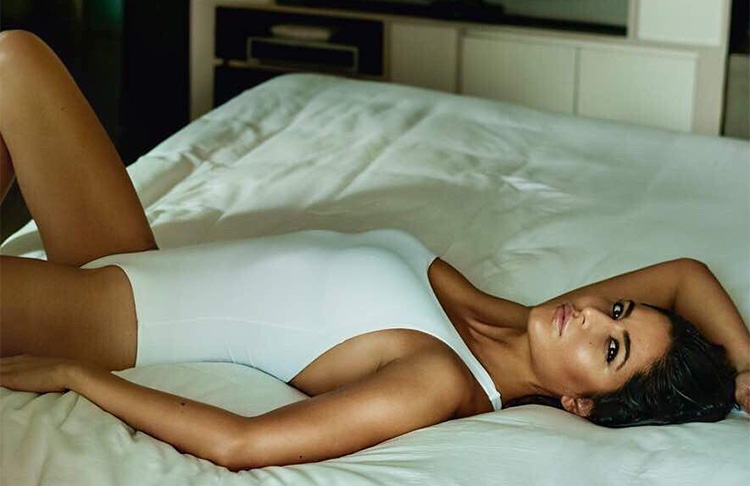 Seeing her nearly perfect frame, we were too tempted to dig into the secrets that rendered the diva such a fabulous body.
Courtesy our exploration, here is a snapshot of Katrina's diet and workout regimen the woman puts herself through to achieve that sexy bod and a midriff that can put most of the tinsel town woman gasping.
If you too are inspired by this B-town beauty's perfect figure, then read on to know all the hard work that goes into getting and most importantly maintaining those killer abs.
The keywords to achieving a framework as good as Katrina, are dedication, regular training and focus.
Katrina's Workout Regimen
Statutory Warning: Do not be misleaded by her sweet smile, because this lady is a machine when she works out.
Katrina works out 7 days a week. Her exceptional fitness levels are attributed to a dedicated workout each and every day and not just for a particular song or role. The woman has her routine built around core goals of improved stamina, flexibility and strength.
[sc:mediad]
Katrina Kaif has been working out under the guidance of Bollywood's favorite trainer, Yasmin Karachiwala who has been training her for as long as 9 years now. At that time Katrina was only into yoga and weights.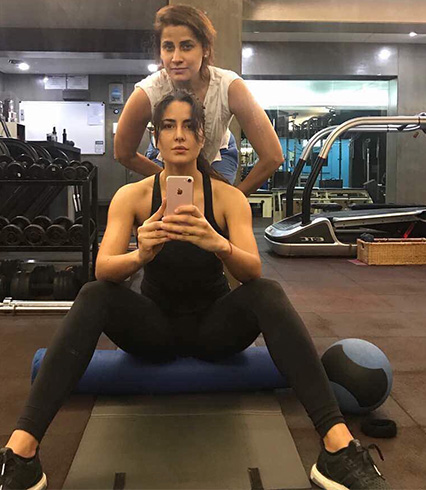 It was Yasmin who introduced the woman to complete fitness regimen that included functional training and Pilates.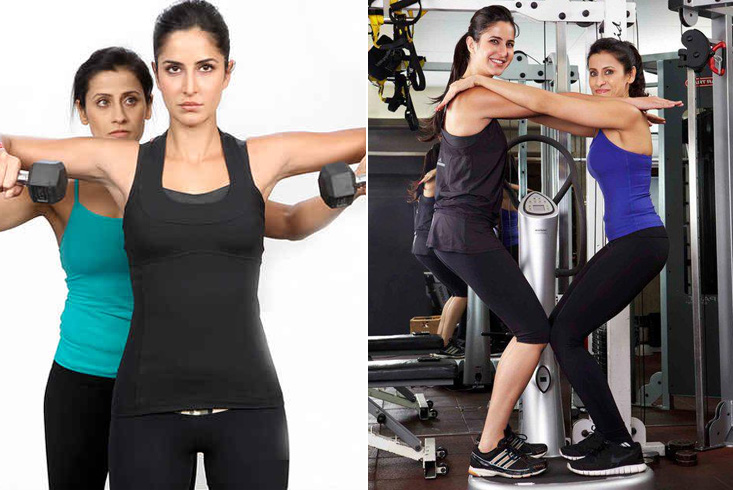 Katrina loves her Pilates and Cardio. Pilates works directly towards strengthening the core.
Miss Kaif spends about 1 to 3 hrs a day in the gym. Her usual workout includes:
Katrina begins her day with a run for warming up herself.
A believer in Yoga, Katrina has been practicing Yoga since ever.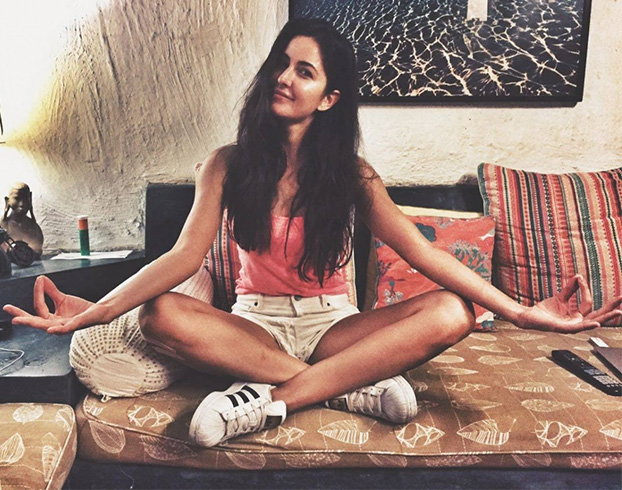 Katrina engages in intense sessions of Pilates to work her core muscles and tone her entire body structure. Katrina advocates for Pilates, as it has helped her train her mind and build coordination and symmetry.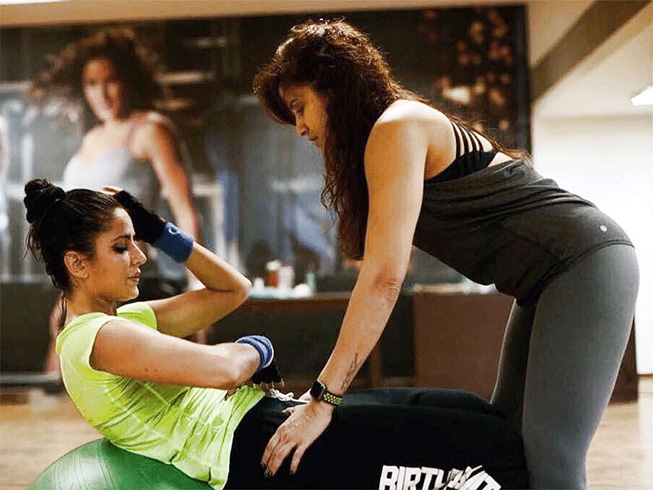 Cardio is an important aspect of her routine workout.
Her gym sessions include various exercises using TRX, Bosu, Powerplate, Kettlebells and Swiss Balls.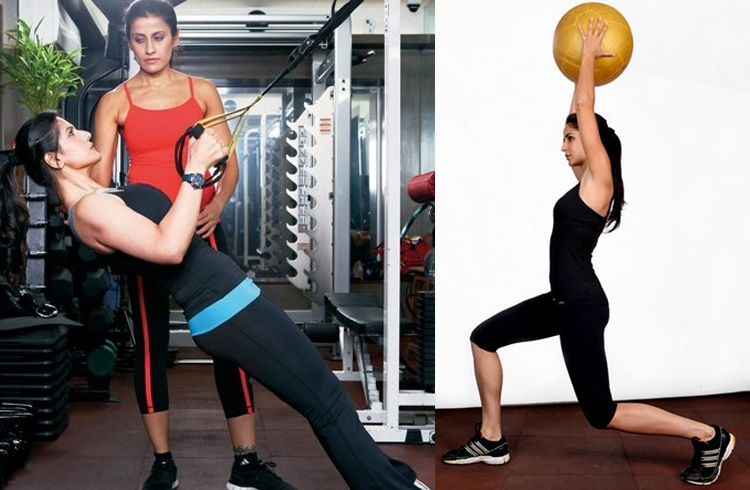 Apart from her workout sessions Katrina prefers to indulge in physical activities like swimming, jogging and one of the best for the abs,cycling.
Now that is some hard work indeed.
Yasmin confesses of Katrina being a really strong girl. As she says, "Katrina is a very strong girl and she doesn't shy away from any kind of challenge. I can plan any workout for her and know she'll successfully complete it."
Katrina Kaif Diet
Katrina is a conscious eater and is very good with her food. Totally cutting out carbs from her meal plan, the woman focusses on feeding her body with the necessary proteins, fibres, complex carbohydrates and healthy fat composites. More energy and nourishment is the end goal of Kat's diet plans.
Her routine day's meal includes :
Breakfast: For her first meal of the day, Katrina places oats on high priority. On a regular basis Katrina Kaif's breakfast plate is made up of oatcakes or cereals and oatmeal.
Mid-day Snack: For her mid-morning hunger pangs, Katrina snacks on seasonal fruits.
Lunch: At lunchtime Katrina consumes a wholesome meal that includes Grilled fish with vegetables. It's no rice at night rule for Kat.
Evening Snack: Katrina Kaif prefers a sandwich for her snack time. However if at the gym she lovingly indulges in fat free snack items served at the gym including healthy cakes and protein crushers.
Dinner: With a high protein and low fat meal including egg whites and soup, Katrina ends her day's food intake.
When it comes to cravings and indulgences, Kat restricts herself from cheating and prefers to eat her heart out only when she has achieved her set goals and is on a deserving break.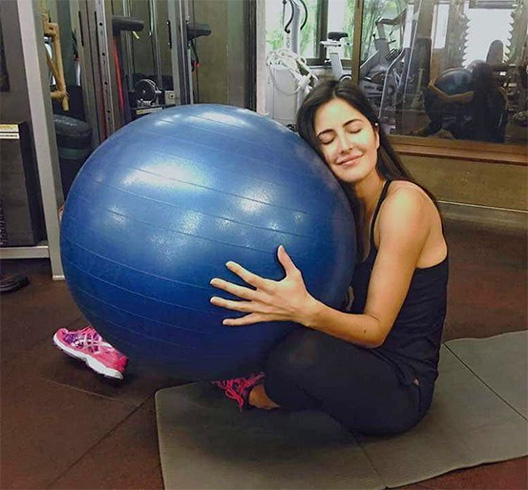 We have to admit Katrina is a tough lady and is too hard on herself while she is out on her mission to achieve an absolutely gorgeous looking figurine. But all's well that ends well and we have all witnessed her perfect curves and killer abs quite a few times.
Take a break Kat! You have definitely earned it.
September 19th, 2017
Author: Sonam Maheshwari
---
Katrina Kaif Nails Yet Another Color-Blocking Theme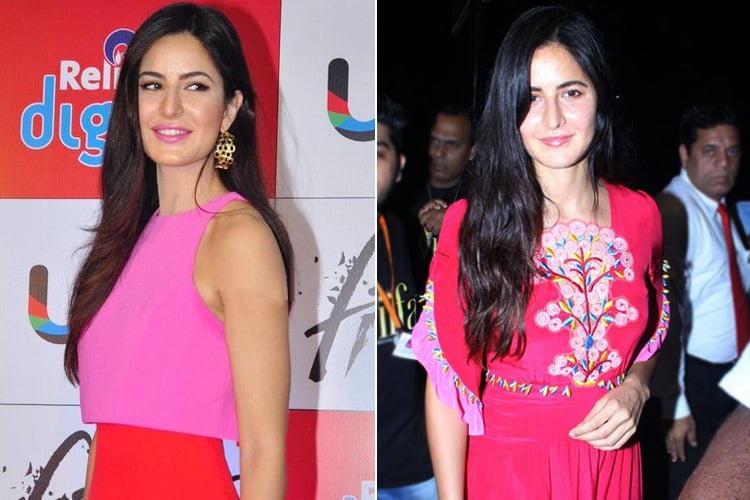 Remember the red and pink color blocking theme played by Katrina Kaif during Fitoor promotions? Yes! Then you will be able to relate this recent style of the diva to the color blocking theme easily.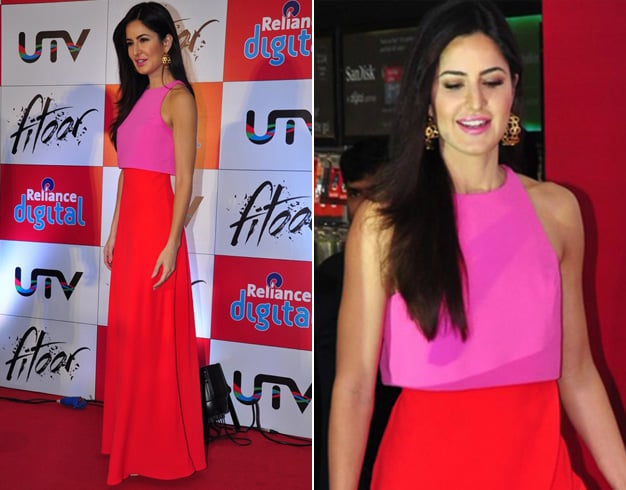 Katrina was spotted at the airport in a maxi color blocking dress by Peter Pilotto. Looks like the diva carried the tri-color dress with utmost grace and panache.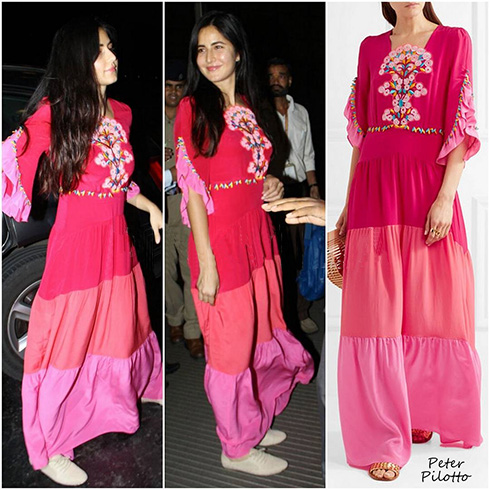 The frilled sleeves, the embroidered bustier sparked up the outfit and the diva too. While we were expecting the diva to add classy heels or tan colored footwear, she sported Chloe white sneakers.
Soft, signature hairdo, glowing makeup, blushing cheeks, and rosy lips rounded her style well. We have fallen yet again in love with the diva's minimalist style. And that's definitely an airport look that caught every shutterbug attention.
Hope you liked this color-blocking as much as her former one.
July 14th, 2017
Author: Sai Bhargavi Chintaluri
---
Katrina Kaif Makes Summer Sweat With Her Sensational Styles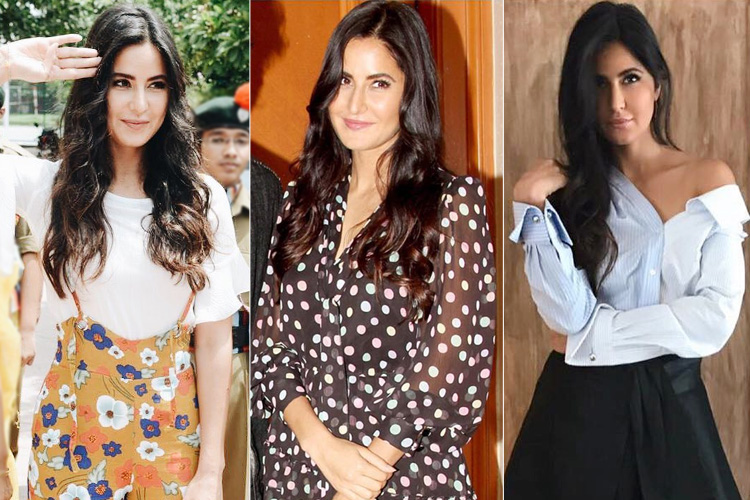 Be it 'Galti Se Mistake', 'Ullu ka Patta' or the step and lock dance of Ranbir Kapoor and Katrina Kaif, Jagga Jasoos film has got our eyes and ears alert. Every song, every dance move, and their adorable chemistry left us longing to see more of the duo.
And hence, we ardently followed the duo to every promotional event and it's amazing how the beautiful lady carries herself beautifully in casual styles making a strong fashion impression. Enjoy the remarkable fashion with us-
Printed Fashion
Katrina Kaif is known for her casual yet captivating styles. She did a cool trendy style at the recent promotional event and we went ga-ga over her. In printed satin pants, powder blue tank top and denim jacket from Lulu & Sky, Kat looked fabulous. Unlike her usual hairdo, she chose to give her soft tresses an extra twist and twirl. Isn't she too hot to handle?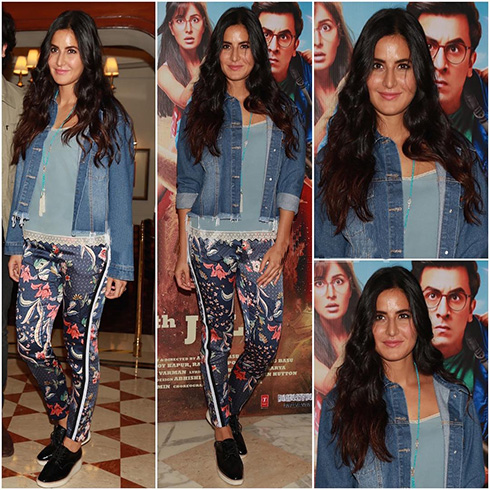 While the former was casual and trendy, she did another style with Lulu & Sky. She picked a summer color, printed outfit from the label and sweetened the aura with her presence. Being Human and Atelier Mon handcrafted jewelry accompanied her style.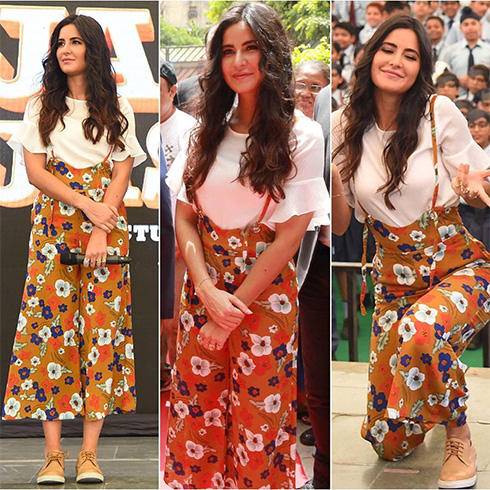 Skirt Style
An asymmetric shirt with one shoulder having a cut-out pattern and the other sliding off the shoulder designed by Monse Maison couldn't have looked more sensuous and appealing on anyone other than Katrina Kaif. She carried it a sensational attitude and we fell in love with her. She paired the off-beat shirt with asymmetric Proenza Schouler skirt in black. Paul Andrew tan heels closed her style.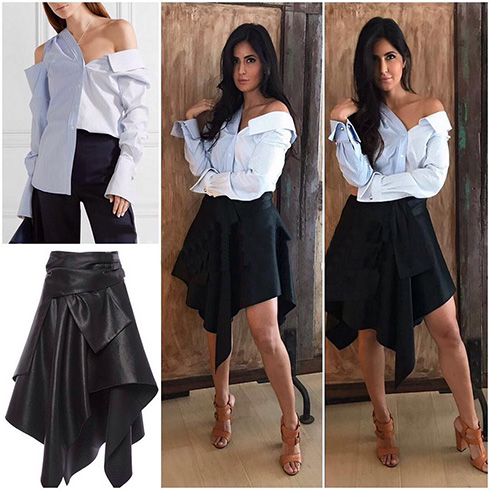 Polka Dots Rage
The polka dots dress from Marc Jacobs looked pretty on Katrina. And we have to admit that it is a doable and totally a rock chic style. Clubbing it with white Aldo shoes, she proved to us her skyrocketing fashion taste.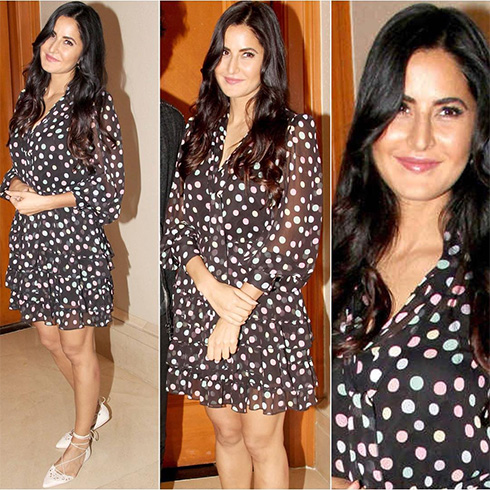 Hope you enjoyed Kat's kick-off styles!
July 11th, 2017
Author: Sai Bhargavi Chintaluri
---
Katrina Kaif's Styles Look Aesthetically Pleasing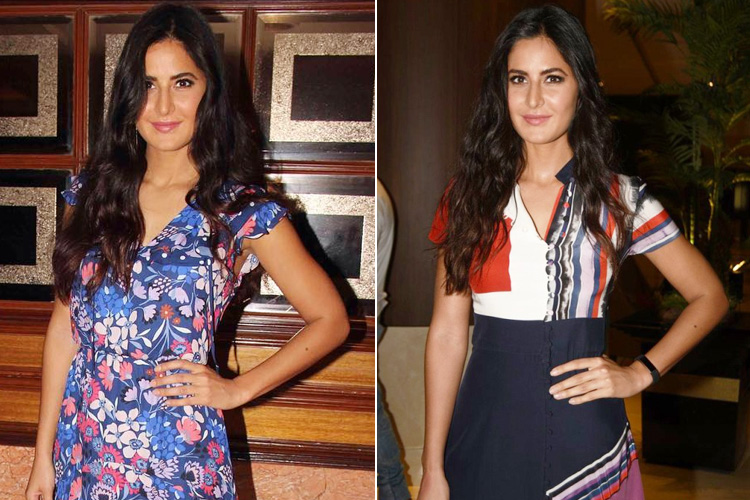 Katrina Kaif besides working out aggressively at the gym is spending ample amount of time promoting her upcoming film, Jagga Jasoos. Like every other celebrity, Katrina has been throwing easy, breezy summer styles while on move and we, known for our adeptness captured every bit of detail for you.
Floral Desire
Florals and summer swing together well and Katrina's latest promotional style was a proof to the fact. She dolled up nice and easy in a blue floral Parker, NY dress. She chose to customize the halter style runway look into a casual sleeved dress. While we were expecting a feminine style with heels, she surprised us with her choice of sneakers. The metallic sneakers with a floral print along the sides by Alberto Torresi gave her summer look a street style vibe. Frizzy hair, gentle pink blushed touch-up closed her avatar.
Blocks Pattern
Katrina ran a nautical theme in Prabal Gurung label for one of the promotional events. The blocks of colors and patterns were designed to add an interesting switch to the style. Going bare minimum with accessories like always, Katrina swept us off our feet with her casual avatar. Sophia Webster white and rainbow color beaded sandals accompanied her look. Natural makeup and frizzy hair rounded her style effortlessly.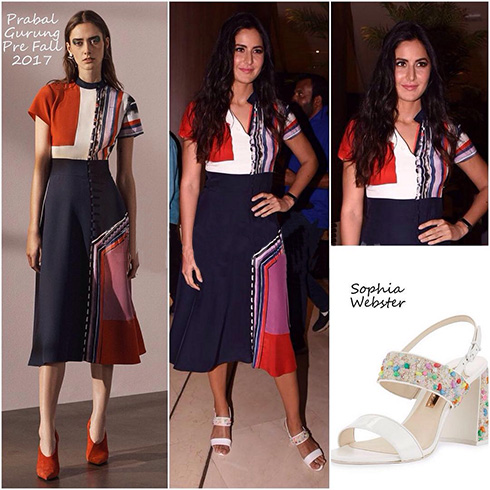 Styled by Tanya Ghavri, Katrina Kaif surely was ahead in the fashion game. Do you agree?
July 6th, 2017
Author: Sai Bhargavi Chintaluri
---
Katrina Kaif Makes Your Heart Flutter With This Summer Styles
Katrina Kaif was spotted recently promoting her upcoming film Jagga Jasoos in a summer style. She picked the Pero floral dress and rolled out a fantastic look.
The floral prints and the shade of the outfit gave all the summer tips needed for the season. Signature style hair with slightly stiff waves and nude sneakers closed her look.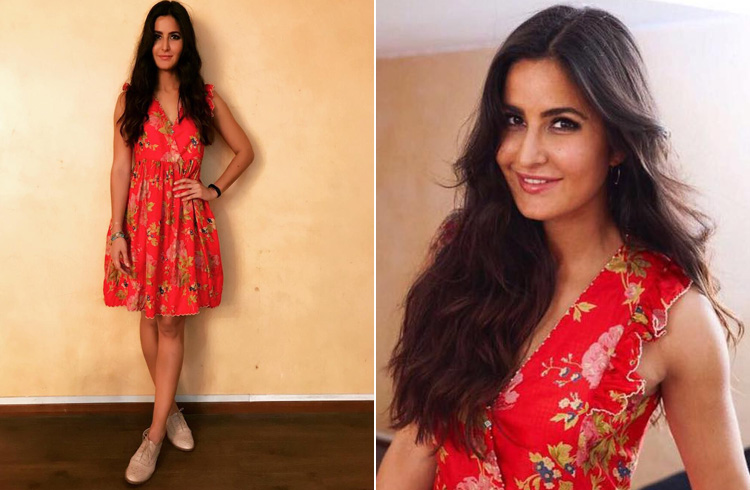 July 2nd, 2017
Author: Sai Bhargavi Chintaluri
---
Katrina Kaif's Cool Blue Style Looks Fresh And Pleasant
On her Jagga Jasoos movie promotional route, Katrina Kaif was spotted sporting a cool denim style. She did a skin-fit J Brand jeans over Rosie Assoulin ruffled, one-shouldered top.
It is highly unlikely of the diva to add jewelry but surprisingly she cared to spark up her look with Baublebar fancy jewelry. Just when we decided to close the style file on white sneakers, Katrina decided to bring it back with Alberto Toressi label.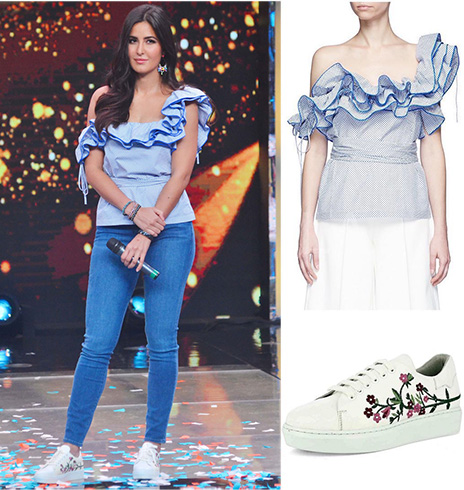 That's a perfect 10 refreshing, cool style, don't you agree?
June 30th, 2017
Author: Sai Bhargavi Chintaluri
---
Katrina Kaif Brings In Summer Bright And Cool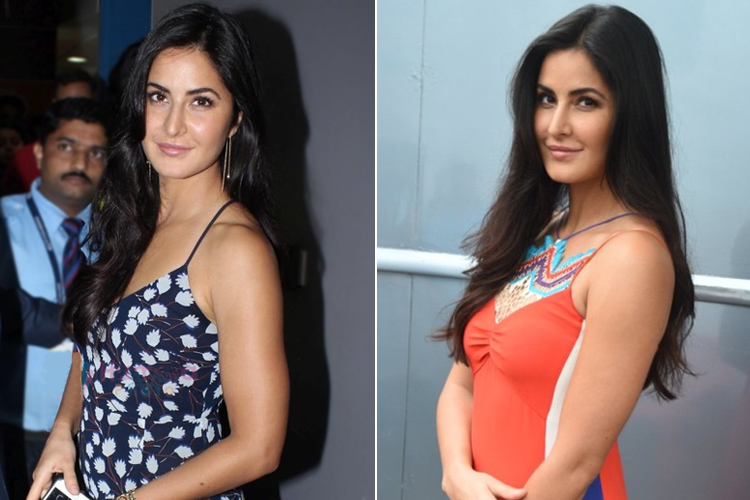 After the raging social media posts about the competitive dance moves for the 'Galti Se mistake' song, we couldn't hold ourselves back in following Jagga aka Ranbir Kapoor and Shruti aka Katrina Kaif closely all around the town hoping for a snippet or two of their lock and release dance moves.
And while we were wishing for the duo to pop up some fancy, quirky steps and set us on the verge to tap our feet, we were impressed by Katrina's summer fashion choices.
In Forever New
For one of the promotional events, she picked an easy breezy, casual looking dress from Forever New. With white sneakers style and keeping her accessory game bare minimum, she closed an easy get going style. Soft wavy hair, clear skin, and natural makeup rounded her beauty game.
In Peter Pilotto
Katrina brightened our day with a refreshing multi-colored style. She was clicked looking lovely in a Peter Pilotto asymmetric dress. The prominent bright hue balanced with the soft hues is one strong style statement to take up this season. Tan colored sandals and bare minimum accessories rounded her look.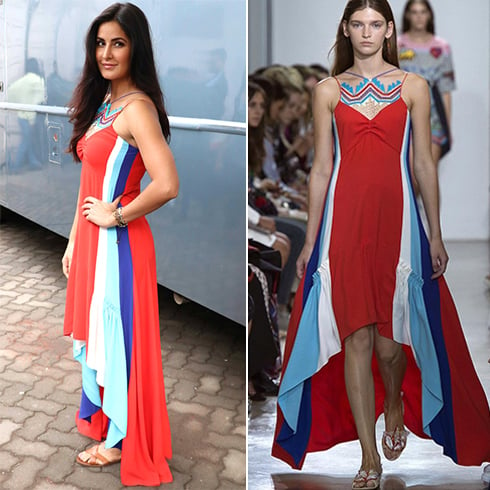 Be it color, pattern or make the fabric, Tanya Ghavri, the stylist pieced together the right choices for Katrina and the diva carried it with absolute grace.
Good job ladies!
June 15th, 2017
Author: Sai Bhargavi Chintaluri
---
Katrina Kaif's Creamy Story at IMC Ladies' Wing Event Just Brightened Our Friday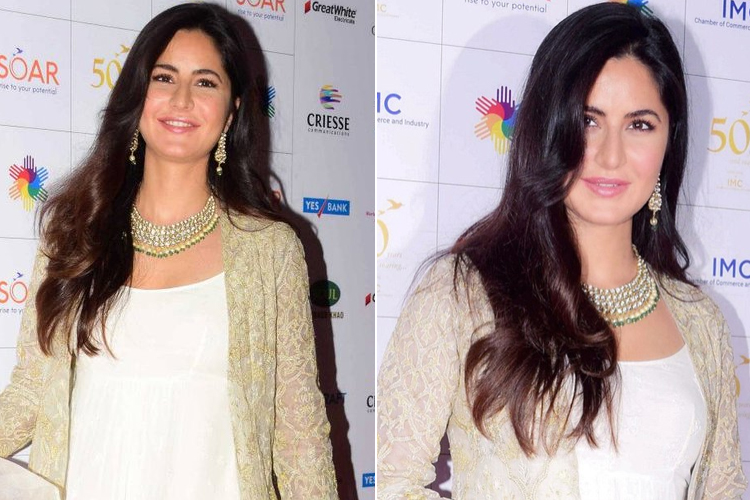 The Ladies Wing of the IMC Chamber of Commerce and Industry celebrated their 50 years anniversary in the empowerment of women. Gracing this event and supporting this organization of business and professional women was Katrina Kaif from the film fraternity.
We are accustomed to seeing the lovely lady take strong stands in the empowerment of women and she has a graceful aura with which she carries herself at such events.
Unlike her usual sari or Anarkali to such elite events, she went desi with an urbane touch in Anita Dongre label. A creamy white maxi dress overlapped with a beige chikankari long cape was an impressive choice of outfit that complemented her tall mien.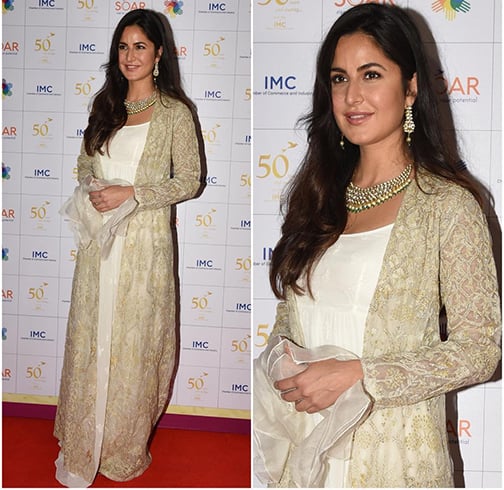 The diva who usually goes with a minimalist approach with accessories changed her fashion course and adorned sparkling pieces from Gehna Jewellers. Golden juttis played along well with her attire.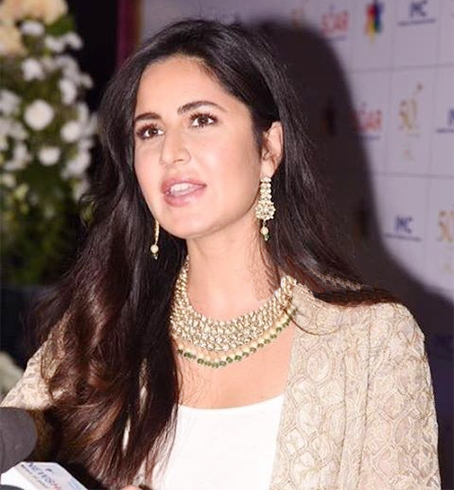 Her signature hairdo, nude-brown makeup rounded her style gorgeously. Tanya Ghavri, the stylist did complete justice to the diva, her style, and beauty, also keeping the importance of the event in focus.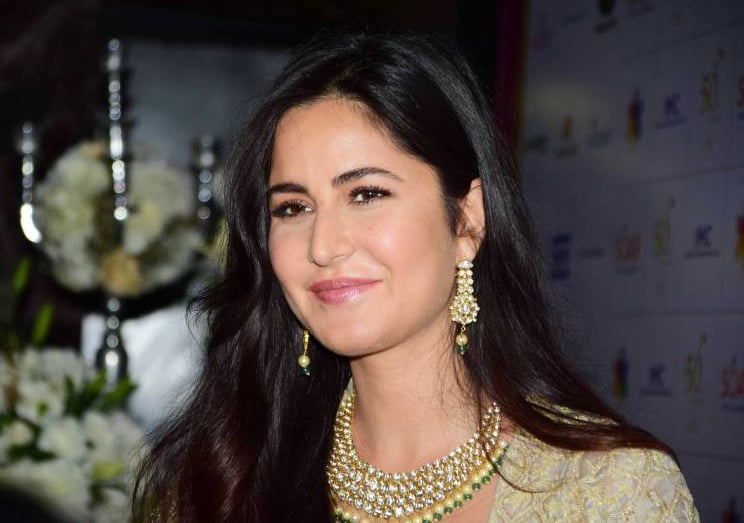 Though we love Katrina's signature hairstyle, we would love to see her play different styles with it. What about you?
April 14, 2017
Author: Sai Bhargavi Chintaluri
---
Katrina Kaif's Airport Look Is Easy Breezy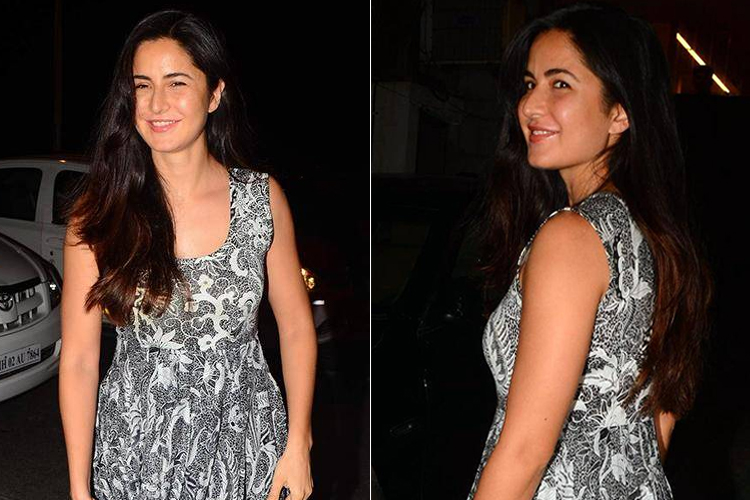 Airport looks have become so famous. Being well dressed to the airport gets you more brownie points than you'd think.
The recent star who got us craving for her airport wardrobe is Katrina Kaif.
Casually walking in the airport, we spotted Katrina Kaif in this DVF printed maxi. The perfect summer go to outfit, this outfit making her look uber stylish and less suffocating too in this heat. Airports are not red carpet events, and hence we love Katrina for keeping her makeup minimal and letting her hair loose to the side, which is her usual style.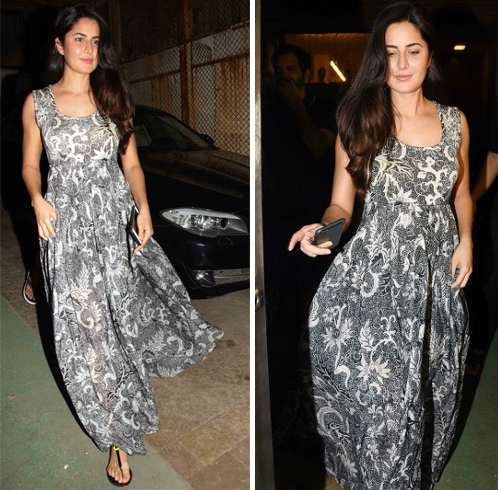 Best fashion tip is to wear anything you want, stylish or simple, but make sure it's a breezy outfit! Leave your comments below to share your summer outfit views.
Author: Bhavya Rebala
April 24, 2017
---
Katrina Kaif Sketched A Chilled-Out Bride Theme For Harper's Bazaar Bride, December 2016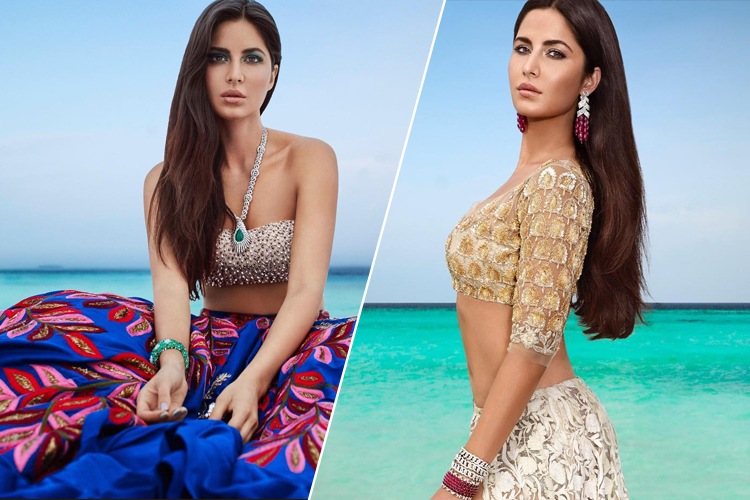 Just when we settled down leisurely on our couch with a steaming cup of coffee and our favorite magazines, December edition, Katrina Kaif's thrilling and spine-tingling photo-shoot for Harper's Bazaar Bride India came to our notice.
Setting aside every other magazine, for the time being, we dug into the details of this breath-taking magazine cover that has gone viral. Scroll down to satiate your interest-
Depicting a contemporary bride in the purest form, the diva graced the cover of Harper's Bazaar Bride, December 2016. Luis Monteiro, the photographer left no detail behind in capturing her exemplary style in the backdrop of one of the Maldives beaches. Dressed all along in the apparel of the ace designer, Manish Malhotra, and with Renu Oberoi Luxury Jewellery, she oozed elegance with a sensuous spark.
Flaunting her long sassy legs and toned abs for the cover image, she rocked a Manish Malhotra ensemble with Renu Oberoi jewelry. Bianca, the beauty expert chose the usual light swirls hairdo. She opted for a mix of bronze and nude palette, with a slight hint of colorful eyeshadow, to enhance her beauty.
Kudos to Manish Malhotra, who took up the charge as a stylist for this commendable photoshoot for the magazine. And absolutely adore Katrina Kaif for turning the Harper's Bazaar Bride magazine magical.
Katrina Kaif Looks Bright In A Yellow Number At We Unite Conference
Apart from entertaining us with their outstanding performances and glorious fashion sense, our Bollywood starlets also indulge in women empowerment programs, thoroughly inspiring us.
So far, we have seen Priyanka Chopra, Sonam Kapoor, Vidya Balan, Shabana Azmi and many more, extending their infallible support to women rights agendas. Joining this troop of ladies and inspiring us with her strong thoughts at the We Unite conference was Katrina Kaif.
At this conference that marks UN women's partnership with the IMC Chamber of Commerce and Industry, Katrina Kaif conveyed few thought provoking statements and greatly inspired us all.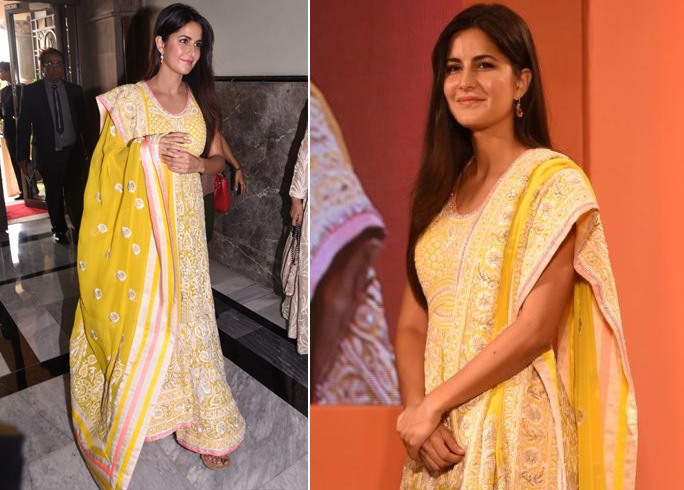 Dressed in abu jani sandeep khosla yellow ethnic number, and adorning simple Jet Gems jewelry, she looked fresh and pretty. Tanya Ghavri, the stylist kept Katrina's looks apt for the occasion with a simple hairdo and minimal makeup. '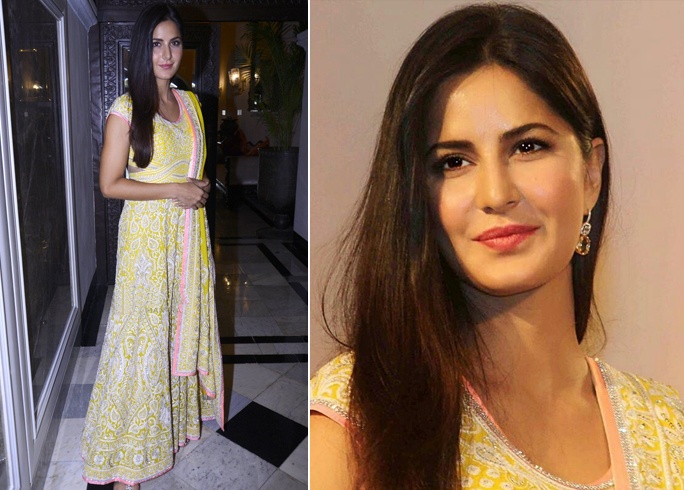 She expressed her opinions and thoughts explicitly about the gender inequality that prevails in our society and also of the marital rape issues that one has to raise voice against.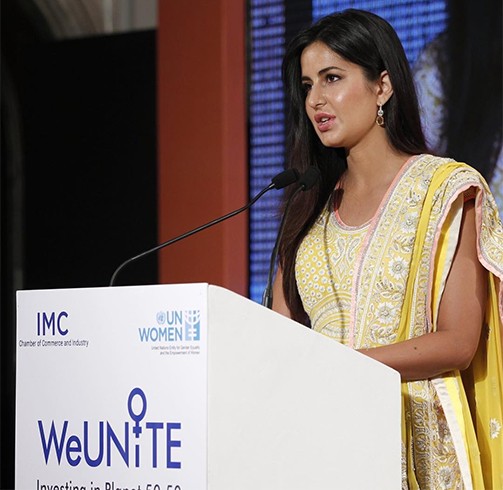 Her statement regarding the increase in crime rate got us to applaud hard and nod in agreement. She said-"However I would like to believe that this increase in numbers is not an increase in crime against women. It is an increase in the number of women who are ready to come forward and reporting them."
Chin up ladies, with all the support and motivation of our beautiful stars of B-town, fight injustice and violence.
Get Inspired By Katrina's Red Hot Knock-Off Style This Festive Season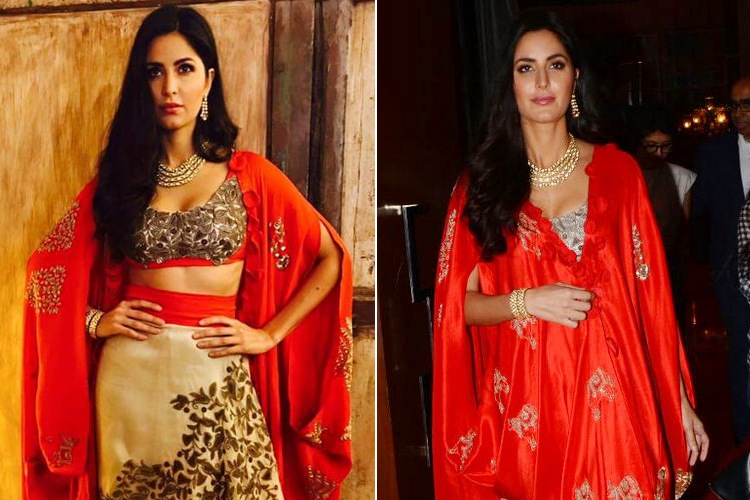 Looking red hot and glamorous, Katrina Kaif lighted up the MAMI Mumbai Film Festival dinner party. It's a 'Don't Miss The Show' look that she rolled out giving us great festive feels.
[sc:mediad]
In an Anamika Khanna cream embroidered lehenga with a gorgeous red cape; she carried herself like a royal queen. If you are an ardent follower of Katrina Kaif, you would've known that the diva is a minimalist who barely accessorizes. But for the grand occasion, she went ethnic with Jet Gems jewelry.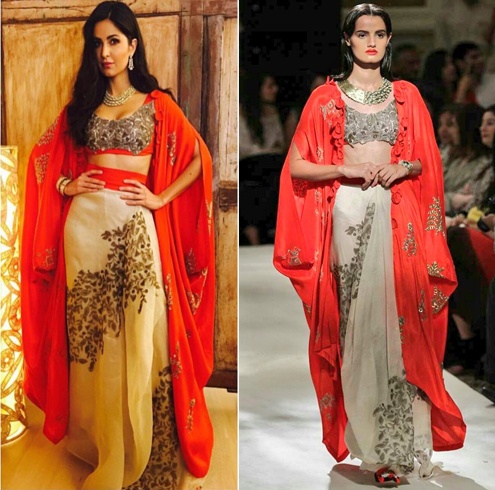 With side-parted, loose swirls hairdo, and rose blushed cheeks taken care of, by Bianca, the beauty expert, and with a sparkling smile, she set the party on fire.
Liked her style composed by Tanya Ghavri? We certainly do! Truly spills festive vibes!
Katrina Kaif Goes Cindrella Style On The Filmfare Red Carpet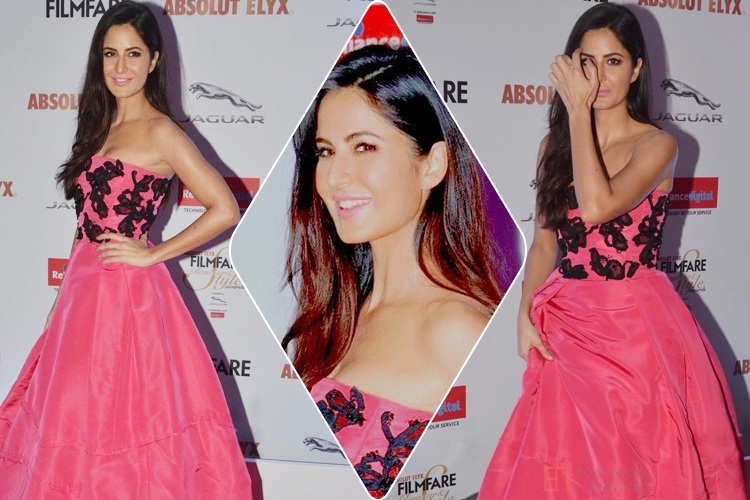 Celebs dolled up for the Filmfare Glamour and Style Awards, 2016 and in attendance was Katrina Kaif looking as pretty as a Barbie doll.
[Also Read: All The Hits At Filmfare Fashion And Style Awards]
Like a fluffy cotton candy, Katrina smarted up in an Oscar De La Renta strapless dress. With the black applique playing the melodramatic part of the outfit, the diva dressed to kill in this glamorous outfit.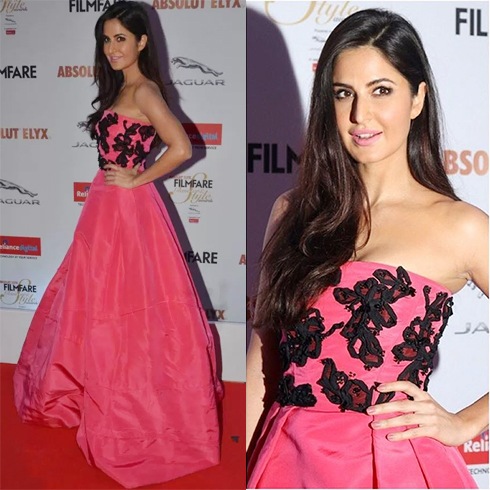 With her signature style hairdo by Bianca, the beauty expert, she rounded her look with a splash of punch, don't you think so? The hot pink lips, the intact makeup, the glowing skin also articulated by Bianca, gave Kat the ultimate look to step out in confidence.
[sc:mediad]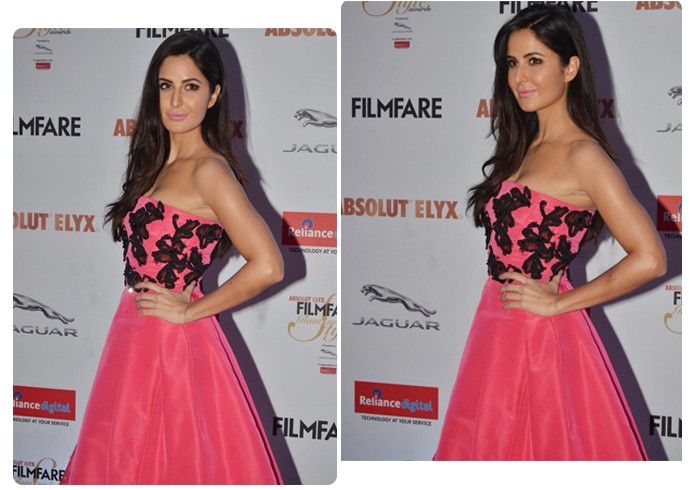 Greatly appreciate Tanya Ghavri, the stylist, for going the minimalist way on Katrina.
Images Source: instagram.com