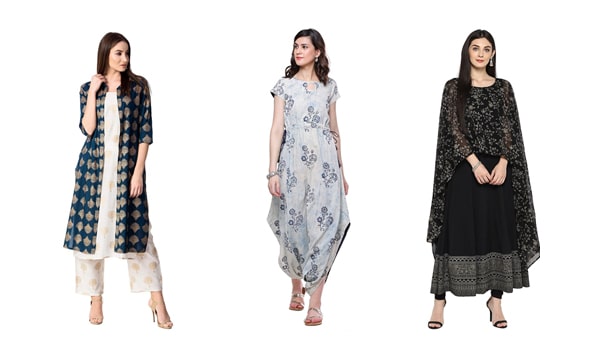 Everyday can be a kurta day, for a well fitted piece of kurta is the perfect go-to when you want to channelise your desi girl vibe to your regular work day.
Comfortable and fashionable these kurtas will amp up your ethnic collection and add on to your fashionista repute.
To get your kurta shopping started we scouted out these 7 pieces from amazon.in. High on trend and low on price, these pieces are our top picks for the new season ahead.
7 Kurtas To Make A Statement This Year:
Handblocked Dhoti Kurta:
With dhotis being all the rage, this dhoti kurta is sure to turn heads. More like a ethnic version of a jumpsuit, this kurta is an all day number. From work, to after work to your regular lunches and dinners, this dhoti kurta will upgrade your Indian style files. Complete this look with stacked silver bangles and earrings and a pair of jootis.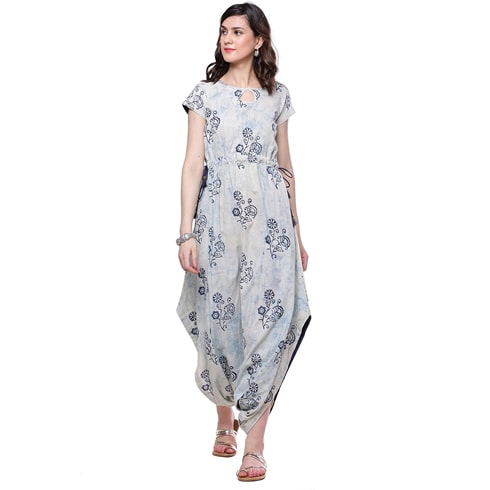 Black Printed Cape Kurta:
Capes define superpowers. While capes are known to add drama to your lookbook, we picked out this caped suit that can be a part of your regular closet. A georgette A-line kurta layered with a floral black and silver printed cape is our bet to channel your superpowers the fashionable way. Wear with simple black pencil heels and a bindi to seal the look to perfection.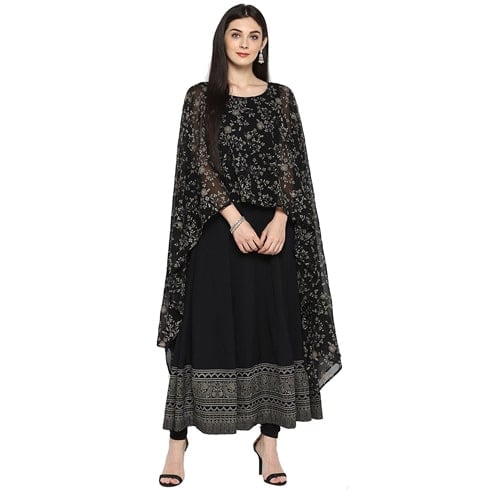 Pink Kurta With Cycle Embroidery:
Bubble gum pink's prettiness makes a soft spot almost instantly. Done up in rayon fabric, this crew neck long kurta, fits in the fusion checkbox courtesey the cute cycle embroidery on the yolk. Adding more to the dressy element of the outfit are the suave bell sleeves and the big pockets. The black outstitch outlining the neck and pockets is appropriate for those just a little dressy days.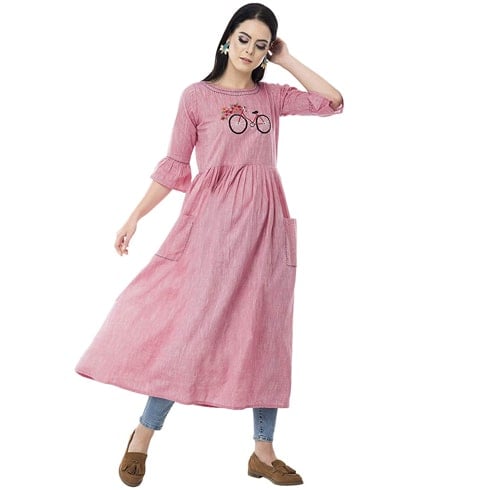 Black Lace Up Neckline:
Lace up corsets are passe. In comes in lace up kurtas. This black kurta is everything elegant and stylish. The lace up neckline boasting of interesting rivets observes much attention. The lace ending with white fringed bunches and the rich embroidery along the sleeves renders all the classy feels.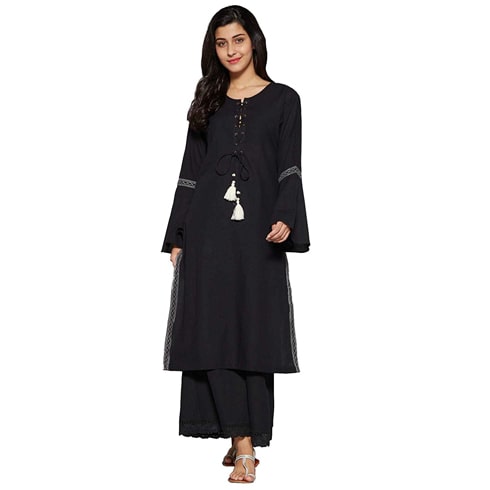 Blue Jacket Kurta With Palazzo Set:
Layerings always add the surprise element to your dress-ups. For those days when you want to power dressup the Indian way, opt for this ethnic printed royal blue longline jacket. When worn with the ivory kurta and palazzo set inserts, this outfit will have you oozing with confidence and charm.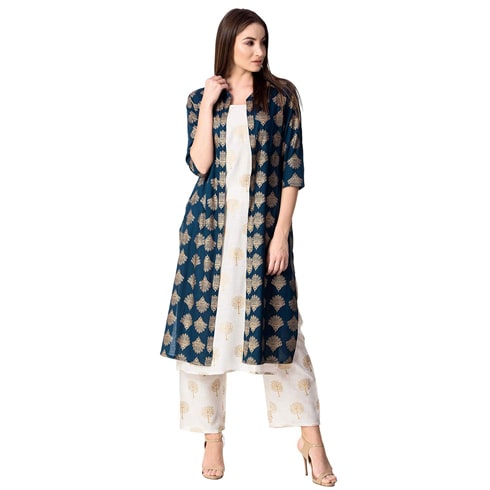 Seagreen Cotton Up Down Kurta:
Pastels have a way to win your heart. This sea green number is for the chic and choicey who prefer to defy normalcy. The top style in the middle is met with long line sides to create a dynamic kurta look. The pleats on the along the waist and sleeves, amp up the look further. Pair this cotton kurta with boxy dhotis pants and carry this look to your stylish soirees.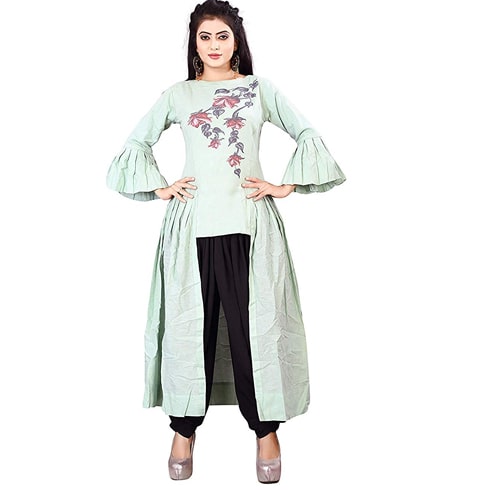 Deep Grey High Collar Floor Length Kurta:
Deep greys spell winter. For those after work dinners, this floor length kurta is sure to come in handy. The embroidered high neck with side buttons adds a subtle grace to the otherwise basic a-line kurta. The special handwork buttons are unmissable. Complete the look with a charming cashmere shawl, and be ready for some special attention.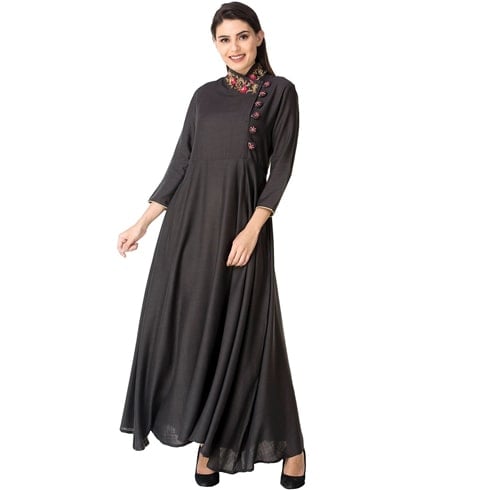 So ladies, if you are looking to wear kurtas for a change, then opt for these unique and exquisite pieces in the this year.
Author: Sonam Maheshwari