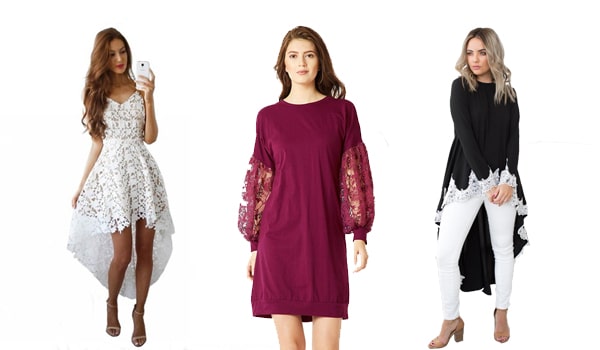 Graceful, elegant and exquisite, lace is all this and much more. Complementing the feminine charm, lace silhouettes have a persona of their own that summarises the beautiful and fragile female character.
From their pretty inserts on shoulders and neckline to their all over dominance, everything carrying lace becomes innately appealing and ravishing.
With lace observing all the spotlight this season, they are sure to win hearts in every form, be it on tops, skirts or dresses.
So ladies what are you waiting for? With the party season approaching us we went on a lookout for some stunning lace dresses to have you closing the year the most graceful yet chic way.
5 Lace Dresses You Will Love
1. Black Dress With Lace Inserts On Shoulders:
Black dresses are party staples. This full sleeve knitted short dress in black is elegant and chic. The lace insert at the shoulder looks simple yet stunning. Revv up your late night party scenes pairing this piece of prettiness with a pair of ankle length boots and glimmering eyes.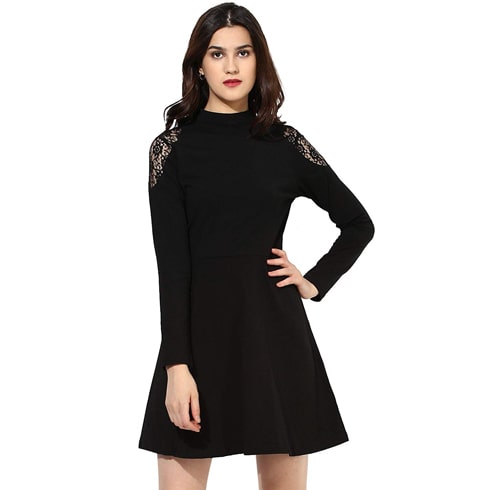 2. Black Halter Neck Asymmetrical Lace Dress:
Halter necks have their own charm at parties. This black halter neck midi dress exudes exotic vibes courtesy the broad lace add on at the edge of the dress. This all black number when sealed with a pair of pretty party stilettos is sure to burn the floor as you groove through the night. We suggest you experiment with your eyeliner color for maximum impact.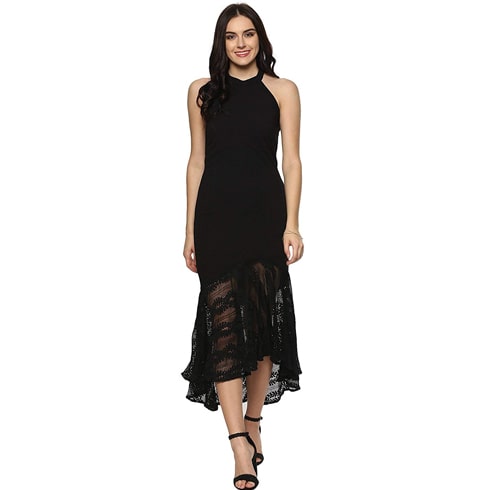 3. White Floral Strappy Lace Dress:
Surreal and splendid this white strappy all over lace dress will get you all the glares at your soirees. With a deep-seated feminine beauty this dress does full justice to the delicate fabric. This asymmetric number will have you sorted for your lunch dates. Seal this all white angelic look with complementing peeps and a radiant natural face.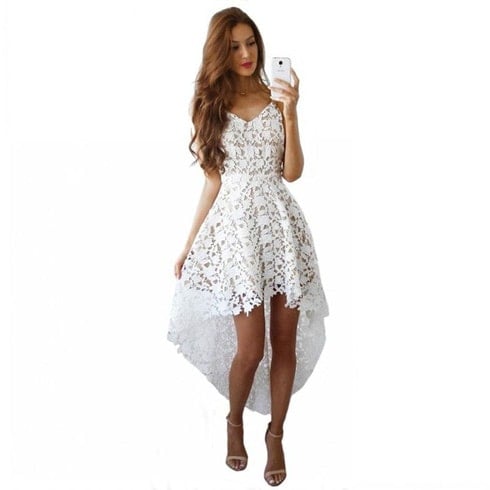 4. Asymmetric Pullover Dress With Lace Detailing:
It's the pullover season and we have picked out this exotic looking asymmetric black longline pullover that has been rendered all the dressiness with delicate lace detailing along the entire edge of the silhouette. For some fuss free dress ups this piece is sure to come in handy. Pair it with a pair of well-fitted white pants and you are good to go.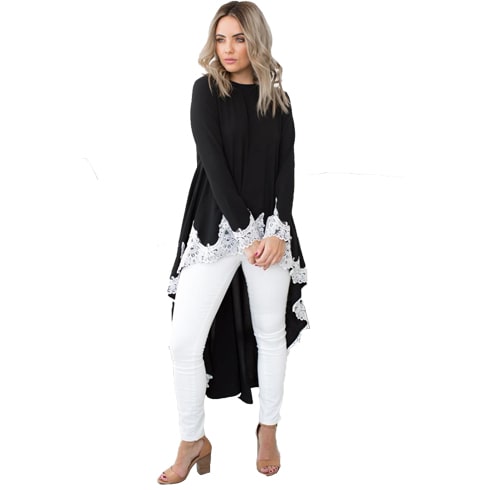 5. Magenta Shift Dress With Lace Sleeves:
For those days when you are not in the black or white mood, we suggest you get your evening look upgraded with a dosage of magenta. With dramatic sleeves making headlines, we picked up this balloon sleeve shift dress with pretty lace inserts at the lower arm.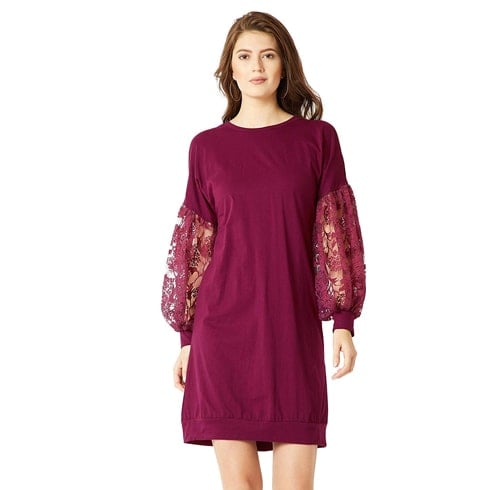 If you too like us have that bend towards the delicacy of lace, we are sure of some love outpouring for these pieces picked out for the season ahead.
Author: Sonam Maheshwari