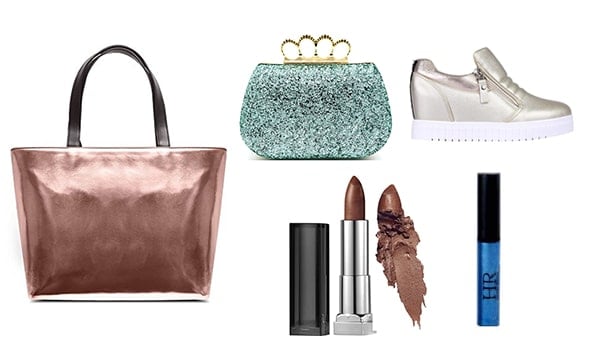 Fashion influencers across the world are on a metallic high!
Considering shiny metallics as cheap are passe. This year is all about sparkle and sheen, and not just your evenings, metallics are sure to have you exuding those upscale glamorous vibes.
With metallics making a starry comeback on the trend charts we have all the reason ladies, to add that extra bit of sparkle to your everyday dress ups.
Be it a drama queen look, or a retro disco look, rev up your glam girl quotient wearing head turning metallic accents.
1. Metallic Fatty Tote Bag:
Tote bags are essential for every on the go woman. A metallic finish tote could well translate your street style into high street fashionista while keeping all your essentials intact. This rose gold reflective metallic coated tote is our pick to keep your trending high on the metal fervour. A metallic tote like this is your best bet to add a little bit of shine to your mundane office spaces too.

2. Metallic Zipper Platform Shoes:
Platform shoes are so in. The bigger the better. This metallic version of zipper platform shoes is a keepsake. Be it your casual denim style or your evening lookbook, these platform trainers are sure to render all the feels to your dress ups courtesy that luxe metallic finish. So women pump it up with that extra metallic glow.

3. Metallic Green Clutch:
Bride-to-be's we want to tell you ditch the usual golds and silvers and opt to go edgy carrying this sequined metallic sea green clutch to your soirees. Dazzling and gleaming this leatherite sequined metallic green clutch will have your glamorous Indian looks sorted.

4. Metallic Chrome Finish Golden And Silver Nail Paint:
For our more sophisticated followers, who did just prefer a metallic touch up, this chrome finish metallic nail paint is meant for you. Available in silver shine and golden bliss shades will make your nails look charming and shining in just one stroke.

5. Metallic Waist Belt:
Belts are a thing this year. And we are loving how our fashion patrons are taking to these waist grabbers to amp up both western and Indian styles. To particularly add more power to your saree looks metallic belts are a must have this wedding season. This slim metallic band belt in a pretty apricot hue is sure to get all the spotlight to your trim waistline while taking your saree style to all new highs.

6. Metallic Molten Bronze Lipstick:
With shades of browns taking over your luscious pout, a metallic bronze lipstick would be a worthy addition. We have our eyes on this sensation metallic matte finish lip color from Maybelline. Wearable with most looks, the molten bronze metallic lipstick will lock your lips just right.

7. Metallic Blue Shimmer Eyeliner:
Metallic eyeliners are trending hot. Just binge on this trend ladies and see your look go notches higher. For evening wear we highly recommend a heavy dosage of this shimmery metallic blue eyeliner. Every bit dramatic and stylish this one is sure to turn heads. With bold metallic eyeliners making headlines on fashion ramps across the globe you just cannot do without one in your vanity.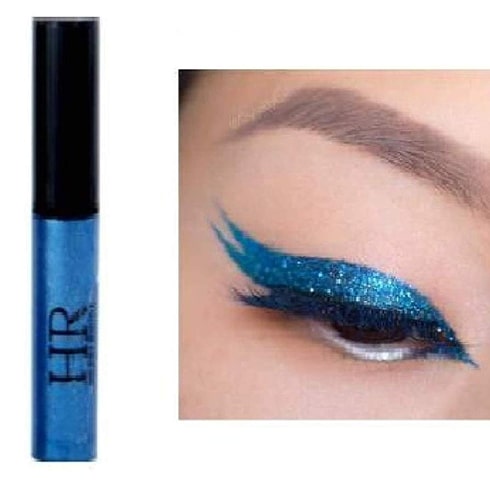 We hope we have got you in that metallic mode so dare to shine with these metallic add-ons.
Author: Sonam Maheshwari