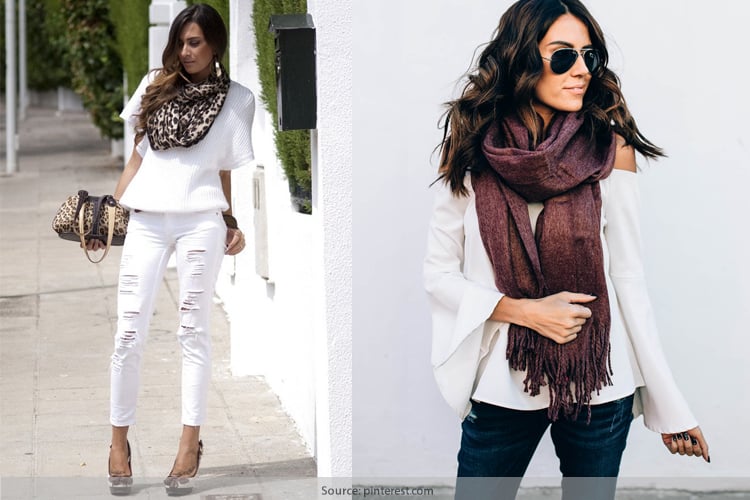 Mix and match fashion is the latest trend that has been taking fashionistas by storm! Mixing and matching is an essential talent every woman must ace, especially if she is a frequent traveler.
No one likes to travel with heavy bags! So how does one solve this? Simply pack a few basic pieces which you can mix and match and strike a whole new style statement. Here are some basics you must own in order to mix and match outfits like a pro!
1. White Shirt
The first piece of outfit in our mix and match clothes list is the white shirt. Formal, casual or semi-formal, a white shirt is a multipurpose attire. From the never fading denim and white combination to teaming your formal trousers with a crisp white shirt, the white shirt comes handy in many ways.
Jeans
There is rarely a top that does not match your denim. And the white shirt is definitely not one! Team a white shirt with your denim and you are sure to grab eyes, be it at your office or at a casual do. This is one of that mix and match wardrobe basics which every woman will die to have.
White Sneakers
A button-down white shirt and trousers are one of the best mix and match wardrobe pieces for travelers. Throw on a colourful scarf and a chunky belt and add some quirk to your look.
Leather Jacket
If your like to show off some ruggedness, then team your white shirt with a leather jacket. This one is for those biker or tomboy girls who like to steal style cues from men.
Skirt
Whether its length is full, midi, at the knee, or mini, we're a fan of how a skirt adds interesting volume to the lines of our straight up-and-down shirt. An olden day classic, this one tops the mix and match outfits list effortlessly. Team it with block colours for a more classy look.
Layer It
Winter is here and this gives you all the reasons to experiment with layering. And if a white shirt has its places in your wardrobe, then half your worry is sorted. Simply wear a trench coat, a button-down sweatshirt or a colourful shawl over it and see the magic that unfolds. While the white shirt still lets you keep it subtle and sober, the colourful layers over it give it the much-required quirk.
With Light Hues
If you thought a white shirt always needed a dark pant, you may be wrong. White and white is the new trend in town. A crisp white shirt when teamed with a white pant, not only sets you apart from the crowd but also gives an overall angelic look. Style it with a bright coloured neckpiece or bag.
[ Also Read: Plastic Jewellery Trends Leave Lesser Carbon Footprint Across The Globe ]
2. Distress Denim
When worn the right way a pair of distressed denim can look anything but odd. While we all like to team our denim with nice tops, there are a few other ways you can make this basic clothing in your wardrobe a multi-use garment, especially while traveling.
Animal Print
A pair of blue ripped jeans is the first thing you must buy for yourself. However, white also works wonders. So go on and take that bold plunge. Team it with some animal print accessories and you are sure to kill it.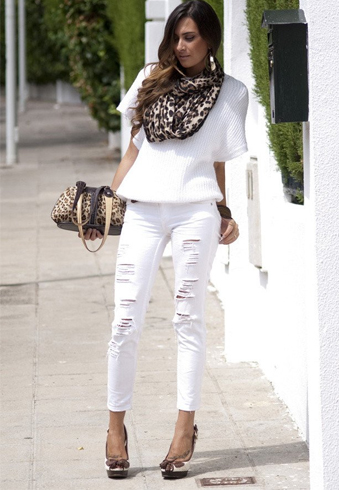 Sweater
Ripped jeans and sweater are like bread and butter! There is just no way these two will not go together. On those cool autumn days when you'd like nothing more than to put on your ripped jeans, all you need to do is throw on a sweater. You could also swap your flats for a pair of stylish boots.
[sc:mediad]
Sequin Top
If you are the kind who likes to go clubbing while traveling, then a sequin top is a must have in your suitcase. A shiny sequin top and a pair of heels are all you need to get party ready!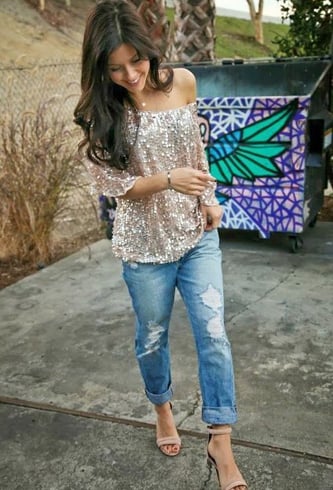 Tights
This is the latest trend that is doing the round in town. Wear a lacy legging underneath your distress denim and show off your skin in style. They will help to keep you warm while also adding some personal style to your jeans and outfit overall.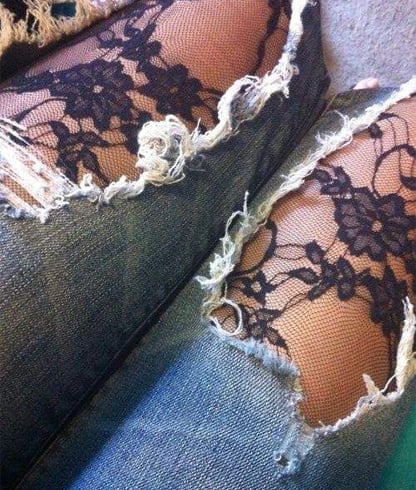 Blazer
Team your ripped jeans with a top of your choice. Now pick a contrast blazer and see how it transforms your attire.
Tank Tops
On a summer day, when you're in a rush, reach out for a pair of ripped jeans and your favourite tank. You'll look ready for whatever the day brings.
[Also Read: Best Blazers For Women]
3. Little Black Dress
While the little black dress is a classic style statement in itself, there are many other ways in which you can perk up this simple attire.
Statement Accessories
Simply team your LBD with chunky earrings or neckpieces and see how it transforms your look.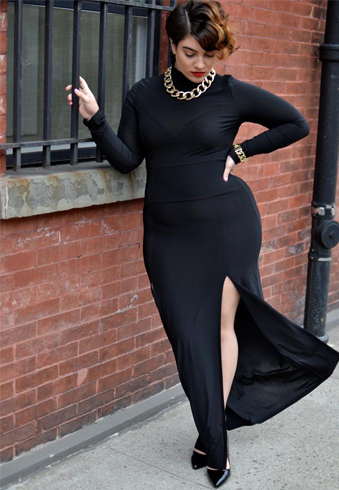 Tights
Black and black is a deadly combo! So, don't think twice to put on those polka dotted tights beneath your dress and bring back the retro style.
Scarfs
Scarfs are the best bet if you want to break the monotony of an outfit. Your LBD is sure to look dressy with a flashy scarf. So pack one along with your black dress.
[Also Read: Indian Women Fashion]
Bling Footwear
If you are the kind who likes to keep the accessories low, then play a bit with the footwear. You could simply pack in a bright coloured shoe to add some colour to your all black dress. So, if you are planning a mix and match wardrobe for traveling, then the little black dress is a must for you!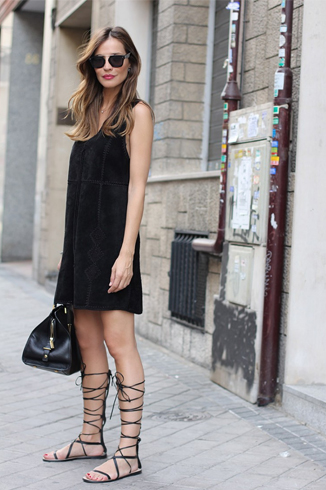 4. Leggings
Just like jeans, leggings are also a comfortable clothing while traveling. You could team it with your kurta and give it an ethnic look or just wear a pretty top and a stole and go Indo-Western. Black is a staple, so make sure you own a pair. Apart from this, grays, browns, and navy blues also come handy.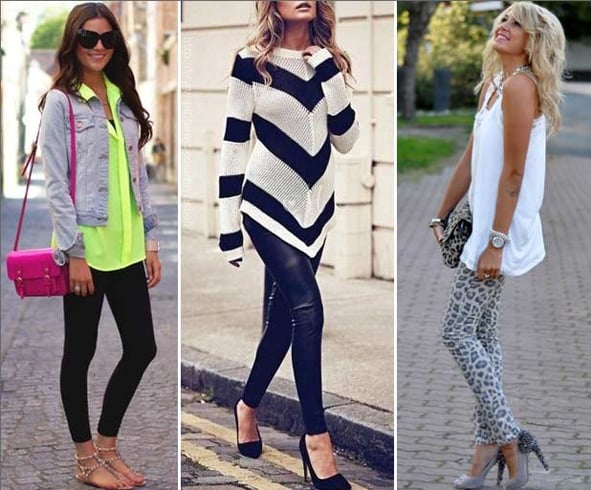 5. Shorts
If you are traveling to warm places, then a pair of shorts are a must! From denim to cotton and linen, these hot pants come in various fabrics. Pick the one that suits you and style it with a razor back top or a pretty cap-sleeved top and strike that casual-chic look.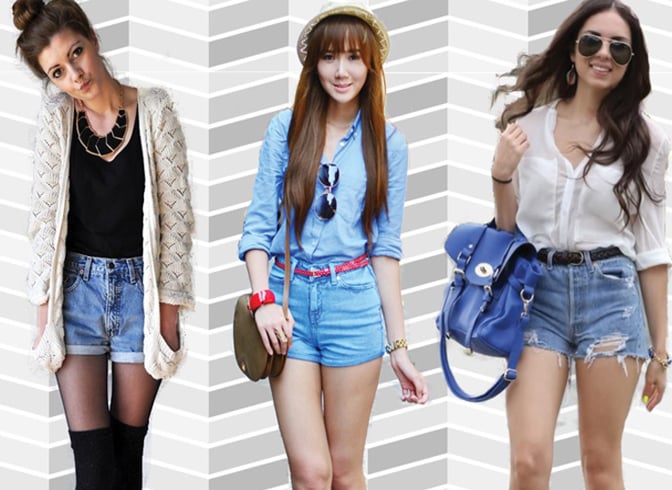 Now that you have the ultimate guide to mix and match dresses, make sure you follow these while you pack your bags next time!
Images Source: pinterest.com