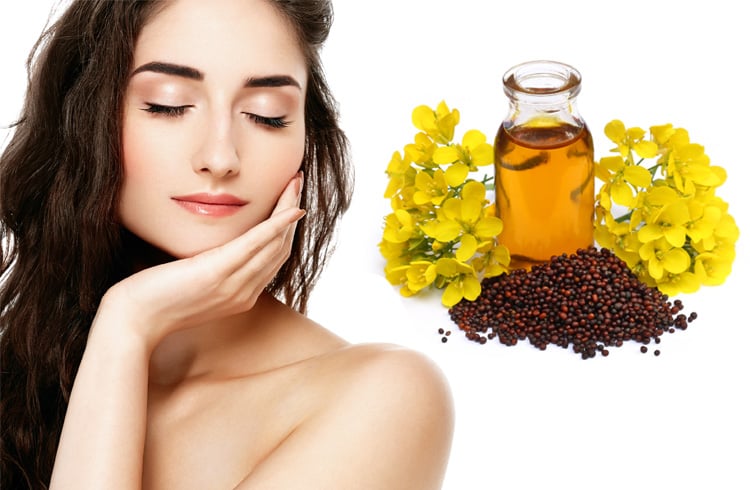 As kids, the one thing that we heard most often as kitchen conversations between our mother and grandma was sarson ka tel. Yes, the mustard oil is the glorified and authentic cooking oil that has made recipes such as sarson da saag, fish curry, pooris, and mixed vegetables taste awesome and memorable. India is a country where mustard oil is used in every nook and corner, be it in village dhabas or five star hotels.
[Also Read: How to Cleanse Your Liver?]
However, the darkish yellow mustard oil is also used for body massage, skin/ hair replenishment and rejuvenation, and rituals. Whether it is fighting skin infections, removing body toxins, solving dry skin problems, mustard oil is a must for the beauty cabinet. Its anti-fungal and anti-bacterial properties help in fighting skin rashes and contribute to skin lightening. Let us see the mustard oil benefits.
Mustard Oil For Skin
1. Natural Sunscreen
Now that we are used to wearing a sunscreen with SPF 20+ or more, let us look at nature gifted mustard oil. Since it is thick in consistency and has high Vitamin E, it works as a natural sunscreen. The Vitamin E shields the skin from harsh sun rays and other air pollutants. It also helps in preventing wrinkles and arresting premature skin ageing.
2. Lightens Tan
Give skin lightening creams a break. Instead, massage your face regularly with mustard. You will find problems like tan, dark spots and pigmentation vanish away soon.
DIY: Mix besan or gram flour, 1 tsp curd and few drops of lemon juice with mustard oil and apply it on your face and neck. After 10-15 minutes, wash your face. To get best results, apply the face mask at least thrice a week.
3. Improves Complexion
Most of us carry an opinion that oil in any form when applied would make our skin dark. The opposite of it happens in the case of mustard oil.
DIY: Mix coconut and mustard oil (in equal amounts) and apply it on your face. Massage it well till it gets absorbed into your skin. As a practice, do regular massage in order to increase blood circulation to your face, which would leave your complexion shining bright.
[Also Read: What Is Moroccan Oil]
4. Dry And Cracked Lips
Instead of applying chapstick or lip balm on the lips, apply mustard oil on the belly button every night before going off to sleep.
5. Skin Tightening
You can also use mustard oil for skin tightening. If you have loose and saggy skin, follow the below instructions.
DIY: Take 1/4 cup of sesame oil in a bowl. Add 10 drops of essential mustard oil. Mix both the oils thoroughly and massage it on your skin in circular motions. Take a clean towel and dip it into hot water, wring it completely and place the towel on your face. TO remove any excess oil, use a cotton ball.
6. Treatment For Rashes And Infections
Mustard oil consists of anti-fungal, anti-inflammatory and anti-bacterial properties. All of these help in preventing your skin from drying out. It also helps in treating rashes, skin allergies, skin inflammation, itching, etc. All of these properties prove that mustard oil for dry skin is highly effective.
[Also Read: Besan Face Packs]
DIY: Just massage the affected areas with mustard oil.
[sc:mediad]
Mustard Oil For Hair
7. Prevents Greying Of Hair
Give up expensive hair dyes as there is mustard oil to prevent premature hair greying.
DIY: First apply mustard oil to your hair. After about half an hour, wash the oil off. It's an easy job that isn't time consuming. Do it each night before you take a head shower and feel the hair bounce.
8. Nourishes Scalp
Mustard oil has loads of anti-bacterial and anti-fungal properties. When massaged regularly, it gives you clean and dandruff-free scalp. Isn't this good news considering the amount of time we spend on looking after our scalp?
DIY: Mix mustard oil, coconut oil and olive oil in equal measure and massage it into your hair. Keep your hair covered with a warm towel for about 10 minutes. Then wash off your hair and shampoo after two hours to get the desired results.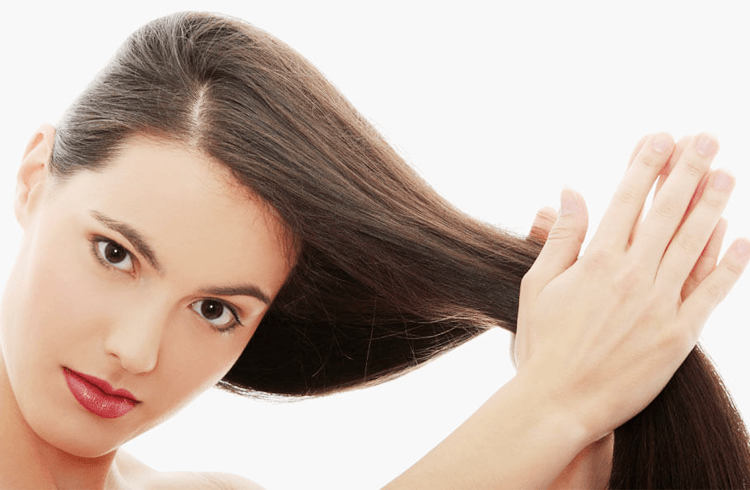 9. Hair Growth
Mustard oil for hair growth is another benefit. Regular massage can strengthen the muscles in your head and keep your scalp nourished.
DIY: Using mustard seed oil for hair is very easy. Just take some mustard oil and massage your scalp with it. Use a shower cap to cover your head and leave it for about three hours. After the stipulated time, you can rinse it using your regular shampoo and conditioner.
10. Hair Loss
Mustard oil for hair loss is an effective way to restrict hair loss. The anti-bacterial and anti-fungal properties prevent hair loss and ensure growth of hair. It acts as a hair vitalizer.
Mustard Oil For Health
11. Weight Loss
Mustard oil has a variety of vitamins which play a major role in speeding up the metabolism process, which often suffers due to our lifestyle habits. This naturally leads to weight loss and weight management.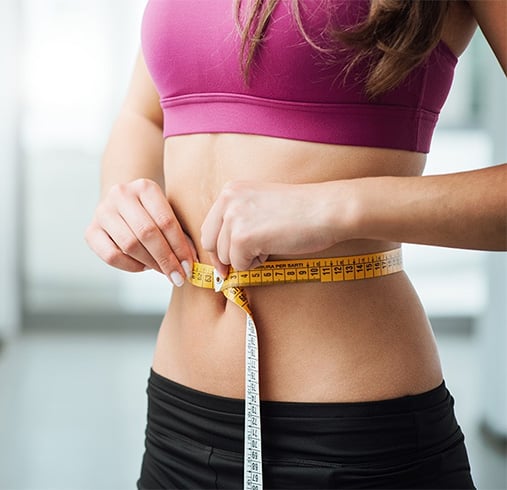 12. Anti fungal
How to Use:
Mustard oil can be used for treating skin problems caused by fungus, like athlete's fungus.
This antifungal agent has presence of Allyl Isothicyanate. Apply the oil daily to prevent fungal growth, and inhibit the growth of infection.
Tip:
You can massage mustard oil directly onto the affected area caused by fungus.
13. Prevent Malaria
How to use:
Apply mustard oil on your skin. It can act as a mosquito repellent with its distinct aroma.
You can also use it in vaporizers to drive away mosquitoes.
Tip:
Apply the oil on your pulse points for best effect.
14. Beneficial During Asthma
How to use:
Massage your chest using brown mustard oil to improve breathing problems.
Another way of using mustard oil is to mix it with one tsp of sugar. Have one tsp of this mixture several times a day.
Tip:
Have a tsp of the oil and honey each three times a day to control asthma attacks.
15. Reduces The Risk Of Cancer
How to use:
Mustard oil contains glucosinolate that prevent the development of cancerous tumors.
Its phytonutrients can provide protection against colorectal and gastrointestinal cancers.
Tip:
Use the oil appropriately to fight off all risks of cancer.
16. Irritant
How to use:
You can dilute mustard oil with essential oils to stimulate muscle growth and prevent irritation.
Tip:
Massage the affected area daily to stimulate senseless muscles.
17. Stimulant
How to use:
Massage the mustard oil externally to stimulate blood circulation and sweat glands.
The oil can also act as a stimulant for improving the digestive and excretory system.
Tip:
Massage the oil all over your body allowing it to relax.
18. It Whitens Teeth
How to use:
After brushing, apply few drops of mustard oil mixed with lime juice and salt. Leave the mixture for five minutes and rinse out.
Tip:
Try this solution daily to make your teeth shinier and stronger.
Now that you know how to use mustard oil for dry skin, mustard oil for unwanted hair, etc., let's take a look at some of the other mustard oil health benefits.
Did you know that mustard oil can be used for dental care as well? You can use it to whiten your teeth. What you need to do is after brushing your teeth, apply a layer of mustard oil mixed with a pinch of salt and few drops of lemon juice. You can rinse your mouth after five minutes. Do this regularly.
[Also Read: Best Hair Oil]
You can keep all the dental infections at bay by using mustard oil to swish your mouth before brushing your teeth.
Mustard oil can aid in increasing your appetite. It stimulates the gastric juices in the stomach. So if your are suffering from poor appetite, start cooking your meals using mustard oil.
Other mustard oil health benefits include reducing the risk of cancer, cardiovascular benefits, cold and cough relief, effective mosquito repellent, etc.
Mustard oil has a lot to offer in terms of inside health and glowing beauty. Try it out and see the mustard oil benefits. Also do share your mustard oil for skin and mustard oil for hair reviews with us.