From my last four trips to Las Vegas, I have learnt that it is easier to travel to Nevada from Toronto than from India. Lately, I have been receiving mails from my readers on how to dress in Las Vegas. Taking this opportunity I offer you my fashion take at Cosmopolitan of Las Vegas. Do have a read!
Last time I visited Vegas, I stayed there for 3 days and checked in at Cosmopolitan of Las Vegas or the Cosmo. Only three years old, the Cosmo is a luxury hotel located on the Las Vegas Strip, south of the Bellagio.
Let me tell you, when your stay becomes grand, the overall trip becomes much more enjoyable. While everything about Las Vegas is outlandish, how could fashion be left behind? It's criminal to step out from your hotel, without carrying elements of fashion. In order to give you some cues on fashion at Las Vegas, let me share with you my fashion itinerary from my last trip.
The tagline of The Cosmo hotel reads –
At the Cosmopolitan, the possibilities are endless.
The array of amenities and activities offered by this luxury tavern indeed justifies their tagline. In my 3-day visit, I made sure to explore all conveniences offered by this Las Vegas premium Casino hotel.
Continue reading to find out the best of my 3-day fashion itinerary at Cosmopolitan of Las Vegas!
Day 1
Since I was on vacation and this was my fourth visit, relaxing was my primary motive. Even though I had some places to visit and things to do in my list; I also ensured to make the most of my stay at The Cosmo.
To start you off, I'm taking you straight to my pool-side jaunt at the Cosmopolitan of Las Vegas.
Breakfast was complementary, so after hogging on my favorite pancakes and a glass of fresh juice and coffee later on, I headed to explore the pool district of my hotel. The Cosmopolitan's district of 3 distinct Las Vegas pool experiences was one of the major reasons to check in at this hotel.
Since I take fashion quite seriously, I ensure to be at my best no matter wherever I go and whatever I do.
My poolside ensemble at Marquee DayClub Pool party
If you too are invited to any day club pool, this pool-side style will surely give you some relevant cues! I had an invitation from the Marquee DayClub Pool party and this was my style statement which I had pulled off at élan.
Even though I was heading to pool party and swimsuit was a must, I even had to take care of my modesty. And found my Alice + Olivia Lace Back Romper appropriate to wear over my swimsuit till I got into the pool. Moreover, this particular outfit is a perfect addition to your luggage, especially when you're vacationing in Las Vegas.
I couldn't find anything better than this One-Shoulder Cutout One-Piece Swimsuit from Norma Kamali, which is one of my favorite collections.
Always remember when you're at Vegas, do not shy away from accessorizing your outfits. Whenever I pack my luggage for Vegas, I make sure to take along the golden, glitz and glamorous elements from my wardrobe. This is the reason; you're seeing a lot of gold-drenched accessories for my pool-side ensemble at The Cosmo.
When you're getting ready for day pool party, your embellished pair of flats would work wonders, just like my classy Rhinestone Point Toe PU Comfort Flats.
The Geometric Fringe Earrings complemented my Rhinestone-embedded flats. To add luxury to my style statement, I completed my look with Classic Monogram Saint Laurent Tassel Clutch.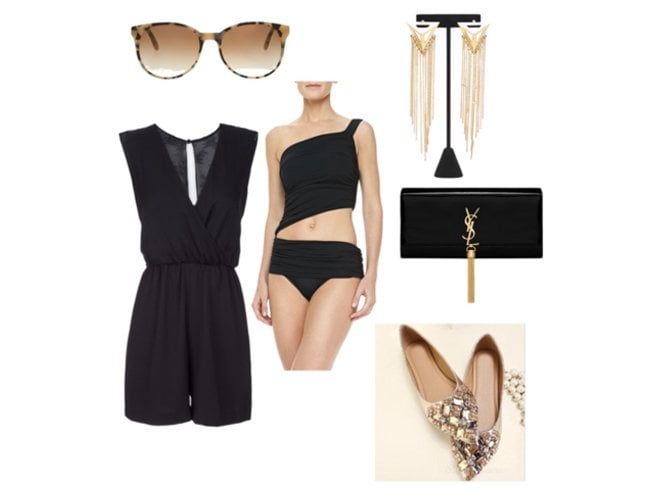 Bruno Mars Concert Dress at The Cosmo
While I was lucky enough to see the eclectic performance by Lionel Richie at Mandalay Bay Events Center in June; you can attend the Bruno Mars concert live at The Cosmopolitan of Las Vegas.
This Jenny Packham sequined dress in platinum is capable enough to turn heads. Since this full-sleeved dress is entirely sequined, keep accessories minimal with only a pair of earrings. This pair of Lanvin Clear Crystal Clip-On Chandelier Earrings complements the outfit, while Mina Nappa Minaudiere from Christian Louboutin adds glamour to the look. My pair of Christian Louboutin So Kate 120 suede pumps completed my look for the concert.
Day 2
Walking the Strip
As you'll be stepping out in sun, make sure to carry your sunglasses and a hat. My stylish fedora made of crochet natural raffia straw from Tracy Watts not only saved me from sun but also its raffia fiber kept me cool all the while I was outdoor. And my Forever New Lauren Bow Feature Sunglasses added scoring points to my style statement at the Strip.
Here is a tip from my personal experience – No matter whether you're visiting Niagara Falls in Canada or the Sin City, ladies, be prepared to walk miles at a stretch!
Especially in Vegas, something that might look like a short walk next door is actually distantly located. It's only your perception about space that gets skewed in between the huge buildings. While strolling is your major kind of movement, especially at the Strip, I highly suggest you to wear flats. Flats give you optimum comfort, whilst encouraging you to walk miles in. Since it was a sunny day when I had visited I ensured not to have my skin tanned.
My fashion take at Casino of Cosmopolitan, Las Vegas
It's criminal to be in the Sin City and not visit any Casino. While I had already been to some of the city's famous casinos, including the Bellagio as a part of previous Las Vegas tour; this time I made sure to explore all the casinos spread across the sprawling 100,000 square feet of The Cosmo.
The Michael Kors Belted stretch-wool crepe jumpsuit renders a high end fashion statement and when it is picked for a Las Vegas casino then glamor is taken to a whole new level. Since the jumpsuit is off-shouldered, I had paired it with a Donna Karan New York Oyster Sequined Cashmere-Silk Shrug, which perfectly complemented the outfit.
Take it as a thumb rule; always try to go for platform wedges, while wearing a jumpsuit. These foot wears' enhance the beauty of this fashionable outfit. Only go for kitten heels or flats if you have those legs to flaunt. The Michael Kors Cicely Wedge Sandals added scoring points to my fashion meter.
As I have already mentioned when you're in Vegas, do not shy away from accessories.
I picked an oversized statement-making necklace to grace my décolletage and kept earrings simple, only with a pair of diamond studs to balance the overall look.
Day 3
Dinner Dress at STK, Cosmopolitan
Dress to success. Accentuate this bodycon silhouette for dinner with some fabulous accessories to be at the limelight. I had worn this fabulous ensemble to STK at the Cosmopolitan and was a complete winner; after all I had paired with appropriate accessories.
This Penelope Nude Chevron Panelled Bandage Dress comes with an embellished neckline and demands no other neck accessories. So, I'd paired it with statement earrings and bracelet. And with a pair of Gucci sandals like Michelle Crystal Cage, your style statement would do the talking.
Hope my fashion take on Cosmopolitan of Las Vegas gives you some inspirations for your trip to the Sin City!