Ever explored innovative ways to mirror and express your style, attitude, and personality? My dear, name tattoos is the new thing on the block, which can help you achieve that. It allows you to explore myriad possibilities in terms of design and fonts to convey YOU. Want to know more about popular name tattoos? Read on!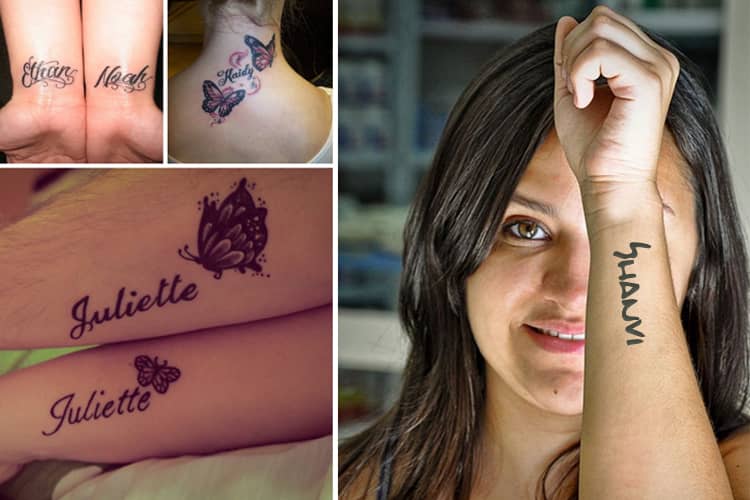 Wearing your heart on your sleeves comes easy with a simple name tattoo. You can even etch the initials of your parents as a tribute to them or flaunt your fiance's initials as a token of love. Getting the name of their little bundle of joy inked is a rage among new age parents too!
Here Are Trendy Ways Of Wearing Name Tattoos:
Here is a variety of name tattoos – some carrying the bearer's own name, whereas others carrying the name of loved ones. There is as such no fixed formula to define the name tattoo designs. To each his own! And you can get them modified and customized to the occasion and need. Formal or informal, peppy or sober, it's your call.
1. Name Tattoos On Arm:
Bangles are not the only thing, which can grace the arms of a lady. Name tattoos on the arm are one more way to attract attention. Possible? Check out below.
Who is Emma? Looking at the font style used for immortalizing the name of a woman in the form of a tattoo, she could be a beautiful woman with a penchant for the finer things in life. Are you this Emma that I am talking about? Say Yay or Nay?
Going by one of the most popular name tattoos for girls, Sophia is ruled by her heart. Saw the heart symbol inked in the middle of the foot? You are surely going to love this one.
"Tia" is one of the shortest and sweetest name tattoos on the arm that you can never say 'bye' to. Just three alphabets so simple and easy to pronounce, and now easy to remember too. Get the hint and get your nickname inked.
Hey, let us not forget the forearm too when it comes to sporting name tattoos. The one below has the name Marlow Lou inked on the wearer's forearm in the usual black cursive font.
Have two lovely daughters? Get their names inked like this in a nice looking font. The placement of the name tattoos on the arm is what allows you to show your affection in style.
Etching the initials of the special someone in your life is a romantic way of wearing name tattoos. Especially for girls who are mush queens, it is a must-try around Valentine's Day.
2. Name Tattoos On The Wrist:
Wearing small name tattoo designs on the wrist is the hottest trend these days. It looks subtle, minimal and adds glamour to your bare wrists. A good little name tattoo on the wrist can always double up as a piece of jewelry – when inked on the inner wrist, side wrist or in a bracelet form. Here are some stylish ideas for inking the name tattoos on the wrist that girls can explore:
"Alivia" calling, not on phone silly but with this inner wrist tattoo.
"Amelia" for you. The beauty of this name tattoo for women lies in the fact that apart from the name inked in script font style, there is a pic too. Yes, a butterfly image which further adds a feminine charm to the name tattoo.
"Arzu" and "Ali" are names of a made-for-each-other couple? It could be. The beauty of the name tattoo on the wrist lies in the fact that it is accompanied by crowns which adds to its regal appeal.
Creativity knows no limits. So here is one name tattoo which just has the 'name initials' inked on the wrist, instead of the complete name of the wearer. Guess what – the initials 'CB' that you see on the wrist could be of the wearer or the lover. Who knows, keep guessing!
3. Name Tattoos On Hand:
Name tattoos for girls can go that extra mile in upping your glam quotient depending on your killer attitude. Such tattoos can either be on the top of the hand or on the side of the little finger. How do the name tattoos on the hand look like?
This cute name tattoo is unisex. Meaning it can be inked on the hand of boys and girls alike.
4. Name Tattoos On The Neck:
Adorn your neck with a stunning tattoo design, apart from donning just a boring necklace. Let's see how chic name tattoos for women look like when worn on the neck.
This is the significant other's name inked on the lady. Maybe she loved it, maybe she wanted to convey her love. Whatever the reason, it looks awesome.
This cute and beautiful tattoo is pretty straightforward. With the tiny filled out heart and the uniformly designed name and date, it makes the perfect choice for a minimalist diva.
Disney logo font is used in many name tattoos. If your name starts with D, then this is the perfect font for your name tattoo.
What a feeling to be addressed as 'Queen'. If your name is Rani, Araina, Sultana, Mallika, Regina or Nazia then this tattoo is a must-have!
5. Name Tattoos On Other Body Parts:
Name tattoo designs need not always be on the neck, arm, wrist, and finger. They can also be worn on other parts of the body. Example, legs. Let us check out some name tattoos:
Doris is a baby name and this name tattoo along with a pair of footprints is super cute and adorable.
Do some foot-play with this name tattoo design on your foot.
6. Favorite Name Tattoos:
Name tattoos have been a rage amidst celebrities and A-stars. When you get your fav celeb names from the field of arts or sports inked on your body, you will feel as if you are on cloud nine. Take a look at Lady Gaga. She got a forearm tattoo in honor of her late Aunt Joanne Germanotta, who died from lupus at the age of 19. The pop diva – who also named her 5th album Joanne – also got herself inked with her actual signature!
Drool over some more celeb images with name tattoos of their loved ones.
B-town divas surely know how to catch the media's attention. Flaunting a name tattoo is their favorite publicity stunt.
You can go a step further and get the name of your favorite bird or your own pet inked on your body. It will add a quirky and cool element to your name tattoo.
Simple Maintenance Tips For Name Tattoos:
Pricking needles can lead to fresh wounds on your skin while getting a tattoo inked. This can make the affected skin susceptible to infection and sores. Therefore, you need to keep the skin clean and protect it from irritants.
Wash the wounds twice a day (minimum) and dry it immediately using a fresh, soft and dry hand towel.
Avoid touching the tattooed area and scratching it with any piece of cloth or fabric
Even after the 2-week healing period is over, continue to take care of the affected area.
Stay away from direct sunlight as the skin around your tattoo may be sore.
Wear clothes that can protect the tattooed area from sun exposure.
Disclaimer Note:
The tattoo ink can cause an allergic reaction. A tattoo allergy can lead to a rash, swelling, irritation, or some other skin abnormality at or around the site of the tattoo. Seek immediate medical attention if you suspect you are suffering from an allergic reaction after getting a tattoo inked. Never make an attempt to remove a tattoo yourself — after all, tattoo removal requires medical intervention.
Hope you found our article on name tattoos interesting. Will you flaunt your love with pride by wearing your beloved's name as a tattoo? Do you have one inked already? What was your experience – before and after? Write your comments and tell us about the excitement and adventure.