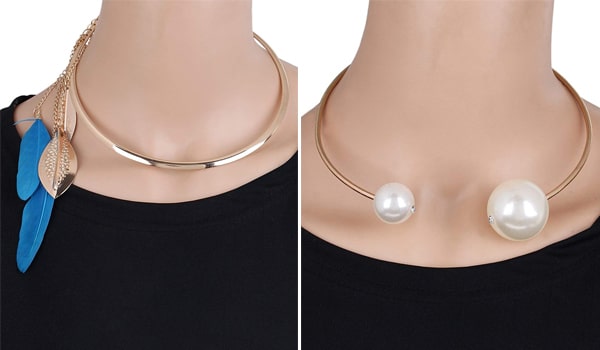 With shoulder baring still a thing, the dominance of chokers continues.
It was about two years back that chokers had made a star studded entry into the Indian fashion industry all over again. With fashion leaders across Bollywood sporting all possible versions of it, mostly done up in black on their neck, chokers became an instant hit. Since then the world has evolved further, but this piece of jewellery seem to have got stuck onto their all black ensemble.
Taking the choker success ahead, now is the time to ditch the staple black and opt for chokers in varied hues and patterns.
Fabulous Chokers That Go Beyond The Staple Black Chokers:
While we still love all our black chokers, it's time to move onto their more varied counterparts. Available on Amazon.com is a wide range of chokers that will deviate you from the basic blacks and direct you towards it's more distinctive kinds.
Mentioned below are our top picks for chokers that go beyond the regular black.
1. Metal Choker With Feathers:
A choker that exudes cool coupled with those pretty dream catcher kind of feels is sure to get you some attention. This metallic choker adorned with feathers in cool blue and gold metal gives an all new direction to the choker trend. For most impact wear this one with a surreal white flowing beach dress, added points for an off-shoulder number, and a pair of kitsch slip ons in complementing shades of blue.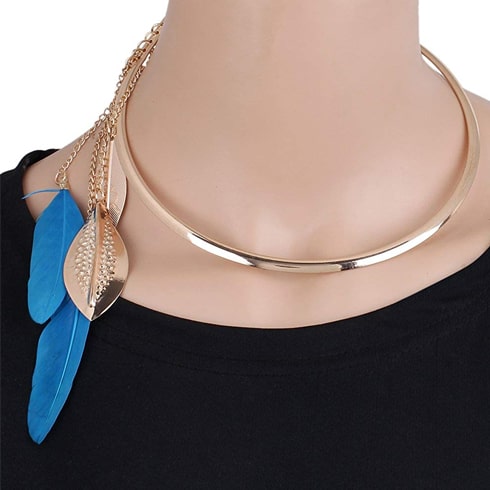 2. Pearl Choker:
For those of you love the vintage and royal charm of pearls, this gold plated choker studded with statement white pears on the edges will take your style game notches higher. It did go best with one shoulder outfits, for the pearls will observe spotlight on the side you are baring. Evening dresses, oversized jumpers or even suits will make a good pairing.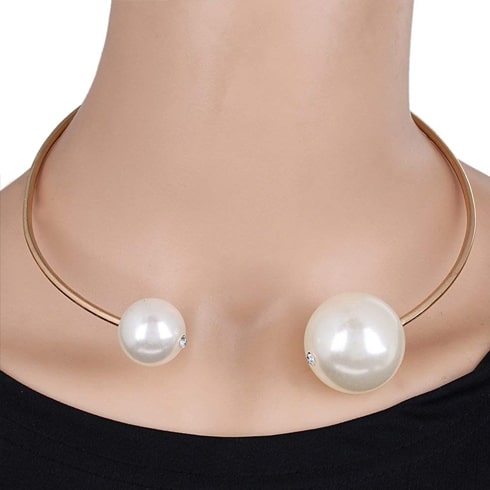 3. Brown Leather Choker:
For a more routine usage, this simple brown leather choker comfortably replaces the boring black ones. With the centre motif adorned with the imagery of a jazz dancer, this leather choker presents a certain uniqueness in monotony. Will play a fitting add-on to your casual lookbooks.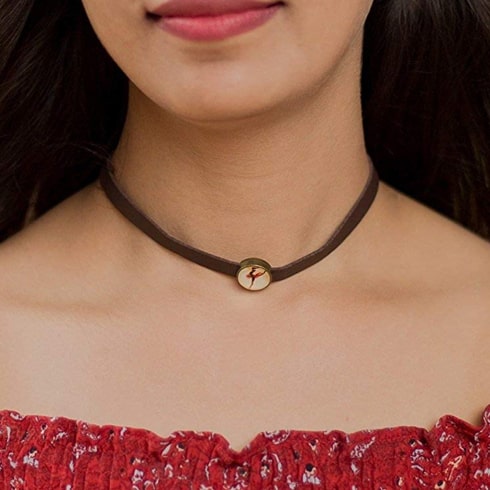 4. White Lace Choker:
The most delicate and feminine fabric is undoubtedly lace. Combining the gorgeousness and grandeur or lace with the chic and cool choker has resulted in a pretty invention, the lace choker. Perfect for those romantic outings, this white choker will amp up your repute as a fashionista. From crop tops to shirts, this lacey number will have complements flowing in.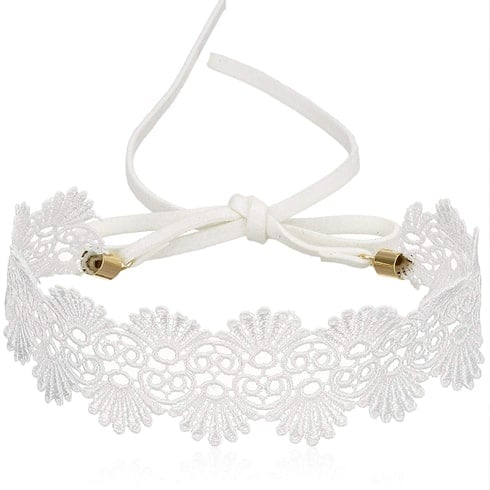 5. Afghani Necklace Choker:
If you want to go out and about with your choker style then this magnifique Afghani choker necklace is for you. Adorned with colourful enamel and dangling anchor chains this choker will give your festive dress ups a beautiful fancy upgrade.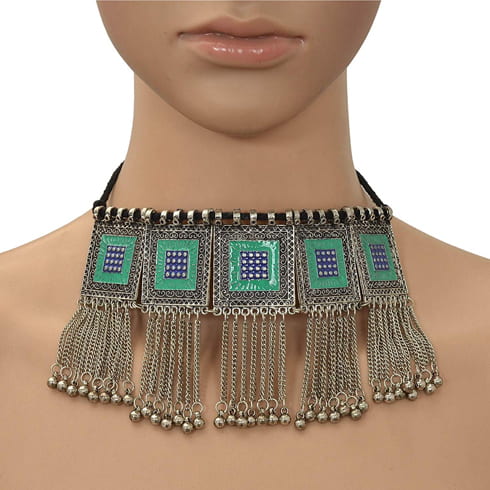 So ladies we hope we have convinced you well to take a break from your black chokers and opt for these lovelies.
Author: Sonam Maheshwari