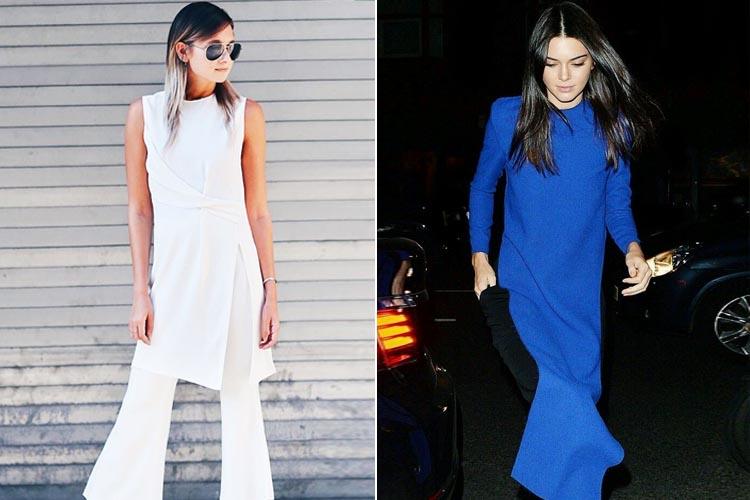 A tunic top is one of the most versatile pieces of clothing. This layering ensemble makes you look chic without looking bulky. One of the best ways to wear the tunic top is to pair it with a neutral color. This can allow you to repeat the outfit without anyone taking notice.
This article will share some tips on new ways to wear a tunic top. Here are few examples:
How to Style Tunic Tops with Different Clothing:
1. Pairing with Bottoms
Tunics are longer than traditional shirts. It mostly hits mid-up, mid-thigh or below. You may pair these loose tops with straight cut bottoms to create a perfectly proportional ensemble.
Select a tunic that complements your body shape.
Choose a fabric, pattern, and neckline that match with your personal style.
The hemline hits your mid-thigh showing a bit of your legs.
Pair the tunic with a pair of skinny pants, cords, jeggings, and plain leggings.
Complete the look with a pair of boots, ballet flats, and heels.
Accessorize your tunic with a chunky necklace or scarf, biker jacket, and a gorgeous bag.
You can wear tunic as a dress with longer hemline. Consider wearing the tunic
2. Wearing it as Dress
Tunic tops or kurti has a longer hemline. So you can wear kurti as a dress. The slight variation of the lean look is ideal for fall and winter. Before wearing your long tunic as a makeshift dress, make sure it fully covers your bottom.
Look out for a long tunic that suits your personal taste and style. The hemline and cut should hit below your mid-thigh.
You can wear a pair of tights, sheer nylon, sweater tights, and patterned tights with the tunic.
Pair the tunic with a pair of boots.
You can accessorize the tunic using a belt, necklace, scarf, and a watch.
3. Pairing the Tunic with Shorts
Pairing the tunic with pants, leggings, and tights may not be comfortable during summer. One other option can be wearing long kurtis with skirt style, shorts, and capris.
Pick a lightweight tunic to wear. Select a design that matches your personal taste.
Select a pair of shorts, skirts, and capris that can be visible underneath your tunic's hemline.
Wear the tunic with a pair of sandals or heels to complete the look.
Accessorize your tunic using a necklace, shawl, sweater, and a casual bag.
[sc:mediad]
How to Style Tunic Tops for Different Occasions
1. Beach, Sightseeing, and Dinner Look
Tunics are perfect to wear at beaches and while cruising. This piece of clothing can be worn during sightseeing, dinner, and at the beach.
Select your favorite swimsuit and pair it with a tropical designed tunic over it.
Pair it with flip-flops, sunglasses, towels, snacks, and sunscreen.
When you are going for shopping or sightseeing, pair your lightweight tunic with a pair of Bermuda shorts or capris. Complete your look with a pair of comfortable shoes, jewellery, and light jacket.
Wear a fancy tunic with a slim fitted trouser for a night out or dinner. Pair it with strappy heeled sandals, structured bag, and chic jewellery.
2. Casual Look
Wear tunics when you hang out casually with your friends and family. They are comfortable and hence easy to wear. They make for a great casual wear. Put it on when you go out for a coffee, brunch, or clubbing with your friends. You can match it with accessories and shoes depending on your personal choice.
Select a simple tunic that hits your mid-thigh.
You can pair the tunic with skinny bottoms like jeans, cords, leggings, and jeggings.
Pair of ballet flats and boots is also good options.
Pick accessories depending on your preference.
3. Work Look
Tunics can give out a casual vibe, so you add a few changes to it while going for office. Wear the right pair of formal shoes, bottoms, and accessories to give the tunic a more formal look.
Pick a tunic that is suitable for your workplace.
Avoid wearing low necklines and do not wear the tunic as a dress.
Pair the tunic with slim cropped trousers, skinny pants, and pencil skirt.
Wear it with a chunky necklace, scarf, blazer, sweater, and tote bag.
Selecting a Tunic that Complements your Figure
1. Select a Tunic that Balances your Figure
Select a tunic that matches your body shape. When looking out for tunics, pick out what enhances your body shape and brings out the best features.
If your upper body is narrower than your lower body, you should pick a tunic that draws out attention to your slender shoulders.
Look out for tunics with side vents that hit above or below the waist. For highlighting shoulders, select a tunic with deep V-neck. You can balance out your body using a scarf or necklace.
Make sure the pieces of clothing you choose to wear with your tunic highlights your best features and hide your flaws. Therefore, pick Indian vests with plain kurtis and which can show off your lower body. You can also pick tunics with deep necklines to draw attention on your face.
2. Select a Tunic that Accentuates your Waistline
A well-fitted waistline can accentuate a woman's natural curves. Look out for tunics that highlight your curves and create a flattering look.
Go for a well-fitted tunic that sits at the waist and the hips.
Highlight your curves with the use of a belted tunic.
3. Select a Tunic that is Ideal for your Height
Women with tall frames often find it difficult to find tunic tops that are well-fitted. They should look out for tunic top that balances out their upper and lower bodies.
Women with petite frames often find it difficult to select tops, bottoms, and dress that are well-fitted. They may find it difficult to find a tunic that fits their body well and which can balance out their upper body.
If you want to wear the tunic as a top, you should look for one that has a short hemline. Or if you want to wear the tunic as a dress, you should select one with a longer hemline.
Avoid wearing tunic with empire waistline and puffy sleeves.
These are few new ways to wear a tunic top. Hope you find these tips helpful.