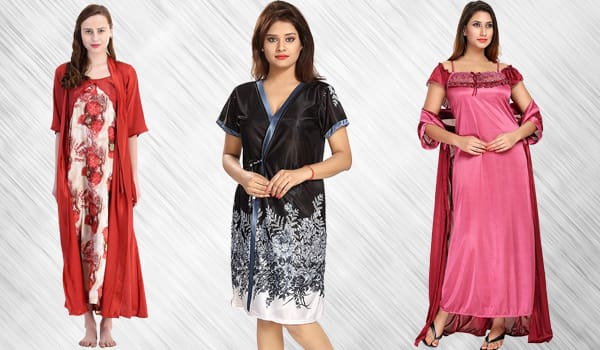 There is something classy about layering up your pretty night wears with robes. Nighties with robes for us are the most ideal bedtime outfits. They render all the luxe to our bedtime and all the chic to our lazy, "lounge all day" days.
Nighties With Robes Be The Most Ideal NightWear:
We did say give your pyajama days a break and dress up for sleep in pretty nighties and robes. With the robe trend taking over international runways, we have all the reasons to wear them to bed. From mesmerizing satin to deconstructed fine cotton, take your pick and make bedtime much fashionable.
To give you a head-start we have picked out five smart nighties and robe sets for you from amazon.in. We bet you did be willing to add more than one of these to your sleepwear collection.
1. Pretty In Pink Nighty With Robe:
For all the to-be brides, and newlyweds this pink nighty with robe is a hot pick. The self- patterned satin nighty is done up with currently trending ruffle detailing. While the short nighty gives a peek into your toned legs, the longer robe gives it an appropriate layering.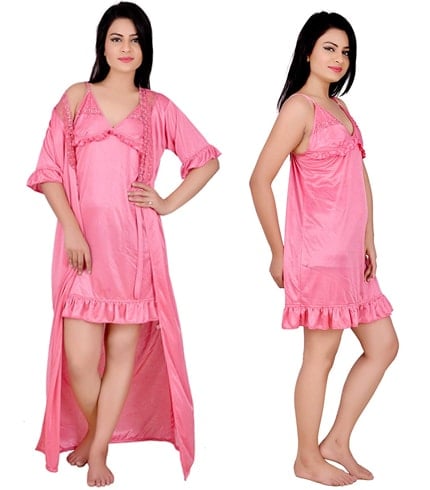 2. Nighty With Contrast Robe:
This one is for our PYT's (pretty young teens) who love to be in the spotlight. Dress up for your all girls stay-overs wearing this bright purple short strappy nighty with a contrast royal blue robe. Striking meets satin in this piece to render all the oomph you deserve.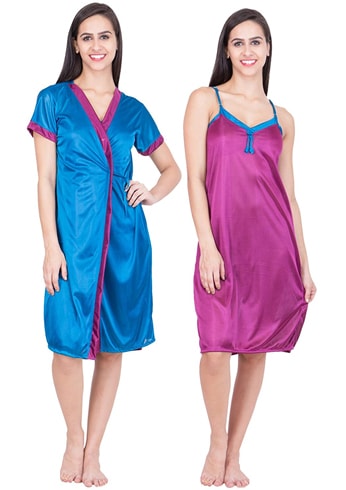 3. Maroon Lace Nighty With Robe:
We did place our bets on this one for women who have a flaunt-worthy voluptuous figurine. If short nighty is not your type then opt for a full maxi nighty like this one. We like the subtle off-shoulder lace neckline that adds all the flirty to this otherwise somber number. Layered with a full-length robe in a more darker tone of maroon, this nighty with robe makes for an interesting choice.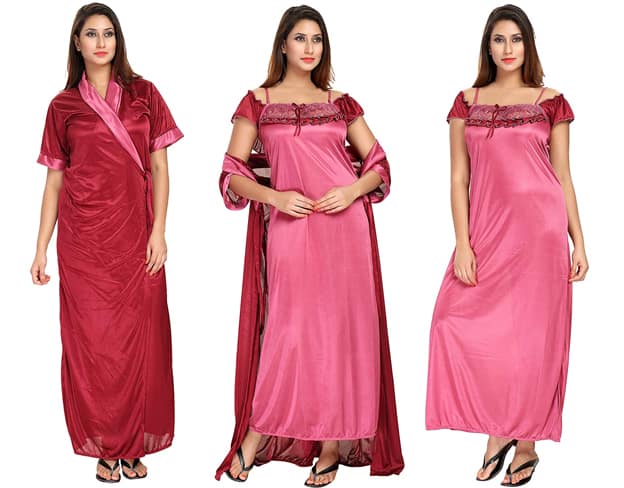 4. Red Printed Nighty With Robe:
A red nighty is a must have. If a solid red is a little too much on the eye for you, then this floral printed beige and red nighty is sure to soothe your aesthetics. The pretty lace detailing along the neck amp up the prettiness. Layered with a wrap around red robe, this duo makes for a fitting regular sleepwear.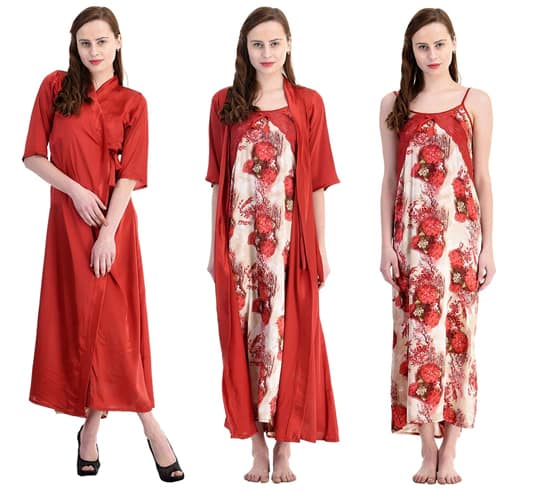 5. Black Printed Short Nighty With Robe:
No wardrobe is complete without black. To add the mystery tones to your sleepwear closet, this black grey printed satin short nighty and robes is a favorite. The shaded black to white tone adorned with a soothing floral print looks surreal and just perfect for a romantic moonlit night.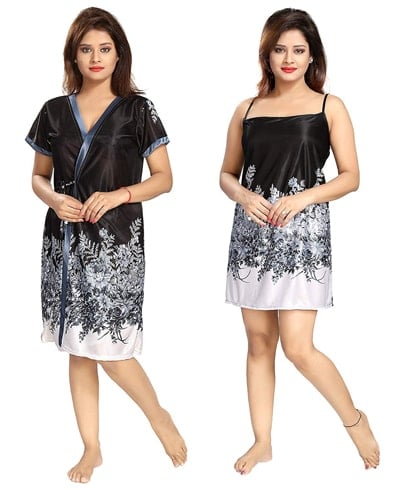 With such pretty nighties layered with even more pretty robes, we have all the reasons to let go the cute pyjamas for some time and feel beautiful in these fancy nighties and robe.
Author: Sonam Maheshwari