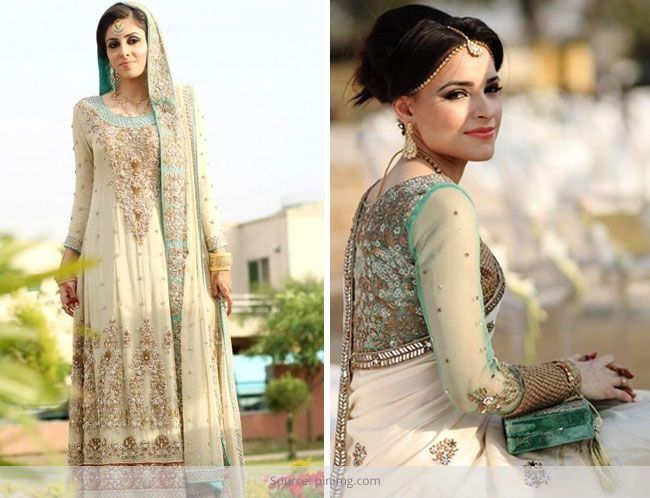 A Pakistani wedding is so similar and yet so different from an Indian wedding. Similarly, there are many similarities between a Pakistani bride and an Indian bride. But there are also some very unique differences. Pakistani weddings are a grand affair. Pakistani brides are world renowned for their beautiful bridal and attire and makeup. A lot of detail and work goes into transforming a beautiful Pakistani woman into a beautiful Pakistani bride. Here are some Pakistani bride inspired fashion ideas that you could incorporate in your wedding.
The Bridal Trousseau of a Pakistani Bride
As far as her wardrobe is concerned, a Pakistani bride has typical colours that she is expected to wear for different occasions. Just like in an Indian wedding, the preferred colour for the bride's wedding dress is red. And the preferred colour for the mehndi function is a yellow and green combination. But of course the brides these days are looking at other more unusual colours and are eager to explore some unique colour combinations instead of settling for the tried-and-tested ones.
Check out this Pakistani Bridal Fashion in an exquisite off-white Sharara. Gorgeous, isn't she?
One great idea that many Pakistani brides follow is to buy their wedding dress from designer boutiques and then go in for unstitched material when it comes to the rest of their trousseau. This way they cut down on costs and can thereby have a much wider selection of clothes for every wedding ceremony. Clever, isn't it?
Sarees are not a part of the Pakistani bridal wardrobe, although some brides are opting for it these days. Check out one such Pakistani bride who wore a custom-made saree with a contrasting blouse to her reception. She looks quite regal in the simple outfit, doesn't she?
Pastels are becoming more and more common in Pakistani weddings, with many modern brides opting for pastels over the more traditional, loud colours such as red and maroon. Take a leaf out of the Pakistani bride's colour choice and go in for a pastel colour. You just have to dress well and accessorize right to make a statement as a bride, you don't need loud colours for that.
Pakistani Brides in Shararas
While we Indians wear a lehenga or a saree on our wedding day, it is the norm for a Pakistani bride to wear a sharara. And we must say, they look quite stunning. With a flowing top coat and the lehenga-type skirt, a sharara is every bit as feminine and magical as the lehenga.
And we must say that we are quite impressed with their attention to detail! From the cake to the tapestry, everything seems to match and go so well together. The result is a wedding that looks like its straight out of a wedding magazine photo shoot.
[sc:mediad]
Pakistani Bride Makeup
Of course, we cannot not talk about the hair and makeup. Pakistani brides are known for the immaculate makeup and hairdos. While the makeup is more often than not on the heavy side, brides these days are slowly moving towards more subtle makeup. But however loud or subtle the makeup, every Pakistani bride will go all the way when it comes to their eyes. Heavy eye makeup is the trademark of a Pakistani bride.
Pakistani Bride Hairstyles
As far as the bridal hairdos are concerned, it is kept relatively simple with a braid or a bun. One thing to take note of is that bride's do not wear a lot of hair ornaments as we do in Indian weddings. The hair is styled into an elegant do or swept to the side and the bride lets her dress and jewellery take the centre stage.
Now that you've had a look at the Pakistani Bridal Fashion, how about incorporating one of their fashion ideas into your own wedding? Like opting for a sharara instead of a lehenga?