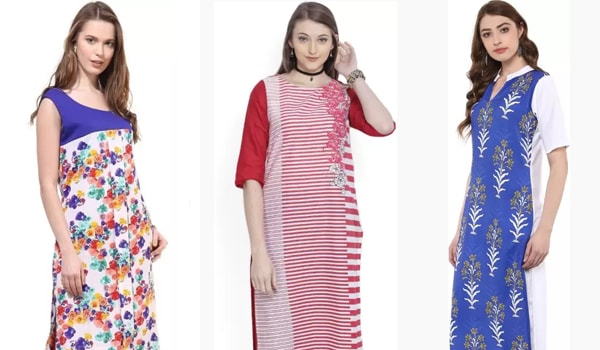 Kurtis on discount is great news for all those ladies looking to refresh their wardrobe. The pastel hues of these daily wear outfits can add to their sleek and sophisticated appeal. What are you waiting for? Go ahead and buy them today!
Most Popular Kurtis On Sale:
Here's our list of the best kurtis you can find online in pastel shades.
1. Floral Print Women Straight Kurta- Light Blue:
A floral print adds rich color to a subtle straight kurta with half sleeves and a collared neck. Don't think of it as purely feminine based on the cut, silhouette, and print type. It is a versatile top that will up your style quotient both at work and at your brunch meeting with friends. Pick it up to watch your style quotient zoom.
2. W Women's A-line Kurta- Pink:
Like a dress, this A-line pink kurta is super flattering. It will draw the attention, where it belongs. If you want to up your feminine appeal, then stick to the basic pink shade. The hue won't take away the attention from you. The kurta features white panels coupled with graphic designs that add to its stylish appeal. Pair it with heeled sandals and get ready to turn heads. It is a must-have in your wardrobe for sure.
3. Aurelia Women's Straight Kurta- White, Red:
A perfect color combination can enhance the richness and beauty of any outfit. This red and white straight kurta by Aurelia is a perfect wardrobe staple. There are a lot of ways to style it if you get bored with one look. Keep experimenting with it as you can pair it with denim, leggings, salwars and more. The kurta comes in cool shades of white and red, features ¾ sleeves and a straight cut style.
4. La Firangi Printed Women's Straight Kurta, Multicolored:
Make your printed women kurta exciting again by matching them with new textures. Do you have a pair of bright bottom wear? Pair them with a multicolored kurta like this. Allow the multicolored kurta to stand out with neutral pairings like a leather bucket bag and a statement watch. The round neck kurta also features a printed pattern and has a luxurious soft feel. It is intense and eye-catching but in a stylish, non-conventional kind of way. The bright pattern gives a fresh pop of color and adds a chic appeal to your overall look.
5. Libas Solid Women's Pathani Kurta, Blue:
The no-frill Pathani cut kurta is a perfect example of power dressing the ethnic way. It is a true closet staple. You cannot go wrong with this all-year-round essential. Pair this solid Pathani kurta with a pair of straight cut pants or wide bottoms. Slip into a pair of open toe heels to stay chic and comfortable all day long. The button-down front and collared neck adds to its sleek appeal. The silhouette is conservative enough to wear for work, while the neutral palette adds to its elegance.