New York style diaries of Priyanka Chopra couldn't get more interesting and they seem to be not just irresistible but also always up-to-date with the fashion world.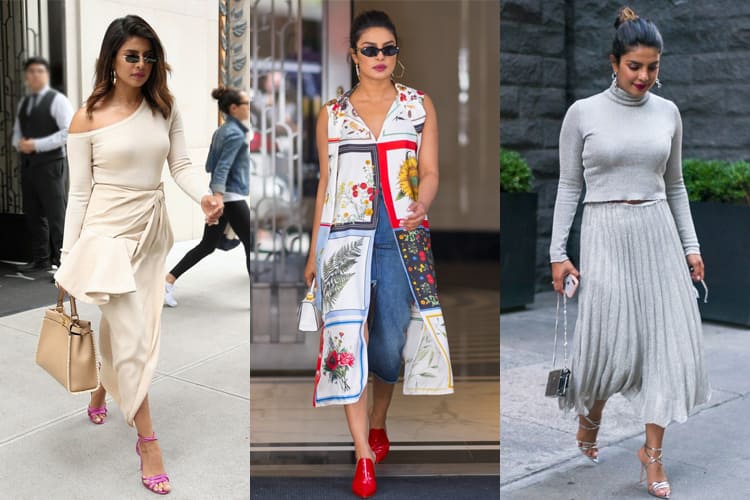 It is amazing how easily our Bollywood diva blended into the global platform of cinema and fashion and stepped up to being a true New Yorker. We often consider New York and Paris as the havens of fashion and it's splendid how PeeCee is contributing tremendously to the fashion of the city.
Priyanka Chopra Styles:
Few sightings of the diva are proof enough that she is snowballing great fashion chapters-
Neutral Notes:
Looks like Priyanka Chopra is all geared to give the stylists and their muses a run for their money by putting her most fashionable foot forward. She was spotted in the Big Apple looking fab in a neutral monochrome style. In a wraparound, thigh-high slit Jacquemus skirt over a one-shouldered stretch full-sleeved tee, she was captured setting out in the city. While the beige Fendi bag blended well with her neutral-toned styling theme, the Aquazurra pink ankle strap heels added the spice to her style. Love her casual non-fussy hairdo!
Printed Trends:
Trendy and chic was PeeCee's out and about endeavors in the New York City. She did the summer-printed style in Monse Maison top with great panache. That's an interesting outfit with denim lining, don't you agree? Adding a pop of red with her Gianvito Rossi heels, she elevated her quirky style quotient. Her summer-friendly updo, filled-in eyebrows, and deep-colored matte lips rounded her beauty game.
Shimmer Show:
To the Forbes event, Priyanka Chopra did a monochrome separates style in Ralph Lauren label. It was silver metallic shimmering style and oh! She did a splendid job of carrying it with grace and style. The polo neck shirt, the pleated skirt, and metallic Gianvito Rossi sandals added shine and sparkle to her style. Pinning her hair into an updo, her signature style deep-colored matte-finished lips and her subtle blush and bronze makeup, she was enigmatic. Doing metallic and shimmers from head-to-toe isn't easy and PeeCee showed us the right way of doing it. We love it!
Hope you enjoyed PC's New York fashion diaries!
June 25th, 2018
Author: Sai Bhargavi Chintaluri
---
Priyanka Chopra's On Point Summer Style
Priyanka Chopra is back in the bay for her Quantico schedule. While the tabloids are busy reporting about her rumoured relationship with the singing sensation Nick Jonas, we are having troubles overcoming from her breezy and vibrant spring summer wardrobe.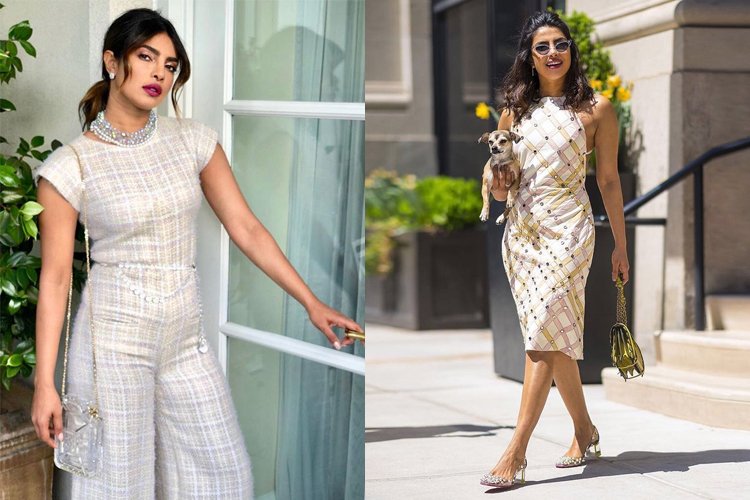 The shutterbugs continue to follow the former Miss World, and current Bollywood superstar as she strutters through the cities of US. From pretty pastels to florals to vibrant silhouettes, Priyanka's US summer closet is packed with everything trendy, stylish, and summery.
Juggling between her shoot schedules, event invites, and small vacay breaks, Priyanka is clearly taking her fashionista repute notches higher.
Priyanka Chopra's Summer Styles:
Scroll through the best of PC's sightings this SS18 coming in straight from the west.
In a Swimsuit:
What's a summer without a swimsuit? Living her sun, sand, and beach day Priyanka gave us hot flashes with that gorgeous red swimsuit. The long neckline is unmissable and her toned legs had us gazing at her. Beach goals! Summer done just right.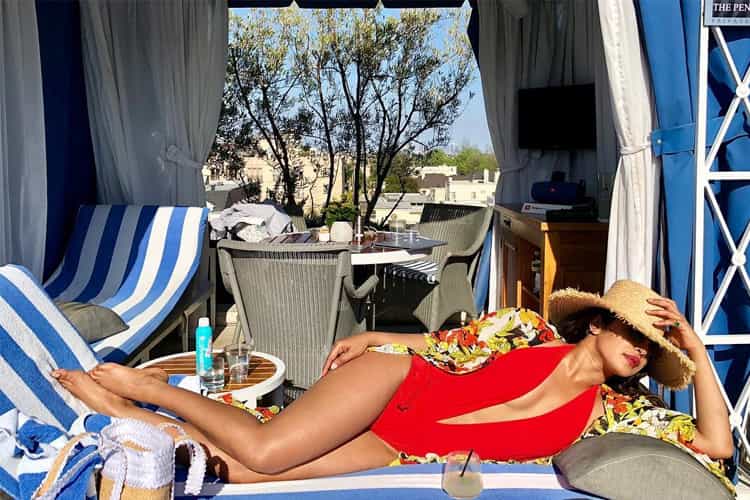 In a Jumpsuit:
For her burger date with her besties in L.A, Priyanka picked out a neutral Chanel jumpsuit. Pleasant to the eye, the lady revved up the neutral escapade with a magenta pout, a Chanel sling, and a pair from Jimmy Choo. Styling credits to Mimi Cuttrell.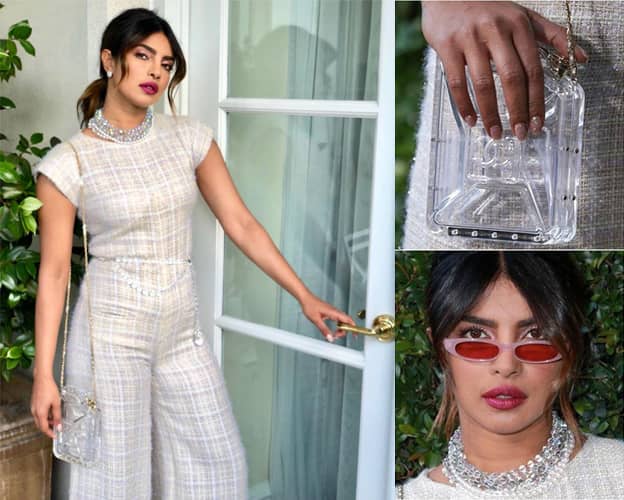 In a Sweater:
With the sun shining bright and the weather playing perfect, Priyanka gave off happy feels donning a pretty yellow cropped sweater. Lined with black highlights, the woman wore it with a pair of dark blue flared denims and leopard print black-tinted glasses.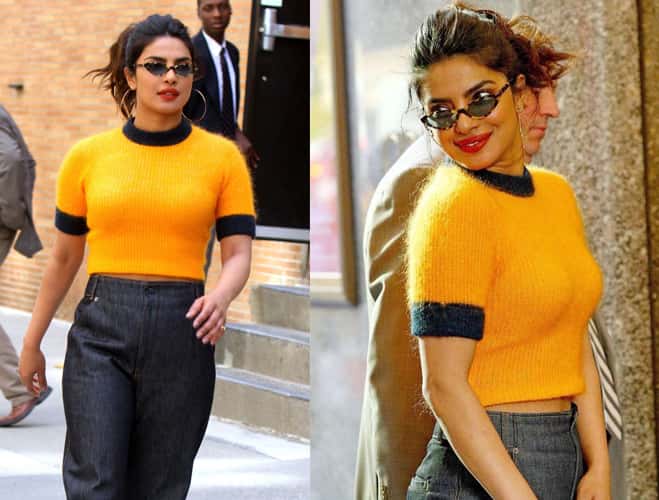 In a Midi:
Stirring up the paparazzi with her dinner date with Nick Jonas, Priyanka duped the media into a speculation whirlwind. But what kept us awed was that all-black, date night look of PC. The black top with that black and gold ruffled midi looked good.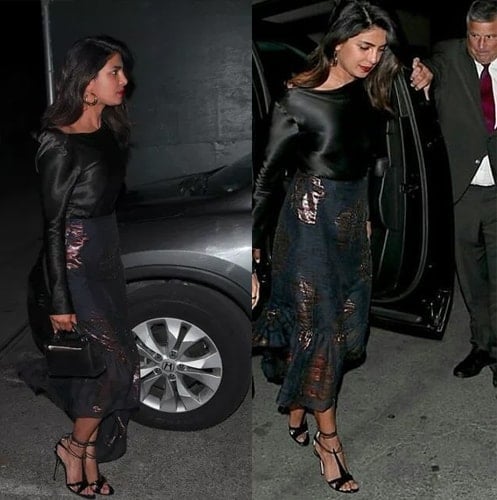 Spending her day with her pet Diana, Priyanka slayed in a pretty halter neck midi dress lined with stripes in olive and salmon. With a pair of peeps and an olive bag, Priyanka looked absolutely summer-ready.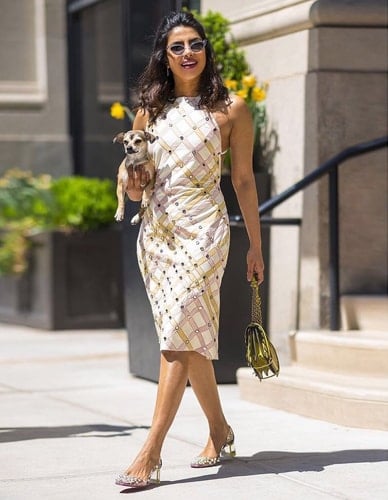 In Denims:
Clicked while on her way to for an interview at YouTube, L.A, Priyanka aced casual chic pairing a crisp white cropped shirt with a pair of body-hugging high waist denims. While the patchwork denim contoured her perfect figure, the oversized shirt added all the cool.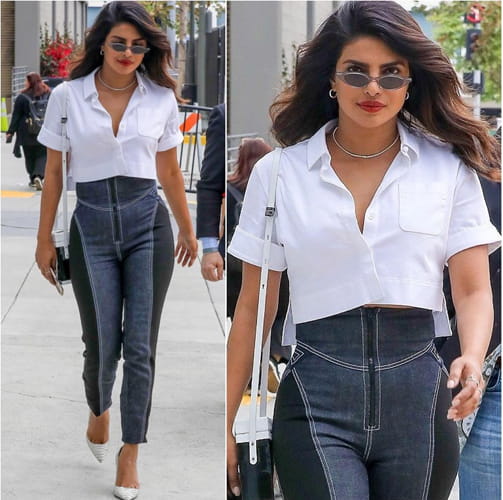 In Ankle Length Pants:
Looking like an absolute bombshell was Priyanka Chopra dressed up in black separates for her after party. She wore her black cropped blouse boasting of a super long neckline with a pair of fitted black and gold ankle length pants.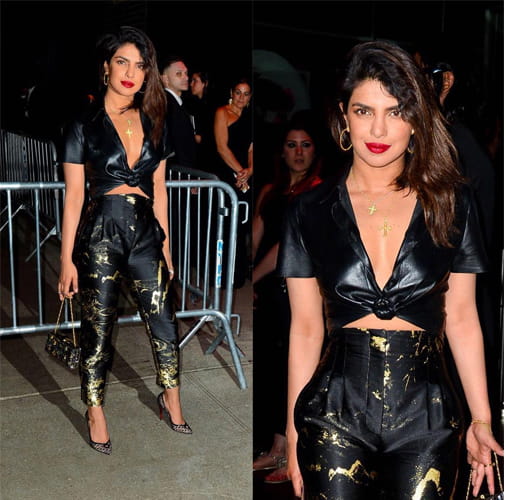 In a Maxi:
While In Malibu, Priyanka lets her hair down enjoying an afternoon with her niece Krishna. Taking in the breeze, PC gave us weekend vibes wearing a pretty floral maxi in soft pastel tone.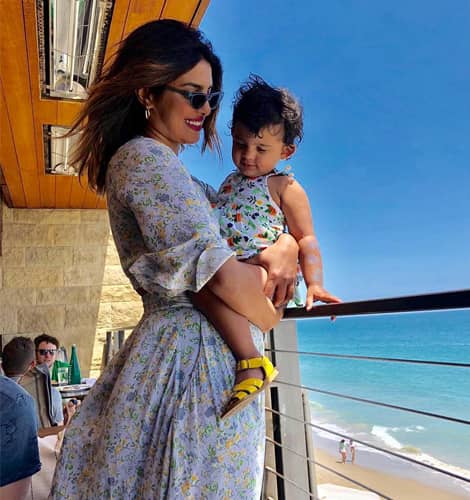 Now, that is how fashionistas spend their summers. Looking forward to more of this fashion love sent by our diva from across the globe.
Images Source: instagram.com/priyankachopra

May 8th, 2018
Author: Sonam Maheshwari
---
Priyanka Chopra Sets New Fashion Goals In NY
Be it India or New York, Priyanka Chopra never ceases to impress us with her fashion sense. While in India, the diva sported traditional creations; in New York, she aced the western fashion game like a pro.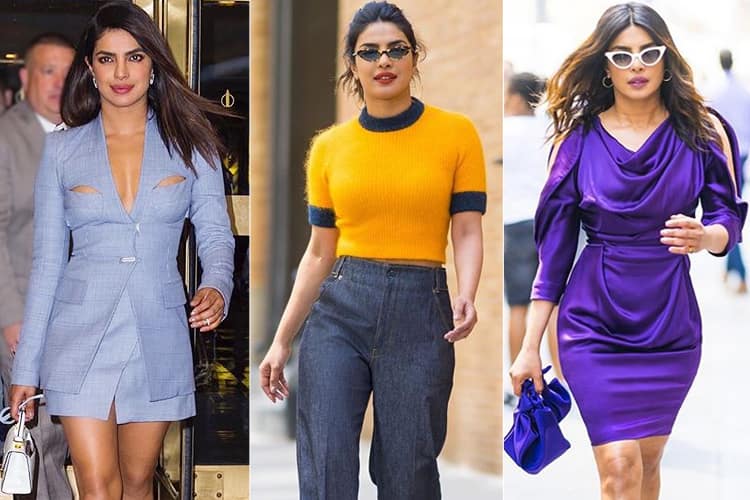 Her recent fashion outings in New York City while shooting for Quantico knocked us off our feet. Competing with herself, flaunting her toned frame in designer ensembles, she struck killer poses worth dying for. Dig into the details here with us.
In Dion Lee:
Looking both sizzling hot and uptown and classy was PeeCee in a Dion Lee outfit. While the full-sleeved blazer style outfit rendered a crisp, classy vibe to the diva's look, the cut-outs, the plunging neckline, and the length of the outfit kept her style sexy. Adding white accessories like a Jason Stalvey mini handbag and Louboutin heels, she exuded a cool and chic vibe. Messika jewelry finished her style royally. Side-parted straight hair, luscious lashes, and matte finished lips were all it took for the diva to look stunning.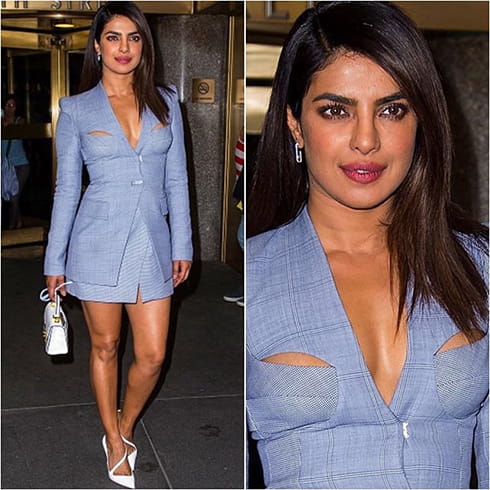 In Ganni and Frame:
Unlike the former summer-friendly style, Priyanka Chopra was spotted doing a sweater style in a bright and warm top from the Ganni label. Wearing the crop style sweater over a pair of high-waisted Frame jeans, she rocked a trendy retro look. Small-sized cat eyes shades by Gigi Hadid X Vogue eyewear and Fendi striped shoes were her choice of accessories for the day. Messy ponytail and coral lips sealed her look enigmatically.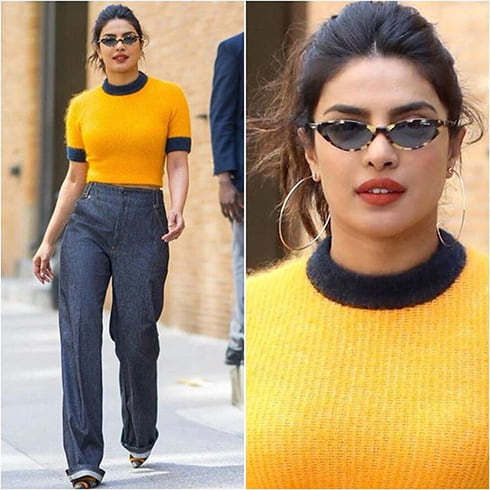 In Vivienne Westwood:
In a solid color cold shoulder Vivienne Westwood dress, Priyanka Chopra looked ravishing. As much as the bright outfit complemented the diva's sultry skin tone, by picking The Row clutch in a similar hue, she elevated the spice factor of her style. Louboutin shoes in a neutral shade and Lana jewelry were her choice of accessories for the day. Her signature plum lip color and messy hair rounded her style perfectly.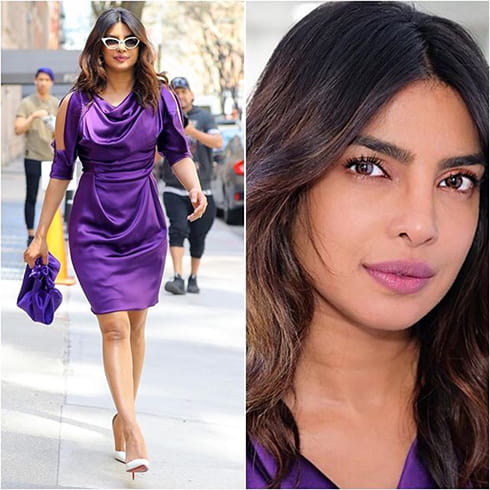 Hope you enjoyed reading the post! Keep reading for more style inspiration from the celeb world.
Images Source: instagram.com/priyankachopra
May 4th, 2018
Author: Sai Bhargavi Chintaluri
---
Priyanka Chopra Sends Out True New Yorker Vibes
Looks like NYC, the Big Apple, has become the second home for our darling diva Priyanka Chopra. While shooting for her renowned TV show, Quantico, the diva made herself absolutely comfortable in the realms of the city.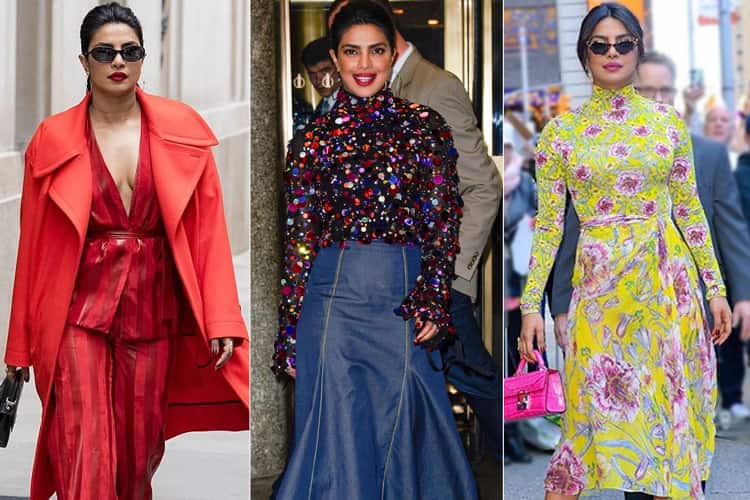 The New York City is well-known for its fast-paced culture and it is no surprise that fashion walks on the street. Blending in with the crowd when needed and yet standing out with her upbeat fashion picks, Priyanka Chopra proved that she is a true fashionista.
Her recent appearances have created ripples in the fashion world and we wish to bring it to your notice-
Sweet Notes
PeeCee never seizes to win us over and over again with her care-free styles. Dressing up in a florals print Brock Collection outfit from the fall collection, she kept our interest rooted in florals. The puffed sleeves, and the peplum finish along the waistline left us an impression of a separate style, didn't it? Wearing similar shade sandals by Simon Porte Jacquemus and with Le Specs glasses, she looked incredible. Wearing her hair casual and messy, and with coral lips and glowing makeup, she looked bright and cheery.
Fiery Flashes
Red color always gives a magnetic effect and every one of us surely owns one piece in the stark red that spells HOT, don't we? Likewise, Priyanka pulled out her fiery red style and left us asking for more. She painted the screen red in an Alejandro Alonso Rojas blazer and culottes. Topping it with an orange-red Vivienne Westwood jacket, she made it hard as hell to look away. Wearing a pair of cool shades, red-hot lip color and by pinning her hair into a pony, she looked smoking hot.
Summer Number
Our darling diva, Priyanka Chopra created a perfect melting moment dressed to nines in a floral jersey turtleneck bodysuit with floral silk chiffon hand draped twist skirt by Prabal Gurung. Nearly neutral shade Gianovito Rossi heels, an updo with streaks of hair falling out casually and deep colored makeup elevated her style quotient a notch higher. The summer prints look every bit worth a shot, what do you say? Love the shot of pink with Jason Stalvey mini bag!
Starry Nights
Dressy in denim is a challenge that not every celeb can master. Denim is also associated with casual, cool, chilled out styles but Priyanka changed our perception of her latest dressy denim style. She was spotted looking cheerful and alluring in a Carolina Herrera skirt style. While the denim skirt softened the look, the colorful sheer top added the quirky party edge to her style. Wearing contrast sandals in pink by Gianvito Rossi, with red lips and blush-toned makeup, she left us stunned.
Easy-breezy Vibes
Embracing the summer with flowing, easy-breezy gown by Vivienne Westwood and holding the spring fashion intact with the prints, Priyanka Chopra blends in both seasons perfectly. Cat-eye shades, Versace handbag in white and coral lip color finished her refreshing avatar. Slaying the seasonal fashion, PeeCee won our fashion minds and hearts with ease.
Casual Fashion Notes
Strolling in the city, PC was caught looking utterly casual and chic in a black high-necked Commando by Kerry O'Brien top over a high-waisted Christopher Bu crisp skirt. Pairing the style with lovely looking Ritch Erani sandals, Priyanka put her most fashionable foot forward. Her signature messy, wavy hair and matte finished lips rounded her style like always.
Just like the saying-Be a Roman when in Rome, PeeCee kept her style game on par with the New York lifestyle and we find it commendable.
April 30th, 2018
Author: Sai Bhargavi Chintaluri
---
Priyanka Chopra Sizzles On Vanity Fair This Month
Across countries, cultures and climates ofcourse, one name which seems to have transitioned with much ease and fits in like it belongs, is Priyanka Chopra. With Pee Cee, it's always a one woman show. Surprising us with her skill set, she has obsorbed all the fame being Bollywood's superstar, a pop singer, producer and face of a leading television series in the US.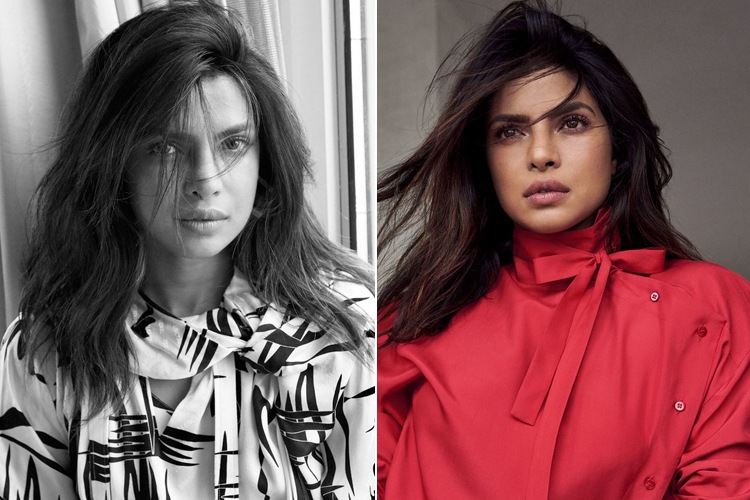 While juggling between all these heavy duty tasks, Priyanka continues to maintain her fashionista status and lives up to her reputation with her fashion game on point. Be it amidst all that snow in New York, as opposed to the heat and humidity of Mumbai, Priyanka Chopra has perfected the art of changeovers in accordance with the weather almost instantaneously.
We cannot help but agree that every time Pee Cee accepts to be on covers, she only solidifies her positioning as a fashion icon. This month, Priyanka lent her face to the April issue of Vanity Fair. With a very urbane feel to the photoshoot, Priyanka Chopra, on the magazine issue, gave us all the New Yorker feels. Appearing to have miraged the chic fashionistas from the Upper East Side, Priyanka absorbed and radiated the city vibes on Vanity Fair well.
The shoot was done in NYC, with Sebastian Kim being the main man behind the lens.
Scroll through her clicks and you will know why the world is wowed by her glamorous charm.
Imitating the fun loving city girls, Priyanka channeled her carefree Mumbaikar vibes into the Manhattan studio of Sebastian Kim. Dressed in a black short dress from Louis Vuitton, Priyanka gave us a piece of her innocence with that genuine smile amidst all those lights and cameras. A natural make up and hair do, the picture flaunts her real beauty.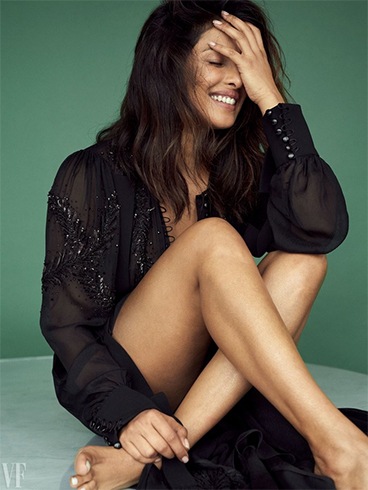 Sexy and smoking was this black and white click of the diva in a white jumpsuit from Ralph Lauren. Her lapel neckline caused the hotness quotient to soar while her no makeup look added to her intensity. The straightened out tresses amped up the bold and edgy feels. A defined eyebrow and Foundrae necklace sealed Priyanka's Manhattan looks.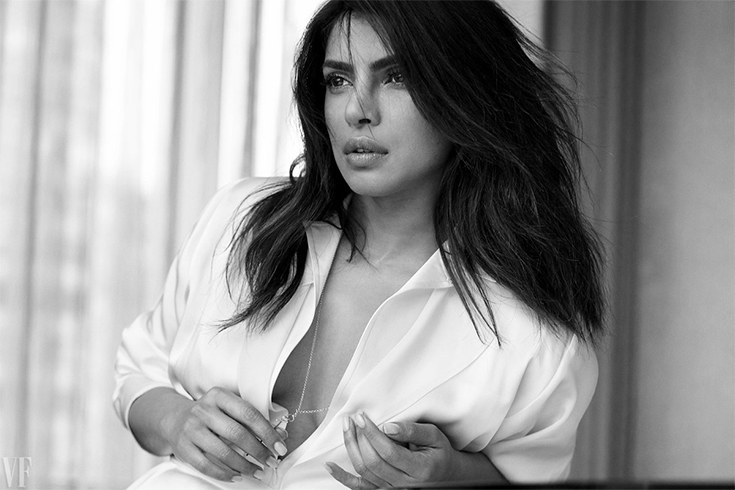 Looking absolutely gorgeous and ravishing was Priyanka in a pretty red dress from Maison Valentino. The knotted up buttoned dress brightened up Pee Cee's face, taking her glam girl image to new hights. Shot in the London Hotel at Manhattan, NYC, Priyanka had us pining for this one.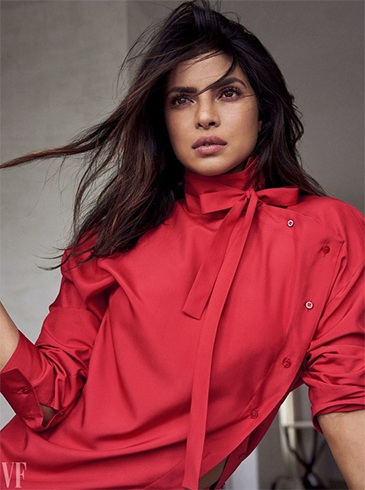 For her last click on the the magazine, Pee Cee turned to a monochrome dress from Balenciaga. Tousled pokey tresses and that wild stare worked wonders for the shutterbugs. A nude face, and highlighted brows grabbed all the attention.
Priyanka Chopra on Vanity Fair is a reassurance of her star power that continues to prevail and captivate us. With that one of a kind impact, Priyanka never fails to leave a lasting impression on the readers.
Images Source: vanityfair.com
April 25th, 2018
Author: Sonam Maheshwari
---
Priyanka Chopra Goes Monochrome For the Events In Delhi and We Find It Irresistible
Raising to the pinnacle of success gradually, Priyanka Chopra has become a dream icon, not just for aspiring actors, but aspiring women too, in every field of opportunity. Be it her well-framed inspiring mien, her fashion sense, or her spectacular performance, the diva gets everyone's undivided attention and that is note-worthy.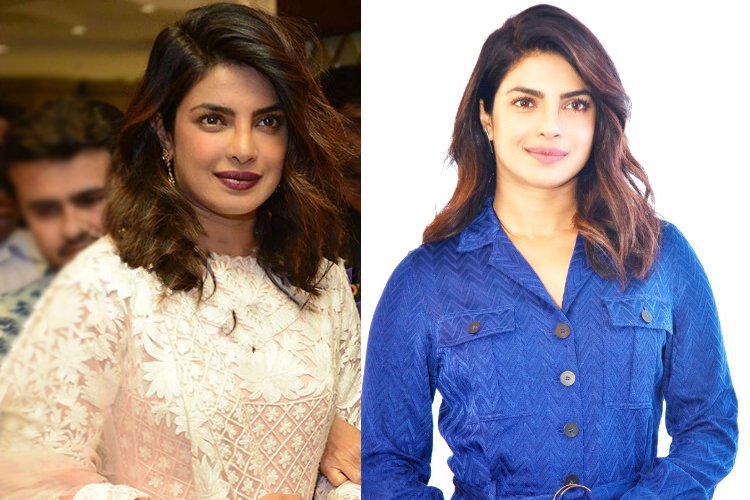 Playing her fashion game aptly at two varied occasions, PeeCee delighted us with her presence. While we throw light on her stunning styles, sit back and enjoy the sight.
In Missoni
For a UNICEF event in Delhi, the diva picked a monochrome style and struck the fashion chords nice and strong. She dressed to nines in a Missoni cobalt blue jumpsuit and we have to admit, the style was both casual and classy. The color surely complemented the diva, and by keeping her accessories game minimal, she nailed the style.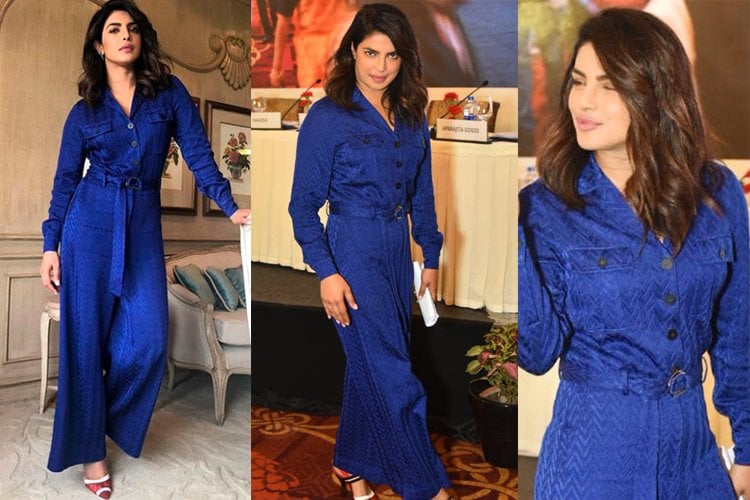 With contrast toned Fendi shoes, she finished out her look. The belt and the shirt style pattern of the jumpsuit gave it a separate style vibe, don't you agree? With her messy wavy hairdo and soft pink lips, fuller eyebrows and well-contoured features, she was hypnotic.
In Manish Malhotra
Unlike the former western style, the diva showcased an ethnic avatar at a book launch in Delhi. After seeing the diva roll out majorly western styles, we longed to see her in an ethnic label and there she was, looking fabulous as always. In a cream lace Manish Malhotra outfit, she was the light of the event in play. Since the outfit was high-necked and heavily-loaded with details, the diva skipped the accessories and we appreciate the choice. Florian Hurel, the hair, and makeup artist, painted her in tones of bronze and gave her hair a messy wavy look. The dark lip color definitely stood out and made an impressive impact on her style, don't you agree?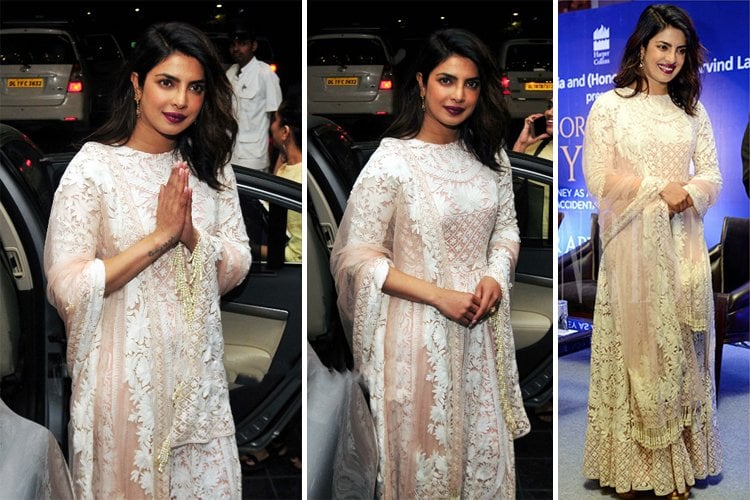 Minimal accessories and monochrome styles of the diva inspired us to redo our closet. What about you?
April 13th, 2018
Author: Sai Bhargavi Chintaluri
---
Priyanka Chopra Looks Delicate and Dreamy at The 69th Primetime Emmys Awards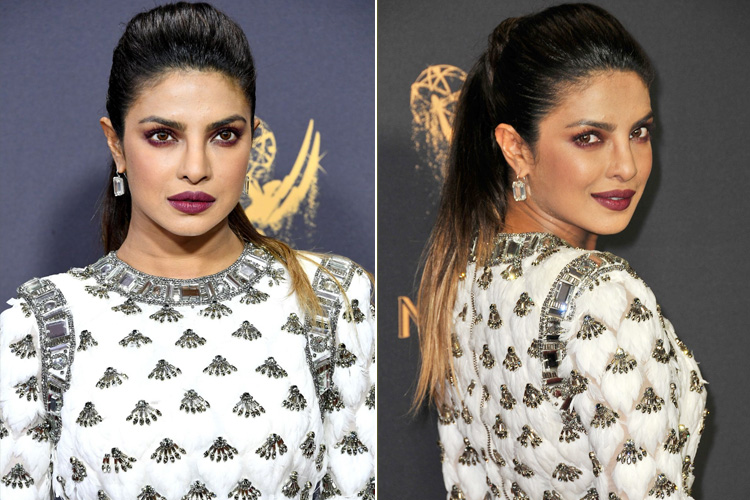 The weekend ended on a grand note for all of us with the larger than life 69th Primetime Emmys Awards 2017. Glued to our seats, thoroughly enjoying the best and worst moments of Emmys, we had a ball of a time.
As much as we were cheering for the best actors of the most rocking TV series, we equally feasted on the fashion gamble of the divas. Of all the attendees, we had eyes mainly for our desi girl, Priyanka Chopra who like always charmed her way through looking absolutely stunning.
Priyanka Chopra chose to go mermaid style in a custom-made Balmain white outfit. While the well-tailored body-con outfit complemented her toned bodyline, the fur train added a trendy and chic vibe.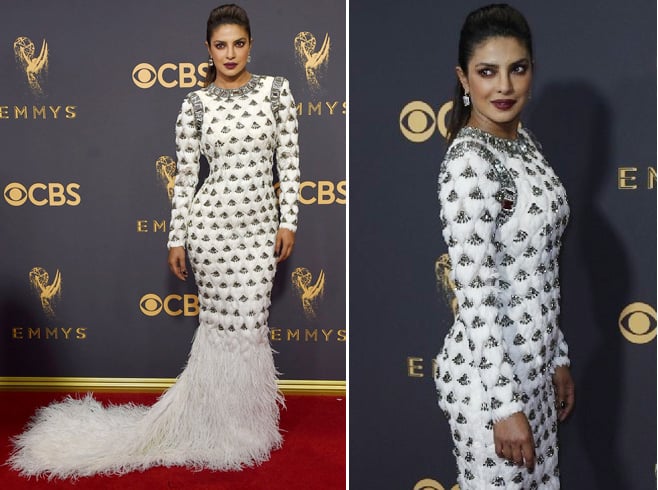 With sparkling gems that played along with the embellishments of the outfit, she garnered a grand avatar. Danilo, the hairstylist pinned her tresses, sleek and tight into a high ponytail. Prema, the makeup artist, gave her a glowing touch up with deep plum lips and luscious lashes.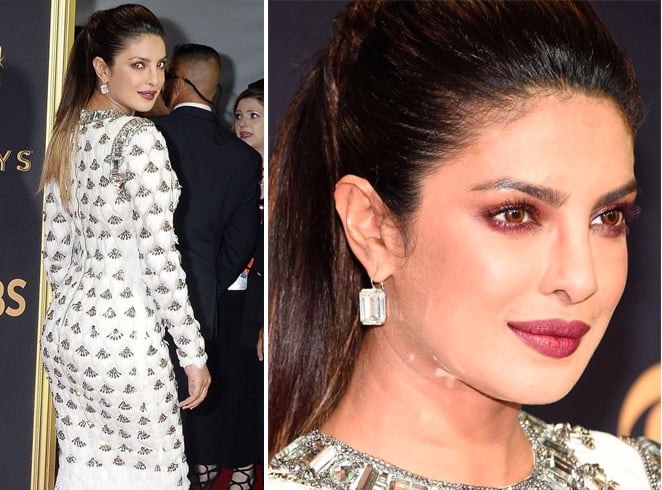 Cristina Ehrlich, the stylist like always did a spectacular job in styling PeeCee. Hope you enjoyed catching the witty, lovely, bold and beautiful diva on the silver screen.
September 21st, 2017
Author: Sai Bhargavi Chintaluri
---
Priyanka Chopra Age, Figure, Height, Sister, Husband, Without Makeup and Bio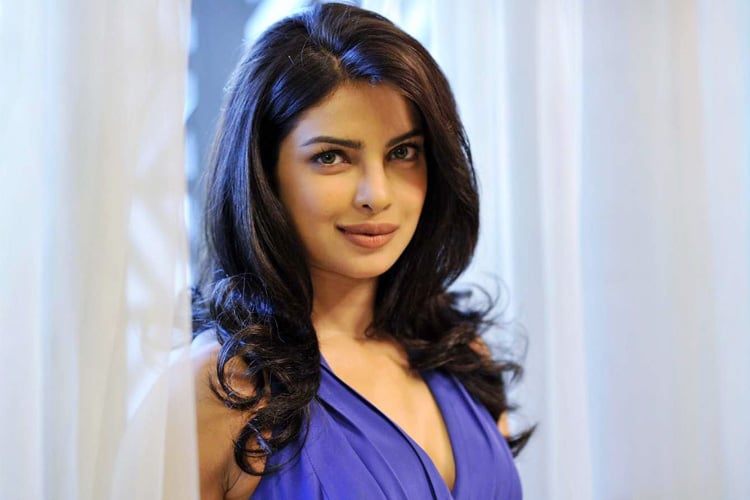 Personal Details
Name
Priyanka Chopra
Birthday Date
18 July 1982

(36 years)

Sun Sign
Cancer
Eye Color
Dark brown
Hair Color
Dark brown
Nationality
Indian
Religion
Hinduism
Education
She was schooled in Army Public School in Bareilly, Uttar Pradesh, India. Thereafter Piggy Chops attended earned her university degree from Jai Hind College in Mumbai, MH.
Occupation
Actress, Singer, Model
Marital Status
Single
Family Details:
| | |
| --- | --- |
| Father | Ashok Chopra, was a physician in the Indian Army |
| Mother | Madhu Chopra, is a physician in the Indian Army |
| Siblings | Siddharth Chopra, younger brother, Parineeti Chopra (Cousin) |
| Spouse | N/A |
| Children | N/A |

Body Status
| | |
| --- | --- |
| Build | Slim |
| Height | 5'7" |
| Weight | 60 kg or 132 pounds |
| Waist Size | 24 cm |
| Hip Size | 34 cm |
| Shoe Size | 7.5 (US) |
| Body Measurement | 34-24-35 |
Favorite Things and Hobbies
| | |
| --- | --- |
| Color | Red |
| Food | Junk food like pizza, Buffalo wings and double cheese burger |
| Place | Mumbai |
| Book | Romeo and Juliet, Tell me Your Dreams, Letter from a Father to His Daughter |
| Perfume | Dune, Ralph Lauren Romance |
| Hobby | Writing poetry, Singing |
| Actor | Kishore Kumar, Mel Gibson |
| Actress | Sushmita Sen |
| Film | Walk in the Clouds, Pretty Woman |
Priyanka Chopra Weight Loss
Workout Plan
Her workout regimen is a balanced compound of cardio, weight training, and yoga. Generally she works out an hour a day, 4 days a week. It starts with 15 min on the treadmill, followed by push-ups and reverse lunges.
She includes about 20 – 25 bench jumps and 20 to 25 reverse lunges to her exercise routine, added with 60 seconds on planks hold and about 25 bench curls.
The Baywatch baddie has a thing for resistance training, detests weight training equally.
If she is not able to make a trip to the gym, she would still include running and spinning in her schedule.
The Bollywood Diva swears by yoga and practices it religiously for the ancient exercise system not only gives her body its perfect shape, but get her inner peace and makes her skin glow.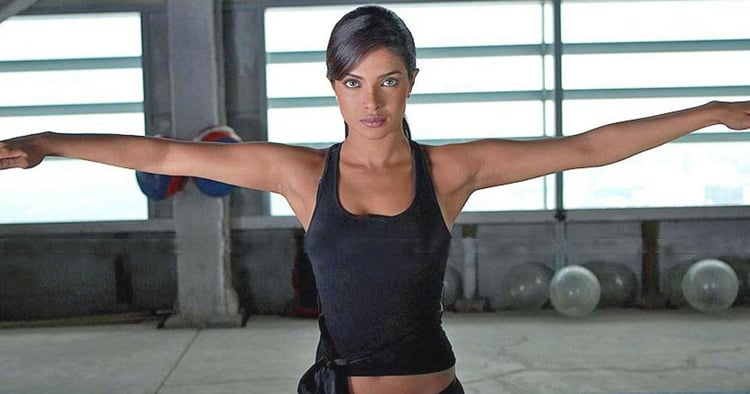 Diet Plan
She isn't the one for diets, in fact she is the kind who would cherish a jalapeno in her Margaritas. But should you want to see what a typical Priyanka Chopra plate looks like, here's a sneak-peek.
Breakfast – Two eggs, a bowl of oatmeal with skimmed milk
Lunch – The quintessential Indian Thali with 2 chapattis, vegetable, dal and some salad.
Evening snacks – a serving or sprout salad or turkey sandwich
Dinner – grilled chicken or fish, or veg soup.
Besides the above she loves to snack on nuts, and imbibe glasses of coconut water. Weekends are her cheat days and she would treat herself with tandoori food, cakes, and chocolates.
Social Profiles

July 22nd, 2017
Author: A. Debnath
---
Priyanka Chopra Defined Class And Style At TIFF 2017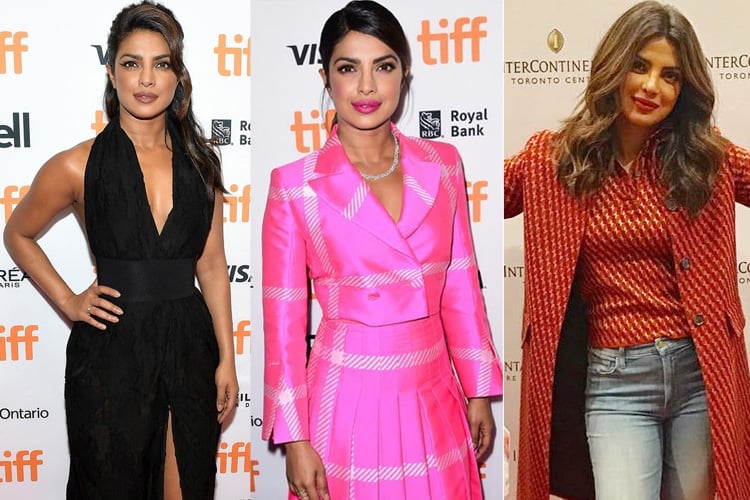 Toronto International Film Festival (TIFF) 2017 is on roll and Priyanka Chopra attended few soirees as a special guest. Driving the paparazzi bonkers with her elite and interesting fashion choices, PeeCee sparked up the red carpet.
Priyanka Chopra rocked a classic black, halter neck gown by Los Angeles based designer, Zaid Affas. The plunging neckline and the thigh high slit were striking features of the LBD that added a sensuous appeal to the diva. Black heels, brown lips, winged liner and half pinned hairdo rounded her grand avatar.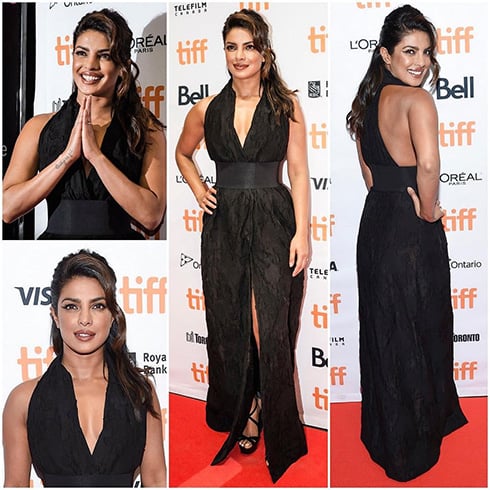 Priyanka Chopra was a strong dosage of pink in Fendi separates at the screening of Pahuna, a movie from her own production house. Nirav Modi necklace, shocking pink lips, and sleek hairdo rounded her bright stunning look. The studded black boots felt a bit out of place, don't you agree?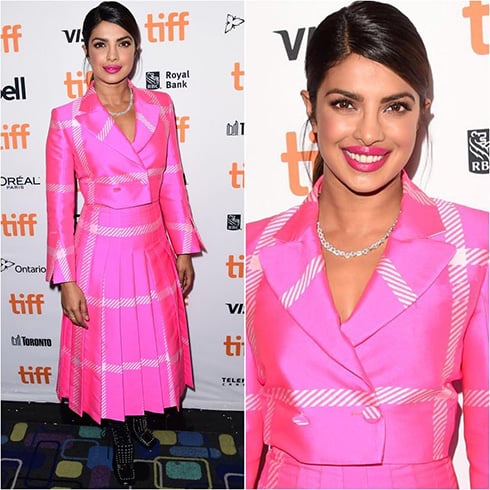 She was also captured looking smart and chic in a Bottega Veneta top and jacket over a pair of boyfriend jeans by Mother. Stuart Weitzman stark white boots were her choice of footwear to the uber cool look. Wavy hairdo and red matte lips added a lovely finish to her casual style.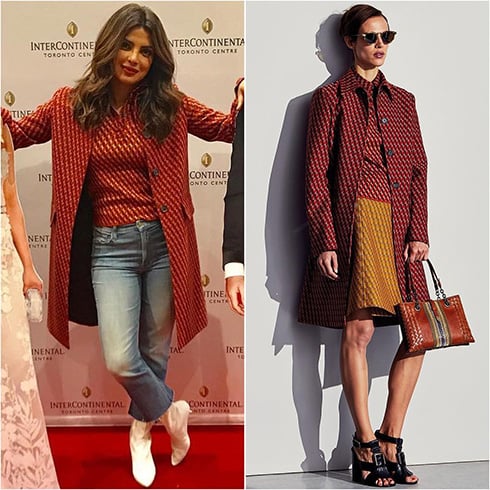 Styling credits go to Cristina Ehrlich. And we are in complete awe of the grace with which PeeCee flaunts her curves and challenging fashion choices.
September 8th, 2017
Author: Sai Bhargavi Chintaluri
---
Priyanka Chopra Took Paris For A Spin With Her Captivating Styles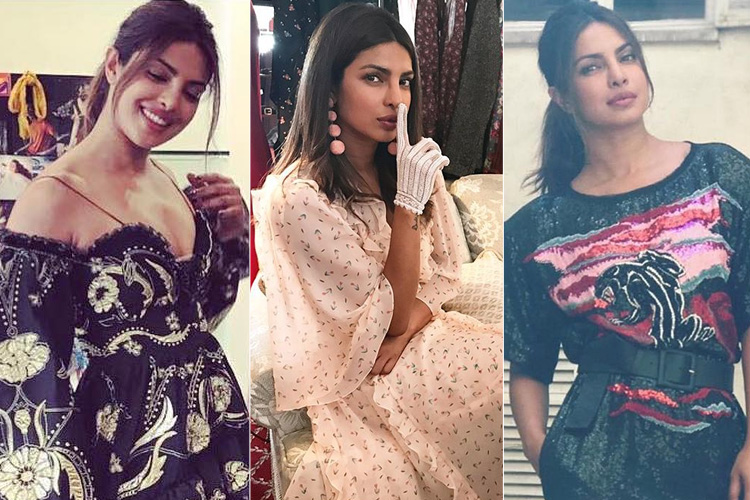 Though we miss Priyanka Chopra at our Bollywood events, we are happy to catch up with her on the Hollywood platform. She was spotted having a gala time in the world of showbiz at the Paris Fashion Week 2017/2018.
Engrossed by her talented performances, we almost forgot that PeeCee started her career with fashion. A sneak at the styles checked out by her at Paris Fashion Week 2017/2018 rekindles the memories of the diva as a model.
In Dundas
Looks like the diva has taken a great liking to this label, Dundas at the PFW this season. She was captured in three different looks from the same label and with every look, she elevated her style game.
She was clicked looking trendy and smart in a black mini graphic print dress. The wide belt tapered her slender mien. Going zero with accessories and a messy ponytail, she closed her style.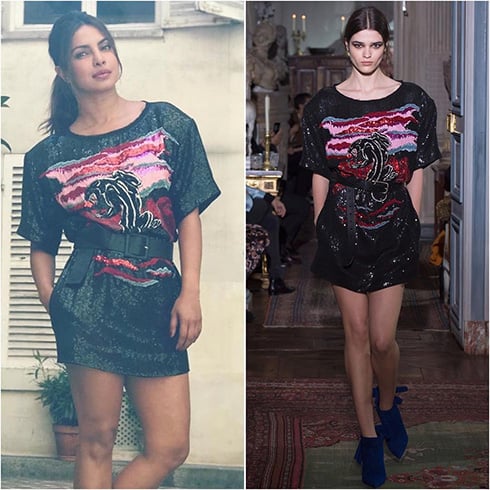 Priyanka confounded us with one of the styles. She was clicked giving a killer pose in Dundas asymmetrical hemline, high-low thin strap dress. Love the contrast red heels!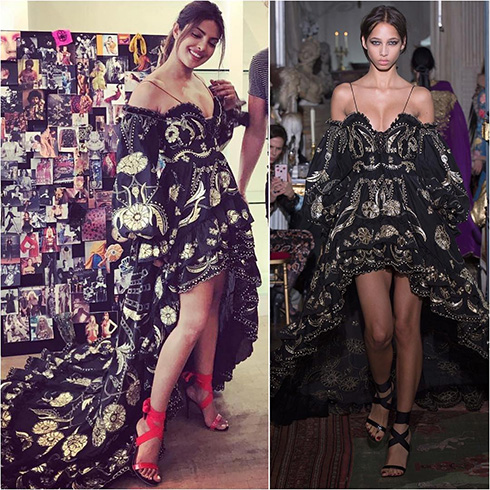 In Ulyana Sergeenko
In soft peach summer maxi dress by Ulyana Sergeenko, Priyanka brought a pleasant style to our fashion radar. Rebecca De Ravenel earrings played along well with her style. Soft, straight hair and natural brown makeup rounded her look.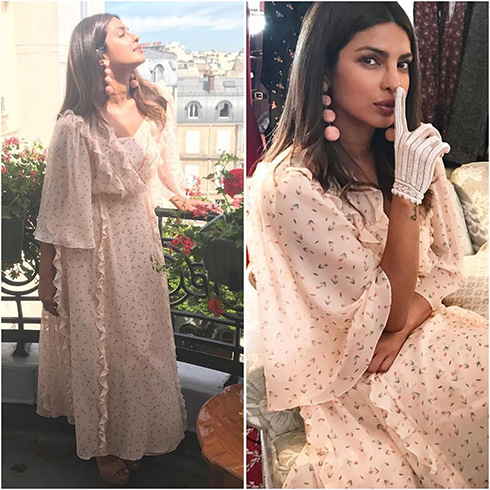 Be it a party, trendy, street style or easy-breezy, PeeCee slayed every style perfectly. Don't you agree?
July 7th, 2017
Author: Sai Bhargavi Chintaluri
---
Priyanka Chopra Adds A Cool Quotient This Summer With Her Styles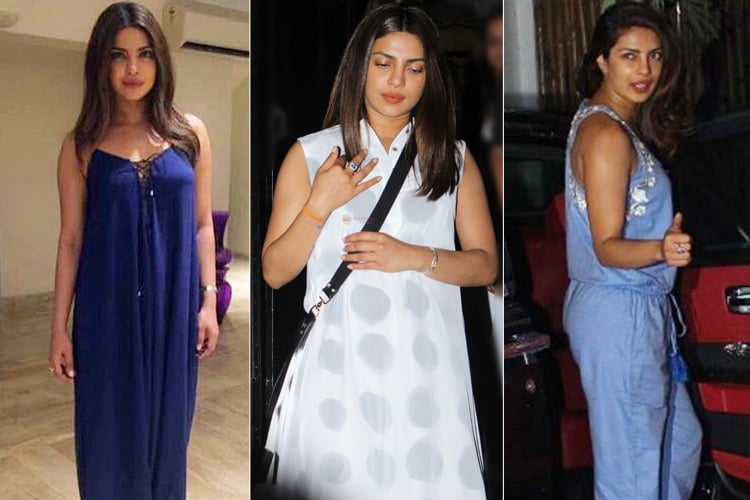 Priyanka Chopra has never failed us right from her modeling days till date, be it in the zone of fashion or performances. Her hourglass figure was totally worth drooling over and the diva has truly created inspirational stories with her attitude, zeal, and focus.
These words are enough to say how deeply we admire her every move and choice. Following ardently, we noticed that the diva plays with her style in sync with the season.
We have seen the diva clad in layers during winter and now that summer has popped up, she is stretching out her fashion choices to include easy, breezy summer styles.
Here are a few of her choices in the recent couple of weeks that we fell in love with-
Maxi Dress
In a striking blue, anti-fit maxi dress from Shweta Kapur, Priyanka Chopra looked totally attractive. Going nada with accessories and keeping it simple, she closed her look. Her hair was brushed to loft soft and she chose a neutral shade of touch-up. Though we are great fans of her well-toned figure, we totally welcome this anti-fit style on the diva.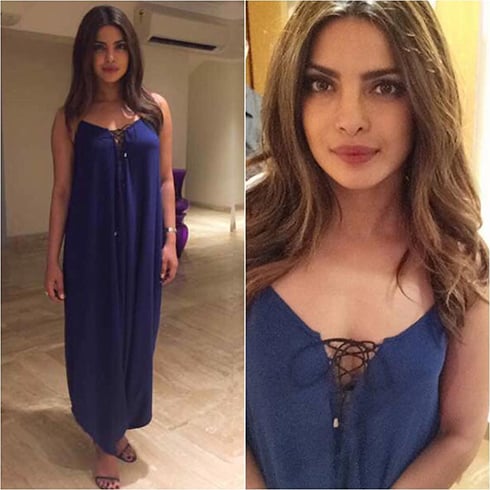 Tunic Dress
PeeCee brought both trendy colors of B-town, black and white together in one look and bowled us all. She picked an overlay polka dots tunic dress from Bennch while out and about in the city. While white dominated in the outfit, she balanced it well with black accessories. A Maison Valentino black handbag and Gianvito Rossi wide heels worked in harmony with her style.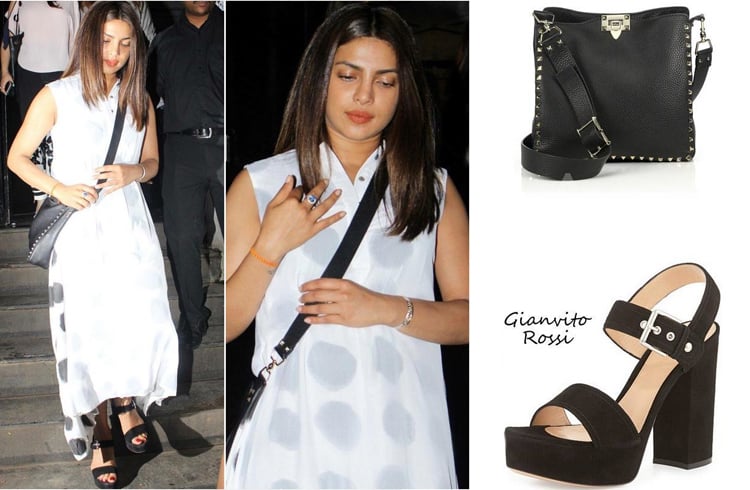 Jumpsuit
Rocking a pleasant colored outfit, Priyanka Chopra was spotted in the city. Looks like the Hemant & Nandita jumpsuit that the diva donned was tailored to fit the lady perfectly. The floral embroidery in white around the sleeve line added charm to the solid colored look. With nude heels, soft hair and natural makeup, she looked worth staring.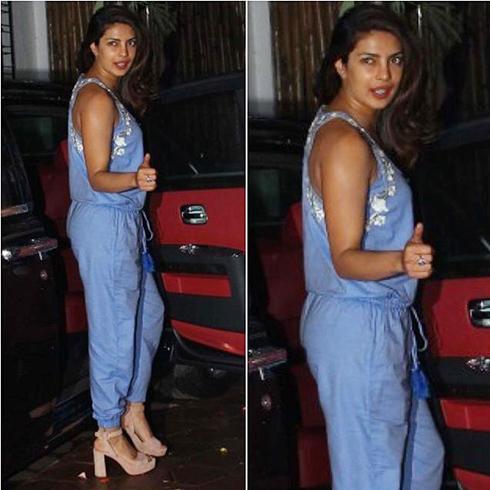 Styled by Ami Patel and Sanjay Kumar Dauhaliya.
June 13, 2017
Author: Sai Bhargavi Chintaluri