Mehndi has come of age. Earlier on, the designs used to be simple. Nowadays, the range of designs is huge and massive. There are one-alphabet mehndi designs to floral-based. If you want a soft floral touch in your mehndi and want it to be unique, then go for rose mehndi designs.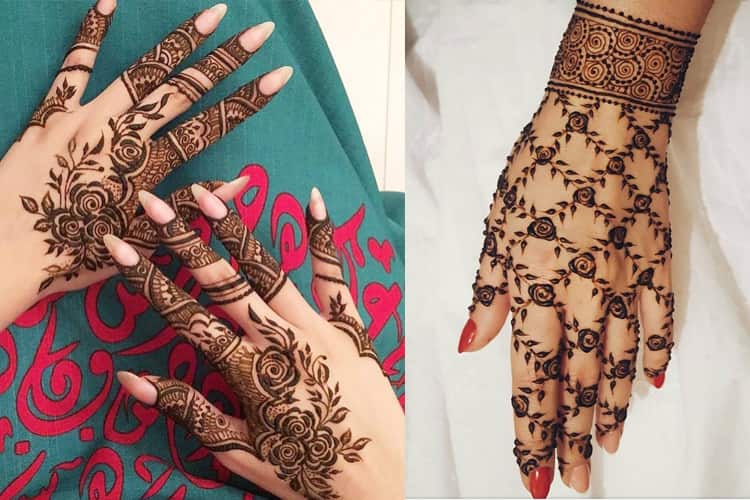 Any clue what does rose mehndi motif signify? Few qualities like beauty, grace, love, power, majesty and status. Each rose mehndi pattern has a deep meaning to it – be it in the form of a rose bud, a rose with leaves and thorns, a full bloom rose or the 'retro' version of the full rose design.
Here are some 'hatke' rose mehndi designs 2018 featuring the romantic rose patterns. Because it is high time, rose moved on from just decking up our hair to adorning our hands.
One more thing is famous about rose mehndi designs – the Dubai rose mehndi designs.
Interestingly, rose mehndi designs for hands is not the only thing. They can be put up on your feet too.
Let us run through some beautiful and delicate latest rose mehndi designs and sweep you off your feet.
Top Rose Mehndi Designs For Different Age Groups:
Hey, rose mehndi goes well for all age groups, which is an extra BONUS point! Check out our selection of some dainty designs.
1. Little Girls:
Kids love flowers and all things beautiful like them. Placing tiny roses in schoolbooks and using the dried/pressed roses to make greeting cards…what memories of school days? That is why, a rose mehndi on hands is an absolute favorite with lil girls.
2. Young Ladies:
For the young teenage women, rose mehndi designs for hands is symbolic of adolescent crush, love feelings, and romance. Thanks to the trending rose designs, it is worth enjoying this phase.
3. Brides-To-Be:
Red rose symbolizes one thing for sure – LOVE. Every bride-to-be wishes for infinite love from her would-be partner and future family. A rose mehndi design leaves a deep red hue, a symbolf of love that strengthens the bond shared by partners for life. Moreover, it is different from Arabic mehndi designs and Pakistani mehndi designs preferred by the brides.
4. Married Women:
Rose mehndi designs for hands are great to be worn when it comes to celebrations and festive occasions. Eg. – Karwa Chauth, anniversary celebrations, engagement parties , Valentine's day, and Teej.
Latest Rose Mehndi Designs 2018-2019:
Now, the latest rose mehndi designs that are all set to take over 2018, here's our pick of top designs especially curated for you.
1. Contemporary Rose Henna Design:
This one has a thick border design with a beautiful full rose bud at the end. Ideal for brides who want a modern touch, not all 'desi'.
2. Simple Arabic Mehndi Rose Art:
This beautiful Arabic style mehndi design has beautiful rose buds in between vine creepers. Looks great when young women and college-going girls flaunt it while attending wedding functions.
3. Thorns n Roses Henna Design:
If there were no thorns, how will you appreciate roses? Here comes the latest in the category of latest rose mehndi designs 2018-19 – featuring a rose bud on each hand accompanied by a stem full of thorns. The beauty of the design is in its edginess.
4. Rose Design For The Back Of Hands:
Something minimal is always eye catching. This minimalist rose mehndi design is what you should aim for – meant for one of those days when there is no occasion as such yet you want your hands to get some attention.
5. Arabic Single Rose Mehndi Motif For Feet:
Are hands and fingers only meant to flaunt rose mehndi? Check out this stunning heel mesh rose mehndi design featuring mesh detailing all over your feet and a beautiful blossomed rose motif in between. Looks so very elegant on young brides.
6. Dubai Rose Mehndi Art:
The Dubai rose mehndi designs are one of the trendiest henna motifs. Ask why? Because they are versatile and can be mixed with several motifs to doll up your hands.
7. Dual Rose Latest Arabic Mehndi Design:
Two roses – one at the beginning and one at the end with some mesh detailing is all you need to make your rose mehndi design intriguing and beautiful. The GLAM effect it offers is awesome!
8. Single Rose Arabic Mehndi Design For Hands:
Catch the beauty of this single and massive Arabic rose mehndi design. With bow detailing at the end, it looks great on Eid or any other festive celebration.
9. Rose Arabic Henna Design 2018:
Watch the beauty of this rose mehndi design with veins and leaves connecting one another. This kind of design will look amazing on fair skin tones.
10. Pakistani Rose Mehndi Design:
So intricate and lovely is the mehndi design that covers full arms. Like this, for example where the delicate shading instantly draws attention.
11. Moonlike Rose Mehndi Pattern:
Such a feminine Arabic rose bud mehndi design – it is hard to miss the half moonlike pattern with an attached rose bud and stem. The fingers are not fully covered – just a touch of detail is good to complete the look.
12. Handcuff Rose Mehndi:
This is a cute design – just a little mehendi on the back of your hands, and not much of intricate designs or shading. Perfect for minimalist divas.
Here are some more latest rose mehndi designs. Creativity in full bloom!
[sc:mediad]
13. Rosy Tips:
14. Latest Pakistani Rose Mehndi Design 2018:
15. Gorgeous Arabic Rose Mehndi 2018:
16. Simple Rose Mehndi Design:
17. Spring Rose Mehndi For Teenagers:
18. Intricate Rose Vine Mehndi Design:
19. Peacock Feather With Rose Mehndi Design:
[Also Read: Peacock Mehndi Designs]
20. Cuff Rose Mehndi Design For Eid:
21. Roses And Swirls Henna Design:
22. Gothic Rose Henna Motif:
23. Meshed Glove Dubai Rose Mehndi Design:
24. Dainty Rose Design For Fingers:
So how did you find these rose mehndi designs? Hope you could pick your rose mehndi design for Eid or any other festival/celebration this year. Do write back and tell us how you found this post.