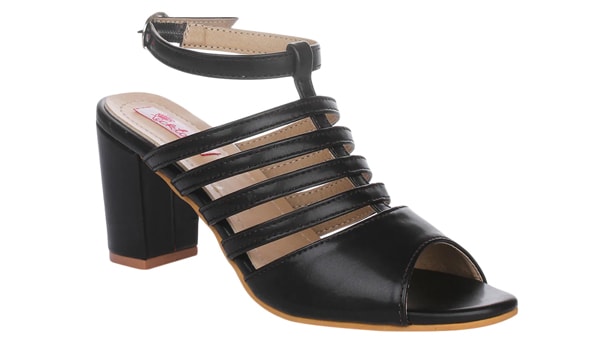 In the earlier days of fashion, buckles were the hype. On footwear especially. People seem to have forgotten it now due to the numerous other styles that have cropped up. This list of buckled shoes is sure to make you fall head over heels in love with them! Be the lucky few by bagging these must-have footwear options in your wardrobe!
Strappy Sandals On Sale!
These strappy sandals are back with a bang! Check out some stunning options on sale.
1. Brown Back Strap Sandals:
These brown sandals can be part of your everyday attire. The subtle frills on top give an exclusive look that you would love to carry out with style and panache. It can be paired with anything from skirts to palazzos, and that's the best bit. Up your style game on a daily basis with these.
2. Black Ankle Strap Sandals:
Giving you an advantage of a heel here, these black strapped buckle footwear are a class apart. The contemporary design combines a bit of both the block heel and the boots. Team these black sandals with a knee-length dress of your choice and head out looking nothing less than a diva. Strap them on to strut in style!
3. Pink Faux Leather Block Heels:
A pop of glitter always makes it all the more desirable and glamorous! Glitter on pink is a terrific combination for heels and here it is! To look as picture perfect as Barbie and as gorgeous as Marilyn Monroe, this footwear is a must-have. You could team up this footwear with outfits in most colors as pink is never a turnoff, ever. Grab this piece before it's gone!
4. Closed Tan Sandals:
How about sandals that spell comfort the minute you put them on? Sandals that can't ruin your look whatsoever? Sandals with a color that blends in with anything and everything? Who wouldn't want to own such footwear isn't it? Well, here they are for you. Tan sandals that are here to keep your style intact. Go for them now!
5. Mint Green Strap Sandals:
Keep it simple with this pair of mint green sandals that are chic and beautiful. The mesmerizing design keeps us hooked onto this footwear for a long time. Your wardrobe is definitely craving for this beauty already, we are sure.
Now, you know some must-have buckle-strap footwear. What are you waiting for? Go ahead and pick as many pairs as you like and become happy feet. Your feet will grab all the limelight with these stunning shoes we are sure!
Shop this collection from limeroad.com
How did you like the buckle trend? Being the 'IT' shoe trend right now, it is time you get hooked onto it too. Let us know in the comments box below which buckle footwear was your favorite and why!
Stay tuned for more style updates!