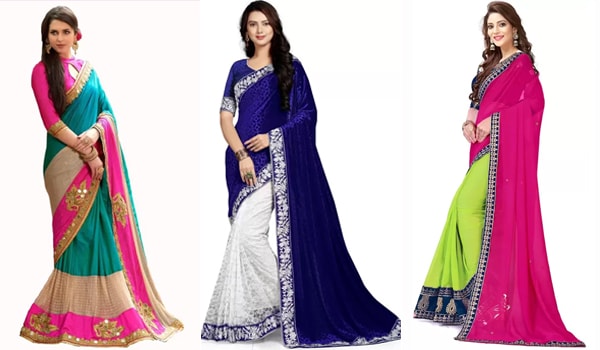 Check out this list of saris that are bright, beautiful and bring all the more joy to every formal event. The perfect saris to wrap up every farewell on a good and happy note. These colors and designs add life to every celebration, and we sure don't want you to miss out on them.
The fact that these elegant drapes are available at throwaway prices makes them a must-add in your wardrobe. What are you waiting for? Go ahead and buy them before they run out of stock!
Saris To Bid Farewell In Style:
Have you checked out these saris? You are totally going to go gaga over these gorgeous pieces that are nothing less than a steal.
1. Embellished Chiffon Saree:
This beautiful black saree is so comfortable that it is easy to carry around. Creating a stylish statement that is subtle yet full of elegance. Go back to the age-old color combination of black-pink and rock it! This is a perfect pick for a formal occasion like a farewell.
2. Gold Net Saree:
A little bit of a net is suitable to grab the attention you're looking for. Let the blouse be of the same color or of a subtle shade so that the saree hogs the limelight. The net fabric makes it a comfortable and lightweight ethnic wear option, as a farewell function will require you to run around and take selfies with your buddies!
3. Velvet Saree In Midnight Blue:
Of all the trends we've come across, velvet sarees is a style that never dies but only evolves every day. Pair it with a blouse that has a backless design or flaunts the back at least a little as this will complement the heavy fabric. Pull off this outfit without a second thought and steal the show!
4. Embroidered Georgette Saree:
An embroidered saree will make you stand a class apart from the crowd. So modern yet this sari allows you to maintain the traditional vibe. If your saree has the embroidery, keep the blouse plain and vice versa as the attention needs to be focused on any one. The keyhole blouse design will help you up your glam appeal in a subtle way!
5. Designer Half-Saree:
Have you ever worn a half-saree? Coming from South India, it doesn't look too different from how you tie the sari normally, although it is a two-tone piece. This pink and green sari is beautiful and looks like the perfect one to sport to an office function. The bright color combo is a great way to ace the color blocking trend as it doesn't allow any dull vibes.
Shop this collection from flipkart.com.
Let us know in the comments box below which sari was your favorite and why! Also, get ready for a day filled with compliments with these gorgeous saris. Stay tuned for further updates on fashion and style!
Author: Bhavya Rebala