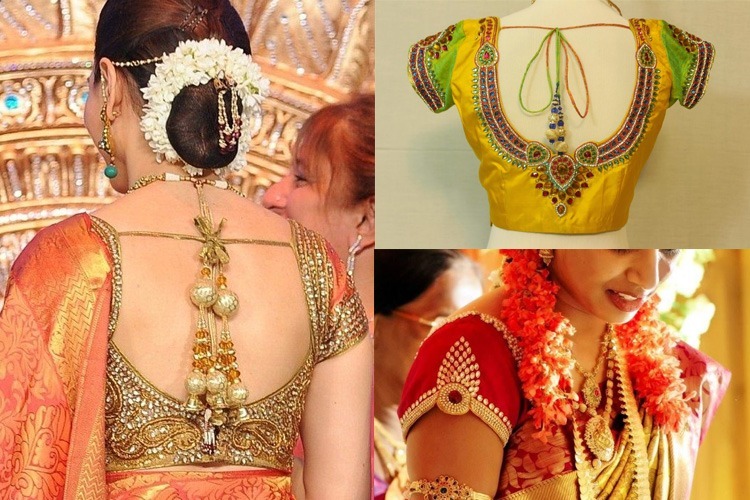 When you are wearing a nine-yard silk saree, you think a plain blouse would add enough glam to it? Nah, 'cos despite the silk saree being attention-grabbing, it needs to be complimented with a piece de resistance blouse.
Though the concept of blouse designs for silk sarees is relatively new in India, it is catching on like wild fire.
[Also Read: How To Maintain Silk Sarees]
The Silk Sarees Blouse Design Catalogue For The Best Design
There are so many varieties to check out in blouse designs catalogue that you will find for every occasion and hour.
Every region and community in India has various styles and patterns of matching the silk saree blouse designs. Fashion designers have to go that extra mile in not only showcasing their best saree creations on the runway, but matching hallmarks in blouses too.
So when it comes to styling your blouse for a silk saree, it needs a good design and equally good designer neckline at the back. It's the case of flaunting your back, remember.
Here we go sharing with you latest blouse designs catalogue for silk sarees that would make you a desirable show-stopper. Show them, cover them or flaunt them, but blouse designs for silk sarees have it in them to make you a true sensation on the ramp, in party celebrations or everyday life.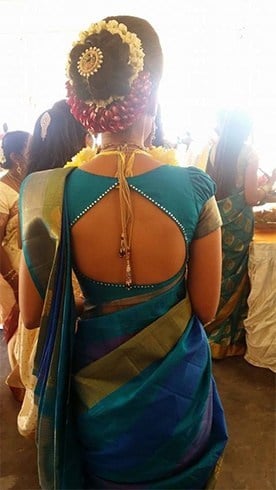 Fabrics Used In Blouse Designs
Whether it is printed, brocade, sequin or zari, silk blouse designs have taken a new complexion. It makes sense today wearing a simple plain looking saree and matching it with an extravagant looking blouse.
Look at our cine stars Rekha, Sonam, Shilpa Shetty and Vidya Balan. Pure competition they are when it comes to wearing blouse designs for silk sarees. And why forget Dabangg-starrer Sonakshi Sinha who sported a three quarter long blouse style in one of her films.
[Also Read: Saree Blouse Designs]
Let us find out the range of silk saree blouse designs catalogue that can be custom-made to suit each occasion.
1. Embroidered Elbow Length Sleeves
When embellished, the elbow length sleeves blouses can go far in adding a rich look to the traditional silk saree. Such has been its popularity in wedding sarees. Kajal Aggarwal wore this Vanki design blouse, designed by a boutique in Hyderabad.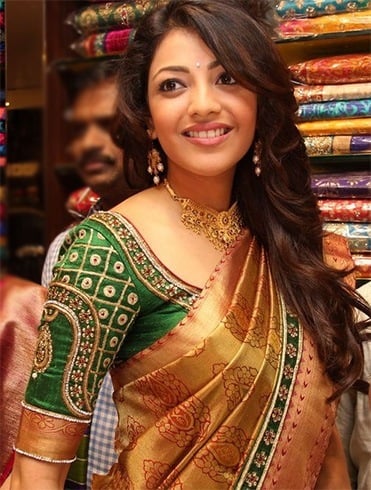 2. Plain Elbow Length Sleeves
While plain elbow length sleeves go up to your elbow, they aren't that extravagant like the embellished one shown above. But yes, they have a big border which gives an elegant look to your silk saree.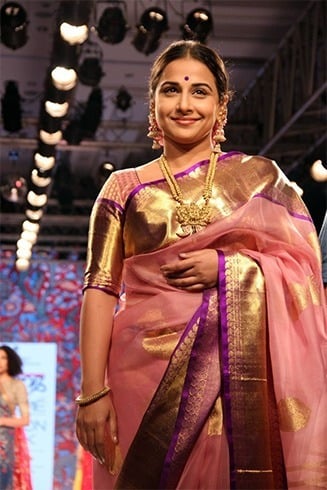 3. Puff Sleeves
This simple blouse design for silk sarees has been around for quite some time. It not only gives a feminine look, it is also apt for young girls. There are many puff-sleeved patterns for you to wear with your pattu sarees.
[Also Read: Silk Jackets – Elegance at Its Best]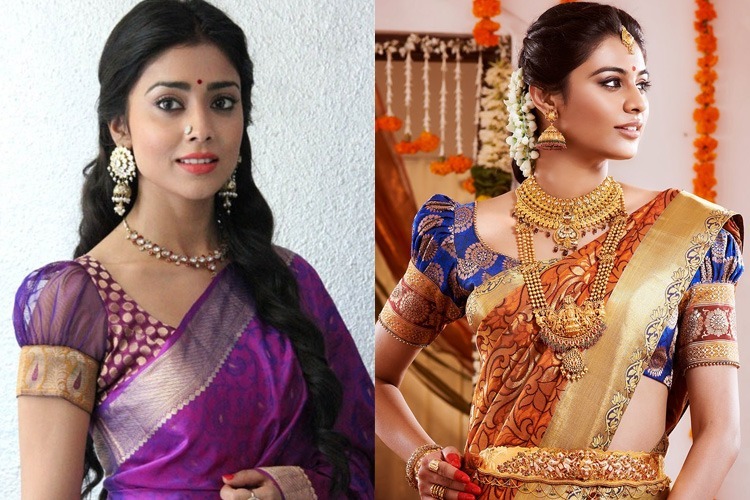 4. Kundan Work Blouse
This blouse design for silk sarees is undoubtedly rich in craftsmanship, and can be worn for select shows, special invitations and private screenings.
[Also Read:Blouse Designs]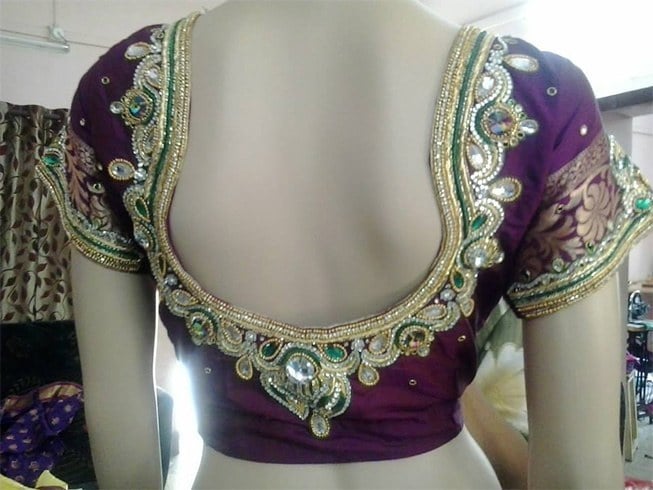 5. Maggam Blouse
Rich and festive looking, maggam and stone work blouses are cut out for weddings.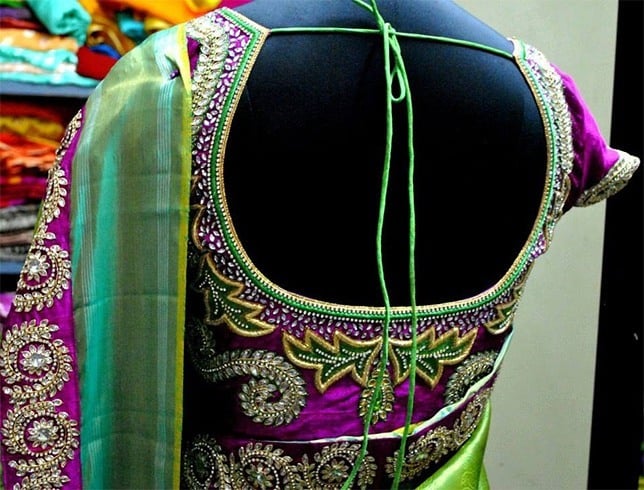 6. Cut Work Blouse
Cut work embroidered blouses are the latest to add a style quotient to your silk sarees.
[Also Read: EMBROIDERED BLOUSES]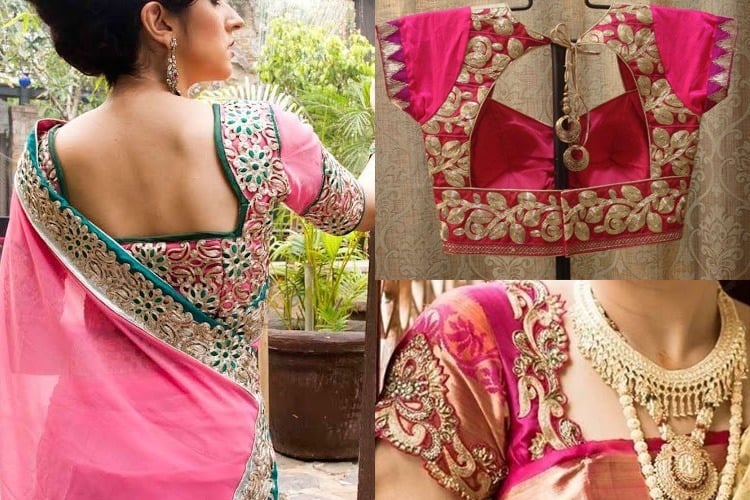 7. Stone Work Blouse
Amongst all the blouses, the stone work is quite in demand owing to the shining stones that double up the ethnicity of your silk blouse. The coloured stone work is available in various shapes like circle, square, oval, rectangle and when done on a blouse, it can rock your look. Red and green coloured stone work on silk blouses is ideal to be worn for wedding function.
[Also Read: maggam work blouse designs]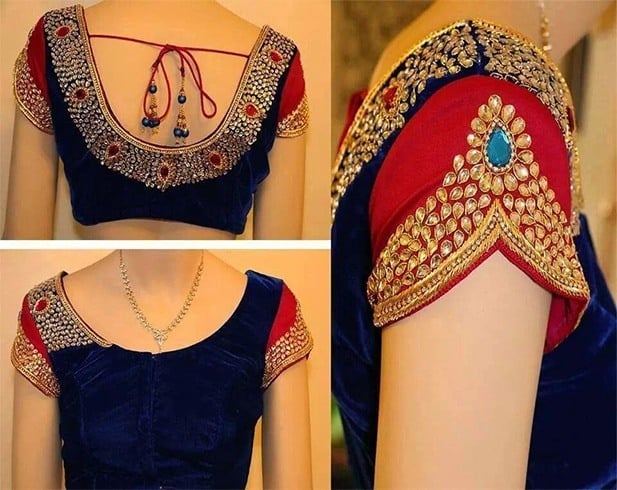 8. Net Blouse
Net blouse designs are the hottest item these days. Not only do they look chic but sensuous too. In fact, net as a fabric can be used in a silk blouse in so many different ways such as on sleeves, neckline and even back. This is why they add a modern flair to your traditional silk saree.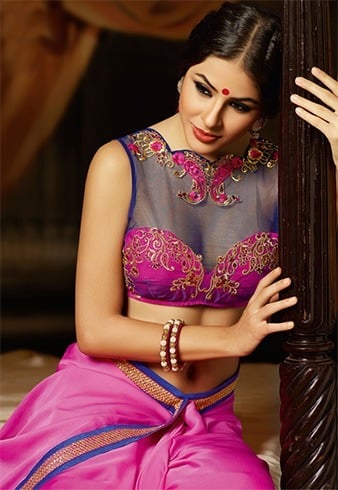 9. High Neck Blouse
If you want to pursue a royal look, go for high neck blouses. They not only give you a distinctive look, they add their own sense of sophistication in comparison to conventional blouse patterns.
Various fabric combinations are used in creating high neck saree blouses for silk sarees. And embellishments are always the design plus point.
[Also Read: 10 Different Ways To Use Your Mom's Old Silk Saree]
Whenever you have made up your mind to wear high neck blouses, avoid wearing necklaces. Rather, go in for heavy earrings such as chandelier, jhumkas or chandbalis.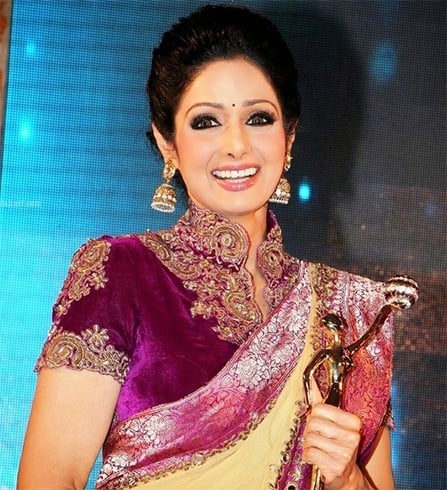 10. Round Cut Out Neck Blouse
In this simple blouse design for silk sarees, you will find a round cut out detail at the back. To give your silk blouse a stunning rendition, stone work, kundan work and maggam work are largely done to outline the cut out. To give it a finale, a tie back tassel is used which brings glamour to the silk blouse.
11. Blouse Having Artistic Sleeves
Not only the embroidery and the intricate work but it's the sleeve length and style that also create an impact on the silk blouse. A simple looking embellished blouse with attractive sleeves can add a lot of glamour to your traditional silk saree.
[Also Read: Embroidery Stitches]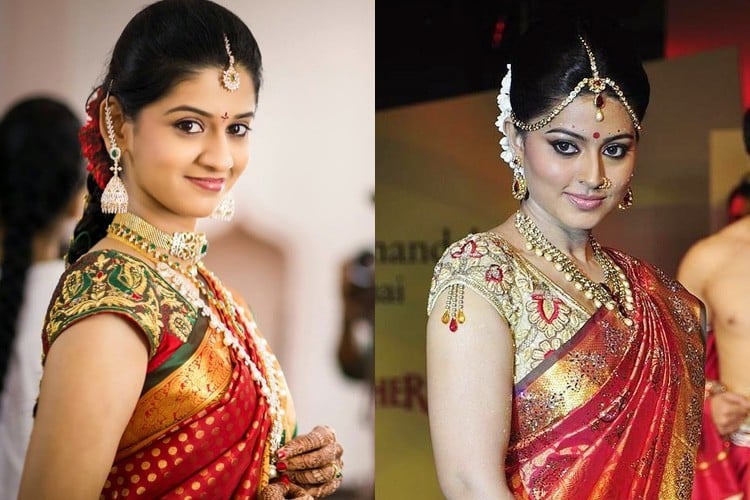 12. Zari Blouse
If you want to wear a backless blouse design with silk sarees but you aren't comfortable with showing off so much skin, then just opt for a low cut blouse with net. You could adorn the net with stone work.
[sc:mediad]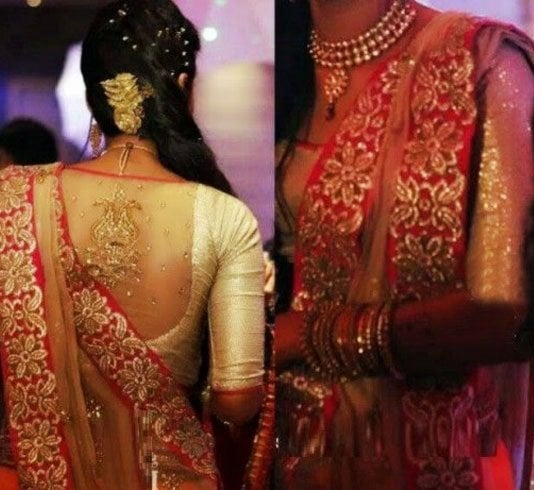 13. Button Row Blouse
A new addition to the silk saree blouse designs catalog is the button row blouse with gotta patti. A simple and elegant blouse design for your exquisite silk saree.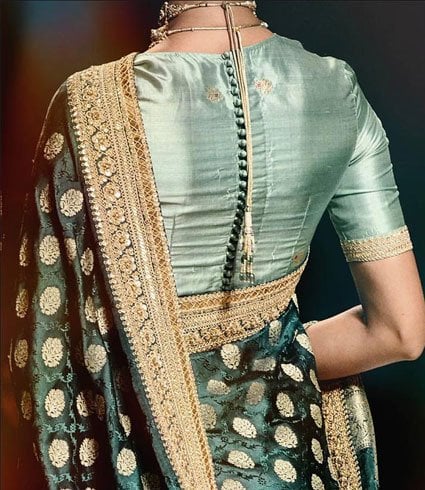 14. Lotus Pattern Back Neck
Make your blouse the center of attraction by trying out some unique silk saree blouse designs for back neck. Check out this lotus pattern for back neck. Now wouldn't you love to have the back design for your blouse like this?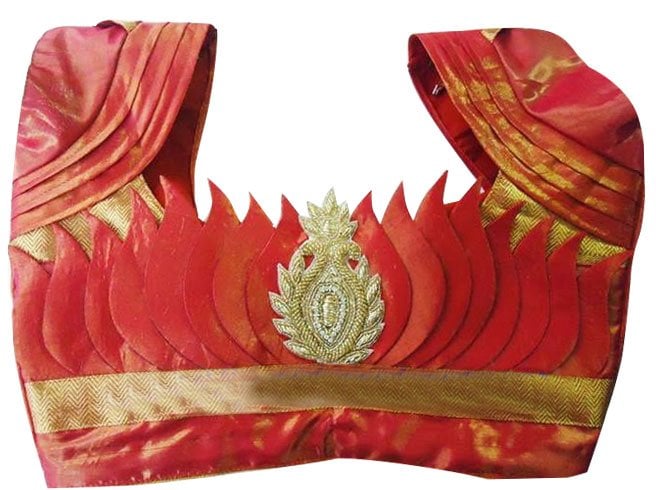 15. Latest Blouse Designs For Silk Saree
While going through the latest blouse designs for silk sarees, we found this exclusive design which is definitely worth copying.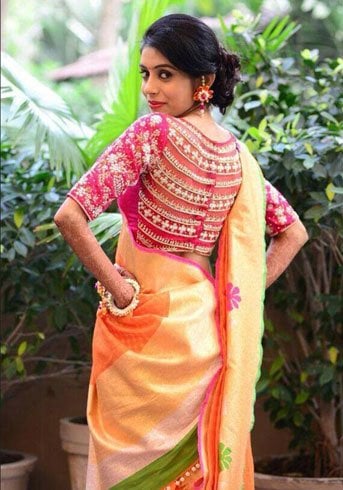 16. Simple Blouse Designs For Silk Saree
You don't have to always opt for elaborate silk saree blouse designs. Sometimes simplicity is what matters. So if you have a heavy silk saree then it would be best to go with a simple blouse.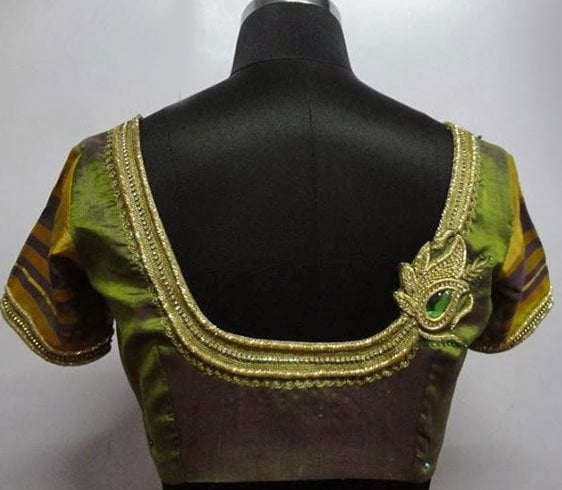 17. Bridal Silk Saree Blouse Designs
If you are looking for blouse design patterns for silk saree especially bridal silk sarees, then you have to make sure that it has heavy work done on it. You cannot opt for simple blouse designs.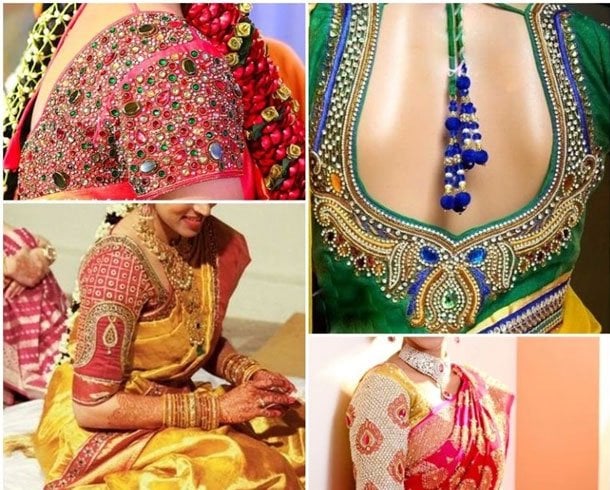 18. Traditional Silk Saree Blouse Designs
Take a look at some of the traditional silk saree blouse designs.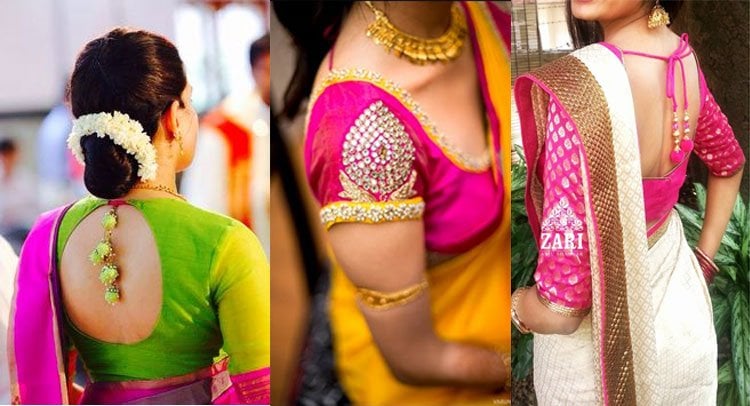 19. Blouse Embroidery Designs For Silk Saree
Embroidery designs look beautiful on silk saree blouses. You can experiment with different patterns and different colored threads to make your own unique design.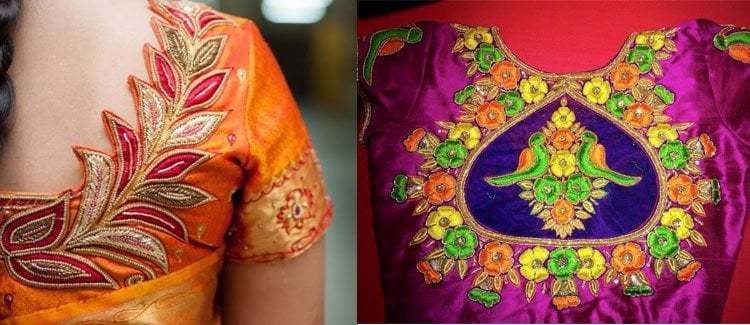 20. Blouse Neck Patterns For Silk Saree
There are innumerable neck designs for blouses. All you need to do is just ensure that whichever design you choose; you are comfortable wearing it. You could also try creating your own blouse designs.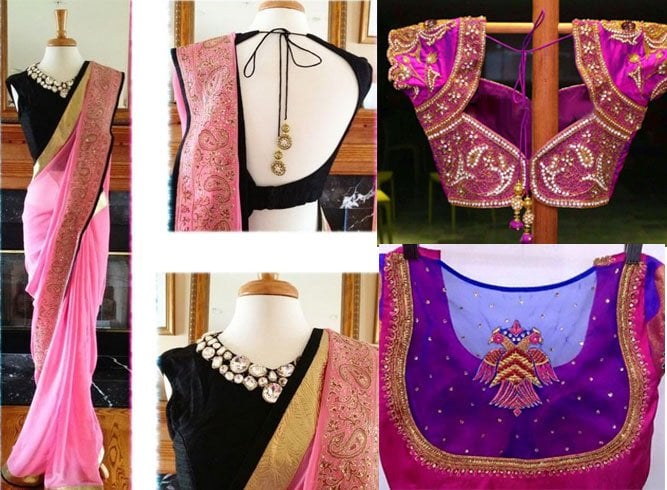 21. Multicolor Blouse Design
With silk saris, the regular blouse styles have become routine and boring. If you wish to add pops of color, go with bright multicolor latest blouse designs for silk sarees to spice up your look. Keep the blouse well fitted and opt for your favorite pattern.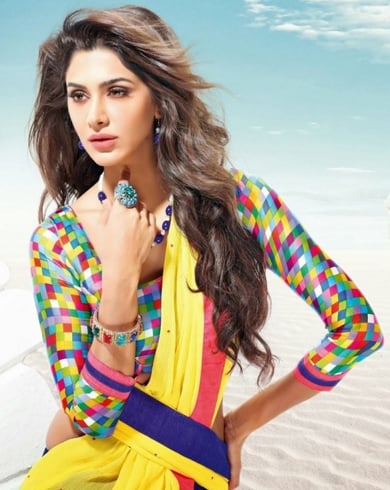 If you are unsure about the multicolor pattern, play a dual tone blouse pattern.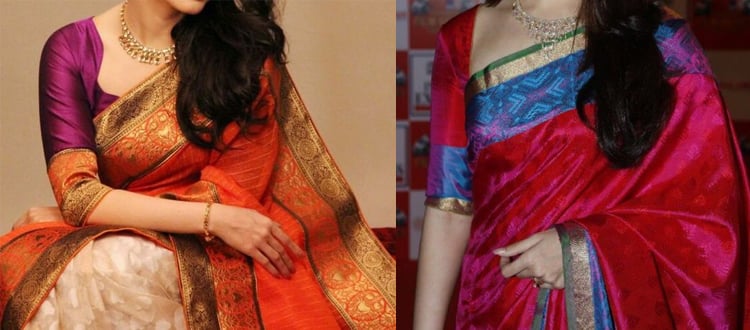 22. Contrast Blouse Pattern
Step out of the simple blouse designs for silk sarees and embrace the contrast blouse patterns to make your look more attractive. Be it a sequined, embroidered or a plain silk blouse design, the contrast style is the way to go!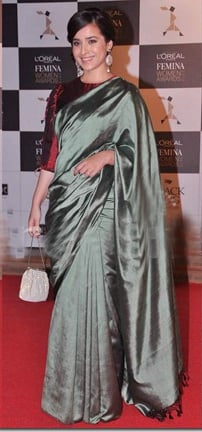 23. Gold Blouse
Every silk sari has golden zari work either along the border or in the form of pattern all over the sari. Gold silk saree blouse designs with intricate self-embroidery, will enhance the traditional look. A pair of attractive balis, a potli bag is sure to add spark to your look.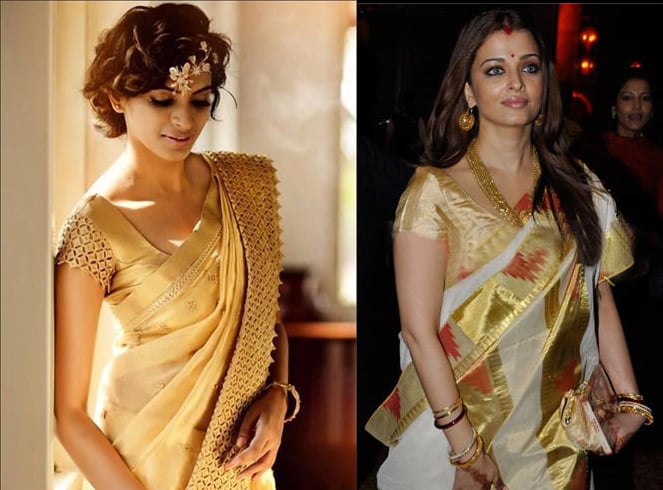 24. Sleeveless Blouses
The blouse designs for silk sarees usually call for a traditional touch, don't you agree? But adding a modern twist to the ethnic style with a sleeveless blouse makes it more appealing.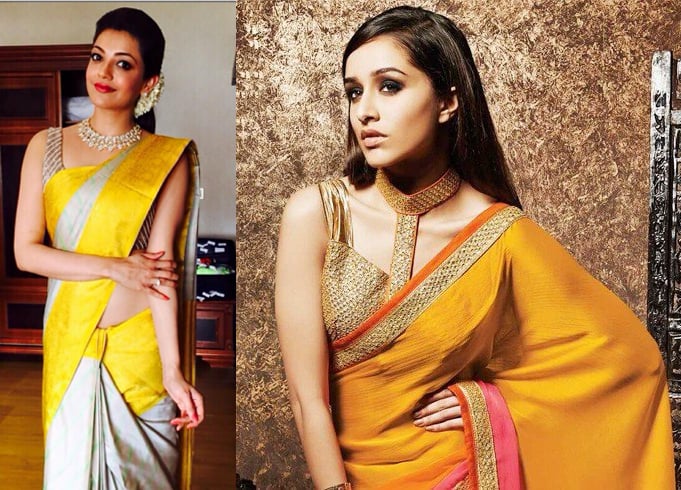 25. Velvet Blouse Patterns
The latest blouse patterns for silk sarees very well includes velvet fabric. This velvet blouse design works amazing as a bridal silk saree blouse designs. Be it high necked, heavily embellished or has a touch of sheerness, it will beautify the 9 yards' story immensely.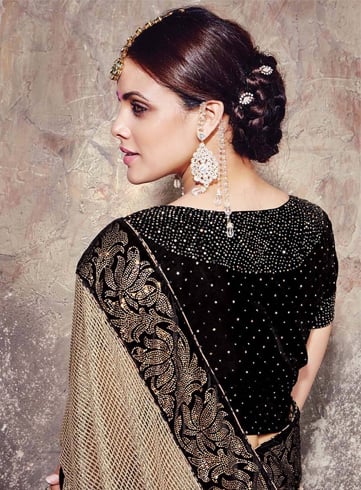 26. Backless Blouse
All the youngsters out there, pick this blouse pattern to give your boring ethnic style a sensuous nudge. Get the attention of the onlookers while you flaunt the back in this silk saree blouse designs. It would be easier to carry the heavy silk saree with a light weight backless blouse.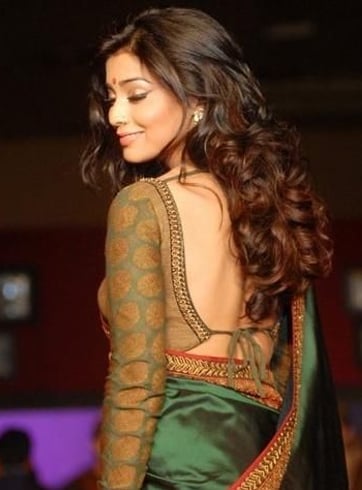 27. Full Sleeves Blouse Design
Printed or plain full sleeve blouse designs for silk sarees are taking over the fashion terrain these days. Plump arms can be conveniently concealed with this blouse pattern. Since the silk sarees are usually heavy, opt for lighter fabric and solid toned full sleeved blouse to balance the look.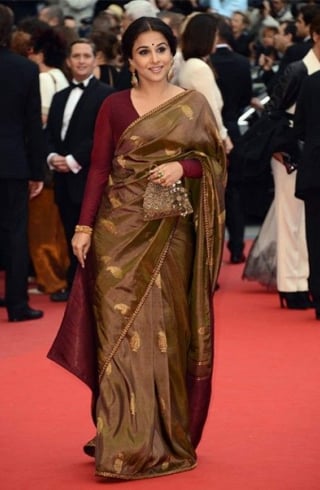 28. Quarter Sleeved Blouse
We have seen loads of blouse patterns like backless, cut-outs, sheer etc., but if you notice, the sleeve pattern either makes or breaks a look. A quarter sleeves pattern like the one we have for kurtis, gives an elegant feel to the silk saree. It can be added undoubtedly to the traditional silk saree blouse designs list.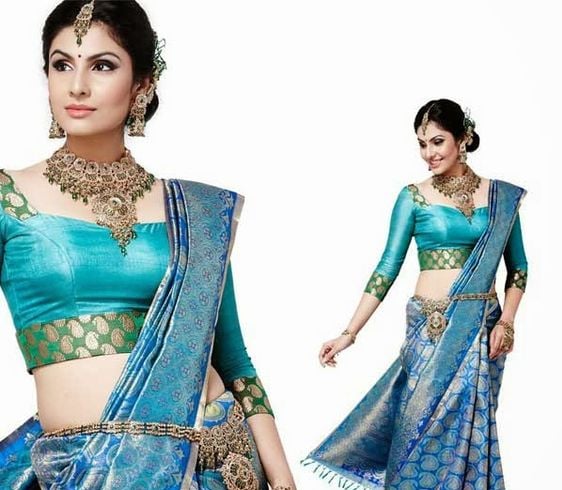 29. Cape Patterned Blouse
One of the patch work blouse designs for silk sarees is the cape attachment to the regular blouse pattern. Capes are in rage currently and it would be totally worth to add this feature to get the ultimate bridal blouse designs for silk sarees. Though the image below show net saree, try this blouse pattern with your classic silk sarees and share with us your experience.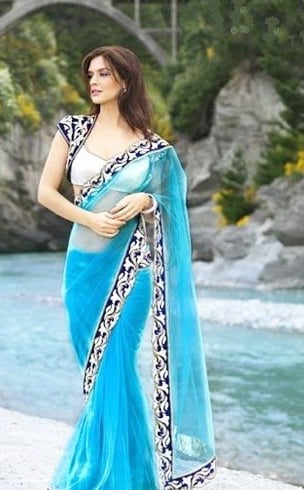 30. Anti-fit Blouse Pattern
Have you ever considered an anti-fit blouse designs for silk sarees? Yes, it sounds like a bit of a challenge but it surely gives a bohemian feel to the entire ethnic avatar.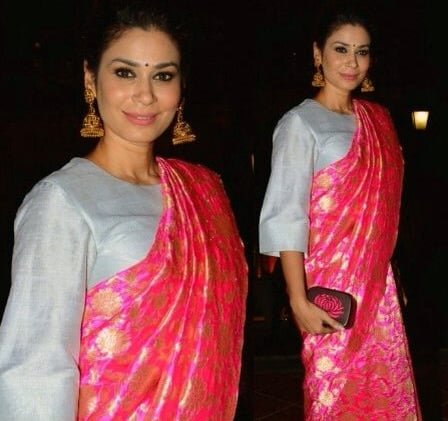 Now that you have seen the blouse designs catalogue in a nutshell, how about trying one for the festive season.
Images Source: pinterest.com
Recommended Articles
Latest Embellished Saree Blouse Designs And Patterns
Latest Blouse Back Neck Designs
Sleeveless Blouse Designs
Lehenga Sarees With Blouse Designs